This low carb, spicy coleslaw recipe is what I always reach for when I need a quick and healthy salad. It is sure to be a major hit at your next potluck or hangout!
What is coleslaw?
Coleslaw is a salad made from finely shredded cabbage and a salad dressing and is known for it's crunchy, tangy, and creamy taste. It is sometimes called cole slaw or just slaw.
Coleslaw originated from the Dutch word, koolsla, meaning 'cabbage salad'.
It is a perfect side dish and my go-to dish for potlucks as it is so easy to make, convenient, and very delicious.
I have made this spicy coleslaw to a few potlucks and no one knew it was low carb and sugar-free, till I mentioned it. It's that good!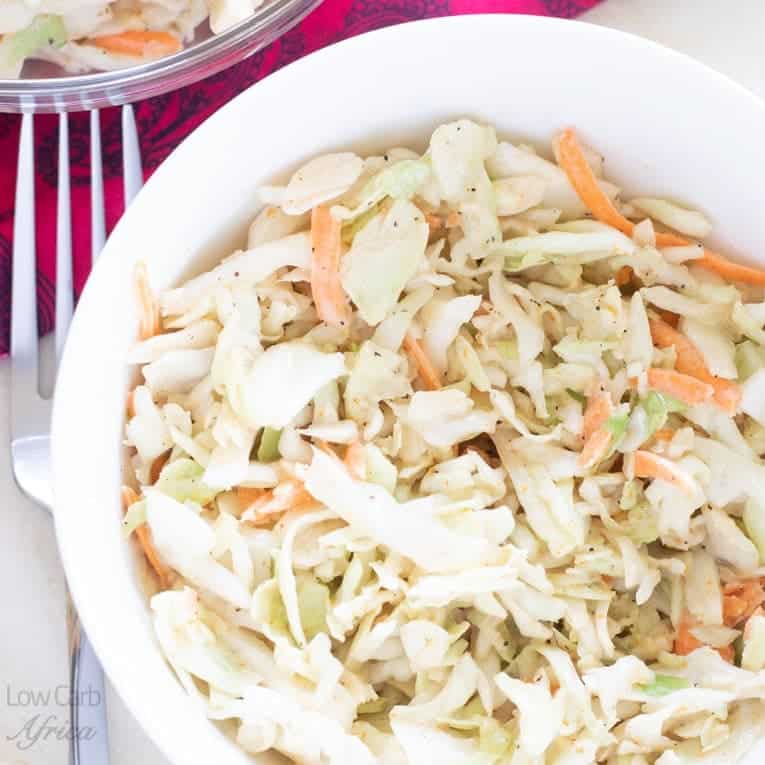 I like to include mayonnaise in this recipe because it makes the coleslaw so much creamier and it goes down really easy.
I use my homemade spicy mayonnaise which is so easy to make and ready in just 2 minutes.
If you prefer, you can replace it with regular store-bought mayonnaise but will need to add some cayenne pepper to make it spicier.
Or you can leave the cayenne pepper out entirely to make just regular coleslaw.
Low Carb Sweeteners
For this recipe, I use monk fruit erythritol sweeter blend and I particularly love it because it does not have an aftertaste.
Monk fruit comes from Southeast Asia and contains zero calories and has no harmful side effects. Erythritol is a mild sugar alcohol derived from fruits and plants.
I don't use sweeteners often but sometimes a dish calls for it and I am always on the hunt for one that will make the dish slightly sweet without being overpowering.
I have experimented with so many sweeteners and the monk fruit erythritol blend is the one I have enjoyed the most. If you taste it by itself, there is a slight cooling effect but you don't notice this when mixed in with something else.
You can attempt this with other sweeteners like Swerve or Stevia but I can't vouch for this, so your mileage may vary.
If you don't have sweeteners or don't like them, you can include a teaspoon of honey but be mindful that this will increase the carb count by 6g.
Alternatively, you can just leave out all sweeteners; the coleslaw is delicious as is.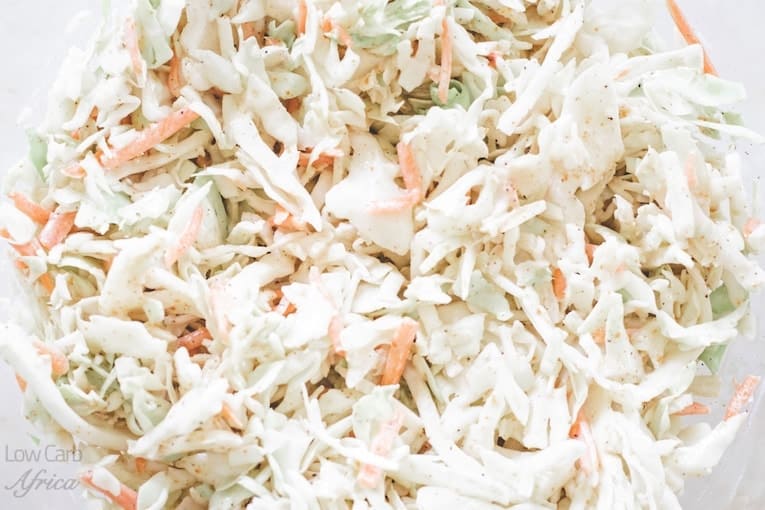 How to make a low carb spicy coleslaw
For this recipe, I use a prepackaged coleslaw mix but you can prepare this yourself. You will need about six cups of finely shredded cabbage and one cup of finely shredded carrots.
When you wash the vegetables before shredding, pat with a paper towel to dry a bit to prevent your coleslaw from becoming watery.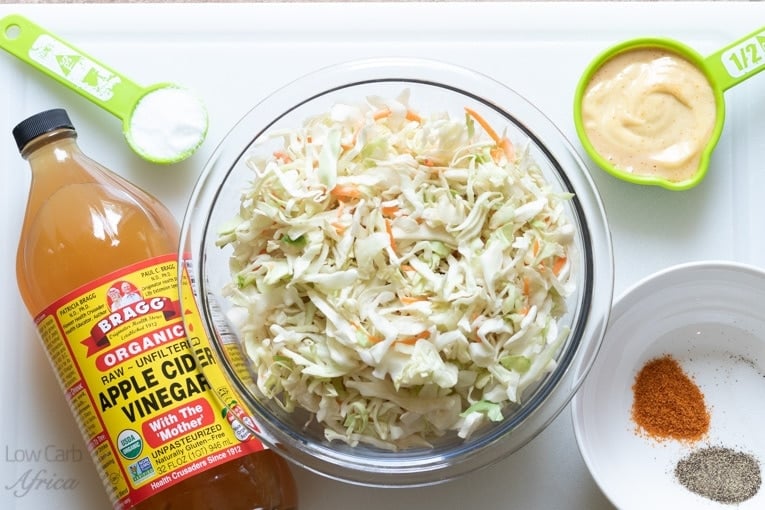 In a bowl, mix in the mayonnaise, apple cider vinegar, sweetener, black pepper, cayenne pepper (optional), and salt.
Mix in with the shredded cabbage and carrots and stir well together.
I like to include apple cider vinegar as it gives a slightly tangy taste. You can also use white vinegar if that's what you have.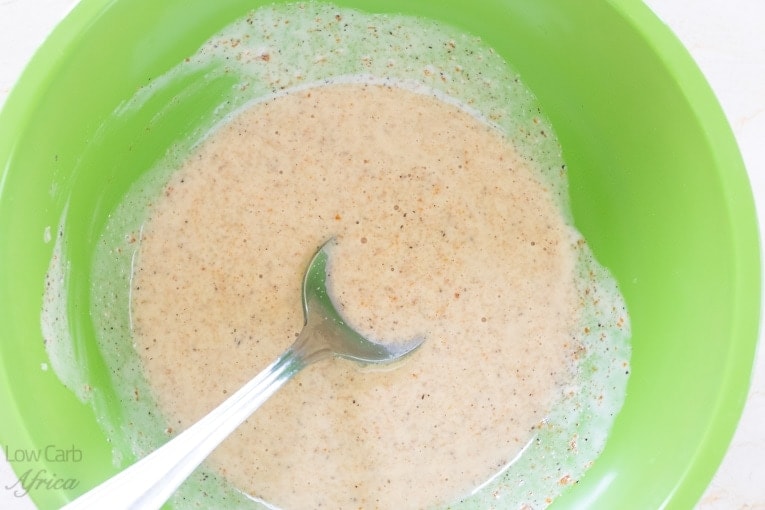 It tastes so much better refrigerated but you can eat it right away. I like to keep it for no more than 2 or 3 days to maintain freshness.
But to be honest, I very frequently eat two servings in one seating so it only lasts two days.
If you use my homemade spicy mayo, you would not need to add cayenne pepper as the spicy mayo is hot enough. But if you can handle the heat, you can use both my mayo and add cayenne pepper. But be warned, it is very spicy!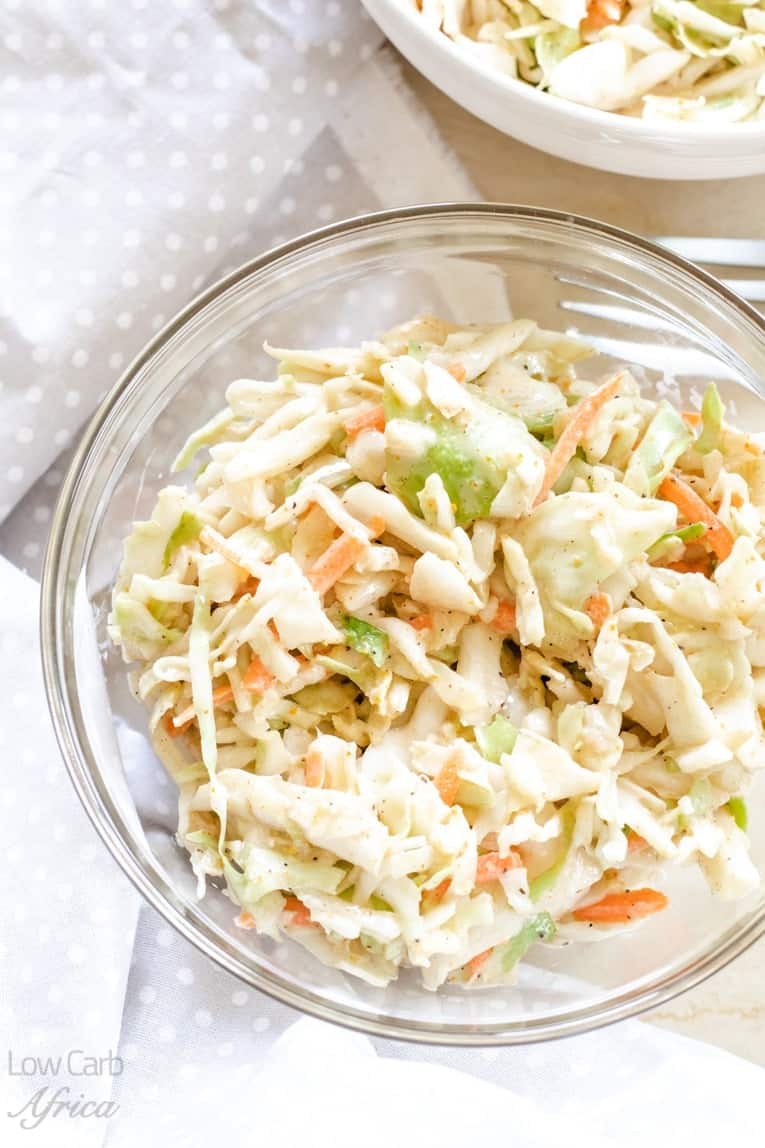 This coleslaw goes great with grilled or baked dishes such as baked catfish, shish kebab or grilled ground lamb kofta kebab.
It also pairs perfectly well with this Vegetable Beef Stew with Cabbage. So delicious!
If you prefer a sweeter salad dressing, try this sweet homemade mayonnaise dressing.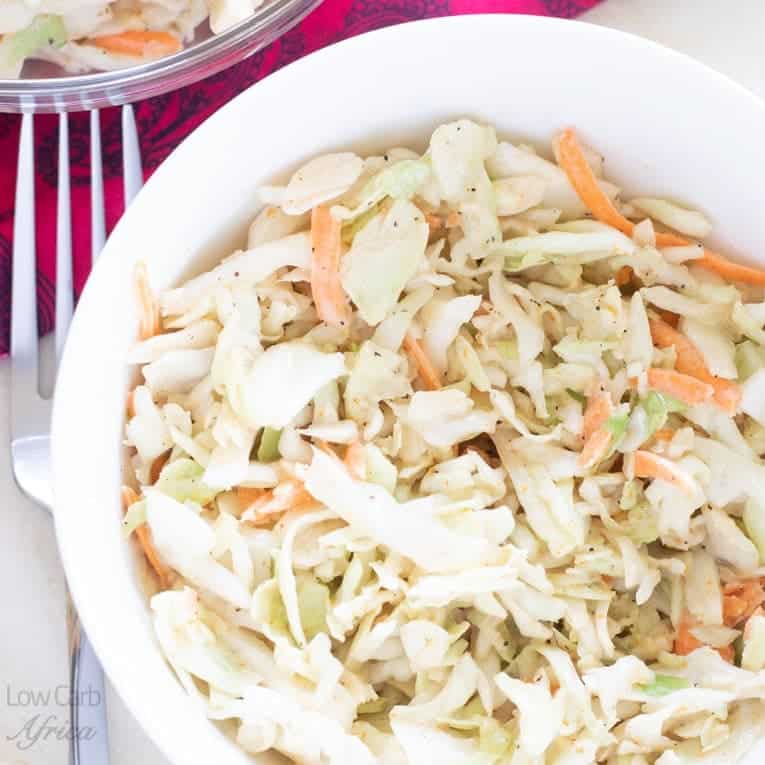 Low Carb Coleslaw (Spicy)
This is a sweet and savory, creamy coleslaw recipe that will keep you asking for more. Only 5g net carbs and perfect for potlucks and fun hangouts!
Print
Pin
Share on Facebook
Rate
Instructions
If not using prepackaged shredded cabbage and carrot mix, you will have to finely shred about 6 cups of cabbage and 1 cup of carrots.

Mix the mayonnaise, sweetener, black pepper, cayenne pepper, apple cider vinegar, and salt together in a bowl.

Add the mixture to the shredded cabbage and carrots and mix thoroughly.

Refrigerate and serve chilled.
Notes
Each serving is only 5g net carbs. If you use my homemade spicy mayo, then you don't need to add extra cayenne pepper. But you might need to add some if you use store-bought mayonnaise.
Nutrition
Calories:
31
kcal
|
Carbohydrates:
7
g
|
Protein:
1
g
|
Sodium:
166
mg
|
Potassium:
191
mg
|
Fiber:
2
g
|
Sugar:
3
g
|
Vitamin A:
205
IU
|
Vitamin C:
41.2
mg
|
Calcium:
45
mg
|
Iron:
0.6
mg
Tried this Recipe? Let me know!
Tag @lowcarbafrica on Instagram or please leave a comment below!
Try these other delicious, low carb side dishes!
Sauteed Green Beans & Mushrooms