Need a quick handy keto-friendly snack? Here are the eleven best keto snacks on amazon you should definitely try!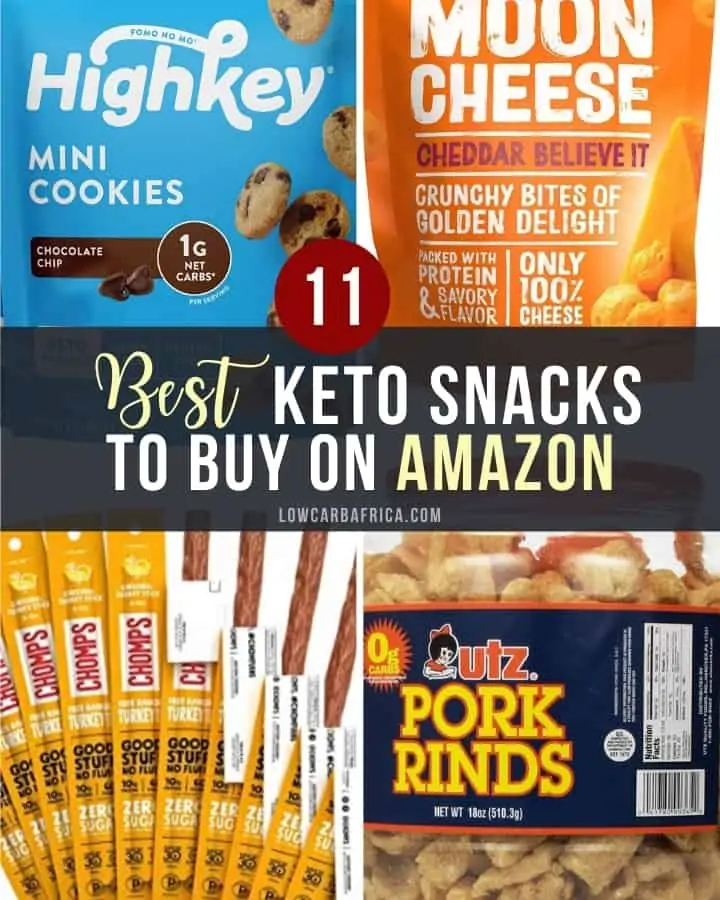 The keto diet is known to reduce appetite while keeping your energy levels up. That's why those on keto find they no longer experience hunger pangs and afternoons slumps. Still, you want to have a couple of snacks on hand just in case.
And the best place to start looking for low-carb goodies? Amazon, of course!
Being practically synonymous with online shopping, Amazon sells a huge array of keto-friendly items. But navigating the site is no easy feat as searches for "keto snacks" yield thousands of results.
Well, this list of the best keto snacks on Amazon aims to make your quest easier. All have less than 5g net carbs, and most hoover around 1-2g carbs in a serving. Included are sweet, crunchy, and savory options.
Jump to:
1. Utz Pork Rind Barrel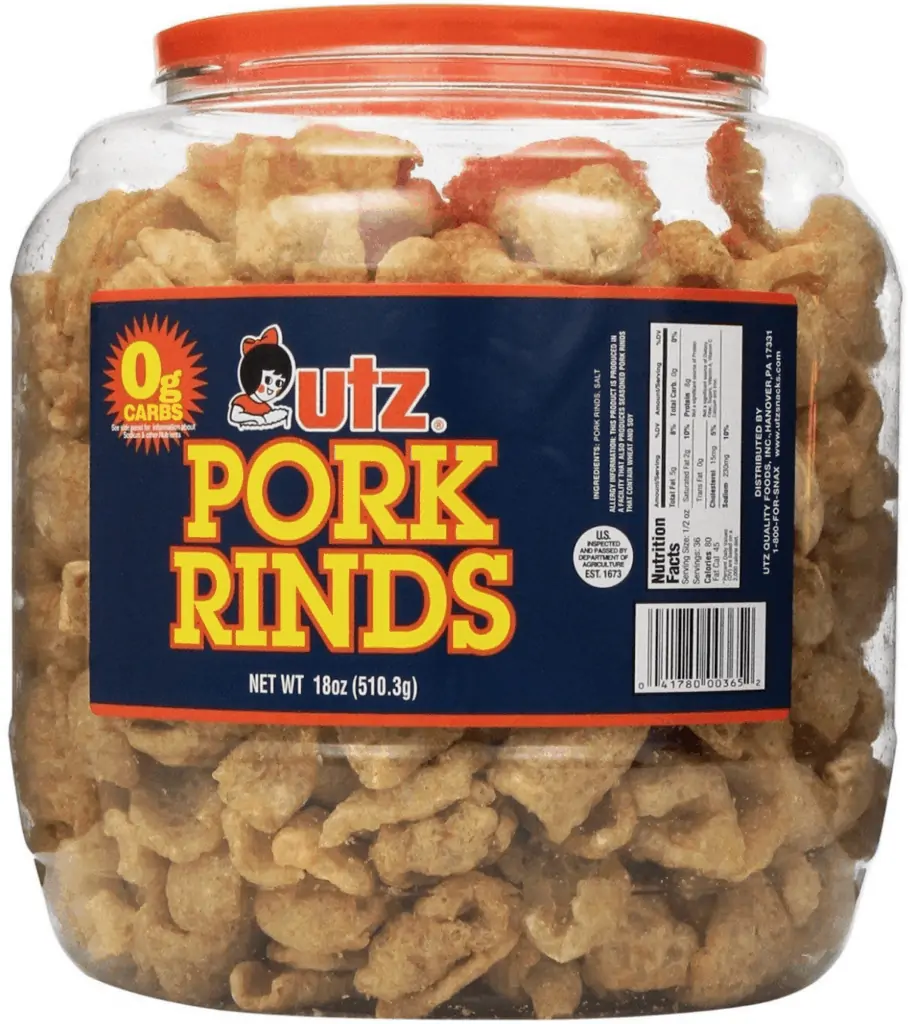 Pork rinds are popular with keto-ers because they're high in fat and protein but have no carbs. You can never really overdo it with these, so best to buy them in bulk! Utz's rinds are my favorite brands as they are inexpensive and sold in 18oz containers. They're also light, crunchy, and made with only two ingredients: pork rinds and salt.
Nutrition (½ oz): 80 calories, 5g fat, 0g fiber, 0g net carbs, 8g protein
2. Quest Nutrition Protein Chips
An Amazon's Choice product, there's a reason these protein chips are so popular: they're as tasty as they are filling. Like other Quest products, these Amazon keto chips are a source of complete protein. They're thinner than regular tortilla chips, but they make up for this with their lovely ranch flavor, satisfying crunch, and loads of filling protein.
Nutrition (1 bag): 140 calories, 4.5g fat, 1g fiber, 4g net carbs, 19g protein
3. HighKey Mini Cookies Bundle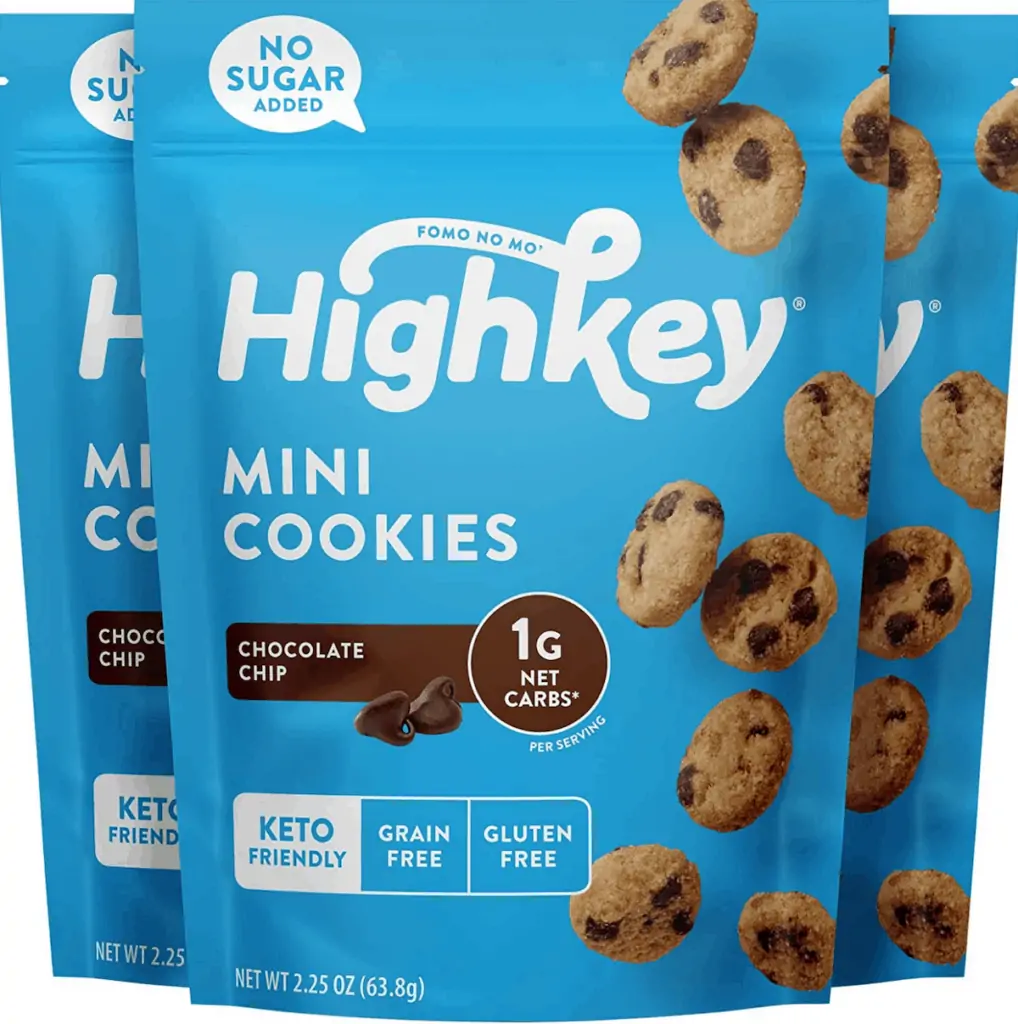 If one thing can derail you from your keto path, it's sugar cravings. That's why you should definitely consider getting a bag (or several) of these mini cookies. They're an Amazon best-seller and so good they broke the internet when they first came out. By choosing their bundle, you'll get to enjoy their double brownie, chocolate chip, and snickerdoodle flavors.
Nutrition (7 cookies): 130 calories, 13g fat, 2g fiber, 1g net carbs, 3g protein
4. Keto-Friendly Beef Jerky
The best low-carb snacks on Amazon are those that also help meet your protein needs, and these beef sticks do just that! Each stick has 5g of this essential nutrient along with 10g of fat. While these do contain corn syrup, it's only in small amounts, and the 2g net carbs attest to this. The sticks are individually wrapped, which keeps them fresh and makes them portable.
Nutrition (1 stick): 90 calories, 6g fat, 0g fiber, 0g net carbs, 9g protein
5. Epic Chicken Sriracha Protein Bars
These Amazon keto snacks are essentially on-the-go dinner in bar form. Made with 100% chicken covered in a tasty sriracha spice blend, this is one unique snack bar. Each bar is wrapped individually, and you get 12 of them in a box. Other than chicken, EPIC offers venison and uncured bacon pork bars.
Nutrition (1 bar): 120 calories, 6g fat, 2g fiber, 1g net carbs, 13g protein
6. Moon Cheese Variety Pack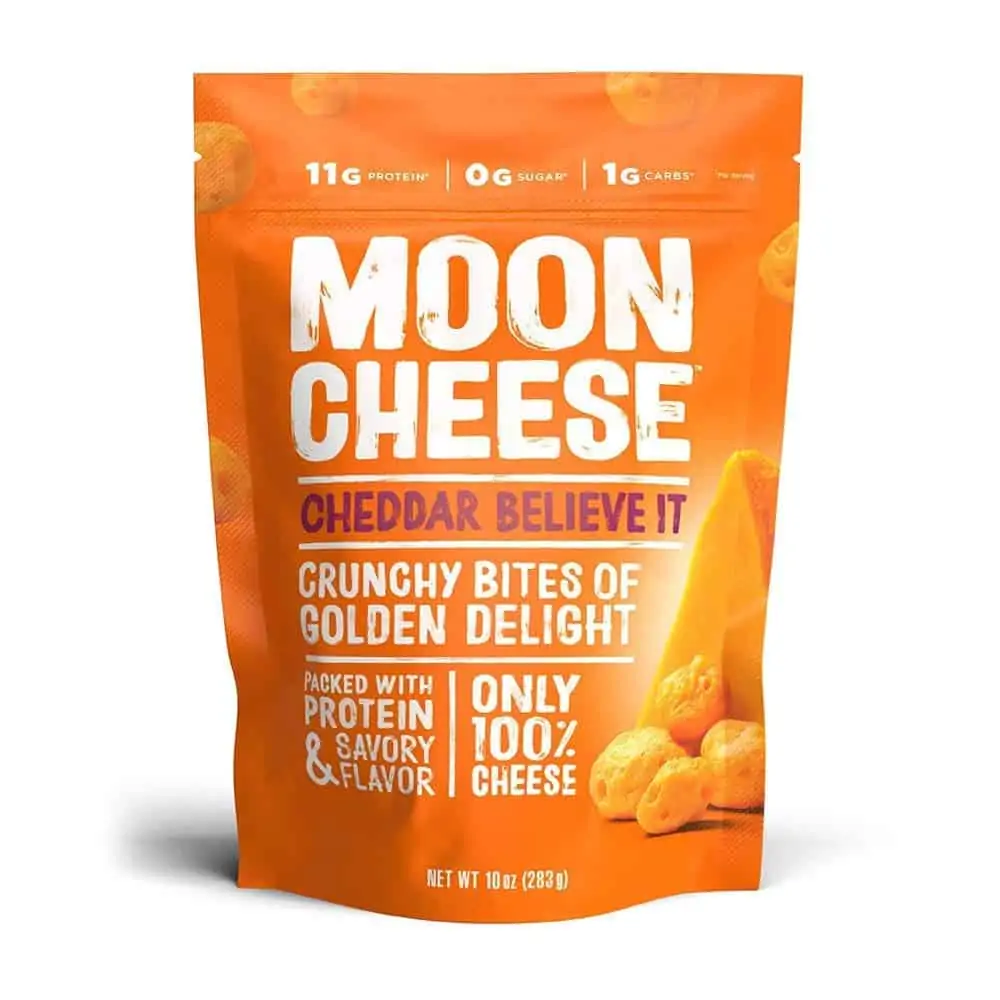 These Amazon keto chips are made with 100% cheese. They're a low-carb, high-protein substitute for cheese puffs. Plus, they come in exciting flavors: cheddar, pepper jack, and gouda. And if you're an Amazon Prime member, you won't pay for shipping.
Nutrition (14 pieces): 170 calories, 14g fat, 0g fiber, 1g net carbs, 11g protein
7. Toasted Almond Crunchy Bar
Snack bars are best when it comes to kicking midday munchies to the curb, but most are high in carbs. These, on the other hand, are made with toasted almonds and pumpkin seeds and have only 2g of carbs. They're also reasonably priced at $2 per bar! With 12g of filling protein, that's a pretty good bargain. Order the 12-count box on Amazon, and you'll have yourself a fantastic snack for days ahead.
Nutrition (1 bar): 220 calories, 17g fat, 3g fiber, 2g net carbs, 12g protein
8. Roasted Jayone Seaweed
Or maybe you'd just like something low in calories that will satisfy your love of crunch? This seasoned seaweed snack may be just the thing for you. It's roasted Korean seaweed, which is a great source of vitamins and minerals, including iodine. It's flavored with perilla oil to give it a lovely earthy flavor.
Nutrition (1 pack): 30 calories, 2g fat, 1g fiber, 0g net carbs, 1g protein
9. Keto Granola Variety Snack Pack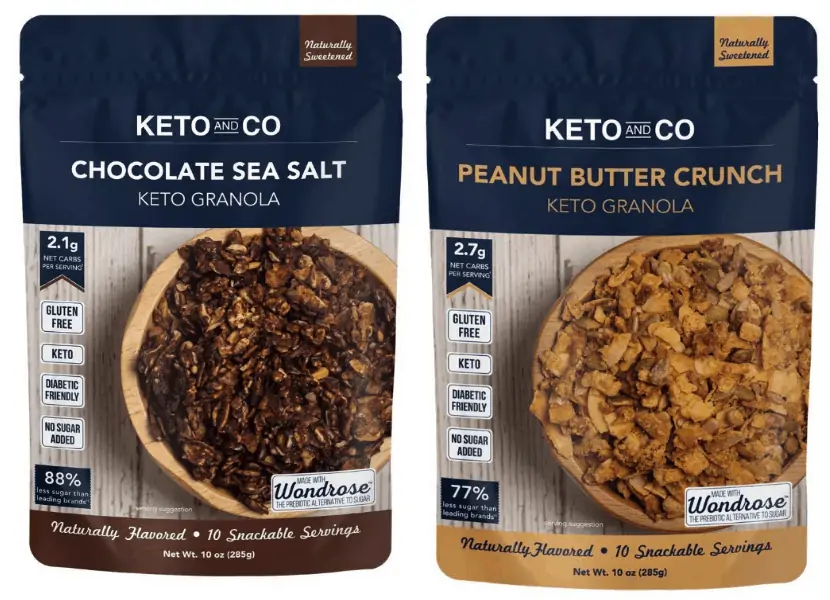 Keto-friendly snacks on Amazon also include low-carb granola, like this one by Keto and Co. Enjoy this straight out of the bag or sprinkle over Greek yogurt. It's a crunchy, sweet, flavorful product made with nuts, seeds, coconut chips, non-nutritive sweeteners, and natural flavors. If you order from Amazon, you'll get two bags, one in chocolate sea salt and the other in peanut butter crunch flavor.
Nutrition (¼ cup): 150 calories, 13g fat, 6g fiber, 2.1g net carbs, 4g protein
10. ParmCrisps Cheese Snack
These crunchy cheese snacks make a quick tasty snack with no carbs at all. They are sugar-free, gluten-free, and do not contain added fillers. If you love parmesan cheese, this keto-friendly snack is for you!
Nutrition (18g): 100 calories, 7g fat, 0g fiber, 0g carbs, 9g protein
11. Turkey Jerky Meat Snack Sticks
So many jerk meat brands in the market contain added sugar but not these turkey jerky meat sticks! With no carbs at all, or sugar added, this is a low-career's dream. I often find it hard to eat only one turkey stick, but with 30 calories per serving, I can eat a handful of these, guilt-free!
Nutrition (1 stick): 30 calories, 1g fat, 0g fiber, 0g carbs, 5g protein
Summary
Snacking on the keto diet will not only keep you on track but also makes low-carb living way more fun.
Unfortunately, it's not easy to find good enough options in our high-carb world. But that's definitely not the case with Amazon, where there are countless keto-friendly snack options. Amazon keto snacks include cheesy chips, protein-filled bars, sugar-free cookies, and much more!
Many of these items are easy to find at discount prices, and some you'll get delivered for free if you're a Prime member. Happy shopping!
Try these easy and tasty keto desserts!