What exactly is the African food known as Fufu? If you've ever wondered what fufu is and how it is prepared, then read this article to learn all about this beloved African cuisine.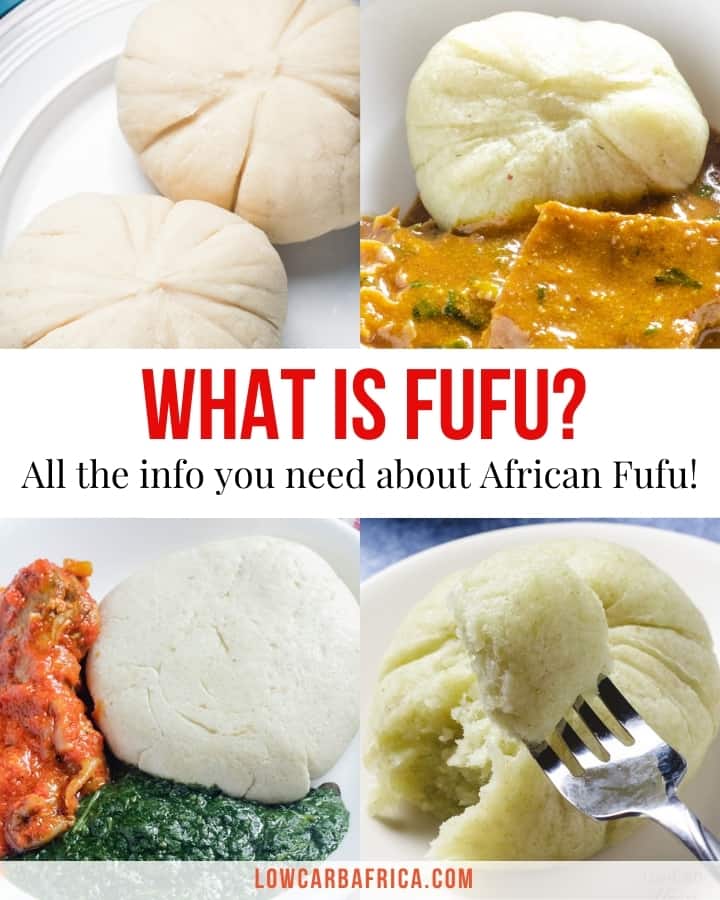 Jump to:
What is fufu?
Fufu (sometimes referred to as foo-foo) is a staple meal found in many countries in West Africa and Central Africa.
It is made by stirring, pounding, or kneading starchy vegetables like cassava or wheat, till it forms a dough-like consistency. Fufu is primarily eaten with African soups for a satisfying, balanced meal.
What is fufu made of?
Fufu varieties are found all over Africa and are made using readily available starchy vegetables native to that region. It is commonly made from cassava, yams, maize, plantain, wheat, corn, semolina, rice, or oatmeal.
The many names
Fufu goes by different names in different African countries. Here are some of the names of fufu in different regions and the ingredients used to make it:
Nigeria

Cassava fufu(Akpu) - fermented cassava
Eba - dried cassava (garri)
Pounded yam - boiled yams
Amala - yam powder (elubo)
Semolina - durum wheat
Oatmeal fufu - blended oats
Rice meal fufu (tuwon shinkafa) - cooked, mashed rice
Tuwon masara - corn flour

Ghana

Kokonte - cassava flour
Fufuo - cassava and plantain
Banku (Akple) - corn dough and cassava dough

Kenya & Tanzania

Ugali – cornmeal or millet flour

Ivory Coast
Cameroon
Zambia

Nshima – finely ground cornmeal

Malawi
Zimbabwe

Sadza - white maize meal or cornmeal

Uganda
South Africa

Vhuswa/Pap - corn or maize meal

Congo

Fufu - cassava, plantains, or yams.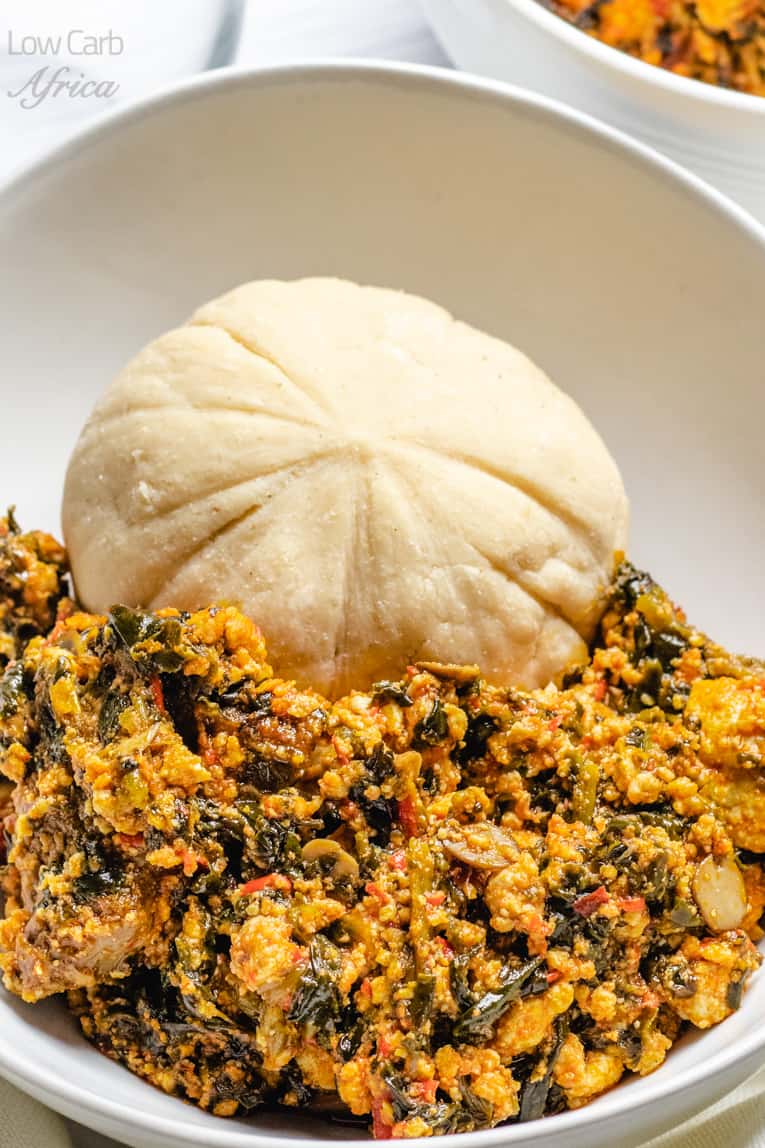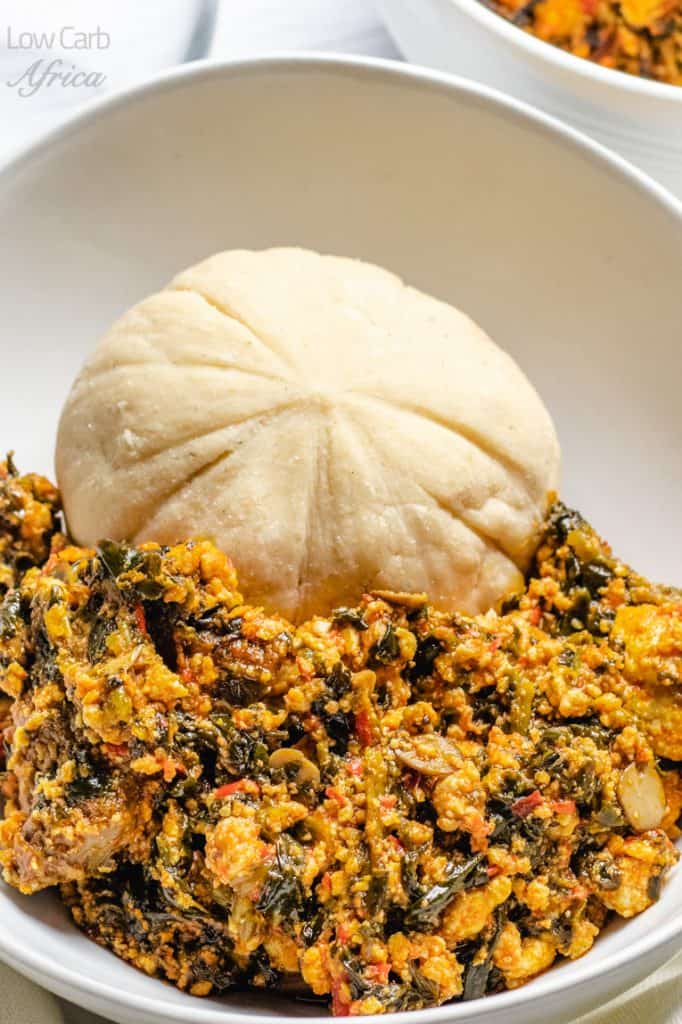 How to make fufu
Fufu is made in different ways depending on whether you use a starchy root vegetable or flour. If using a vegetable like yam, cassava, or plantain, first boil it till it is soft. Then, using a mortar and pestle, pound and knead it till it forms a stretchy dough texture.
If using flour, pour it into a pot containing boiling water and stir till the texture becomes dough-like. This is usually done with a large wooden spoon.
Eating fufu can be a very delightful and satisfying experience. It is served with an African soup either on the same plate or on a different plate. The soup is usually thick and gravy-like and made with vegetables, beef, goat, or other protein.
To enjoy fufu, you break off a small piece of the fufu and make a small dent in it to scoop up some of the soup. Then you swallow it.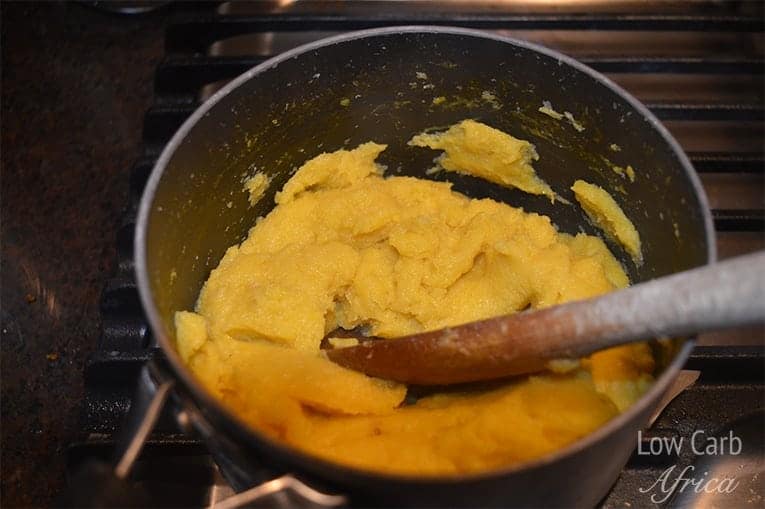 What does fufu taste like?
The taste of fufu varies, depending on the ingredients used to prepare it, but its taste can best be described as sour, bland, or tart. Fufu is not eaten alone and is usually eaten with an African soup, which is usually very rich and flavorful, and sometimes spicy. So the overall taste of the dish is determined by the flavors and spices in the soup.
Are you supposed to chew fufu?
Fufu is usually mixed with soup and swallowed without chewing. This can take some getting used to if you haven't tasted it before. Most Africans start their kids on fufu when they are very young, so they grow accustomed to it.
Because of the somewhat bland taste of fufu, chewing it might taste, well, bland. Swallowing it is preferred because the fufu's texture is smooth and is coated with soup to help it go down easily.
That's not to say you can't chew fufu if you want to. You just need to cut it into really small pieces and thoroughly coat it with the soup before chewing, so you can really savor the flavor. This youtube video shows how to eat and enjoy your fufu dishes!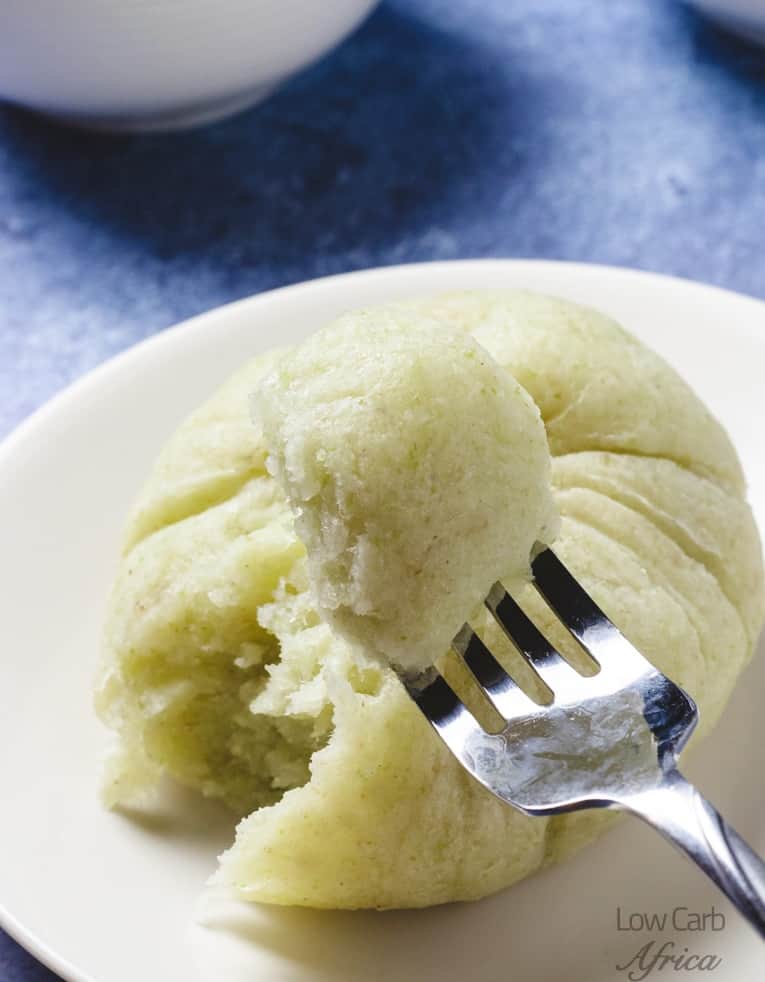 Storing and reheating
Fufu can be easily preserved in the fridge, and it stays fresh for two to three days. To store it, let it cool down completely to room temperature, then wrap it in cling wrap and store in the fridge. To reheat, warm it up using a microwave or on a stove with a little water.
What do you eat it with?
You can enjoy a delicious bowl of fufu with many different kinds of vegetable soups prepared with various proteins like chicken, beef, lamb, goat, or fish.
Some delectable African soups that go perfectly well with fufu are: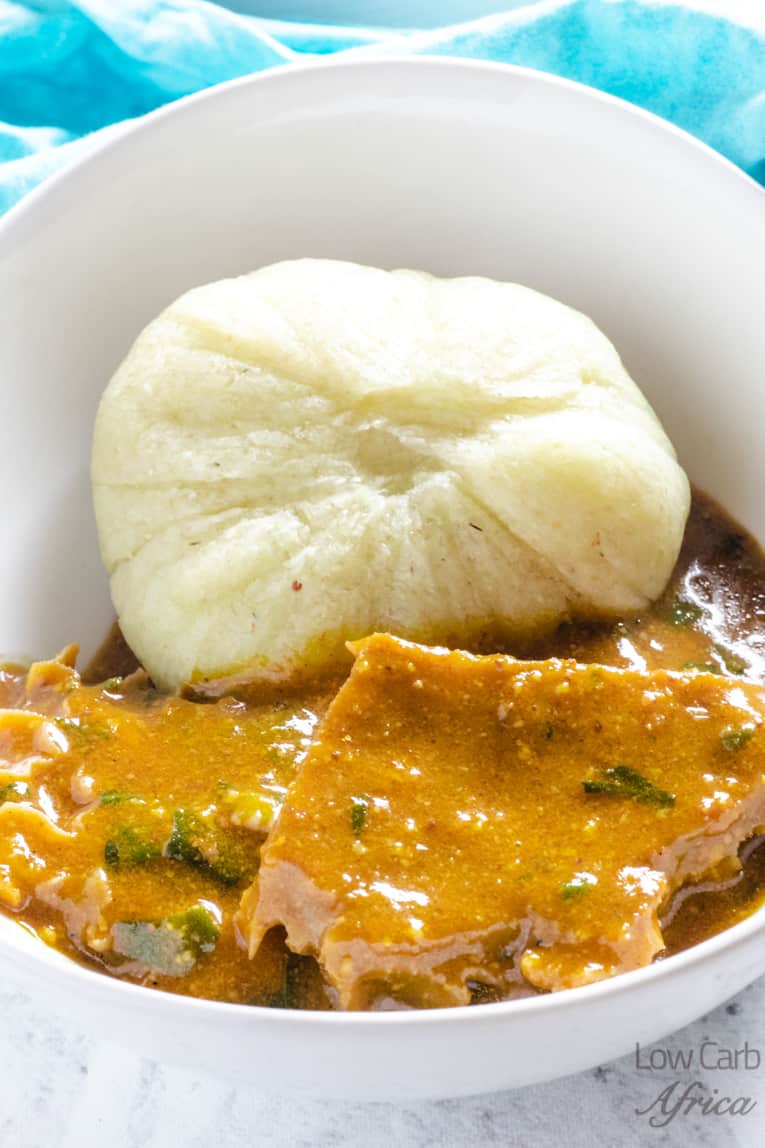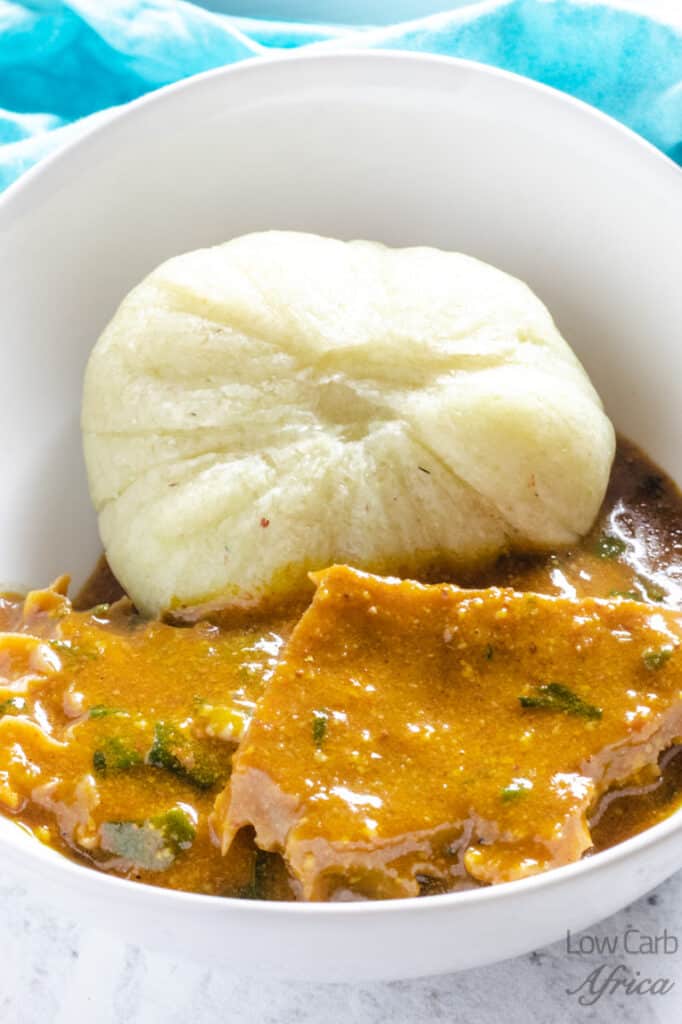 Can you gain weight eating fufu?
Unfortunately, yes. Most fufu dishes are very high in carbs, and some contain as much as 100g of carbs per serving. For a young kid, these carbs provide much needed energy but for an adult, unless you have a very physically demanding job, it will become increasingly hard to burn all the carbs and calories in a fufu dish.
This will undoubtedly begin to cause weight gain that will slowly creep up at first, but will become more apparent as you grow older. Also, since most African soups are high in fat, you are essentially eating a high-carb, high-fat meal which will lead to obesity and other health problems, especially if you eat fufu several times a week.
Can you eat fufu on a keto diet?
The keto diet is a high fat, moderate protein and low carb diet. Since fufu is very high in carbs, you cannot eat it in its regular form on the keto diet.
However, you can cut down the carbs in fufu dishes without sacrificing too much on taste by eating low carb versions of fufu dishes. Fufu in itself tastes a bit bland, and the flavor of the dish comes from the soup it is eaten with.
So replacing fufu in your dish does not take away from how delicious and flavorful it will taste!
Here are some great low carb alternatives: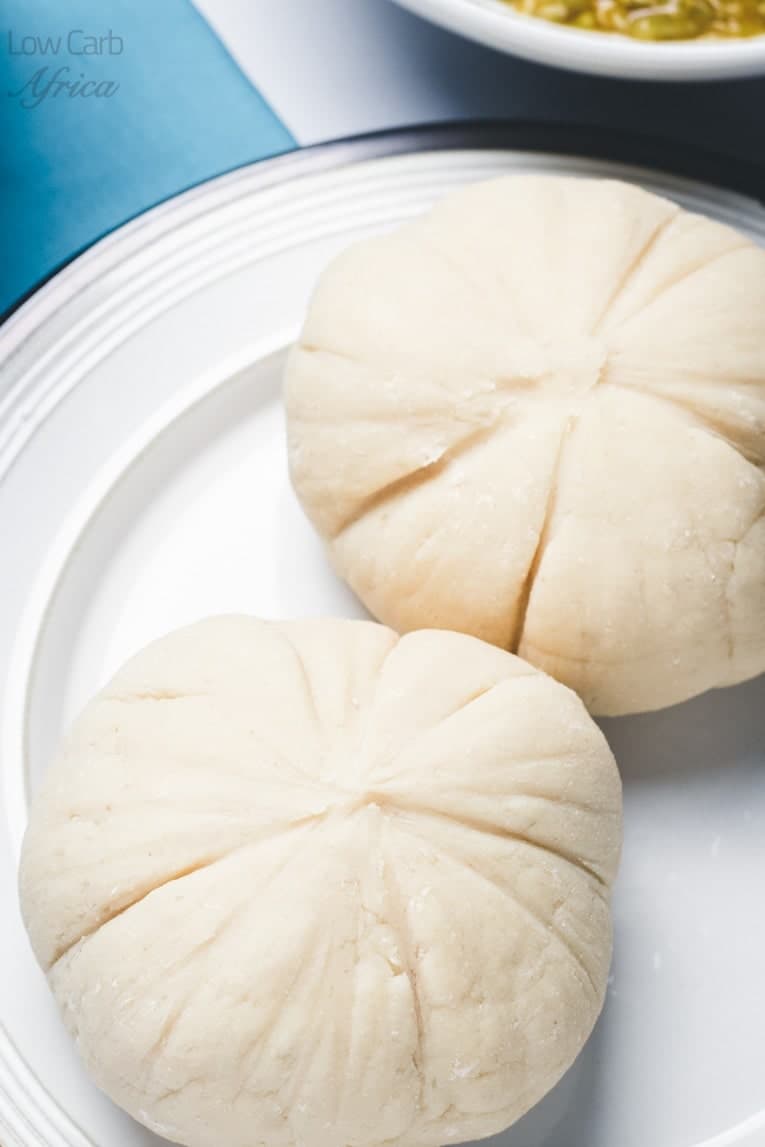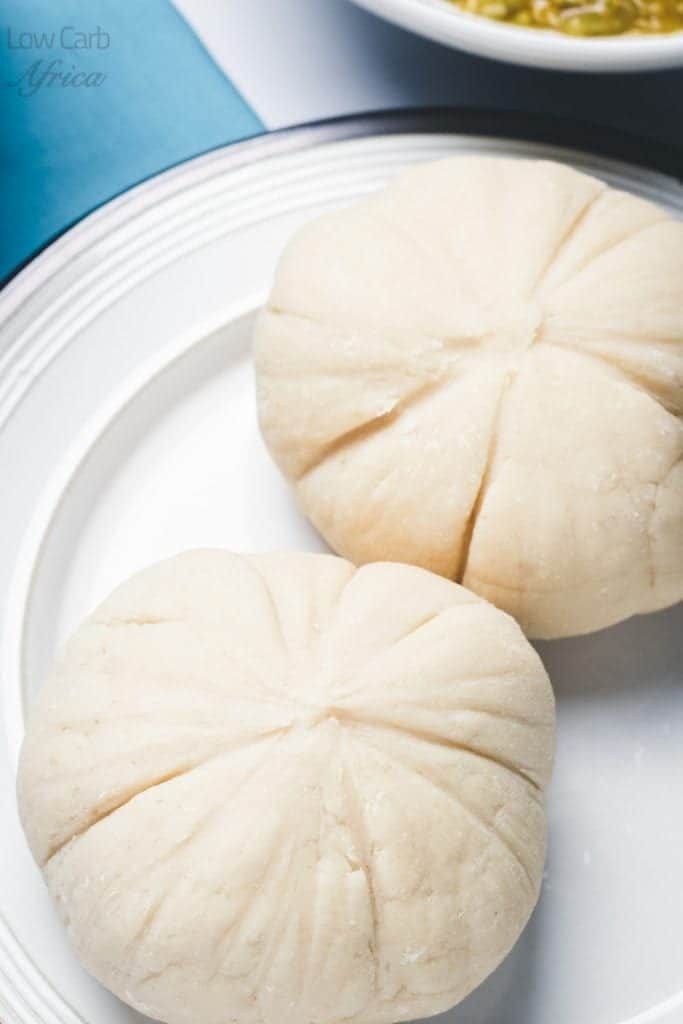 Enjoy these other delectable keto African dishes!