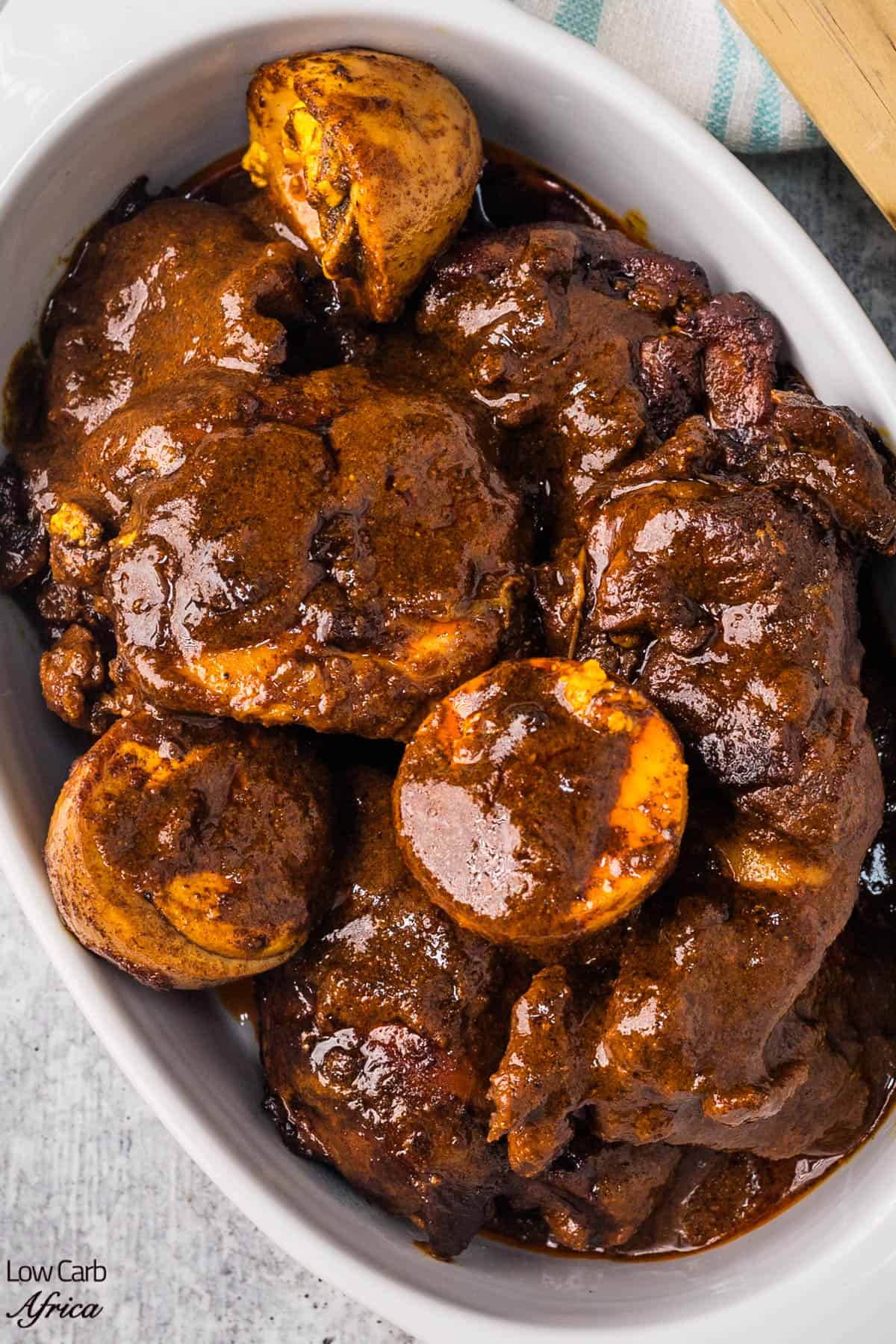 Jump to:
❤️ Why you'll love it
Doro Wat is more than just a dish; it's a culinary treasure and often called the national dish of Ethiopia. Perfect for special occasions or when you simply crave something extraordinary, this dish is not only a great recipe but also a part of a larger Ethiopian meal experience.
It's the real deal, simmered with care and attention, taking its time to infuse every bite with spiced clarified butter, a rich Berbere spice blend, a pile of sliced onions with garlic and ginger, and tender chicken and eggs. It's a taste that's been perfected over a long time, and this Doro Wat recipe is here to make your dining moments truly memorable.
🥘 Equipment Used
The following are affiliate links. We are a participant in the Amazon Services LLC Associates Program, an affiliate advertising program designed to provide a means for us to earn fees by linking to Amazon.com and affiliated sites.
To prepare your own Doro Wat at home, you'll need a large pot or a Dutch oven, a cutting board and a sharp knife.
🧾 Ingredients Used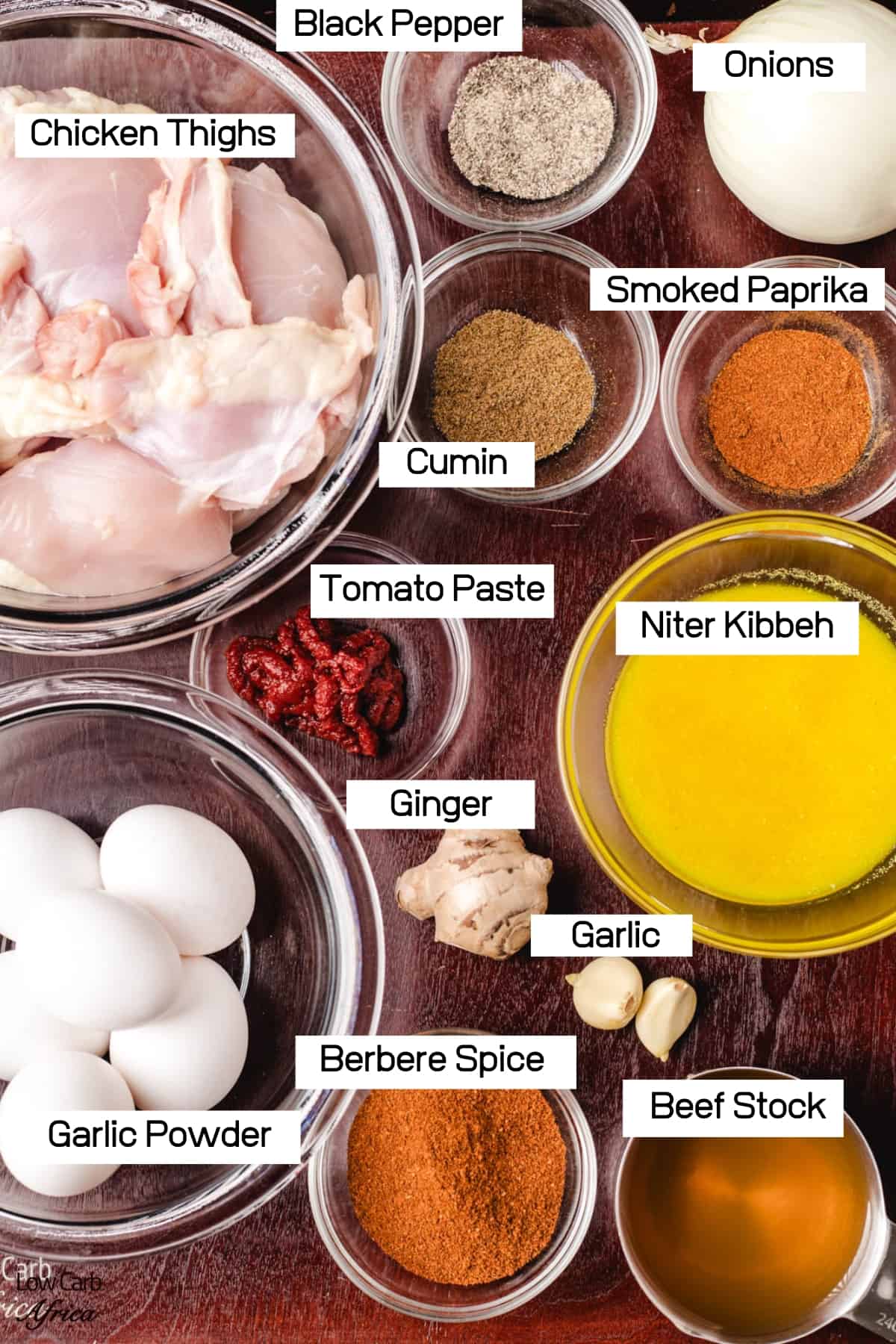 Niter Kibbeh: The flavorful Ethiopian spiced clarified butter is the basis of this dish and adds incredible flavor to every bite.
Aromatics: Add onions, garlic, and ginger to build rich layers of flavor.
Chicken thighs: This hearty cut has the perfect tender texture to simmer in the mix of spices.
Spices: This Doro Wot recipe calls for Berbere spice mix (look for Berbere seasoning in specialty stores), smoked paprika, black pepper, and salt.
Tomato Paste: This adds a hint of tanginess and depth of flavor.
Chicken Stock: This will soften the aromatic vegetables and chicken thighs while giving this spicy chicken stew a rich broth.
Boiled Eggs: This iconic addition makes Doro Wat truly special. You'll add them in the last ten minutes to keep them from falling apart.
🔪 How To Make This Recipe
In a large pot over medium-low heat, add the niter kibbeh and allow it to melt.
Add the chopped onions, garlic, and ginger, and cook until caramelized.
Add the berbere spice, smoked paprika, black pepper, and salt. Stir for 2-3 minutes.
Pour in the chicken stock, add the tomato paste, and chicken thighs.
Cook for 30-40 minutes or till the chicken is tender.
Add in the boiled eggs and simmer for 10 mins on low heat.
Taste for spices & adjust.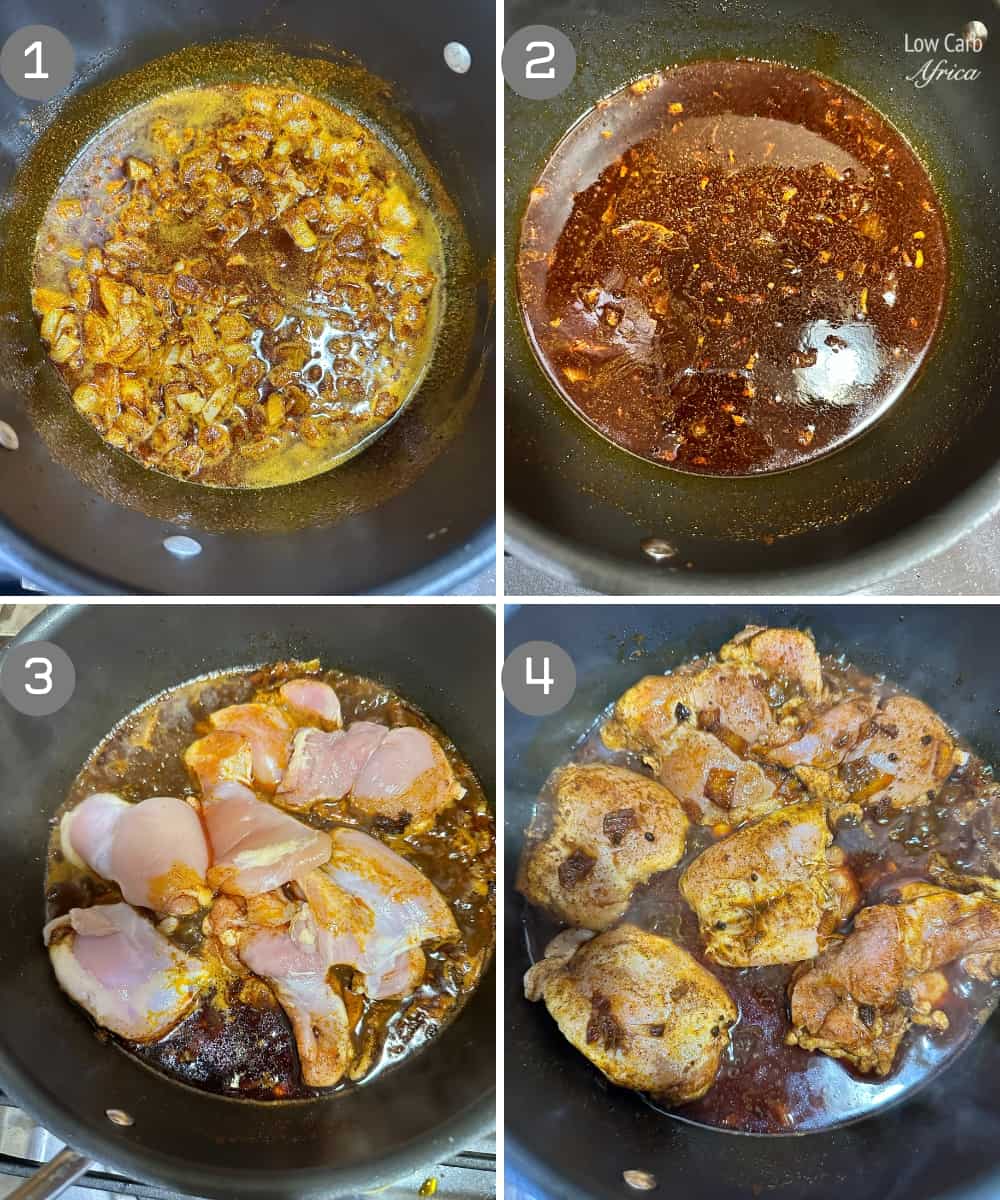 🥫 Storing and Reheating
Store leftovers in an airtight container and pop it into the fridge for 3-4 days. The flavors meld over time, making the leftovers incredibly delicious. To reheat, add a splash of water or chicken stock to a saucepan and gently hit the stew until it is fully warmed through. You can also freeze leftover Doro Wat in a freezer-safe container for 2-3 months. Be sure to let it thaw in the fridge overnight before reheating.
💭 Tips and Variations
Make your own Niter Kibbeh at home. This clarified butter is a key ingredient in this version of Doro Wat and adds so much flavor.
Berbere is a flavorful Ethiopian spice blend that can be quite hot for some palates. Adjust the seasoning level to your heat tolerance.
This is one of those long-simmered stews that needs time to cook and tenderize. Don't rush the process.
For a vegetarian option, replace the chicken with hearty vegetables like potatoes, carrots, and bell peppers.
Feel free to use lamb or beef instead. Use a thinner cut to ensure it can cook down in the length of time.
To customize this recipe, add a dash of cayenne for extra heat, chili peppers for flavor and heat, or a touch of cinnamon for a subtle sweetness.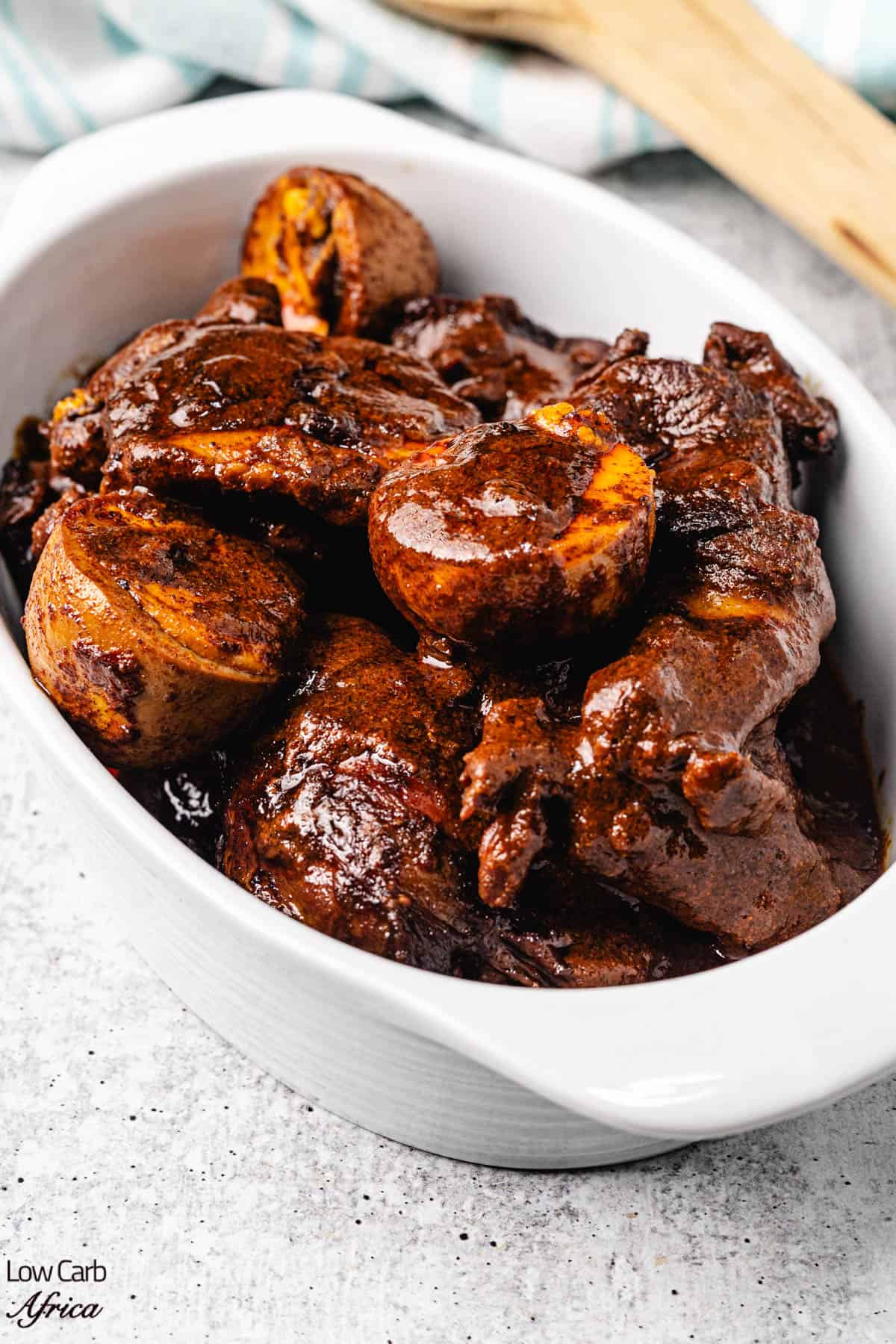 🍽️ What can I eat this recipe with?
Like much of Ethiopian cuisine, Doro Wat is incredibly versatile and pairs wonderfully with a variety of sides. Enjoy it with the injera bread, a sourdough Ethiopian flatbread with a slightly spongy texture.
For a low carb meal, try pairing it with Ethiopian collard greens, cauliflower rice, or homemade low carb flatbread.
👩‍🍳 Frequently asked questions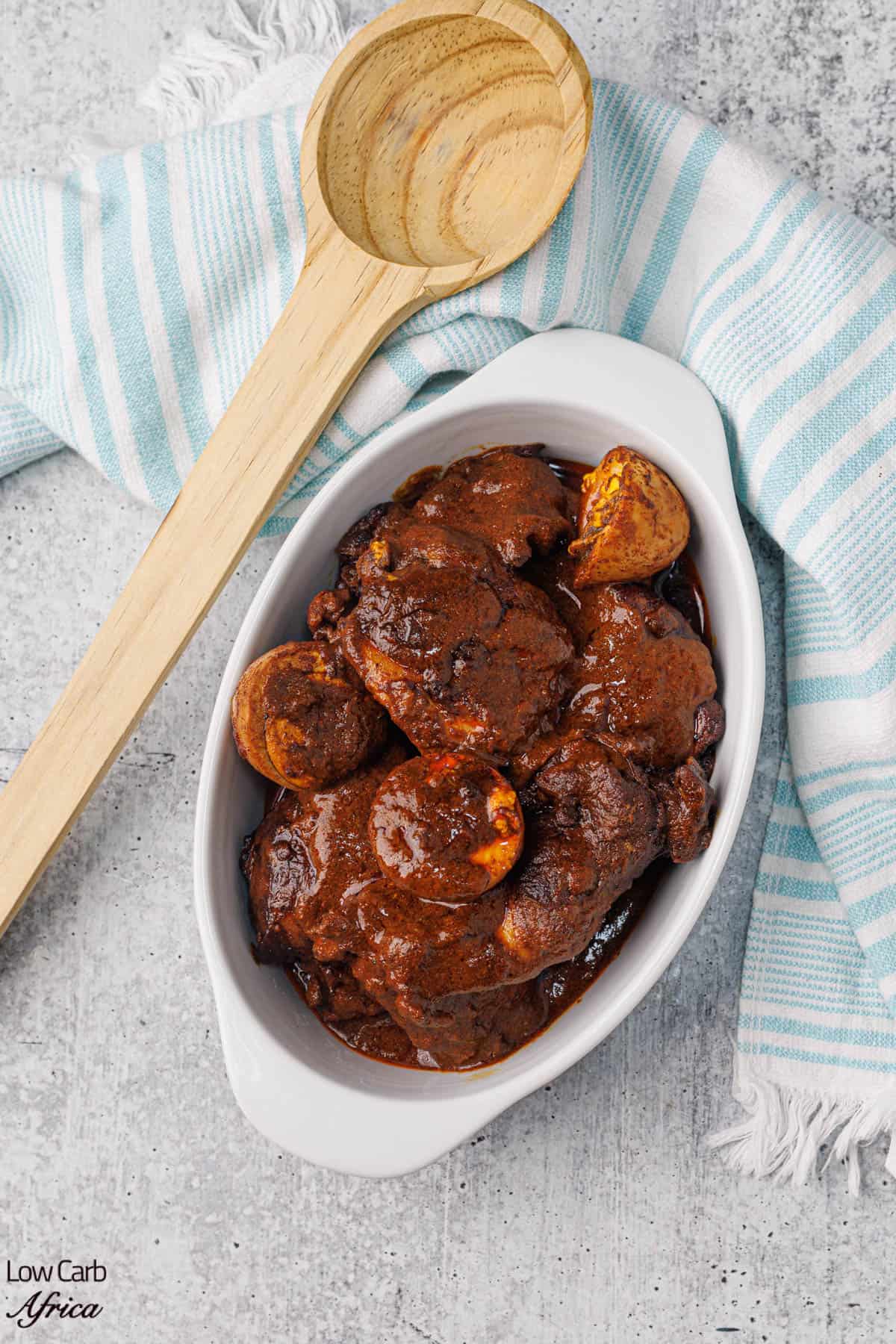 📖 Recipe