Eggplant Amala Fufu (swallow) is an excellent choice when low carbing and craving the taste of the traditional Nigerian Amala Fufu (Elubo).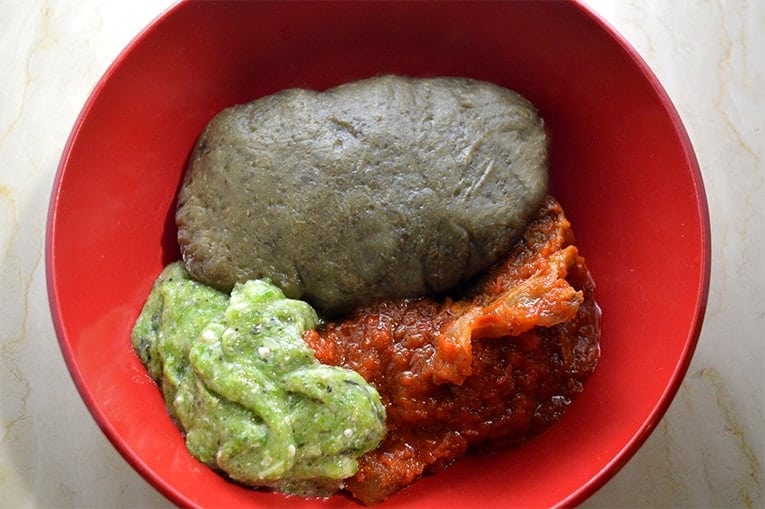 Amala, like all Nigerian fufu dishes, are high in carbs, but this recipe is made with eggplant (also known as Aubergine) for a delicious, low carb alternative. Eggplants are low carb, high fiber vegetable and the consistency is similar to that of Amala (soft and sticky), which makes it a great substitute.
Even though the eggplant is a dark purple color, it turns a dark, grayish color when prepared which is also similar to the color of Amala. So you have a vegetable which is the same color and the same consistency which makes it a perfect match.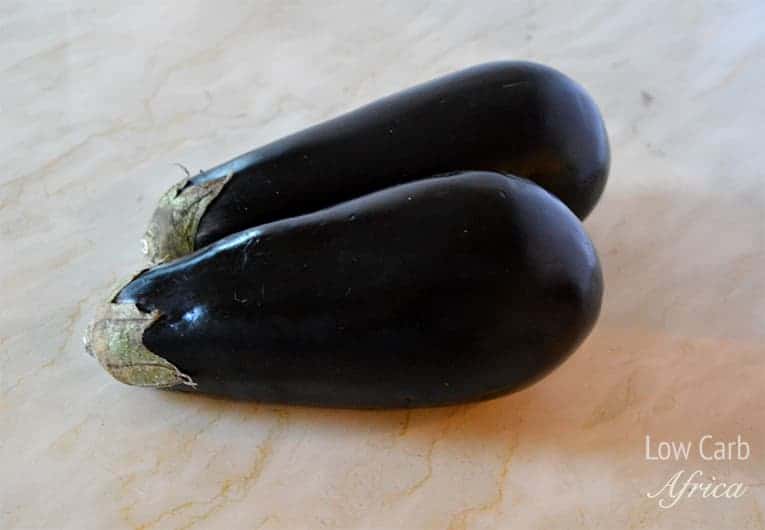 When choosing the right eggplant to use, there is a lot of information online about which type to buy as one has more seeds and is slightly more bitter (note I said slightly, because you might not even notice it).
The prevailing wisdom is that the larger ones are slightly bitter and have more seeds, so choose one that is smaller or medium-sized. Also, eggplants have an indentation at the bottom. Those with a round indentation are sweeter and have fewer seeds while those with an oval indentation have more eggs and are slightly bitter.
To be honest, I never check and just pick whichever I can get my hands on but if the seeds or taste bothers you, now you know what to do.
The only ingredient added to this Eggplant Amala Fufu recipe is psyllium husk. I like to use more than one eggplant so I can save the rest in the fridge for another day. So this recipe calls for two eggplants and makes two servings.
Of course, you can make as many as your heart desires. This really keeps for up to a week in the fridge. I haven't tried keeping it for longer just because I don't make more than a few servings at a time.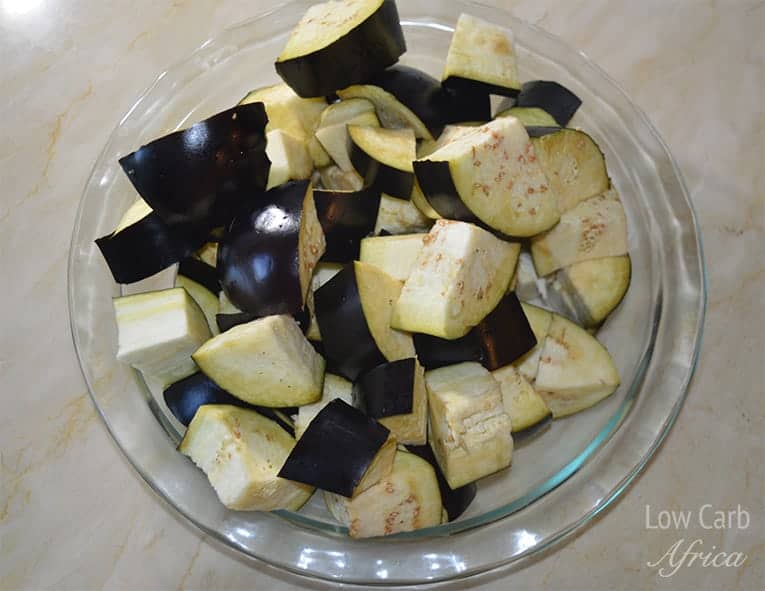 To start, cut the eggplant into large cubes. Don't worry about it looking perfect as it will be blended anyway. Just before I start cutting the eggplant, I place a pot of water on the stove to start heating up so things can move faster.
After cutting the eggplant, place it in the hot water on the stove and set it to high heat. My water had already boiled before I was ready so it only took about 10 minutes for the eggplant to get soft. The key is to keep boiling until you can pass a fork through it without any resistance.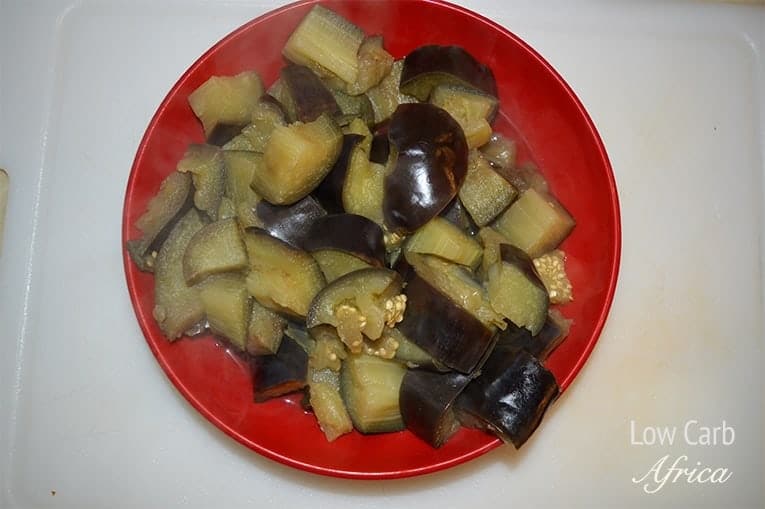 Use a large slotted spoon to scoop up the boiled eggplant pieces into a large bowl lined with paper towels. This will help absorb some of the excess water. Using a food processor, blend the eggplant until it is pureed. Do not add any water at this stage.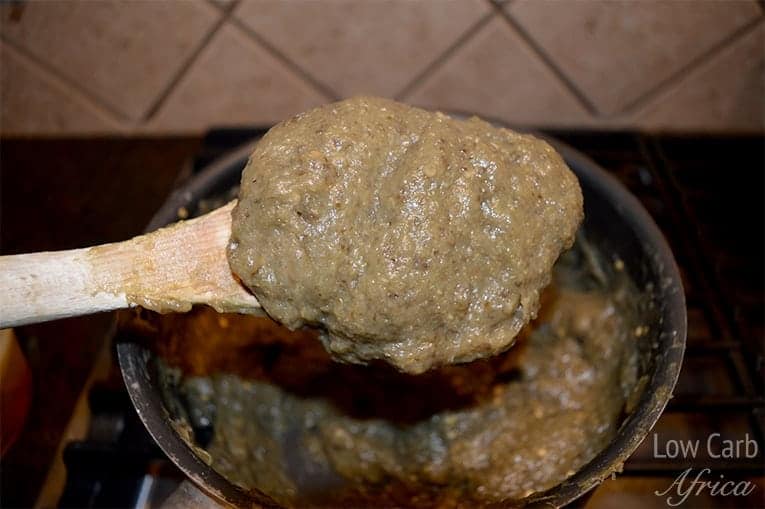 Pour the pureed eggplant back into the pot and stir for 2 minutes on medium heat. Add two tablespoons of psyllium husk and stir for another 3 minutes. Note, it's one tablespoon of psyllium husk for each eggplant. But again, not all psyllium husks are created equal.
If you are not satisfied with the consistency, add another tablespoon of psyllium husk but no more than that.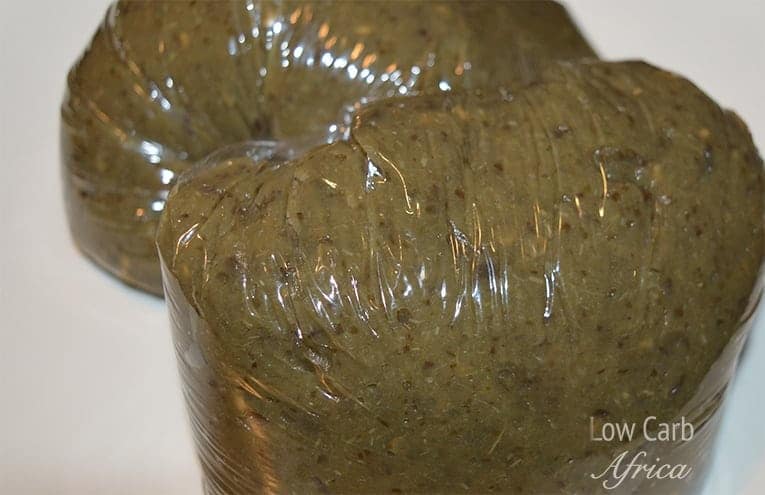 Scoop into two plastic wraps and refrigerate for an hour. The longer it is refrigerated, the firmer it becomes due to the continuous binding of the psyllium husk.
Serve and enjoy with your favorite African soups!
Egusi soup
Efo Riro (Nigerian Spinach Stew)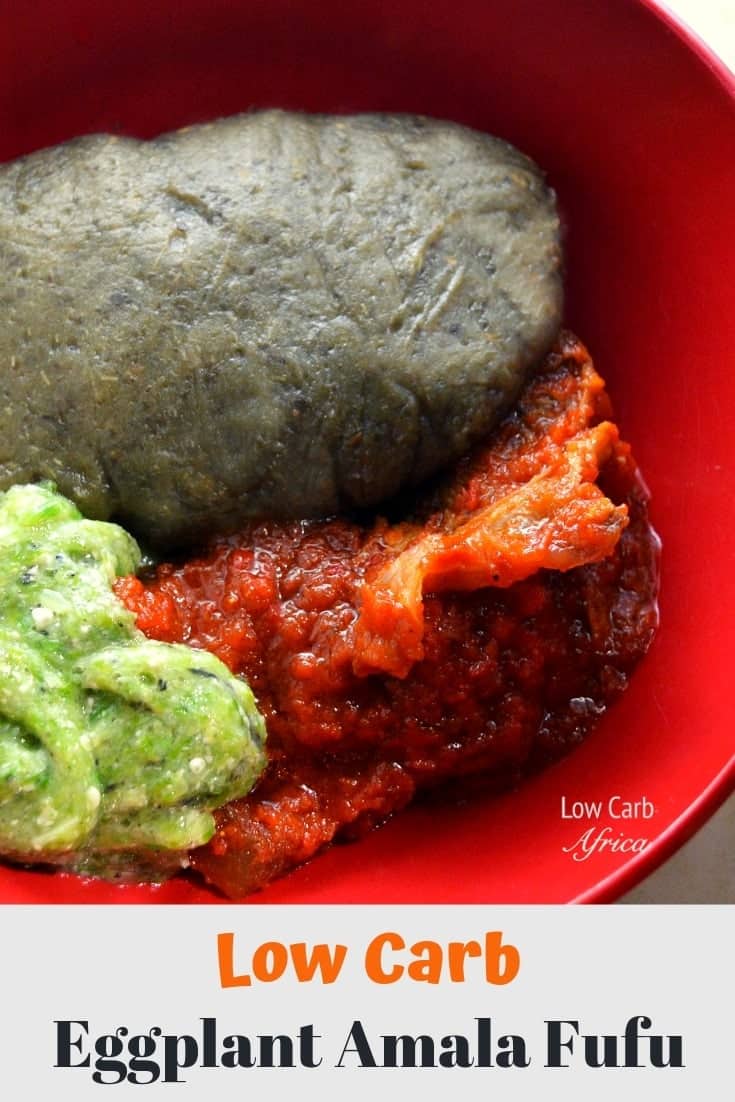 Don't forget to check out our other popular low carb dishes!
Cauliflower Fufu
Cabbage Fufu
Coconut Fufu
📖 Recipe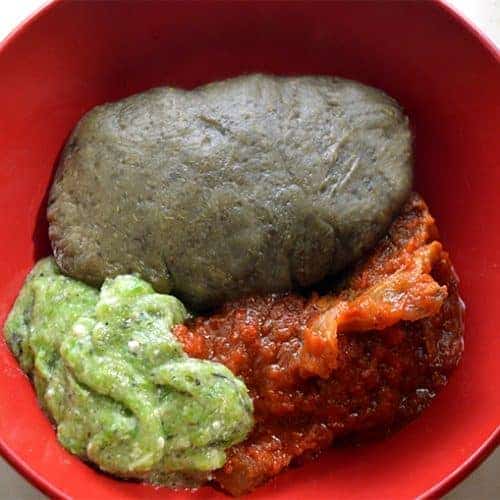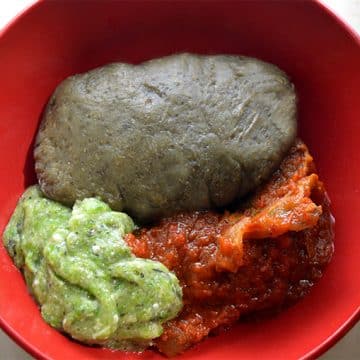 Eggplant Amala Fufu (Swallow)
Eggplant Amala Fufu is the perfect low carb replacement to the traditional Nigerian Fufu dish which is very high in carbs. Enjoy this healthy and spicy dish with your favorite Nigerian soup!
Print
Pin
Save
Saved!
Instructions
Boil some water in a large pot.

Cut the eggplants into large cubes.

Boil the eggplants in hot water till very soft.

Scoop the eggplants out of the boiled water into a large bowl lined with paper towels.

Blend on high with a food processor till pureed.

Pour the mixture in a pot and stir for 2 minutes on medium high heat.

Add the psyllium husk and stir for another 3 minutes.

Serve with your favorite soup and enjoy!
Nutrition
Serving:
2
servings
|
Calories:
132
kcal
|
Carbohydrates:
30
g
|
Protein:
4
g
|
Fiber:
17
g
Tried this Recipe? Let me know!
tag @lowcarbafrica on Instagram and please leave a comment below