What is the keto diet really all about? This keto for dummies guide will tell you all about the keto diet, how to get into ketosis and how to combat the keto flu.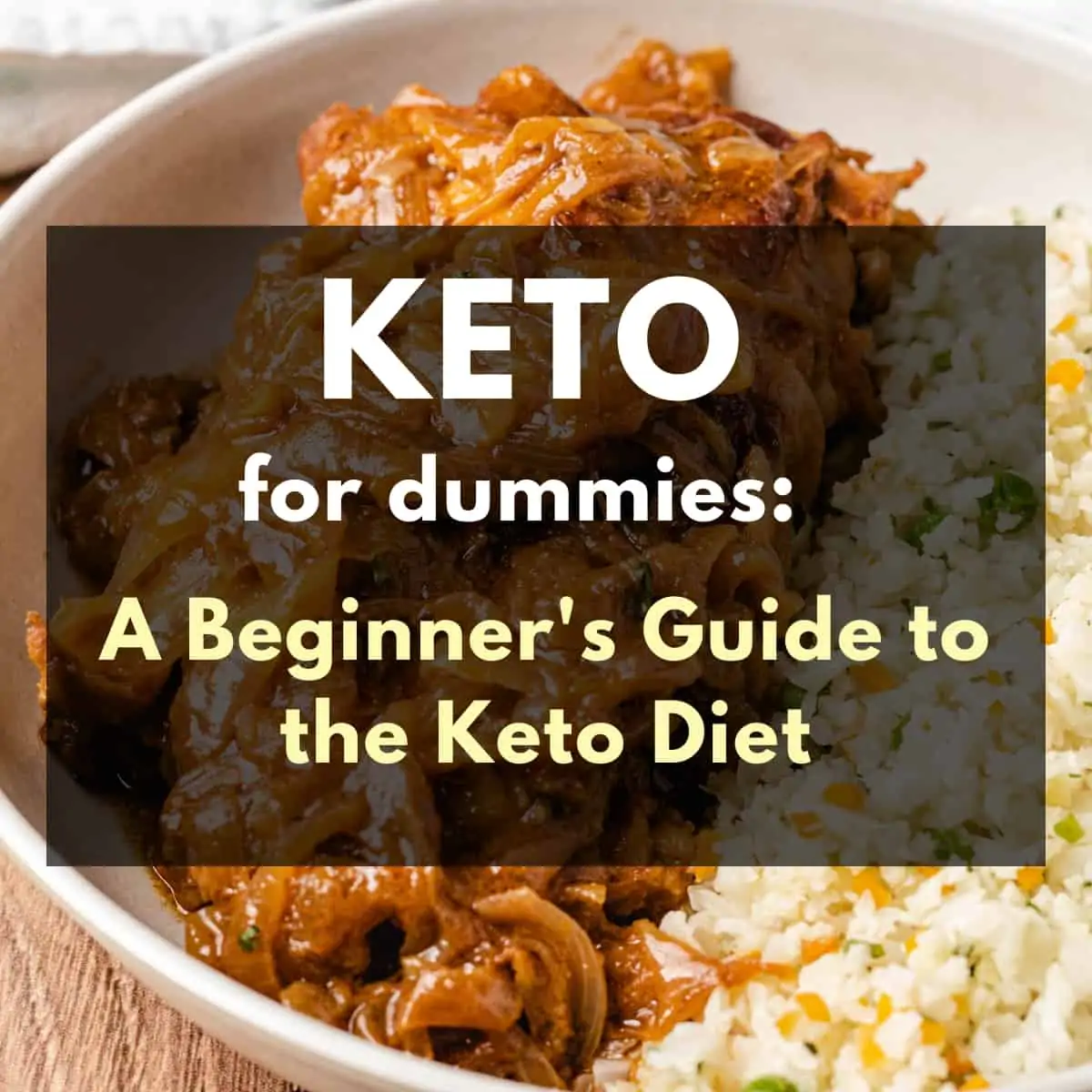 The ketogenic diet (also known as the keto diet) is a very low carbohydrate and high-fat diet. On the keto diet, you primarily consume a diet of 75% fat, 20% protein, and 5% carbs. In other words, your carb intake for the day is between 20-25g of carbs.
Most people track net carbs on the keto diet, which is total carbs minus fiber. Fiber is a type of carbohydrate your body cannot digest, and it does not affect your blood sugar levels. Therefore, carbs are actually limited to 20 to 25g after the fiber is subtracted. This is known as 'net carbs'.
In comparison to the keto diet, the standard American diet is 35% fat, 15% protein, and 50% carbs, which amounts to 200-300g carbs per day. This is about 10-12 times the number of carbs in the keto diet!
Reducing carbs puts you in a metabolic state known as ketosis.
Jump to:
What is ketosis?
Ketosis is a metabolic state in which the body does not have enough glucose for fuel and thus begins to burn fat for energy instead.
The human body has two primary sources of fuel: fat and glycogen.
Carbs consumed are broken down into glucose for fuel and when the body doesn't need to use up the glucose immediately, it is stored in the liver and muscles in the form of glycogen until it is needed.
When you stop consuming carbs and all the glycogen reserves have been depleted, the body begins to burn fat for fuel and releases an acid called ketones into the bloodstream.
When your body is actively burning fat for fuel, you are in ketosis. It generally takes 2-4 days to enter into a state of ketosis.
You can test if you're in ketosis by using keto strips.
Is the keto diet safe?
The keto diet is generally safe but not recommended for young kids, pregnant or breastfeeding women.
People prone to gallbladder disease or kidney stones should be under medical supervision. In general, If you have any medical conditions, make sure your primary physician is aware of your decision to go on the keto diet.
Health benefits of the keto diet
The keto diet boasts an impressive list of health benefits such as:
Faster weight loss. As the body enters ketosis and switches to burning fat primarily for fuel, this results in faster weight loss for most people. It is not uncommon to lose 10 – 20 lbs on the keto diet in the first month.
Improved cholesterol levels. According to a study done on the long-term effects of the keto diet in obese patients, it was found that the diet can decrease the level of triglycerides and LDL cholesterol (bad cholesterol), and increase the level of HDL cholesterol (good cholesterol).
Improved brain health. The keto diet helps to increase memory, clarity, cognition, and decrease migraines. It may also be beneficial for people with Alzheimer's disease.
It can help fight some types of cancers. New research has shown that the keto diet can help fight certain cancerous tumors, such as squamous cell carcinoma tumors.
It improves energy and sleep. On the keto diet, many have reported improved quality of sleep which translates to better energy during the day.
Decreases inflammation and irritable bowel syndrome. The keto diet has been shown to improve gut health and reduce several markers of inflammation.
It can help reverse diabetes and battle metabolic syndrome. The keto diet has the potential to reduce blood glucose levels. A high carb meal leads to a spike in blood glucose, and limiting carb intake will help avoid this, which in turn reduces the need for insulin in those with diabetes.
What is the keto flu and how do you avoid it?
A few days after starting the keto diet, you might begin to feel like you have a mild flu. You might experience symptoms such as:
Headache
Brain fog
Irritability
Nausea
Fatigue
Dizziness
Sore Muscles
Stomach ache
There are a few reasons why this might be happening. They include a withdrawal effect from sugar and carbohydrates and the loss of excess fluid when carb intake is reduced.
For every gram of carbohydrate stored in the body, the body retains 2-3 grams of water. So it stands to reason that when you suddenly restrict carbs the body will release the retained water. This might cause an electrolyte imbalance that will bring on flu-like symptoms.
To combat the keto flu, you have to stay hydrated and replace the electrolytes that have been lost. You can add a little pink Himalayan salt to your water or drink bone broth. Bone broth is full of vitamins, minerals, and electrolytes which help counteract the effect of the keto flu. You can buy it or make your own from scratch.
What can I eat on the keto diet?
On the keto diet, since carbohydrates have to be kept to 25g net per day, you will need to eliminate all major carb and sugar sources. This includes processed foods, foods made with wheat or corn, legumes, and sugary fruits.
Your diet should consist mostly of healthy fats, animal products, and vegetables that grow above the ground like broccoli, cauliflower, spinach, and other green leafy vegetables.
Will the keto diet help me lose weight?
The keto diet is actually one of the fastest ways to lose weight. With the absence of carbs as fuel, the body begins to burn the fat reserves for fuel.
Is the keto diet expensive?
The keto diet can be as cheap or expensive as you choose to make it. You really do not need to break the bank to be successful on the keto diet.
You don't have to buy expensive meats or seafood. You can stick to chicken and beef. For beef cuts, you don't need the expensive prime cuts, you can buy the cheapest, fatty cut and it will work perfectly. It is actually better to buy fatty cuts than lean cuts because it helps you feel full faster.
For vegetables, stick to what is in season to cut down on costs. Most vegetables are affordable and you can stick to common produce such as lettuce, cauliflower, spinach, cabbage, bell peppers, etc for most recipes.
I hope this keto for dummies guide has helped you learn more about the keto diet. Check out this article with actionable tips on how to be successful on the keto diet!