Is beans allowed on a low carb or keto diet? Beans and other legumes are usually very beneficial and nutrient dense but there are so many different types of beans, that you might wonder which, if any, is allowed on a low carb diet.
As a kid growing up, I remember my mum loved to serve beans and fried plantain, but being the sweet-toothed child that I was, I would eat the delicious fried plantain and reject the beans, no matter how delectable she made it. And it wasn't just me; I know all my sisters did this too. My mum would try to coax me to eat up and preach about how healthy beans was and that it was loaded with proteins to help us grow strong, but that didn't work. Over the years, I've had a love-hate relationship with beans but I always believed it was made up of mostly proteins and was very healthy so I just had to eat it. It took me a while to understand that beans had almost three times the amount of carbs as protein.
To dig deeper into this, there are actually many different types of beans. In Nigeria and in most West African countries, the primary legume we consume as beans is called the black eyed pea, also known as black eyed bean (despite the name, it is actually beans, and not a type of pea). The black eyed pea is very nutritionally dense and is a major source of carbs, protein, fiber, folate, magnesium, calcium, potassium, zinc, iron and many other important vitamins and minerals. It is one healthy dish!
Black eyed peas are native to West Africa but are also grown in warm regions around the world. They are very versatile and you can prepare them in many different ways  – steamed, bean porridge, moin moin (steamed bean pudding) or akara (fried bean cake). One cup of boiled cowpeas has 35g of carbs, 13g of protein and 11g of fiber.
In West Africa, we primarily eat two slight variations of the black-eyed peas: honey beans (also known as African brown beans) and cowpeas (sometimes used interchangeably with black-eyed peas). While honey beans have a distinct sweet flavor, cowpeas have more of an earthy flavor.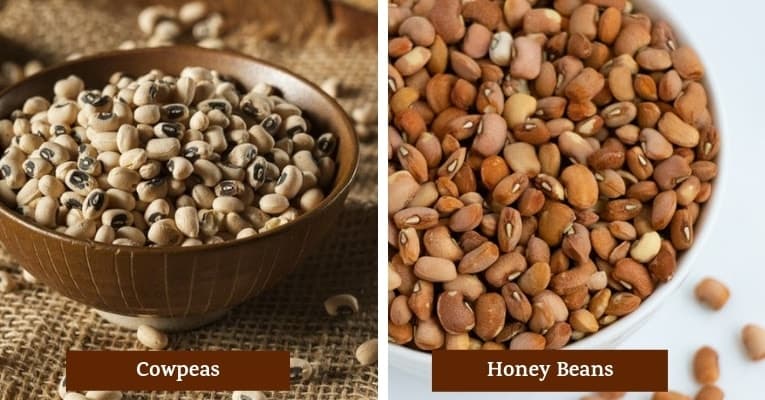 There are also several different popular varieties of beans eaten around the world. Here are some of them listed with the carbs, protein and fiber content found in one cup, boiled:
Black beans –  Carbs 41g, Protein 15g, Fiber 15g. . This is used in a lot of Latin American dishes.
Soybeans (or Soya beans) – Carbs 17g, Protein 29g, Fiber 10g. Soybeans are native to East Asia but basically found everywhere.
Adzuki beans (or red mung bean) – Carbs 57g, Protein 17g, Fiber 17g. This is also native to East Asia. They are smaller than other beans and are commonly used in desserts due to their sweetness. Hence, the very high carb count.
Kidney beans – Carbs 40g, Protein 15g, Fiber 11g. This beans is usually red in color and shaped like a kidney (though it could also be white or light speckled).
Garbanzo beans (Chickpeas) – Carbs 45g, Protein 15g, Fiber 12g. Chickpeas are featured quite heavily in Middle Eastern dishes.
Navy beans (Haricot beans or White pea bean) – Carbs 47g, Protein 15g, Fiber 19g. Fun fact: the name "Navy bean" was actually coined by the US Navy because it has always been a staple to sailors since the mid-1800s.
Pinto beans – Carbs 45g, Protein 15g, Fiber 15g. This is a very popular bean variety in the U.S and is commonly used in the Mexican burrito, or eaten whole or mashed.
Lima beans – Carbs 39g, Protein 15g, Fiber 13g. This is commonly found in South America.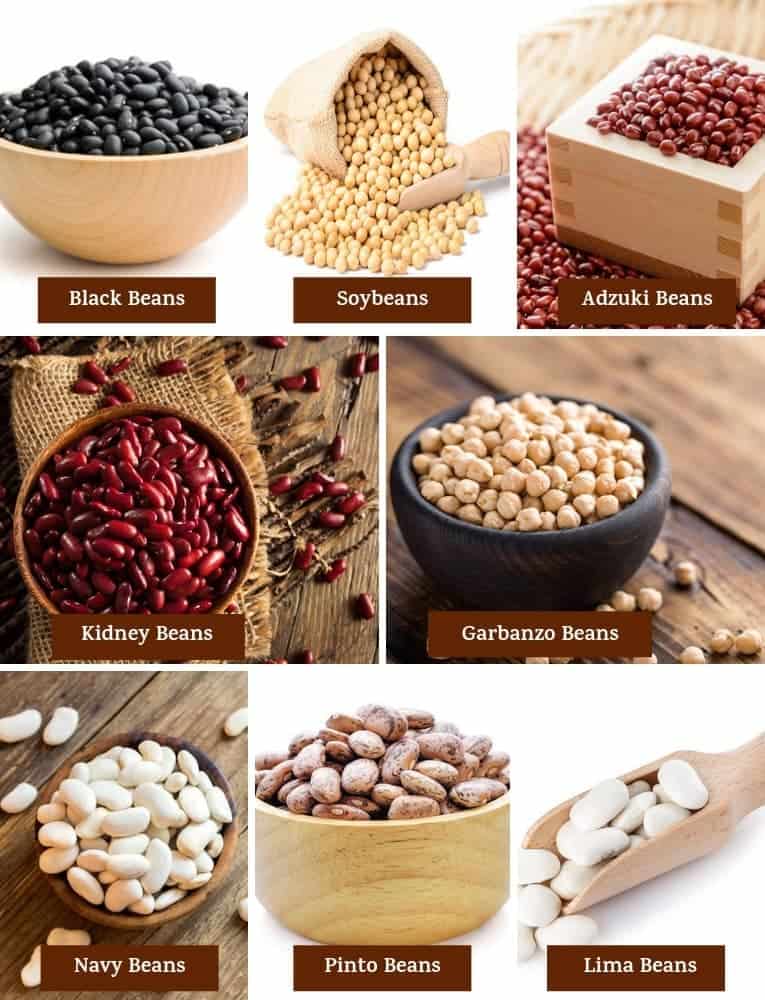 A few things most beans have in common are:
They are very filling due to their high fiber content, and are very good for digestive health.
They are very high in vitamins and minerals and help with lowering blood pressure, improving heart health, among many other health benefits.
They can be adopted in a wide variety of sweet and savory dishes.
They are quite high in carbs though the glycemic index of the carbs is very low. This means that it will take a while for it to be digested and metabolized in the body, so you don't get the insulin spikes associated with afternoon crashes.
Overall beans is very healthy and will work well with a regular diet. However, due to the high amount of carbs in beans, it will not work for a low carb diet. The nutritional values given were for only one cup but most people will eat at least two cups and that will put you way over even for a moderately low carb diet. You might ask then, why can't I include it in my diet since it has so many wonderful benefits? Well, it depends on what your end goal is.
If you are on a low carb diet and you want all the benefits which include weight loss, hunger control, reducing inflammation and better insulin control, the goal is to train your body to burn fat for energy and not carbs. Consuming carb dense foods such as beans, will make your body switch to burning carbs instead and that will undo all the benefits of a low carb diet. If you must absolutely have beans and cannot give it up and are on a moderately low carb diet, you will have to stick to just one cup of beans only and that will be your only carb allowance for that day. Remember that even most veggies have some carbs but they are very low. After all, this is a low carb diet and not a no-carb diet. It will be quite difficult to eat all your carbs for the day in only one meal. Again, this exception is only for a moderate low carb diet. For a strict keto diet, you cannot have any beans because even with the lowest net carbs per serving, you will already be over the carb limit.
Stay tuned for my low carb moin moin (baked bean pudding) and akara (fried bean cake) recipes coming soon. In the meantime, be sure to check out my Cauliflower Fried Rice and Shirataki Noodle Stir fry recipes!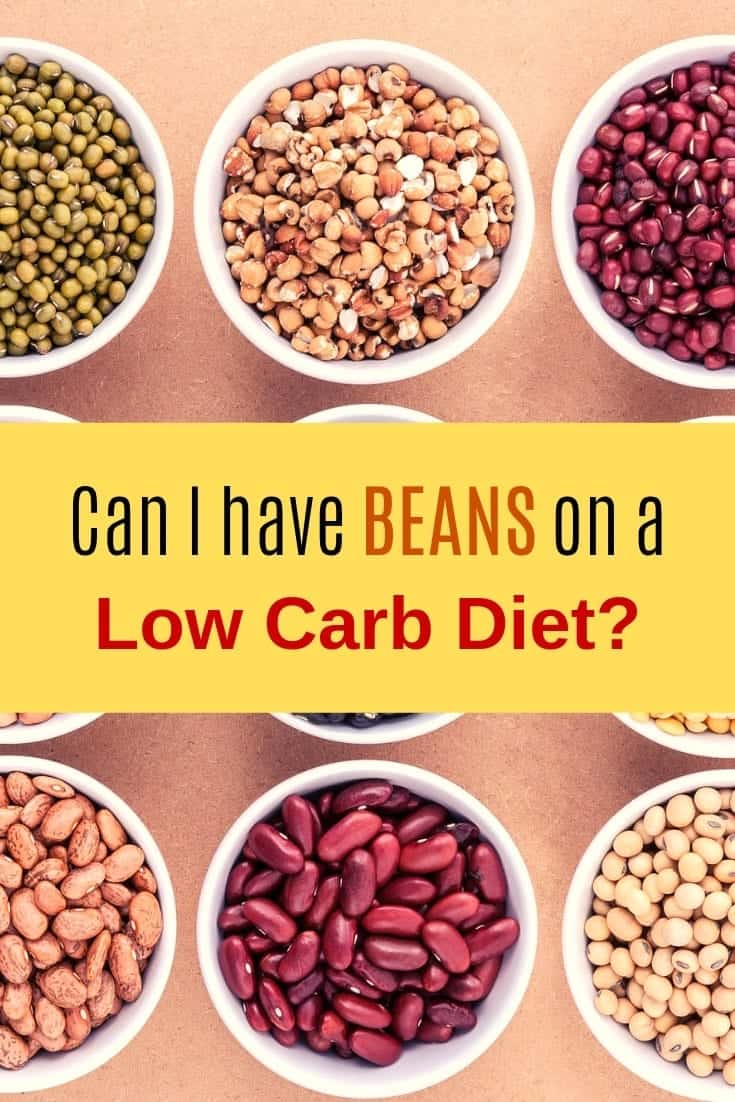 Other Helpful Resources: