This is a collection of the best Nigerian foods for weight loss, so you can live healthier and not have to give up on all your favorite traditional dishes!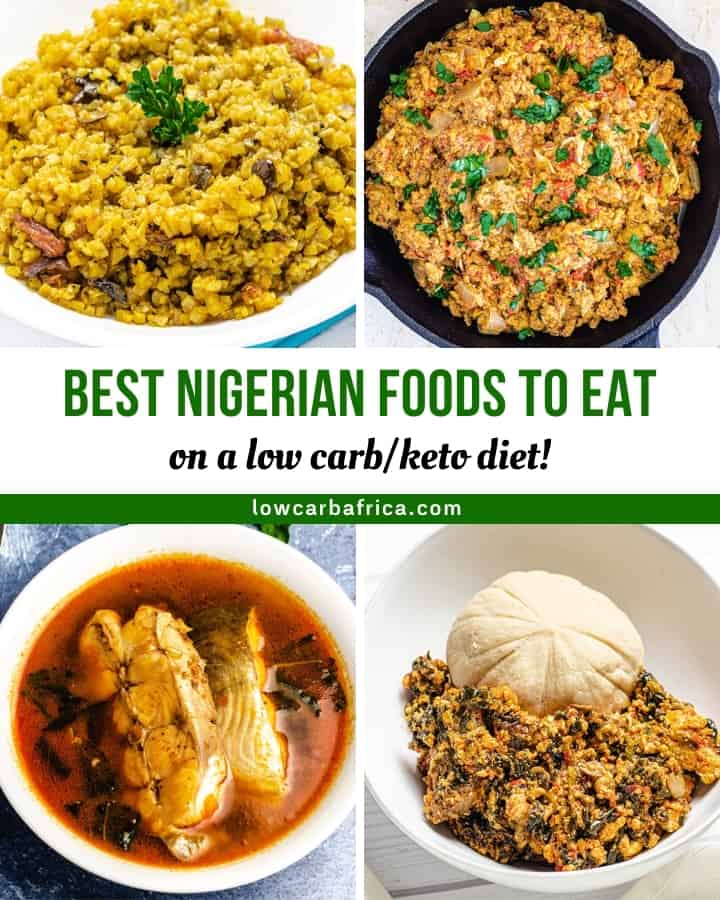 Nigeria is a West African country made up of a large number of ethnic groups. These diverse ethnicities each have mouth-watering, lip-smacking dishes that are irresistible and would leave you begging for more.
From the mind-blowing scrumptiousness of our soups to the tongue-biting dishes like Jollof rice and moimoi, Nigeria has arguably, one of the best cuisines in the world.
What foods are popular in Nigeria?
In Nigeria, foods have been popularly classified into two groups; Swallow and Other Kinds. Swallow includes all fufus eaten with Nigerian soups.
Some of these soups include Okra soup, Egusi soup, Bitterleaf soup, Banga soup, and Ogbono soup.
Fufus differ according to what they are made from, but the presentation and mode of eating them are the same.
The Other kind of food category generally include anything but swallow. These foods include various Nigerian stews, rice, spaghetti, yams, potatoes, bread, etc.
Can I gain weight on Nigerian food?
Yes, unfortunately. Nigerian meals are typically high-protein, high-fats, and high-carbs, which brings us to the only downside: you can easily put on a lot of weight eating these dishes every day due to their high-fat, high-carb content.
There is hope yet. You can still enjoy Nigerian foods by substituting high-carb meals with lower-carb alternatives without sacrificing the traditional flavors you're used to.
Can I lose weight on Nigerian food?
The good news is, yes you can! You can indeed lose weight on Nigerian food by substituting high-carb dishes for their low-carb alternatives.
A low carb (or keto diet) is a low carb, high fat, and medium protein diet that allows you to lose weight effortlessly and also comes with a host of other benefits. Read more about the keto diet and how to be successful in it.
Here are a few Nigerian foods that will help you shed those unwanted pounds!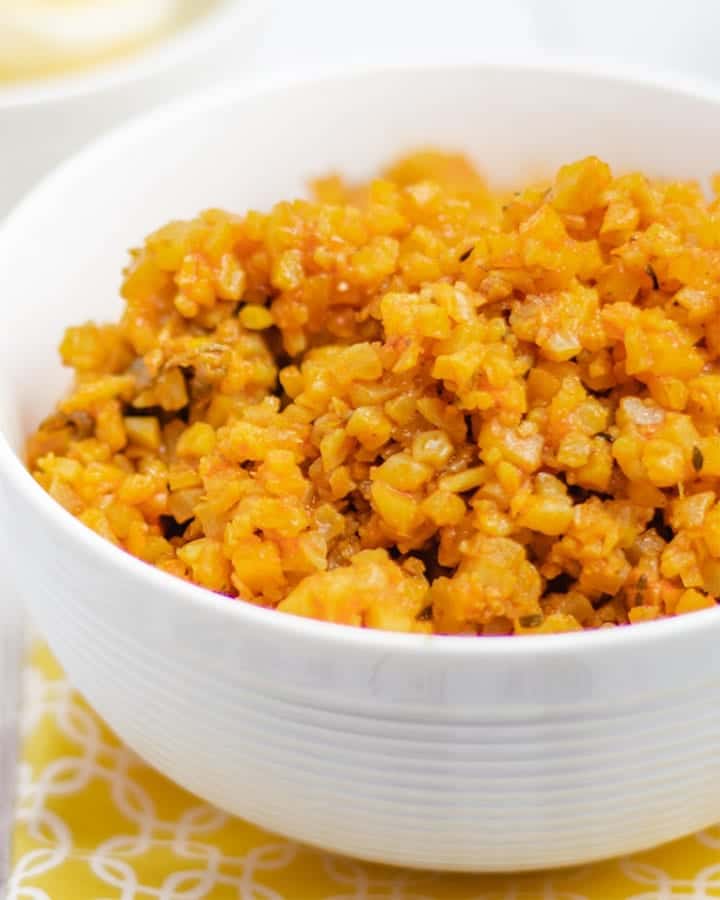 Keto Jollof Rice - The Nigerian jollof rice is a top-rated West African meal. In Nigeria, especially, jollof rice is one popular meal necessary at most parties and in homes. This dish can be prepared in various ways, but it almost always has the same unique taste.
Cauliflower rice can be used as a low-carb alternative and prepared the same way, it would taste very similar to the original jollof rice. Cook cauliflower rice in a blend of tomatoes, peppers, broth, olive oil, and traditional spices, and you won't have to worry about missing jollof rice again.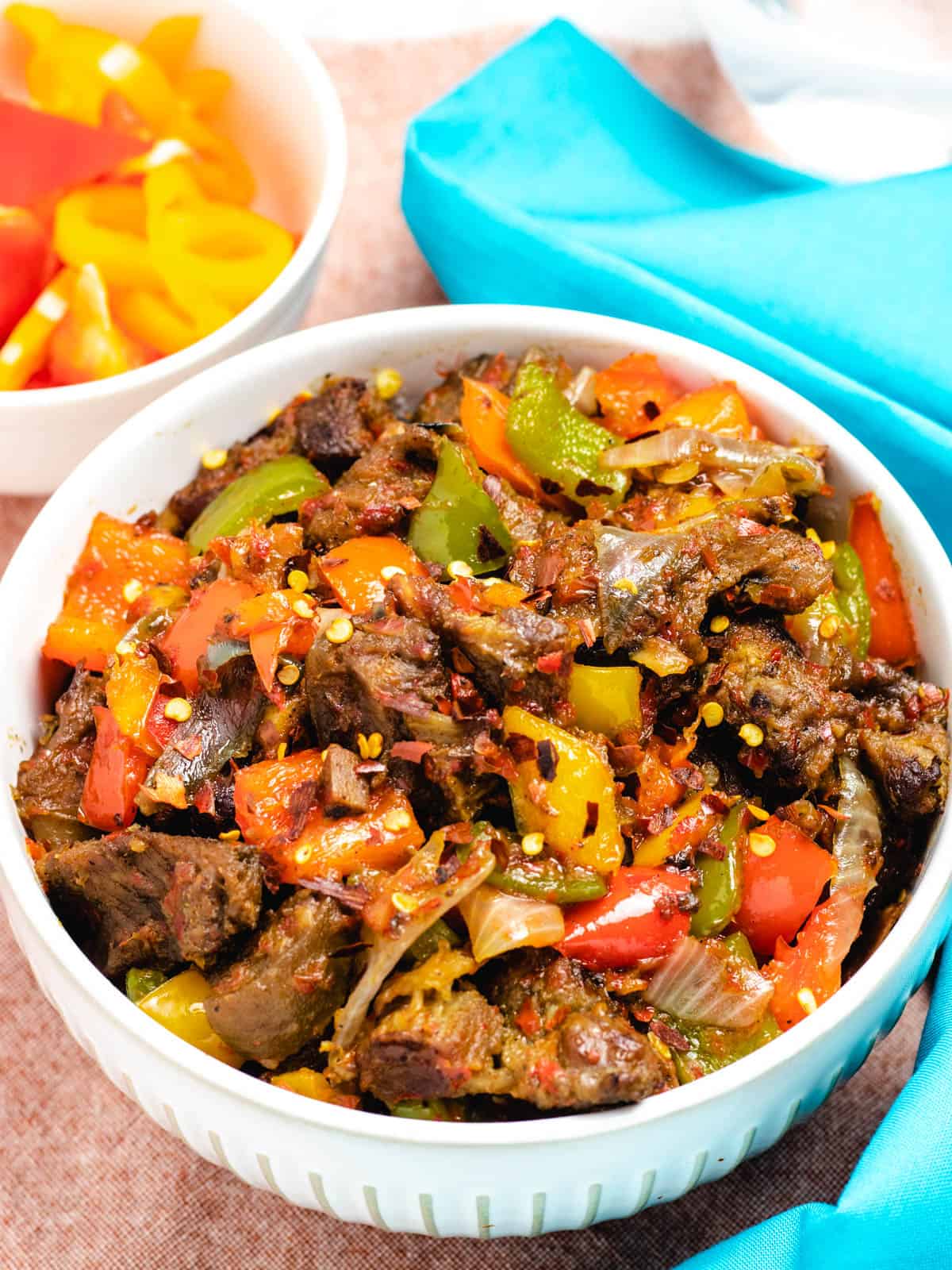 Peppered Goat Meat - Peppered goat meat, or Asun, is another delicious meal that can help with weight loss. Goat meat has zero carbs and is a healthier alternative to beef or pork.
Enjoy this peppered goat meat as a standalone meal, or paired with keto coleslaw, cauliflower rice, or any other low-carb dish.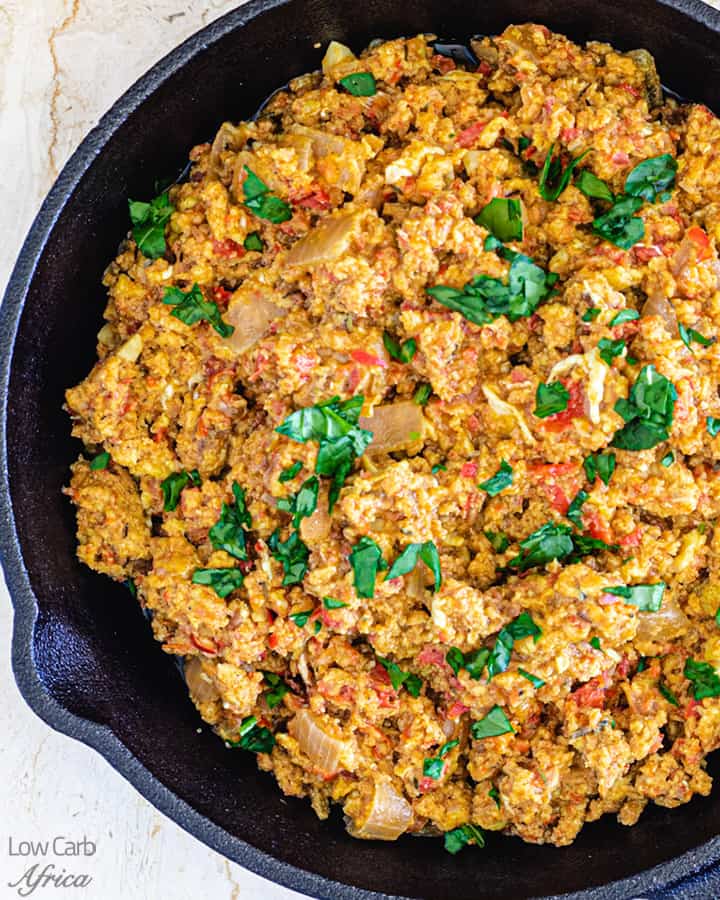 Nigerian Egg Stew - This is a quick and easy meal that takes just 20 minutes from start to finish. It is so simple to prepare, and anyone can do it! Enjoy this egg stew as breakfast or lunch, with low-carb bread or keto rice.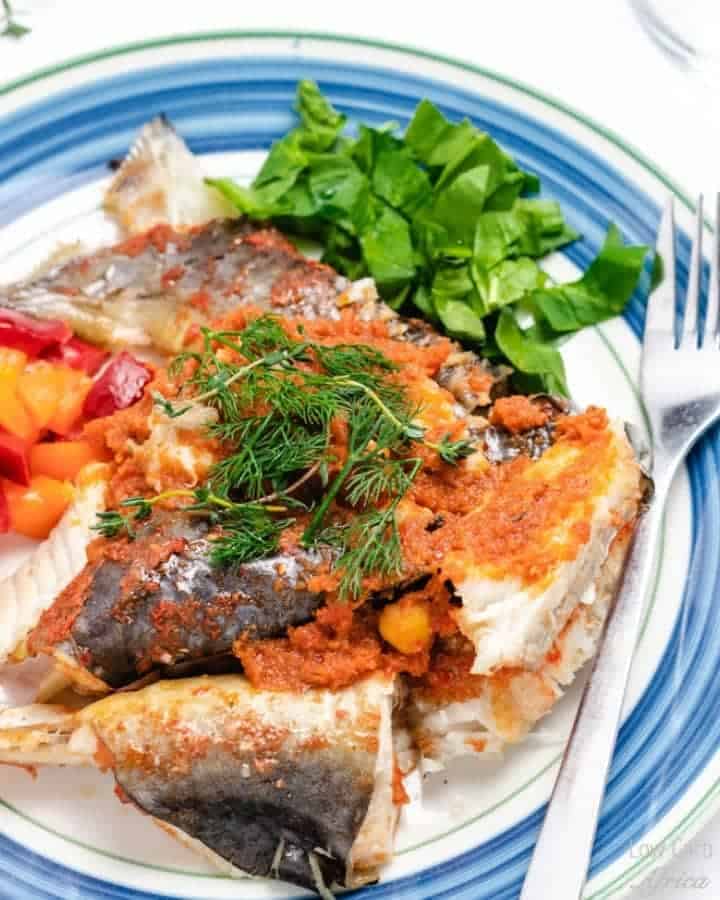 Baked Whole Catfish - Lovers of fish are not left out. As we know, catfish is a nutrient-dense protein that aids weight loss. This easy-baked recipe brings in all the deliciousness to your weight loss journey.
It is garnished both inside and out with a puree made from habanero and bell peppers, onions, ginger, garlic, salt, and spices. It is so finger-licking good!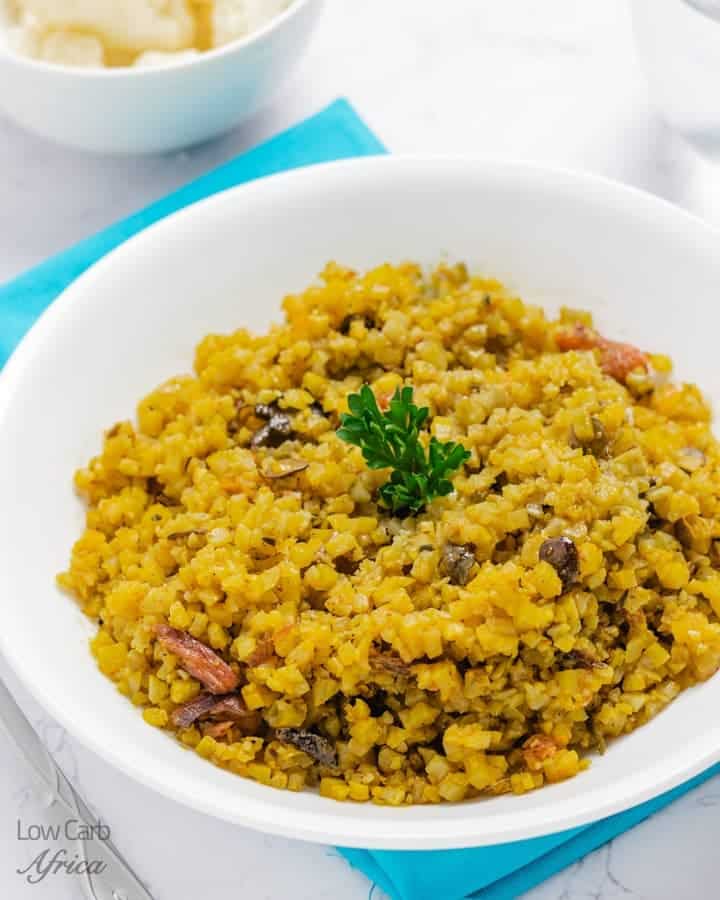 Keto Native Jollof Rice - This typical African-tasting meal is made with cauliflower for a low-carb option, but that does not subtract anything from its delectable taste. Other ingredients include locust beans (iru), smoked catfish, palm oil, and spices. This meal is also known as local jollof rice or palm oil rice.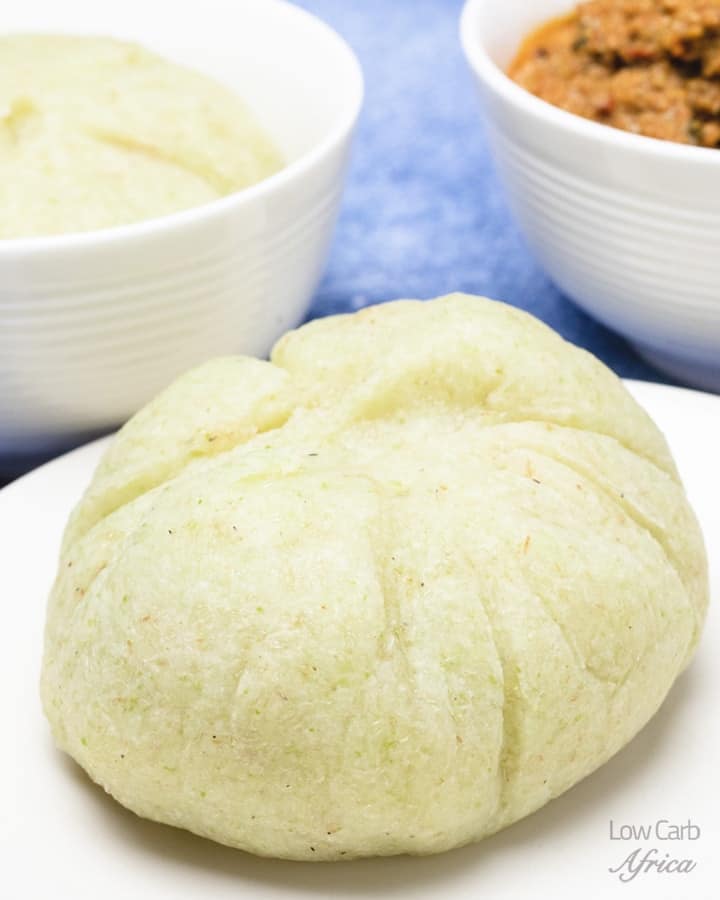 Cabbage Fufu - One substitute for the starchy, high carbs meals on keto is cabbage fufu. Made primarily from green cabbage and psyllium husk, this meal on its own may taste bland. When eaten with delicious Nigerian soups, however, you wouldn't even notice its taste. Enjoy cabbage fufu with tasty soups like Egusi Soup or Ogbono soup.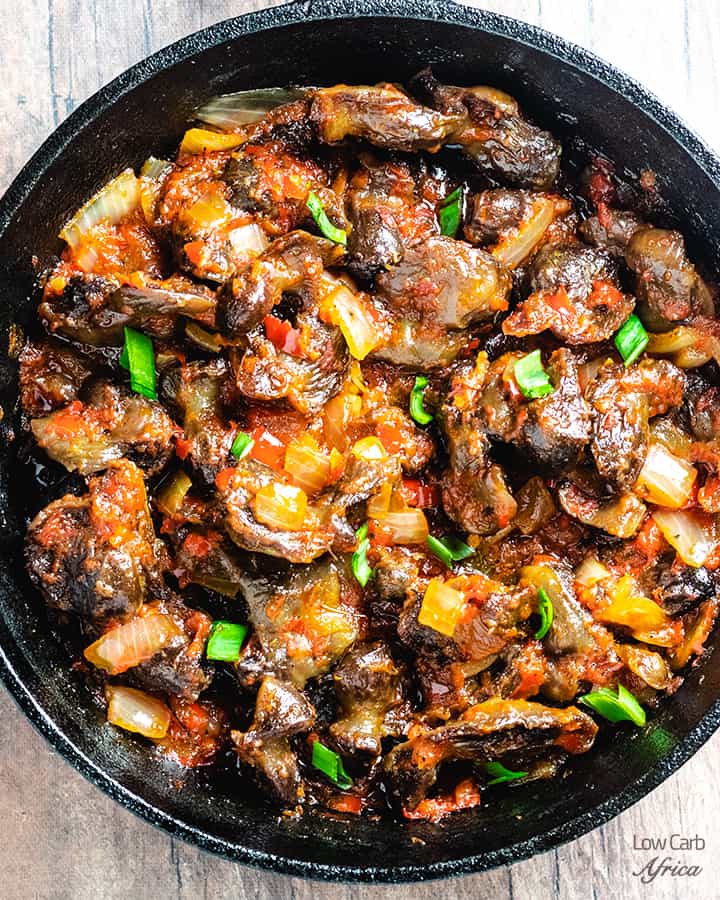 Peppered Gizzard - Many people balk at the idea of eating gizzard organ meat. But when boiled or fried and then cooked in a special sauce, it can make for a savory, tasty snack.
The gizzard is one of the most nutritious parts of a chicken. Rich in iron, minerals, and vitamins, the peppered gizzard is a popular street food in Nigeria.
Nigerian Chicken Stew - Not enough has been said about this finger-licking delicacy. Comprising primarily of chicken parts, olive oil, tomatoes, peppers, and a variety of spices, you can readily find a pot of this mouthwatering tomato stew in most homes on any given day.
The Nigerian chicken stew is versatile; you can deliciously pair it with many foods like shirataki noodles, cauliflower rice, and some soups like Ewedu and Okro.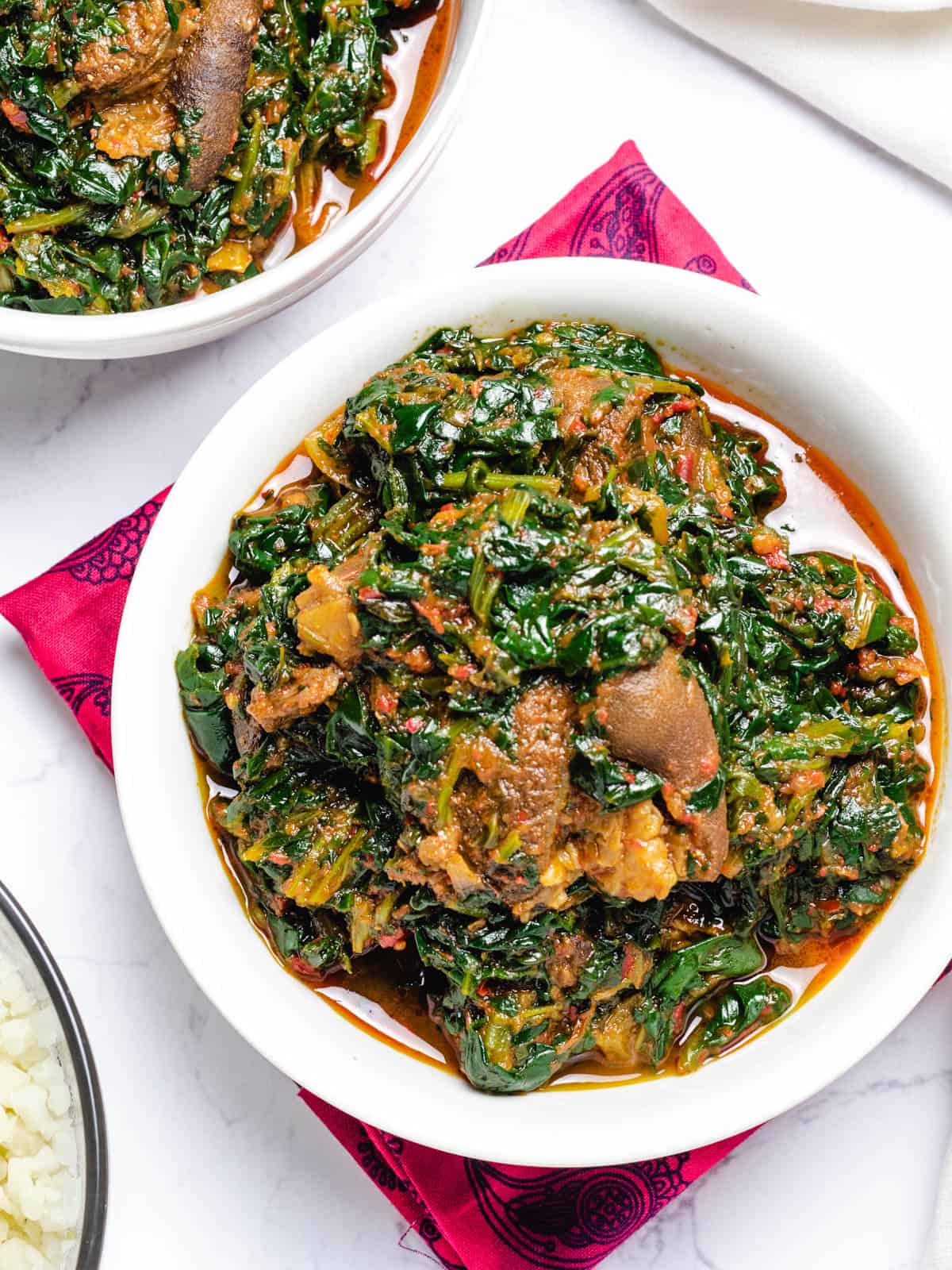 Efo Riro (Spinach Stew) - This Nigerian spinach stew will change how you eat spinach if you don't like them.
Made with a generous amount of spinach, proteins like beef, lamb, goat meat, chicken, smoked catfish, palm oil, broth, and spices, Efo Riro packs all the nutrition you need and much more.
The soup goes splendidly with plain cauliflower rice or low-carb fufu dishes like cauliflower fufu or coconut fufu.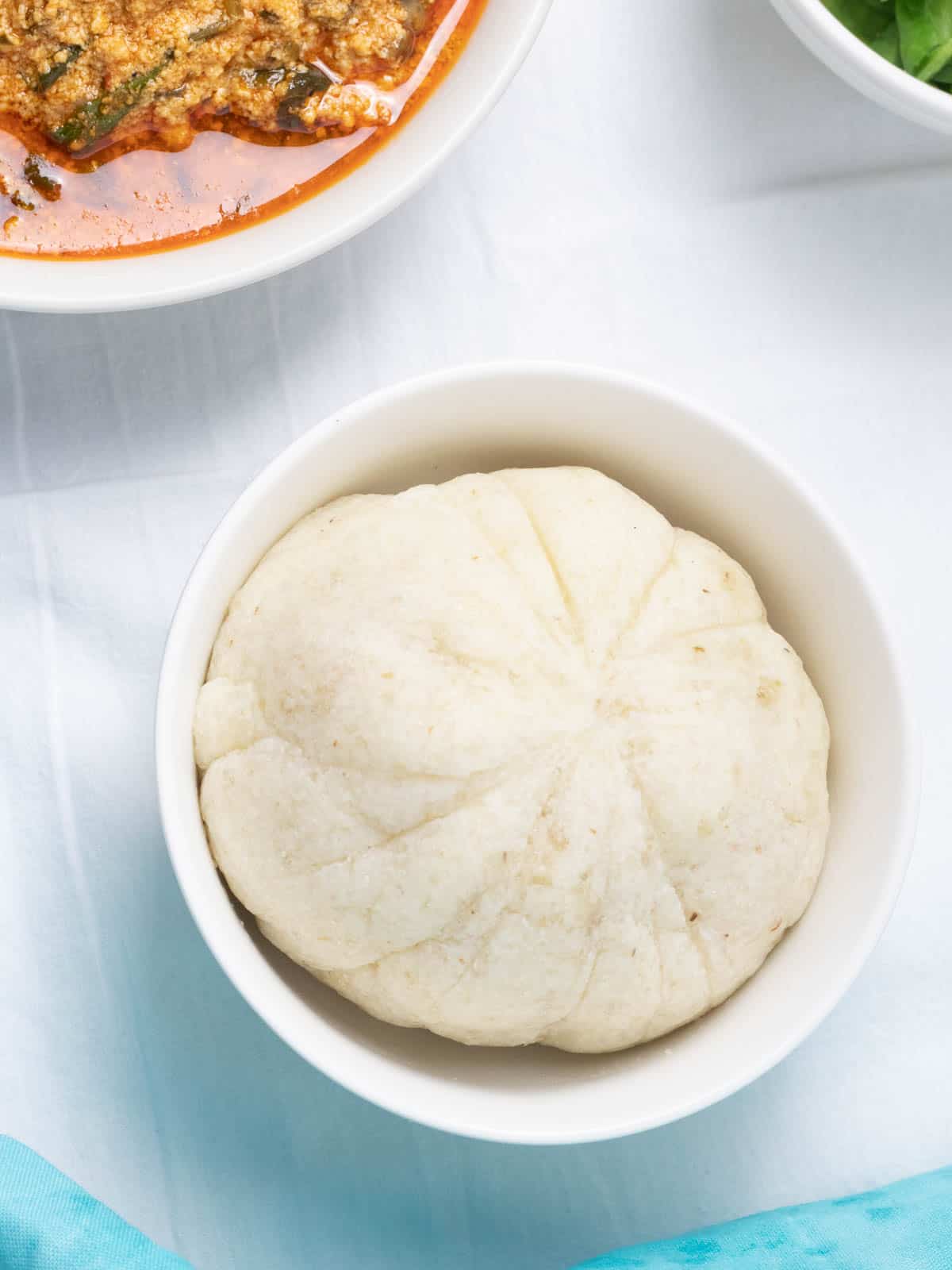 Cauliflower Fufu - As a substitute for the very starchy, high carbohydrate traditional fufu, cauliflower fufu does exceptionally well. This keto-compliant meal prepared from cauliflower is low in carbs and tastes just as good as the high-carb original.
Savor this meal by pairing it with one of my savory, finger-licking Nigerian soups.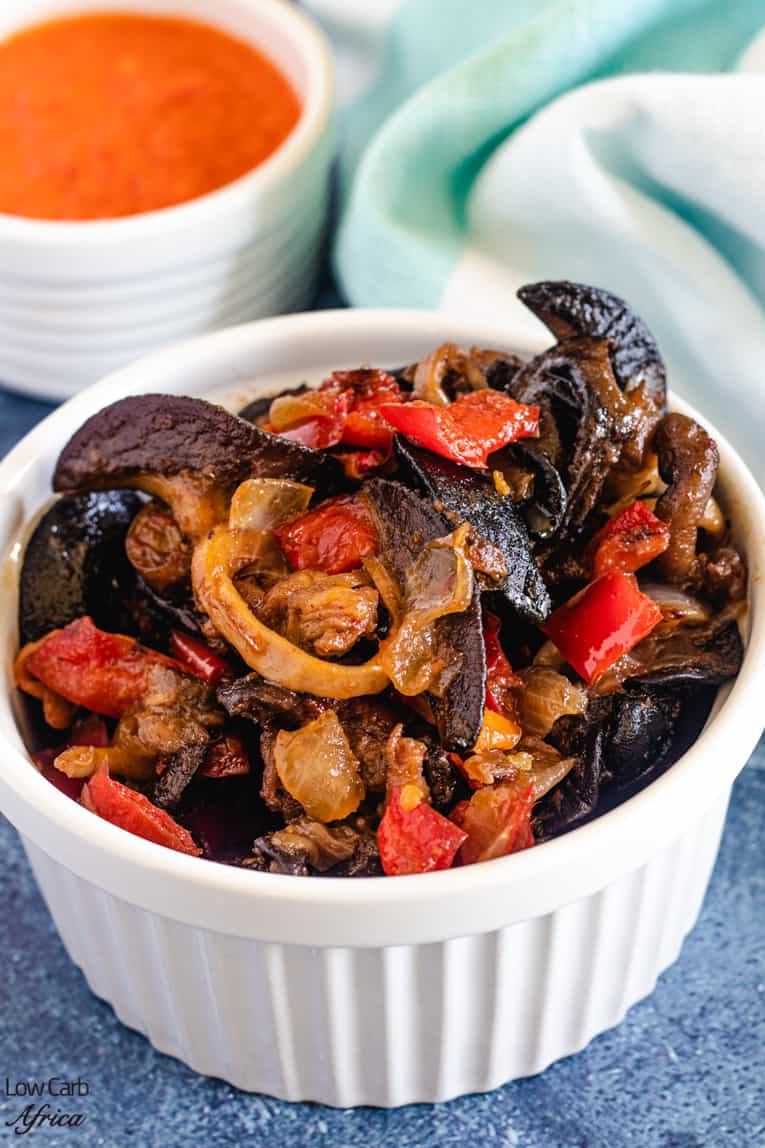 Nigerian Peppered Snails - In Nigeria, snails are a tasty treat. Whether eaten by themselves or as proteins in various Nigerian soups, they are well-sought and enjoyed thoroughly.
This delectable snail dish is prepared by boiling or frying them and then lightly cooking the snails in a special spicy sauce.
Egusi Soup - This is perhaps one of the most popular Nigerian dishes, enjoyed equally by many ethnic groups. Egusi soup is another delicacy that you can enjoy on a keto diet. Made primarily from melon seeds in Africa, this soup is delicious and nutritious.
It also contains a generous amount of meat, fish, and other healthy proteins. It is an excellent source of Vit A, B1, B2, and C. Savour the richness of this soup by pairing it with a keto fufu dish.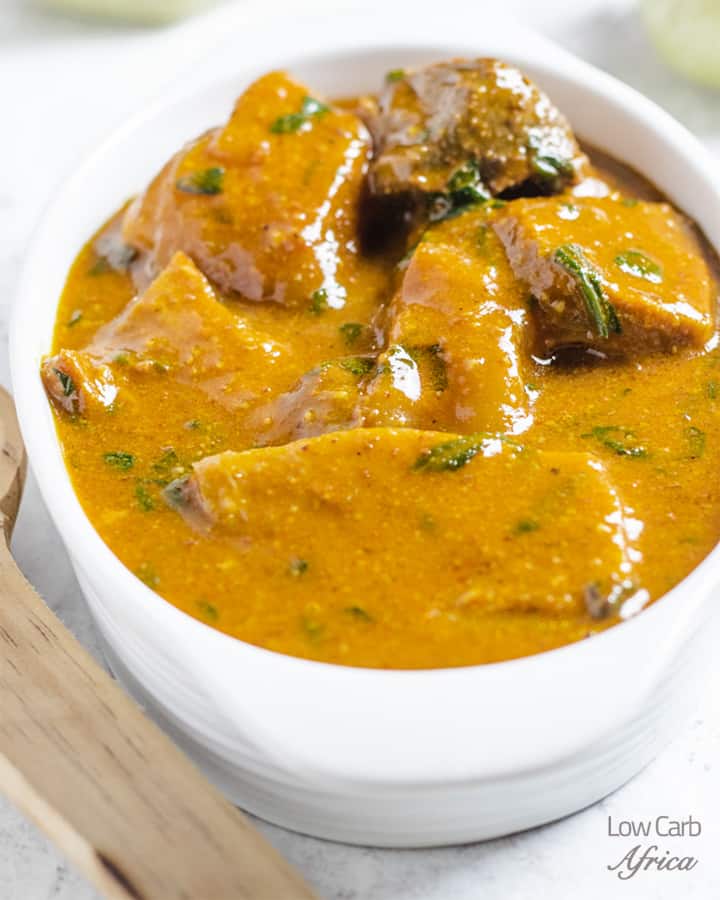 Ogbono Soup - In Nigeria, draw soup is another way of saying the soup is slippery and has a mucilaginous texture. This delectable soup is made from ground African mango seeds.
This soup can be enjoyed on a low-carb diet due to its high protein and high fat content. This tasty and nutritious soup goes so well with keto fufu recipes.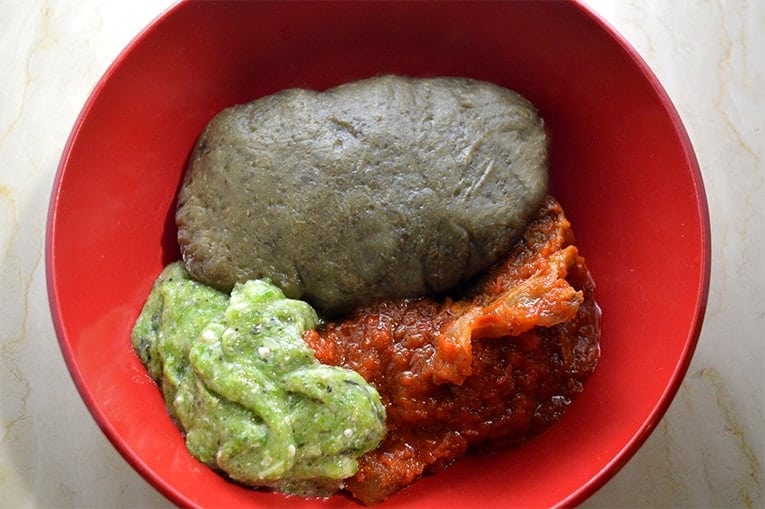 Keto Amala Swallow - This eggplant amala meal is made from, you guessed it, eggplants! This is a great substitute for high-carb Amala, which is a popular Nigerian fufu dish. The eggplant turns a grey color when cooked, which is similar to Amala.
Eggplant Amala is usually made from medium-sized eggplants because the large ones might have a slightly bitter taste. When blended, drained, and cooked with psyllium husk, it comes out as a replica of Amala. Savor this meal with black soup or blended okra with chicken stew.
Chicken Hearts - This highly nutritious meal is high in protein and healthy fats, keto-compliant, and budget-friendly. Also known as offal meats, chicken hearts are rich in iron and boast many health benefits.
When you pair it with mushrooms, which are a great low-calorie source of fiber and antioxidants, you have a delectable, finger-licking sauce.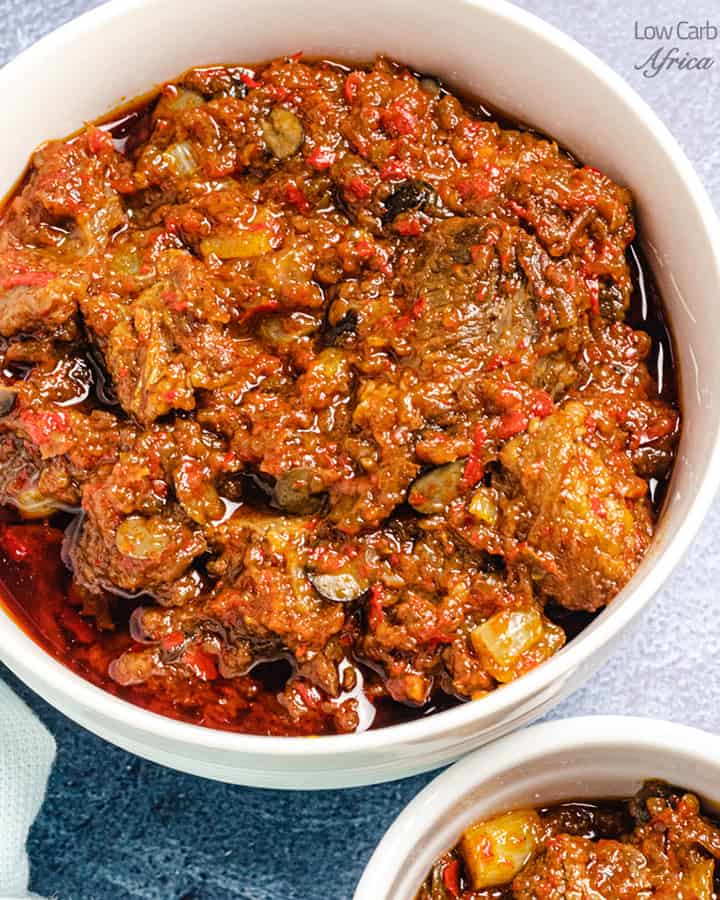 Ofada Stew - Ofada stew, also known as Designer stew or Ayamase stew, tastes differently from other types of Nigerian stews.
That is because while most stews are made with olive oil, this stew is prepared with palm oil and iru (fermented locust beans) for that distinct African taste. Other rich, healthy ingredients include bell peppers, a variety of meats, and traditional spices.
Nigerian Fish Stew - This delicacy is another standard meal found in most Nigerian homes. It is usually made with different types of fish, but tilapia is more common in some areas.
Just like other Nigerian stews, tomatoes and peppers are blended and cooked with proteins, broth, olive oil, and spices. The protein, in this case, is the delicious tilapia. This stew is very tasty and so versatile.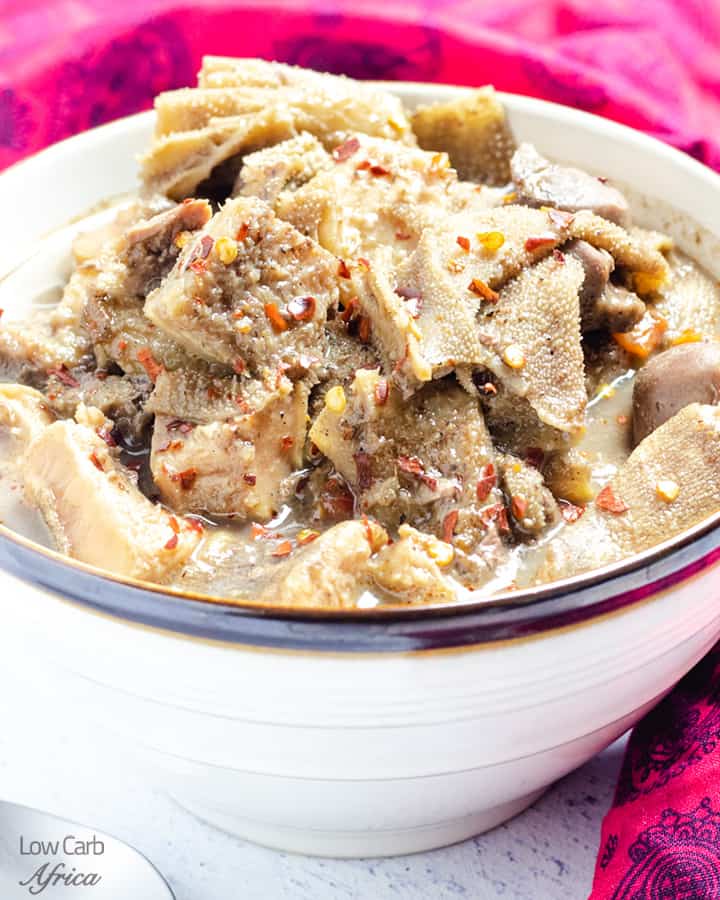 Nigerian Pepper Soup - In Nigeria, pepper soup is a delicious soup made with proteins, broth, pepper soup spice, and a generous load of pepper.
This assorted meat pepper soup is made with different types of offal meat (assorted meats) like tripe, liver, and kidney. The soup is known to help you feel better if you have a cold or feel under the weather.
Other popular Nigerian pepper soups include chicken pepper soup, fish pepper soup, and goat meat pepper soup.
Eggplant Stew - For a low-carb alternative, eggplant can be made into a delicious stew. You can boil, mash, drain and cook the eggplants with blended tomatoes, peppers, and spices in olive oil, with chicken or any protein of choice.
It makes for a filling, fantastic stew that can be eaten with shirataki rice or low-carb noodles.
Helpful Resouces
Here are some more resources to help you!
The Best Keto and Low Carb Thickeners