Curious about Nigerian soups? Learn more about the best West African soups you need to try, and enjoy them with your African fufu dishes!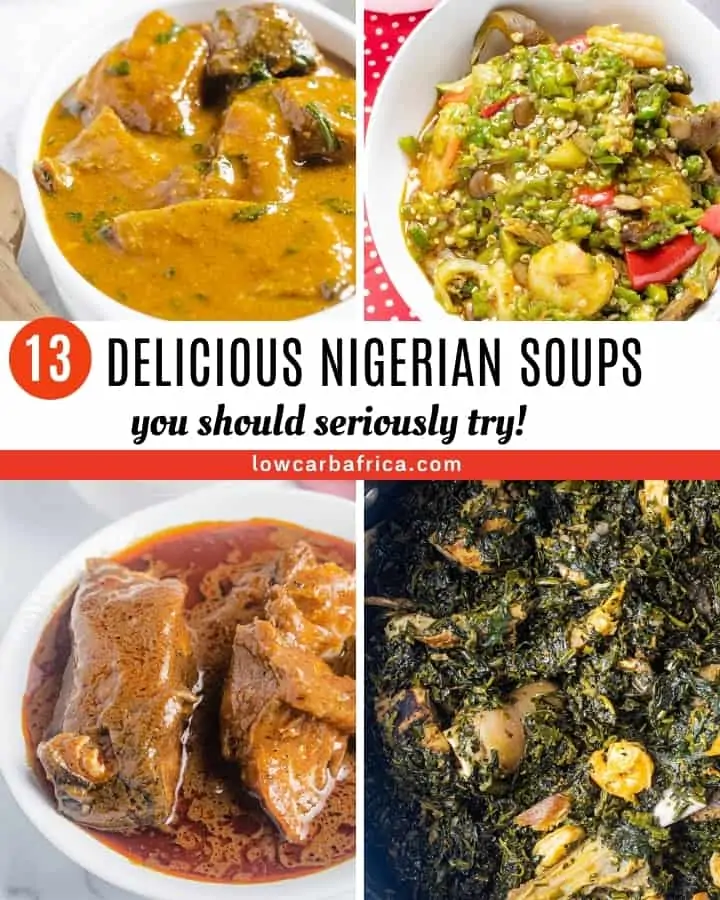 If you know anything about Nigerian foods or foods from West African countries in general, it's that their soups, in particular, are delicious and so finger-licking good!
What are Nigerian soups?
Nigerian soups are made with a generous amount of, well, everything! Abundance is usually the game from animal proteins to palm oil, leafy greens, and spices.
I would not be exaggerating if I said Nigerian soups are what delicious dreams are made of! The scrumptiousness of their tastes, the lip-smacking variety of aromatic smells, and everything involved in cooking them, make the soups what they are.
In Nigeria, foods are generally classified into two kinds: the most popular being, Fufu or Swallow foods, usually eaten with one of the many Nigerian soups. It is generally enjoyed by adults and children alike, at any hour of the day.
The other kind of food classification includes rice, spaghetti, yams, potatoes, and others.
Are Nigerian soups healthy?
Nigerian soups are an excellent meal choice if you're on a low-carb diet because they are commonly made with healthy fats and animal proteins.
In addition, many Nigerian soups combine great taste from various ingredients like palm oil, crayfish, fermented locust beans (iru), proteins, vegetables, and spices to create an extremely nutrition-packed delicacy.
What do they taste like?
One of the best things about Nigerian soups is that no two of them taste alike. Instead, they all have unique tastes, ranging from sweet and spicy to slightly nutty and distinctly African. It is a known fact that Nigerian soups deliver deliciousness consistently.
What do you eat Nigerian soups with?
Typically, you eat Nigerian soups with fufu, which is a starchy, dough-like cuisine common to several African countries. Some of these fufu dishes include eba (garri), pounded yam, semolina, amala, and plantain fufu.
I love to substitute these high-carb fufu dishes with keto-compliant options for a low-carb alternative. One can thoroughly enjoy the soup with dishes like cauliflower fufu, cabbage fufu, or eggplant amala fufu.
Here are some delectable Nigerian soups!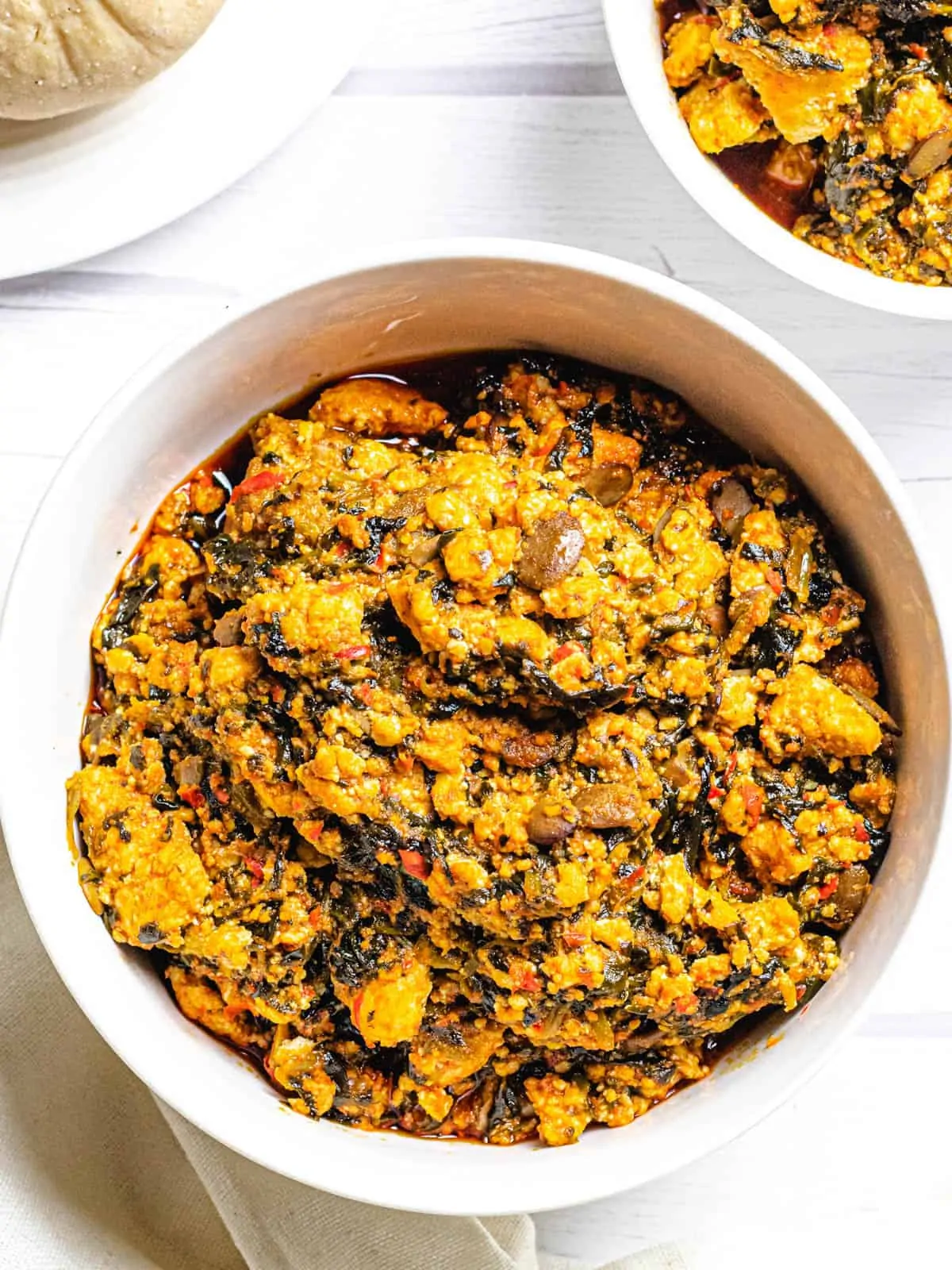 Nigerian Egusi Soup is one of the most popular soups consumed in Nigeria. This delicious soup is well-sought all over the country and beyond, and it is equally enjoyed by everyone.
The Nigerian soup is made from melon seeds in Africa. This healthy soup, full of beneficial nutrients like Vitamins A, B1, B2, and C, tastes terrific when paired with fufu dishes.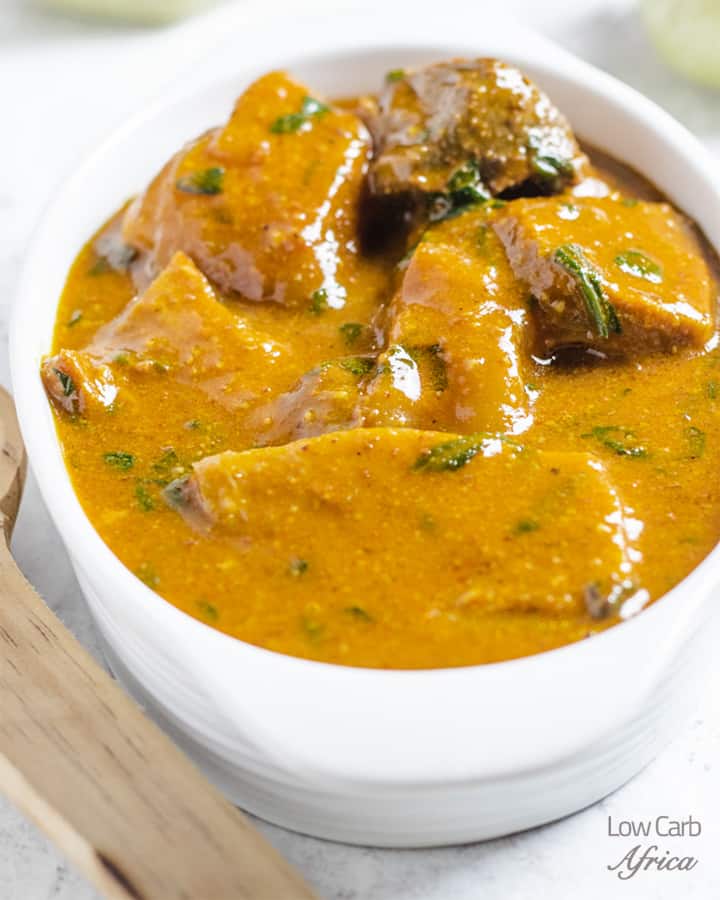 Ogbono Soup is another incredibly delicious Nigerian soup. The soup is also known as draw soup in Nigeria, which means it is slippery.
Ogbono soup is made from ground African mango seeds rich in calcium, iron, potassium, and magnesium.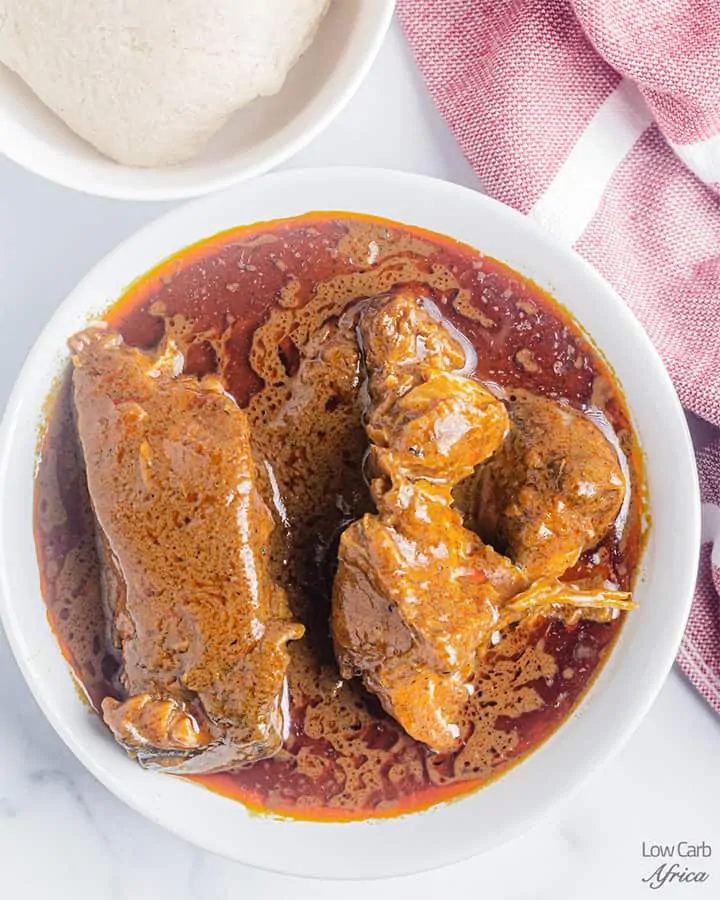 Banga Soup (Ofe Akwu) is one Nigerian soup guaranteed to blow your mind with its incredible taste. This soup is one special soup that few can resist.
Banga soup is sweet and spicy with an earthy, nutty flavor. Made typically with sea foods and palm nut concentrate, you can mix it up using meat if you prefer.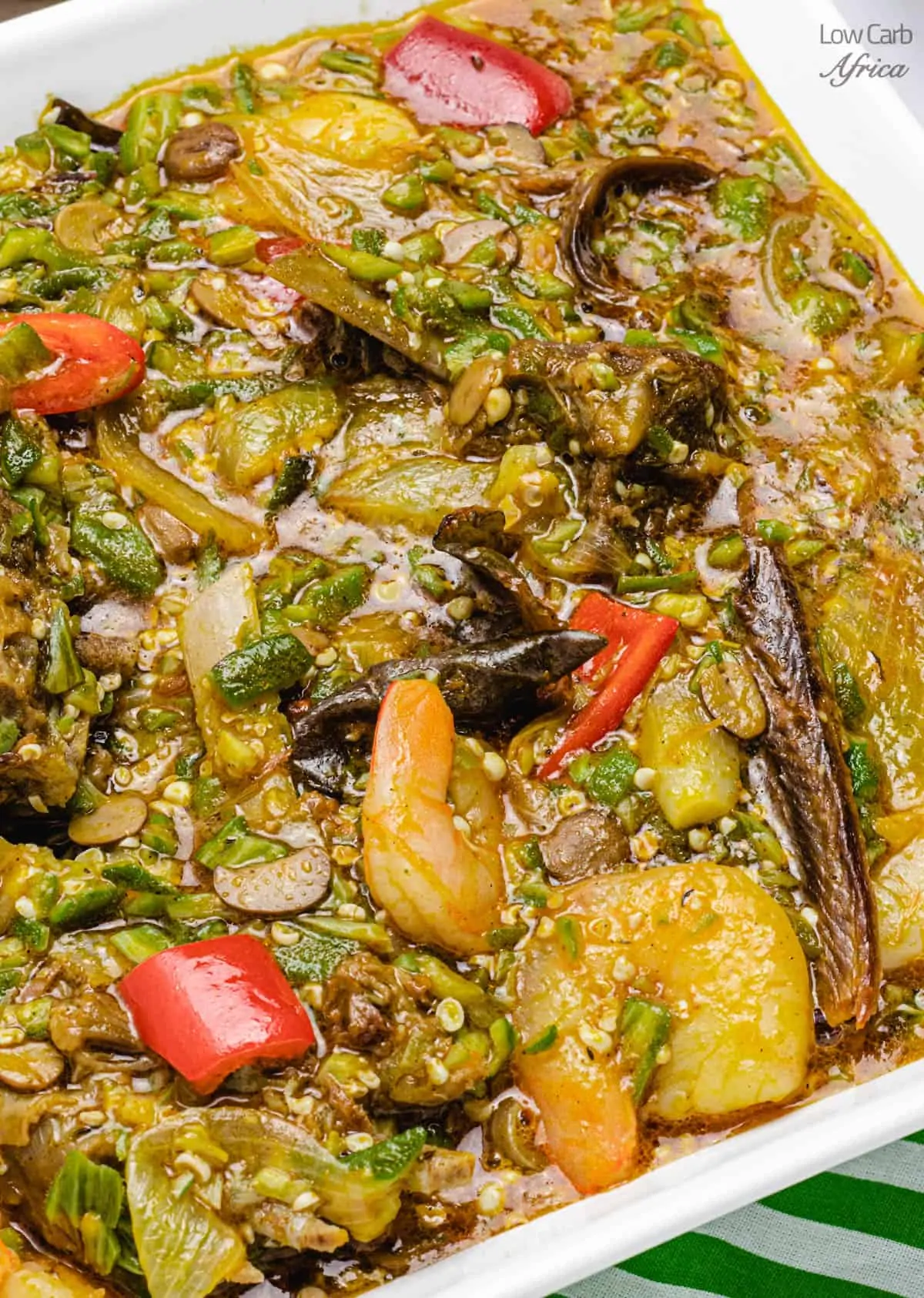 Okra Soup (Okro soup) is another slippery type of soup. Its slimy nature might discourage you at first, but this soup is guaranteed to convert you to an okra lover once given a chance.
Okra vegetable is naturally slippery when chopped or grated, but it is loaded with many health benefits. The soup is usually made with smoked catfish, goat meat, fermented locust beans or 'iru,' and palm oil.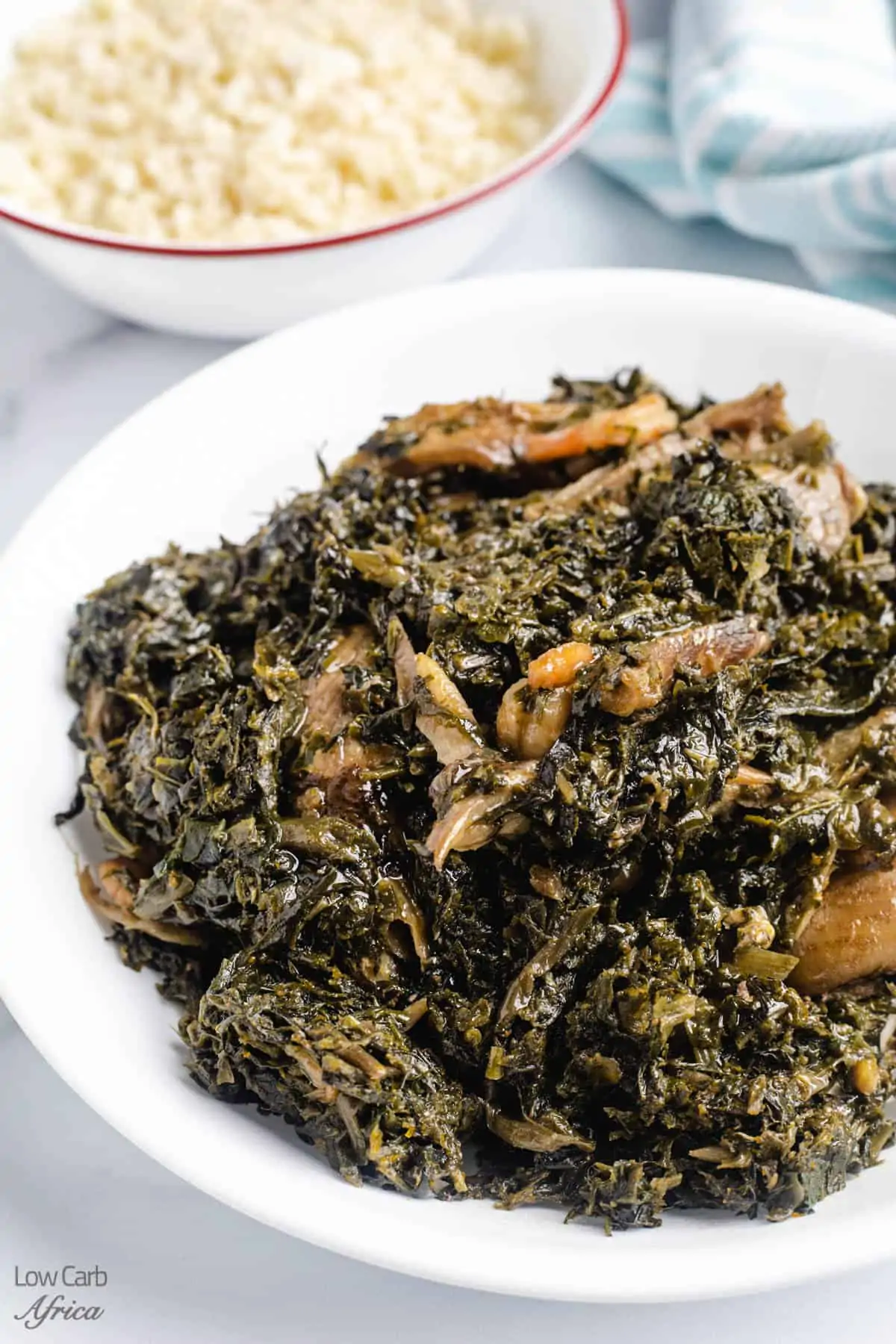 Edikang Ikong Soup (Nigerian Vegetable soup) is another finger-licking soup from Nigeria. This soup is made with waterleaf and ugwu leaves and boasts health benefits like lowering blood pressure and naturally boosting the immune system.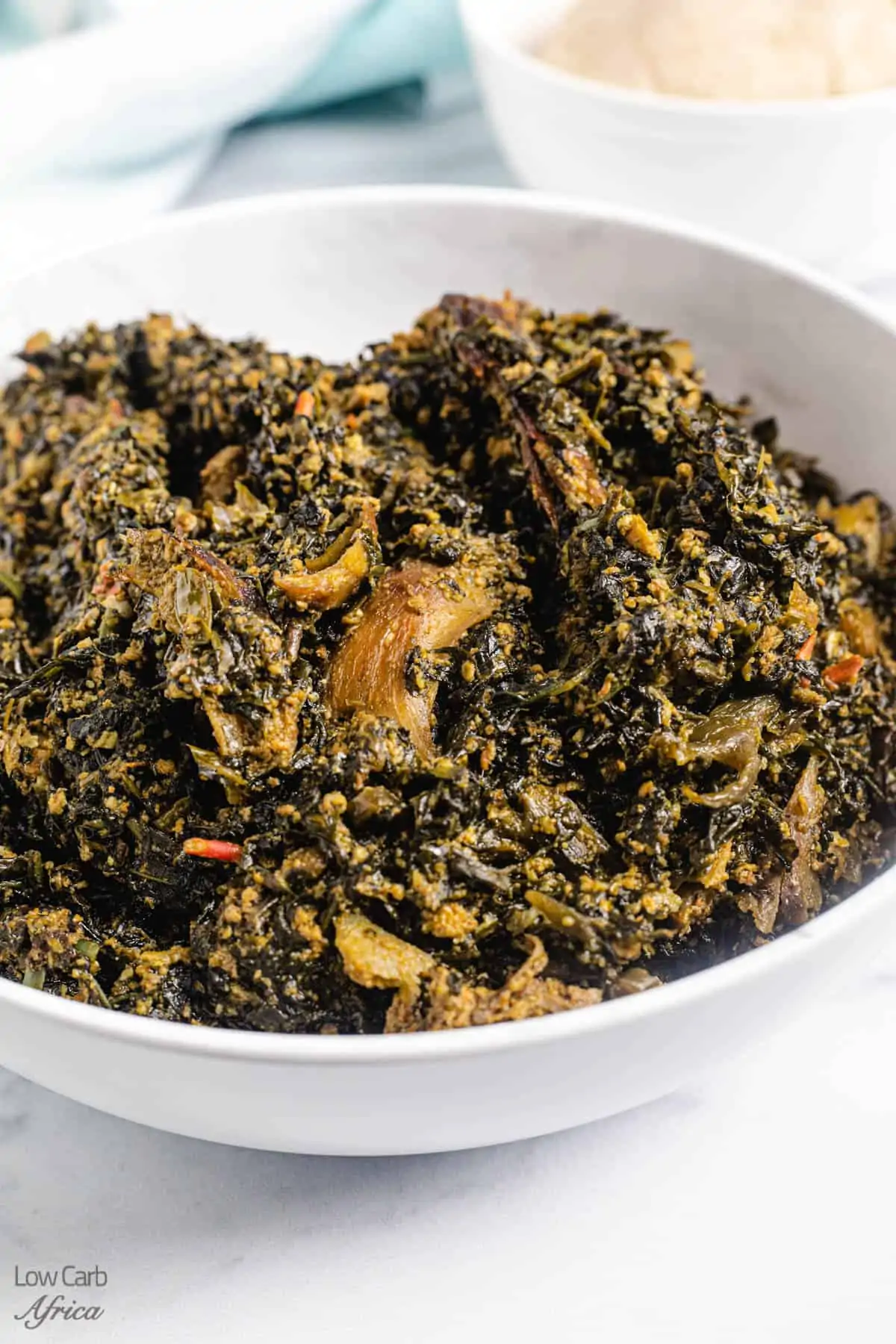 Bitter leaf Soup (Ofe Onugbu) is one soup with loads of benefits made from leaves that are pretty bitter. However, the more you rinse the leaves out before cooking, the less bitter it becomes. Bitterleaf soup is not unpleasant to eat as the name suggests; instead, it is slightly but tolerably bitter.
The leaves are transformed into a wholesome and well-sought-after delicacy when cooked with ingredients like beef, stock, smoked catfish, ground egusi, palm oil, and blended tomatoes and peppers.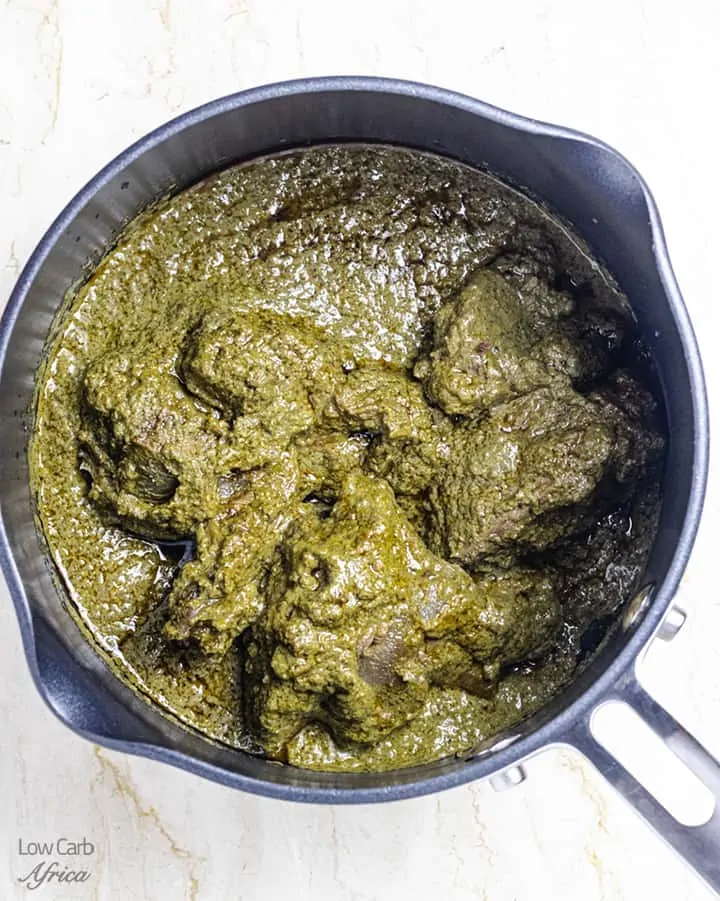 Nigerian Black Soup is also known as Efirin soup in some parts of Nigeria. This soup is made primarily from blended scent leaves, egusi, ground crayfish, cooked meat (or fish), and stock.
Nigerian black soup is super easy to prepare and is highly nutritious. You have to taste it to appreciate it fully!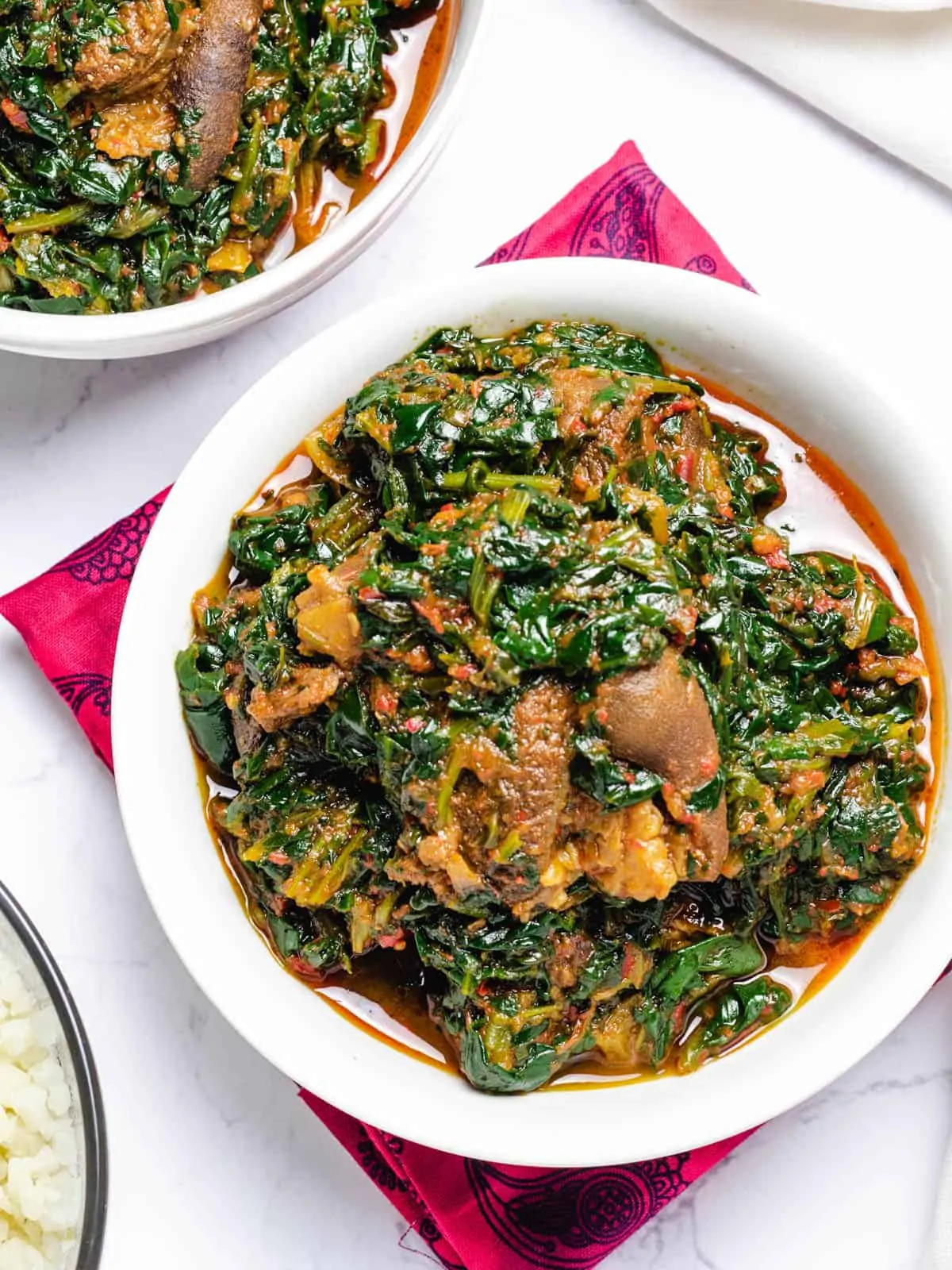 Efo Riro (Spinach stew) is a well-loved soup in Nigeria. It doesn't take a long time to prepare, and it is loved by many. If you have kids that don't like to eat vegetables, prepare this delicacy for them, and they'll be begging for seconds.
This mouth-watering, nourishing soup is made using spinach, palm oil, iru, goat meat or beef, and a host of other health-packed and delicious ingredients.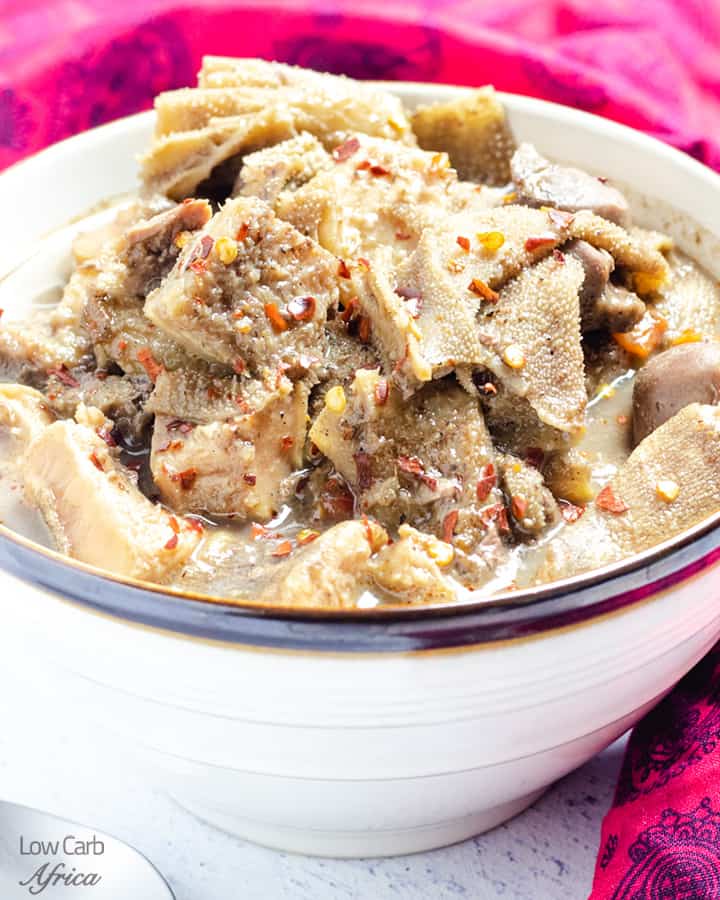 Nigerian pepper soup (assorted meat soup) is a warm and nourishing soup made of proteins and special traditional pepper soup spices.
This light but fulfilling soup is also known to make you feel better if you're suffering from a cold. Absolutely anyone can enjoy this tasty soup any time of the day.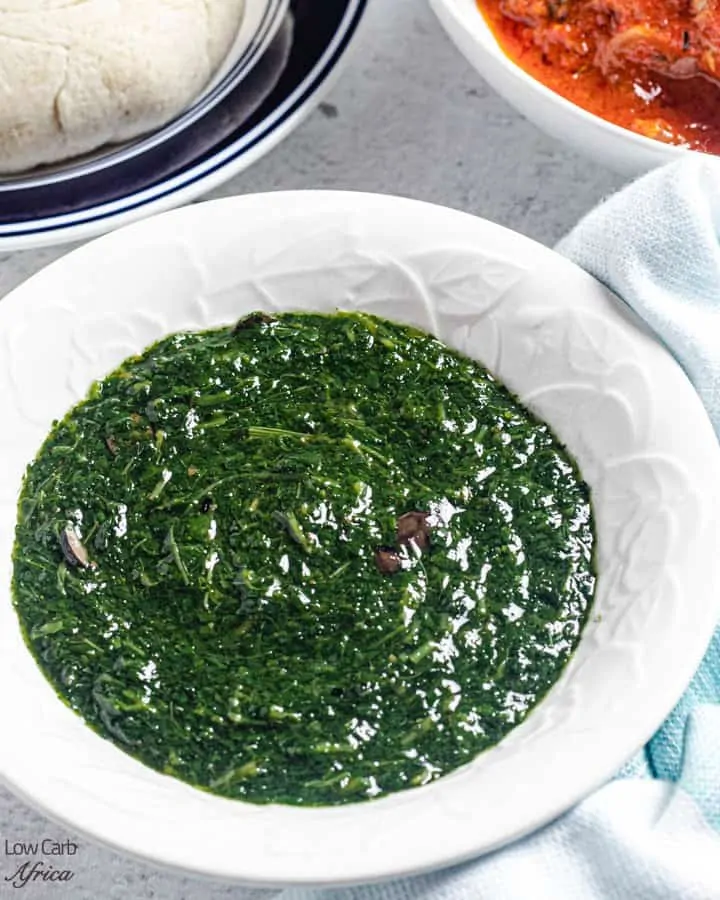 Ewedu Soup is another soup that is very easy to make. This soup is made from ground or blended jute leaves boiled with crayfish, bouillon, cayenne pepper, and iru (fermented locust beans). You can buy the leaves frozen if you don't live in Nigeria.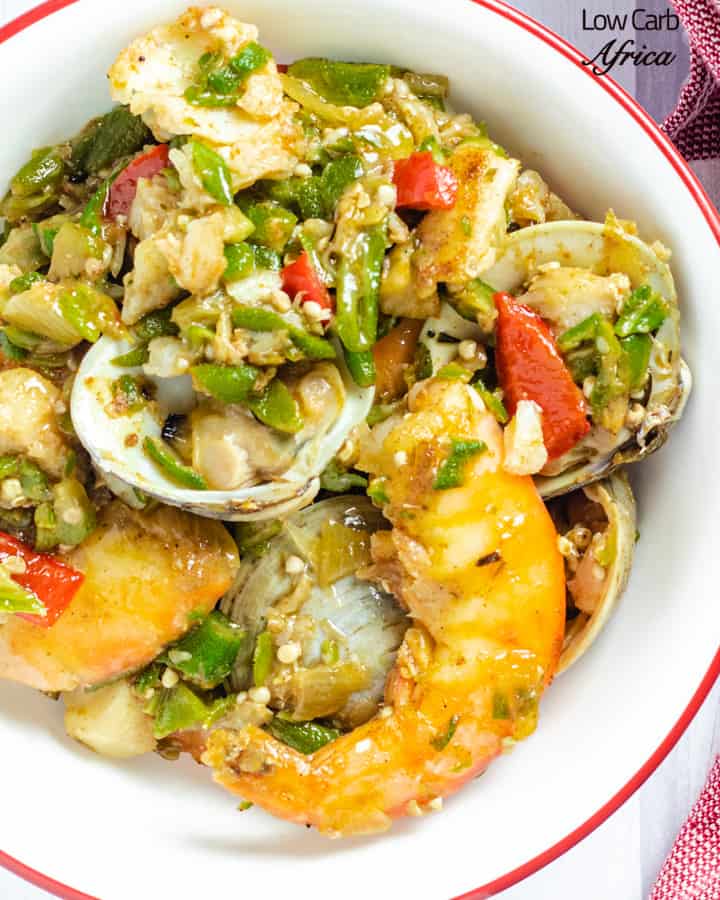 Seafood Okra is a hearty seafood soup that will make you fall in love with okra. To make this soup, you can use a mix of prawns, catfish, crabs, tilapia, shrimps, or any seafood of your choice. The more, the better.
Seafood okra soup is made differently from Nigerian okra soup and can be eaten alone as a meal. This protein-packed meal is rife with health benefits and tastes so good!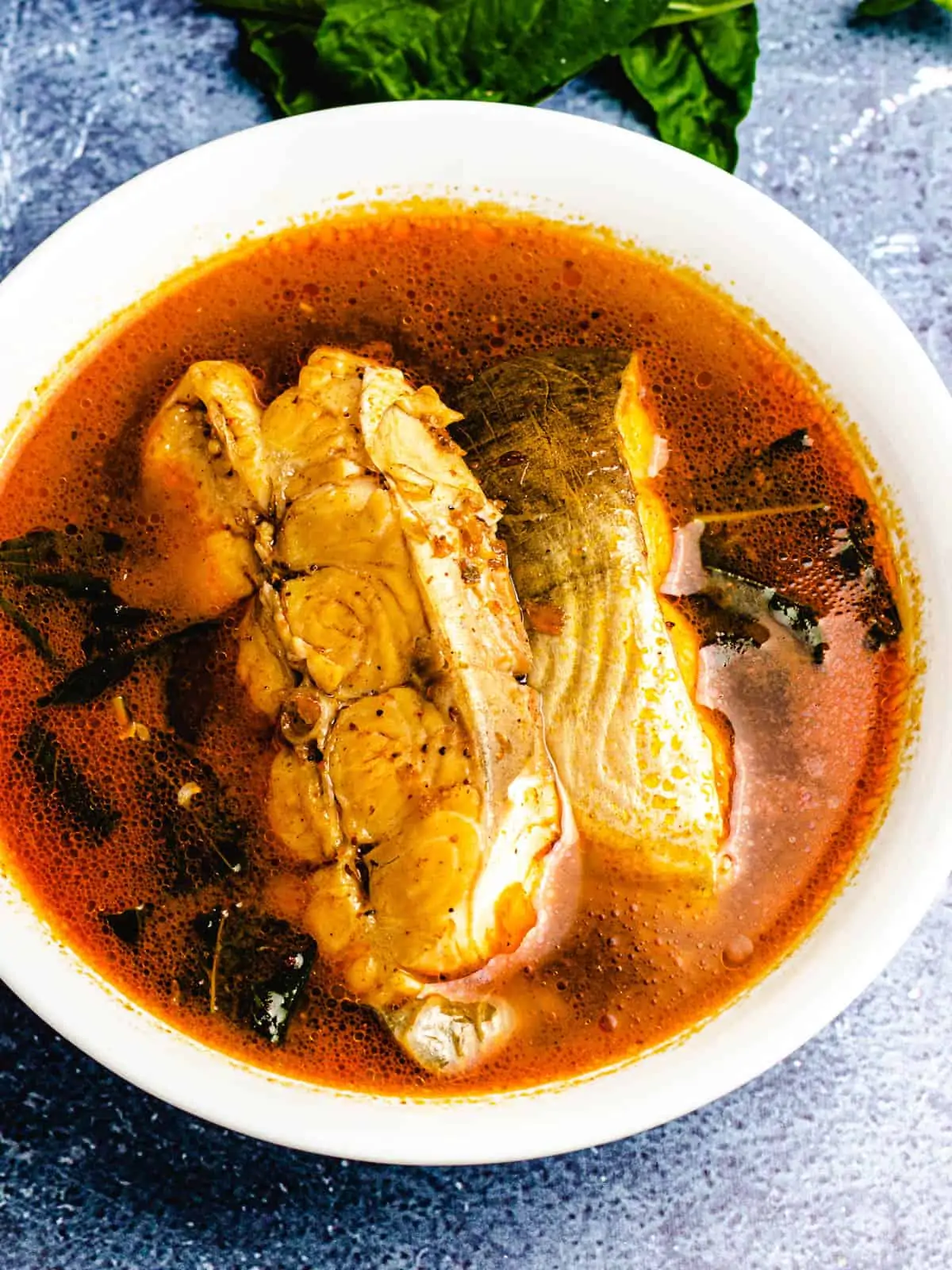 Catfish pepper soup is a delicious and easy meal that packs a punch in nutritional benefits. This pepper soup is made primarily with catfish, vegetables, and spices.
This soup is so soothing and heartwarming and is the perfect soup for a pick-me-up. You can have it any time of the day and it is sure to cheer you right up!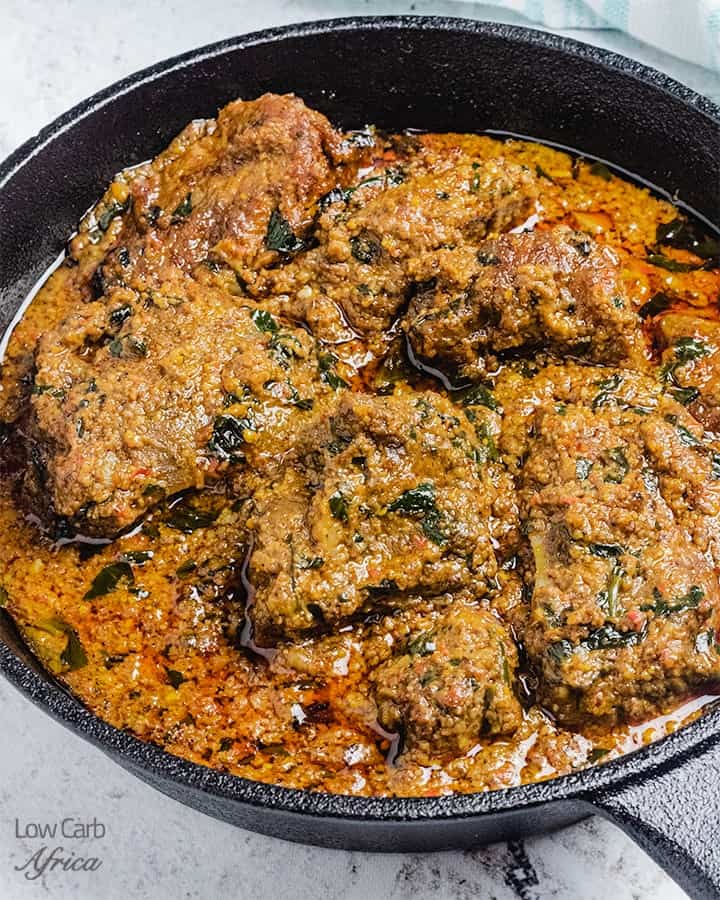 Beniseed Soup, also known as African sesame seed soup, has a rich, nutty, irresistible flavor. As the name implies, the soup is made from hulled or unhulled sesame seeds. When roasted, unhulled sesame adds a more exciting flavor to the soup than hulled sesame seeds.
Unhulled sesame is richer in calcium and iron than the unhulled ones, so it is the preferred choice when making Beniseed soup. It looks a little like Egusi soup when cooked, but it has its own very unique taste you will love.
I hope you try these delicious, mouthwatering Nigerian soups. If you do, please leave a comment below to let me know how much you enjoyed them!
And if you need spicy soups that you can eat alone, check out these low-carb spicy soups that will warm you right up!
Learn more about African foods!