African vegetables are a staple in West African cuisine and go by many different names. These leafy greens are commonly used in cooking traditional soups and stews.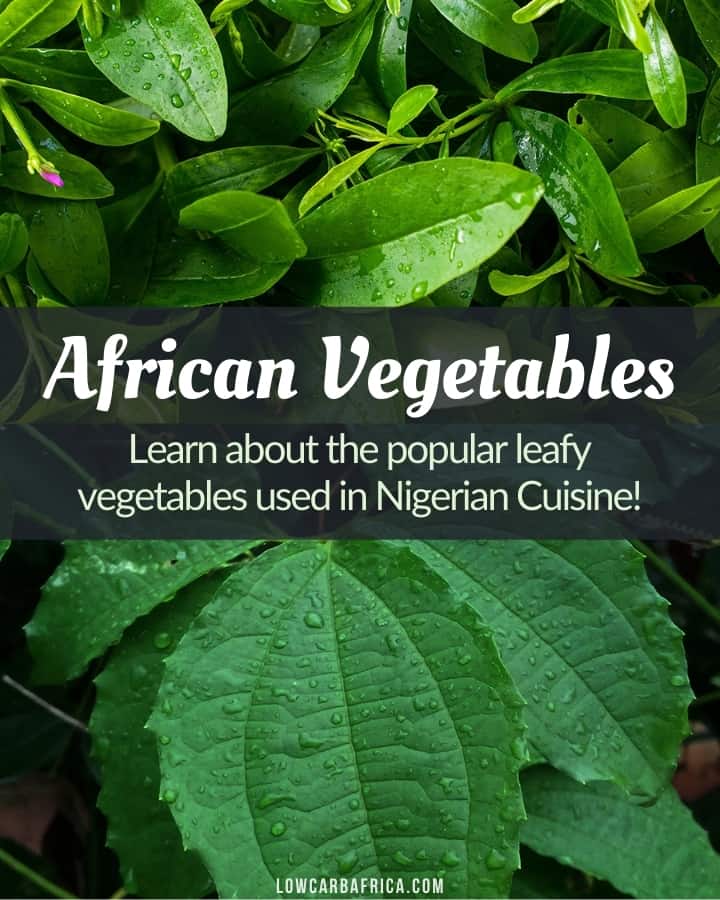 Leafy vegetables play an essential part in Nigerian cuisines, especially when cooking Nigerian soups. These vegetables add numerous health benefits to the dishes apart from the delicious aroma and taste it gives to the dish.
They are also very affordable and native to the West African region. Read on for some of the popular African vegetables used in making their delectable native dishes!
Jump to:
Where to buy
If you live in West Africa, these leafy greens are in abundance and grow throughout the year in different regions. So, even if you can't find the exact one you want, there is always a very close substitute you can use.
If you live outside Africa, it might be more challenging to get some of these vegetables. But don't despair yet. If you have an African store near you, there is a good chance they carry frozen or dried versions of these vegetables.
I like to use the frozen versions as they are often thoroughly washed before being frozen. This drastically cuts down on my prep time. Other options might be an Asian, Hispanic, or Middle Eastern market near you.
Scent Leaf/Clove Basil
Scent leaf is a delicious vegetable known for its aromatic smell and flavor. It is grown in different parts of Nigeria and is valued for its medicinal and nutritional benefits.
Scent leaf (Ocimum Gratissimum) has a variety of traditional names such as Nnchanwu (Igbo), Efinrin (Yoruba), and Daidoya (Hausa), Ntong(Efik), and Aramogbo(Edo).
Scent leaf is often used to prepare soups and stews like Black soup and Banga soup. It also gives life to Nigerian pepper soups, like this chicken pepper soup or goat meat pepper soup.
Fluted Pumpkin Leaves/Ugwu
These leaves are known locally in Nigeria as Ugwu/Ugu(Igbo), Ewe Elegede(Yoruba), Ikong-Ubong(Efik/Ibibio), and Kabewa(Hausa). They are undoubtedly one of the most common leafy vegetables used in Nigeria and are grown in many different regions.
Fluted pumpkin leaves are an excellent source of dietary fiber and contain many vitamins, minerals, and antioxidants.
These leaves are used in soups or stews to prepare many Nigerian dishes like Efo riro and Egusi soup.
Water leaf/Efo Gbure
Water leaf (also known as Efo Gbure by the Yorubas) is one leafy vegetable that is abundantly available during the rainy season. As its name implies, it adds a lot of water to whatever dish you are making.
Water leaf is used to prepare Nigerian dishes like Edikan ikong and Efo riro and sometimes mixed with other greens.
Bitter leaf/Onugbu
Bitterleaf is a leafy vegetable recognized for its bitter taste. It is known as Efo Ewuro by the Yoruba tribe, Onugbu by the Igbo tribe, and Shakwa Shuwaka by the Hausa tribes of Nigeria.
This vegetable is quite bitter and you have to wash it thoroughly before enjoying it. Bitter leaf is the main ingredient used to make a popular Nigerian soup known as Bitter leaf soup (Ofe Onugbu).
It is also frequently paired with water leaves to make Edikang Ikong, a loaded vegetable soup medley.
Quail Grass/Efo Shoko
Quail grass is known by different names, including Lagos spinach, Efo Shoko, and Shokoyokoto. This leafy green is a popular vegetable readily found in the Western part of Nigeria.
Quail grass (Celosia Argentea), is also native to Southeast Asia and South America. Lagos spinach is the main ingredient in spinach stews and soups like Efo riro.
Chaya Leaf/Miracle Leaf
This leaf is considered a superfood, and is renown for its remarkable medicinal properties. Because of this, chaya leaf is nicknamed Miracle Leaf and Hospital Too far. Other names include Ugu-oyibo (Igbo), and Iyana-ipaja leaf (Yoruba).
Chaya leaves (Jatropha Tanjorensis) are usually found in the southeastern part of Nigeria. They are used mainly in vegetable soups and mixed with other leafy vegetables.
False Cubeb Leaf/Uziza
False Cubeb leaf is an African plant primarily found in the eastern part of Nigeria. Both the leaves and seeds are used for culinary purposes. The leaves have a peppery taste and are pale green.
Its botanical name is Piper Guineense, and in Nigeria, it is known as Uziza among the Igbos. Uziza leaves are used to season African soups like Ofe Nsala, Vegetable soup, and Egusi soup.
Wild Spinach/Ukazi
Wild Spinach is a leafy vegetable known as Gnetum Africanum. This deep greenish plant is common in tropical regions, especially in the southeast of Nigeria.
Wild Spinach is also known as Afang leaves (Ibibio) and Okazi/Ukazi (Igbo). It has a slightly bitter taste when used in dishes. These leaves are mixed with water leaf to prepare Afang soup and Okazi soup.
African Spinach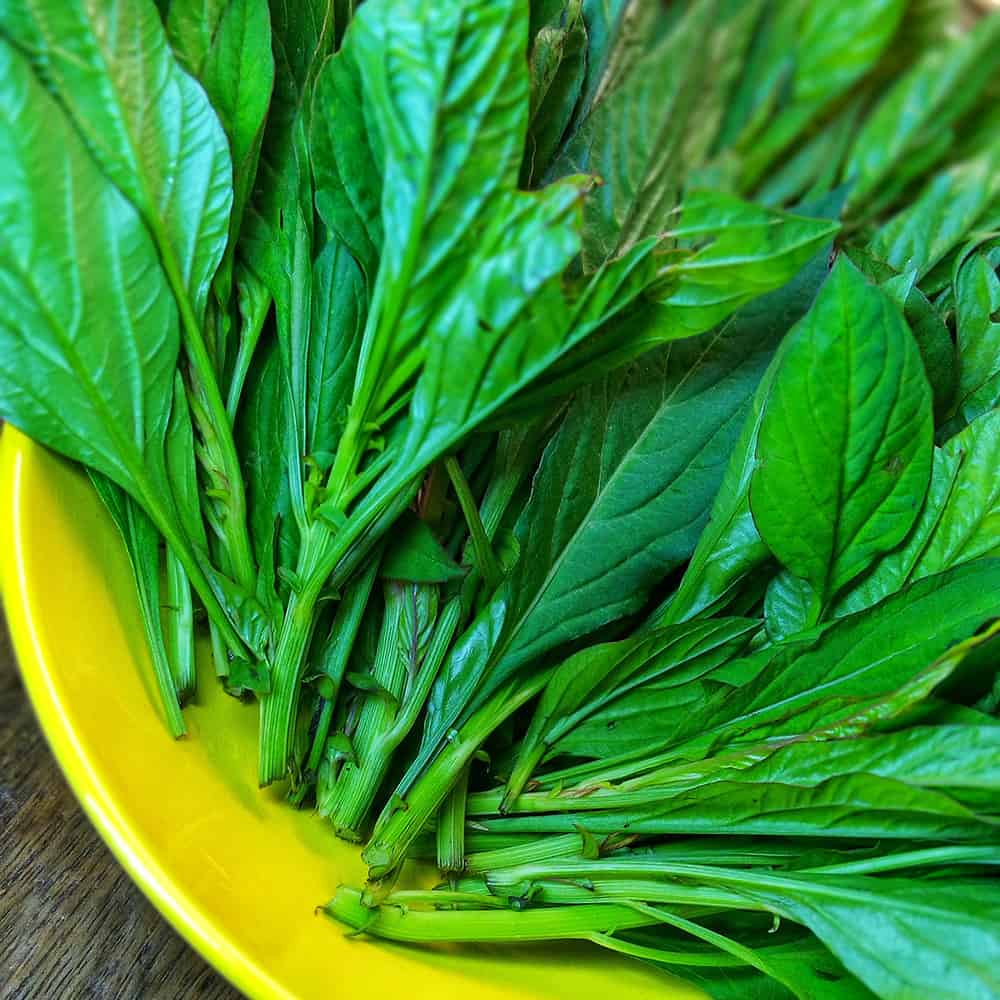 This leafy vegetable is often referred to as "greens" due to its vibrant green color. African spinach is cultivated in the western region of Nigeria, from which it gets its traditional names, Efo Tete and Tete Eleegun.
Also known as Amaranthus hybridus, this African vegetable is quite similar to Lagos Spinach. They are often used interchangeably to prepare various African soups like Egusi soup or spinach stew.
African Rosewood Leaf/Oha
These leafy greens come from the evergreen tree, cultivated in the eastern parts of Nigeria. This plant is also known as Pterocarpus mildbraedii or Oha leaf/Ora leaf(Igbo).
Oha leaf, is very popular among the Igbo tribe of Nigeria. It is used to make the famous Oha soup, a rich, traditional soup loaded with ponmo(cow skin) and smoked fish.
Jute Leaf/Ewedu
Jute leaves are an amazing superfood popular in Asia, the Middle East and parts of Africa. They are also known as Saluyot, Egyptian spinach, Jews mallow, and Molokhia.
In Nigeria, these leaves are known as Ewedu(Yoruba), Kerenkere (Igbo), and Rama Ayoyo (Hausa). Jute leaves are the key ingredient in preparing Ewedu soup, a nutritious soup eaten with Nigerian stew, and loaded with meat or chicken.
Bushbuck Leaf/Utazi
This lovely heart-shaped leaf with a slightly bitter taste is a favorite in many Nigerian homes. Its traditional names include Utazi/Otazi (Igbo) and Arokeke(Yoruba).
Bushbuck leaves (Gongronema latifolium) are the primary ingredient used to make Nsala soup and Utazi soup.
Used in small quantities, these leaves serve as an excellent garnish to some of Nigerian's favorite delicacies like Isiewu, Nkwobi and African salad (Abacha).
Bitter Melon Leaf
This leaf is available throughout the year and is found in the eastern part of Nigeria. It is very popular among the Igbos and is known as Ofe Ugbogoro.
Bitter melon leaf, as the name implies, has a bitter taste, not unlike bitter leaf. It is usually an acquired taste, but these leaves take on the flavor of the ingredients in the soup. Pair it with a hearty fufu dish, and it will taste amazing!
African Eggplant Leaf
Garden egg leaf (also known as Gboma), is grown in different regions of Africa. The African eggplant (garden egg) is different from the purple eggplant. It is a small edible fruit that tastes slightly bitter.
Garden egg leaves are used in various vegetable stews or juiced for their health benefits.
Sorrel Leaf/Yakwa
Sorrel leaves are generally found in the northern part of Nigeria. Also known as Yakwa by the Hausas, these leaves are used to prepare a Northern delicacy known as Miyan Taushe.
The red flowers of sorrel leaves are used to make a tangy, refreshing drink known as zoborodo (or zobo drink). This is a favorite drink because it is very cheap to make and a little goes a long way. The leaves can also be dried and reused.
Enjoy these traditional, healthy Nigerian soups!