The Nigerian Palm Oil Rice goes by many names: local jollof rice, oil rice or concoction rice. This delicious meal is prepared using cauliflower for a lower carb count but does not sacrifice on taste.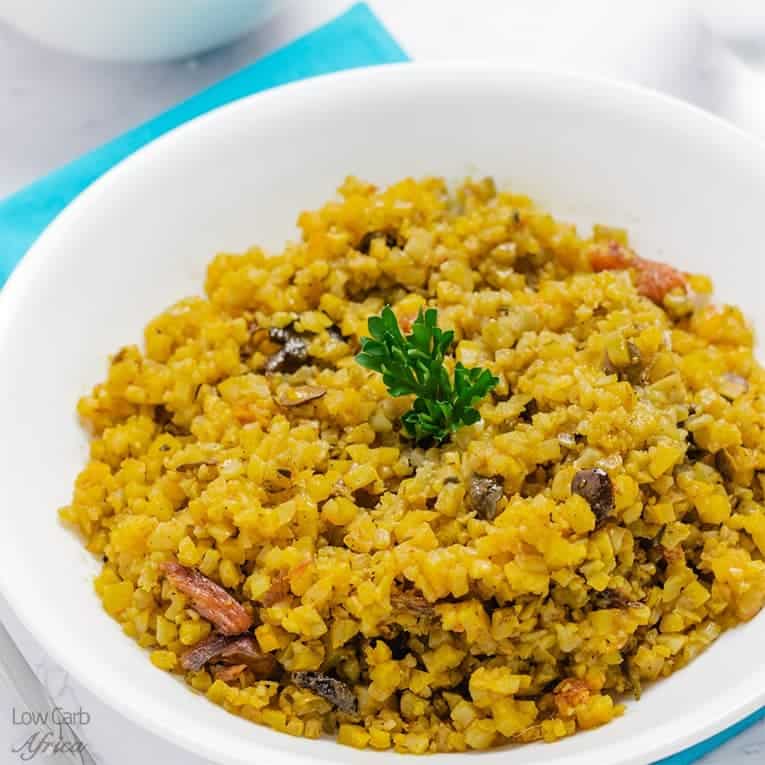 This recipe is ready in only 20 minutes from prep to finish. I really love this when I'm famished and have no energy for making myself a lavish dinner.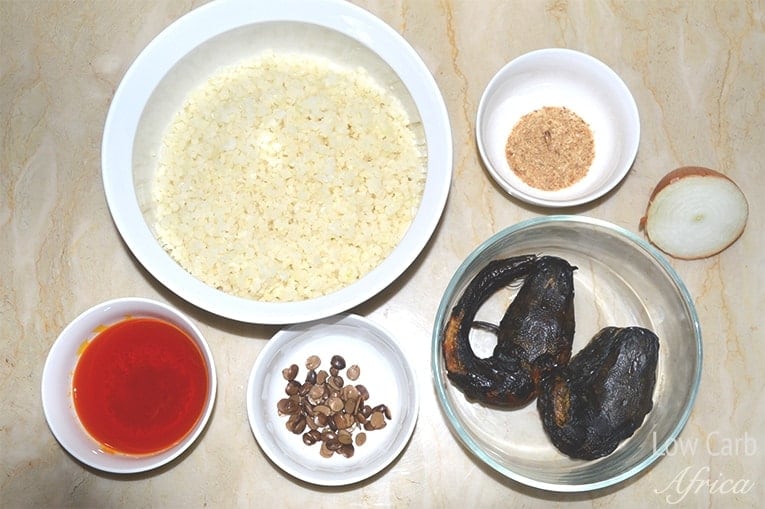 One condiment that gives it a unique taste is called Iru. This is a form of fermented and processed locust beans popularly found in Nigeria.
It does have a strong smell but it is absorbed in the food and actually gives a very distinct taste and flavor. This is also used heavily in most Nigerian soups.
Don't worry if you can't get your hands on some Iru for this recipe; I assure you it won't take away from how delicious the food will be.
The Iru should be soaked with hot water for a few minutes and rinsed out before use.
The recipe also includes smoked catfish which should also be soaked in hot water and broken apart into smaller chunks. There will be quite a bit of bone in the fish and I take out as much as I can but it's quite soft.
In a large skillet, add about half a cup of palm oil and let it sit for a few minutes till it gets hot. Add the chopped onions, dry fish and Iru and stir on medium heat for about 5 minutes.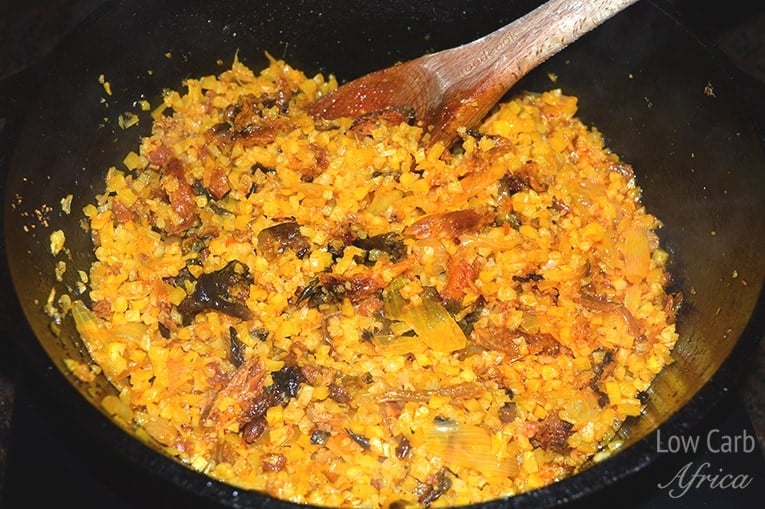 Add your cauliflower rice and keep stirring till well saturated. Add salt, pepper, and crayfish to taste. You can also add any other spices you desire. Cook on medium heat for another 10 minutes, longer if you prefer it softer.
Cauliflower palm oil rice can be served with any choice of meat for a delicious, satisfying, healthy meal. I have it pictured here with some fried goat meat, which is totally low carb by the way:-) Don't forget to check out our cauliflower fried rice and cabbage jollof recipes!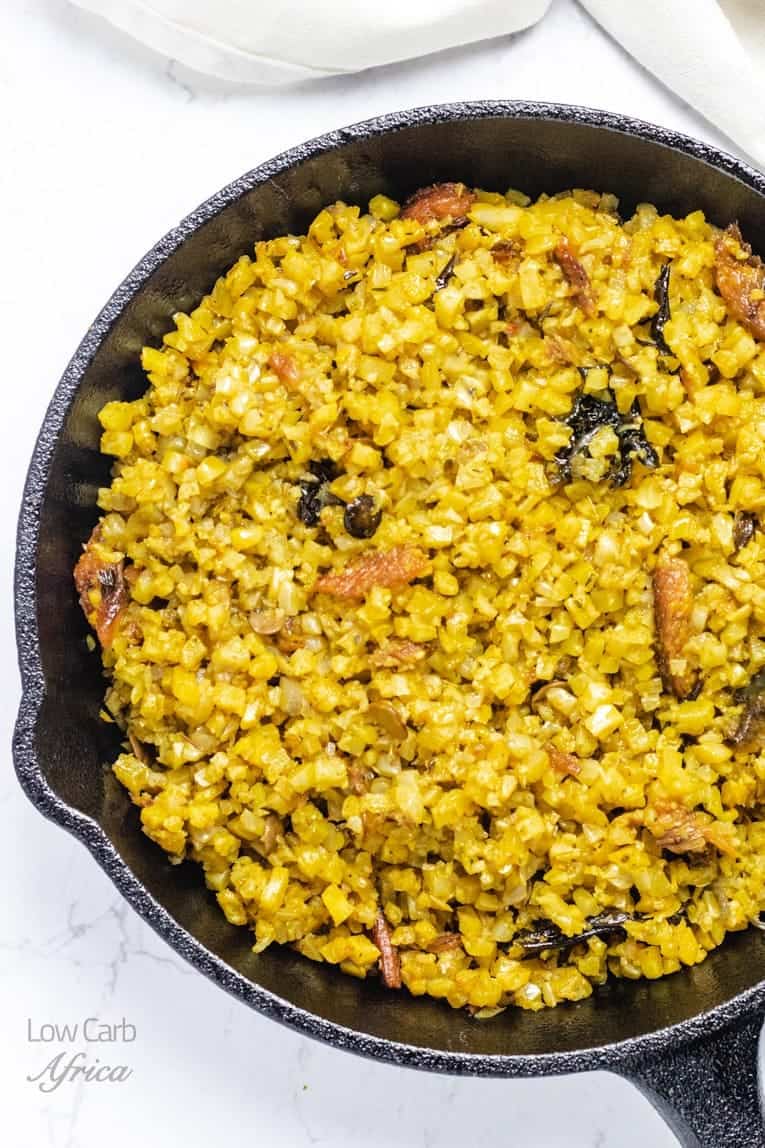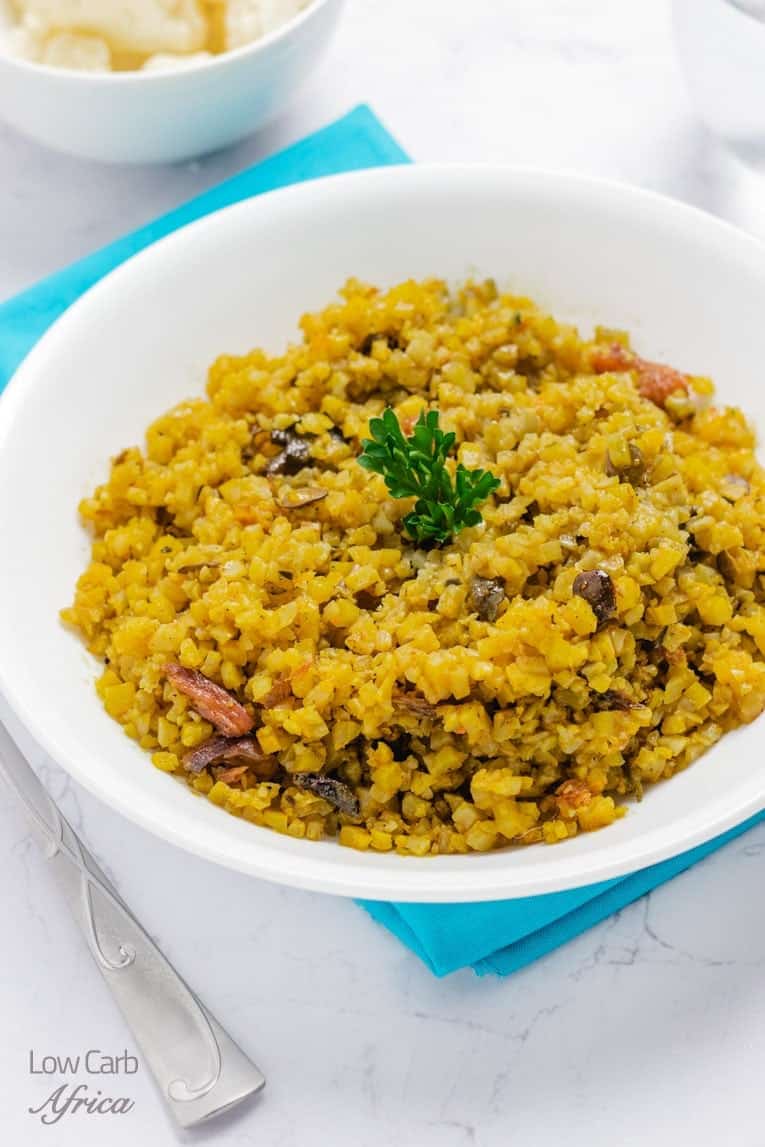 Have you made cauliflower rice from scratch before? This recipe tells you everything you need to know about making your own cauliflower rice!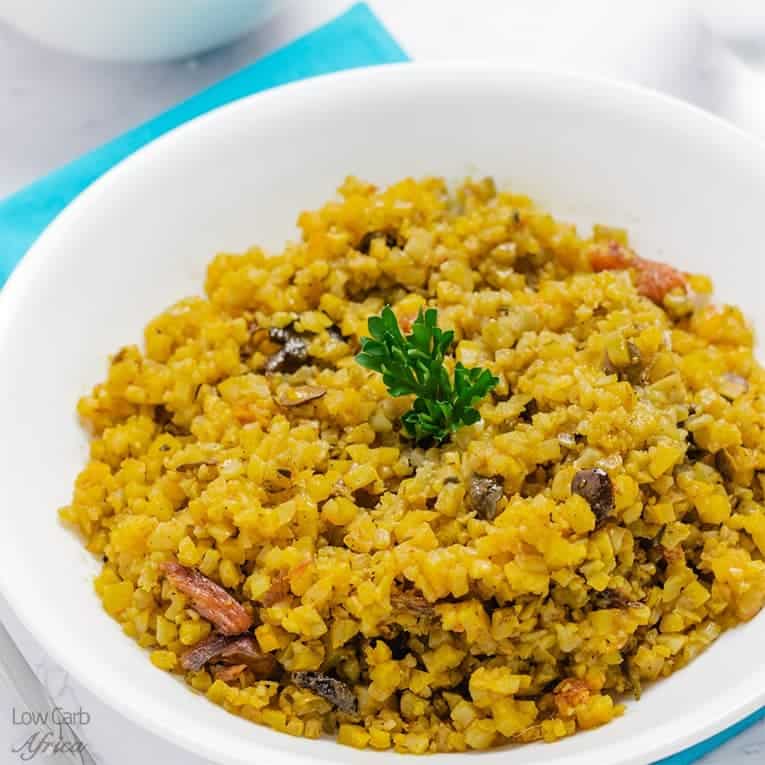 Cauliflower Palm Oil Rice
Enjoy this delicious, low carb, cauliflower palm oil rice, spiced with mouthwatering African spices. Just 1g net carb!

Print
Pin
Rate
Ingredients
Instructions
If using smoked catfish and Iru, soak in hot water for 5 minutes.

Rinse out the Iru and drain.

Break the fish into smaller chunks and remove the pieces of bone.

In a large skillet, add the palm oil.

When it gets hot, add the chopped onions, dry fish and Iru and stir on medium heat for about 5 minutes.

Add your cauliflower rice and keep stirring till well saturated.

Add salt, pepper and crayfish to taste (and other spices if you desire).

Cook on medium heat for another 10 minutes.

Serve & Enjoy
Nutrition
Serving:
4
servings
|
Calories:
371
kcal
|
Carbohydrates:
3
g
|
Protein:
40
g
|
Fat:
19
g
|
Saturated Fat:
1
g
|
Cholesterol:
140
mg
|
Sodium:
104
mg
|
Potassium:
843
mg
|
Fiber:
2
g
|
Vitamin A:
115
IU
|
Vitamin C:
2.6
mg
|
Calcium:
38
mg
|
Iron:
0.8
mg