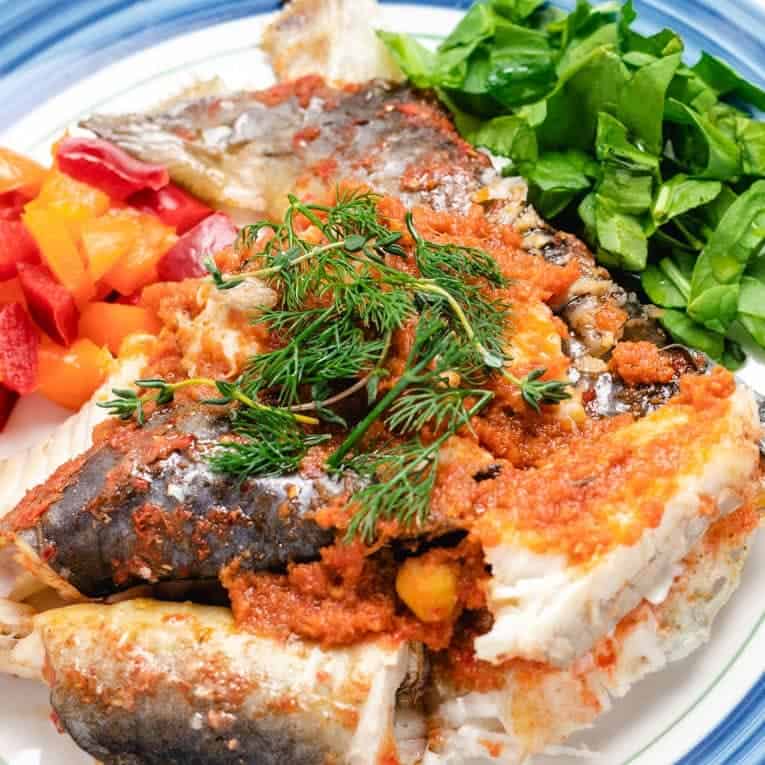 Jump to:
❤️ Why you'll love it
My family absolutely loves this catfish recipe and yours will too! We make it about twice a month, and it never lasts more than a day. We literally don't stop eating it once we start until it's all gone. It's coated in a mixture of flavor-packed vegetables and fresh herbs that add tons of fresh flavor to every bite. It's sure to be a new family favorite!
🥘 Equipment Used
The following are affiliate links. We are a participant in the Amazon Services LLC Associates Program, an affiliate advertising program designed to provide a means for us to earn fees by linking to Amazon.com and affiliated sites.
To prepare this easy oven baked catfish recipe, you'll need a baking sheet, knife, some aluminum foil, and a high-powered blender to prepare the flavorful marinade.
🧾 Ingredients Used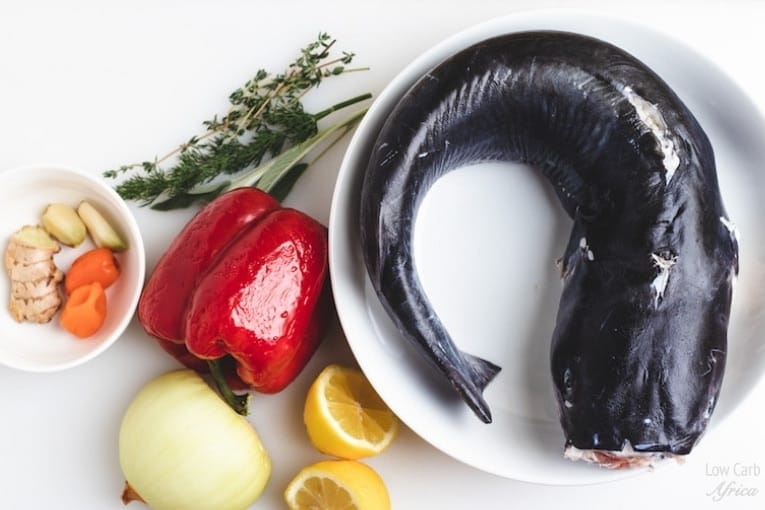 Catfish: This recipe calls for whole catfish instead of catfish fillets. Check your local Asian, Mexican, or African grocery store for frozen or fresh catfish. Be sure to remove the bones before serving.
Olive oil: Use a little oil to turn the vegetable puree into a delectable sauce.
Vegetables: Blend red bell pepper, garlic, onion, ginger root, and habanero pepper to create a potent, flavorful marinade that soaks into every bite of whole baked catfish.
Herbs: Fresh thyme, dill, and sage have so much more flavor than dried herbs, but you can use those instead in a pinch.
🔪 How To Make This Recipe
How to Prepare Catfish
If you buy the fish whole, depending on how much it has been cleaned, you might have to do a bit of cleaning yourself.
To cut down on prep time, I like to buy the fish sliced vertically with the insides completely cleaned out.
To prepare the catfish for baking, use lemon to clean the fish in and out by completely squeezing the lemon juice on the fish and rubbing it in. Rinse thoroughly when done.
How To Bake A Whole Catfish
Preheat oven to 400.
Blend the red bell pepper, habanero and onions.
Add the ginger, garlic and herbs, thyme, dill, sage, salt, and blend.
Clean the fish using lemon to reduce the fishy smell.
Make shallow slices on the side of the fish, about 3 - 4 on both sides.
Scoop about half of the pureed mixture into these holes and in the center slit.
Keep the other half to use later.
Completely wrap the fish in foil and place in bottom rack of oven for 45 mins.
Optional: Add ¼ cup of olive oil to a pan on medium heat, then add the pureed mix and stir for 5mins.
Open the foil at the top and leave the fish in for another 5 minutes.
Bring out the fish from the oven and garnish with the sauce or drizzle with olive oil if you don't want to use the sauce.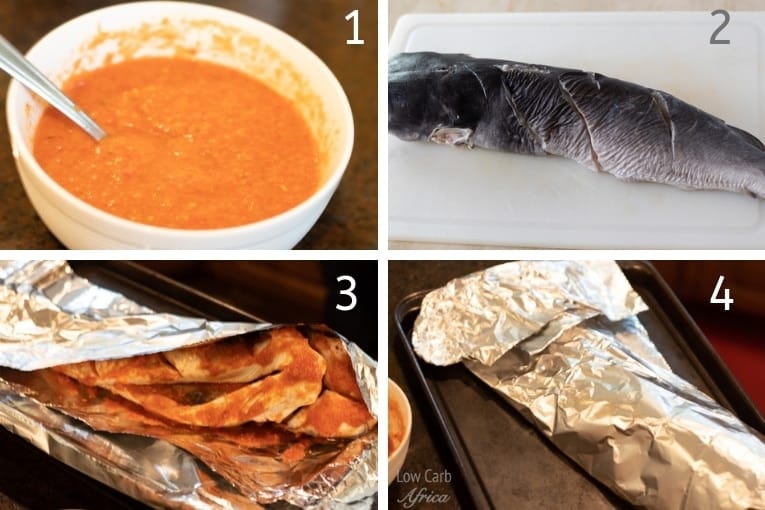 🥫 Storing and Reheating
This will keep for a few days in the fridge, but if you have fish lovers in your house, then it will probably last one day or two at the most. To keep it fresh, store it in an airtight container in the fridge for 2-3 days. To reheat, you can either microwave your leftovers for about a minute or pop them in the air fryer at 350 F for 5-7 minutes or until fully warmed.
💭 Tips and Variations
You can reduce how much pepper you use in this recipe according to your preference. Or you can omit it altogether.
I use thyme, dill, and sage, but you can use any herbs of your choice.
Don't skip cleaning the fish with lemon. This helps to clean the fish and reduce its sliminess, and also cuts down on the strong fishy smell, which might be a bother to some.
The fish has to be wrapped in foil before baking as this helps to trap the juices and keep them moist.
If you like really spicy food, you can also add a dash of cayenne pepper to the vegetable mixture.
Feel free to garnish with some fresh lemon slices, a little fresh parsley, or a dash of hot sauce (like this Pili Pili sauce) for extra flavor!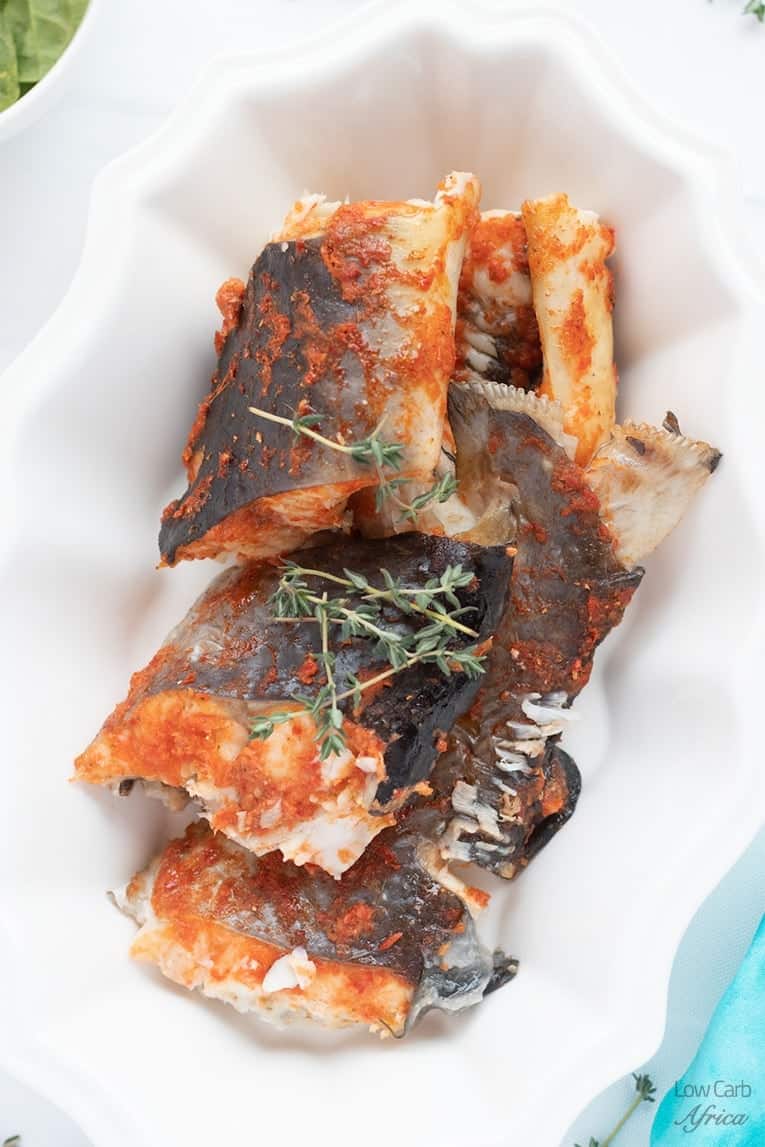 🍽️ What can I eat this recipe with?
This whole baked catfish tastes great with a veggie dish or salad on the side, like Brussels sprouts, roasted cauliflower, or keto coleslaw. This bacon broccoli salad will also be a great addition!
👩‍🍳 Frequently asked questions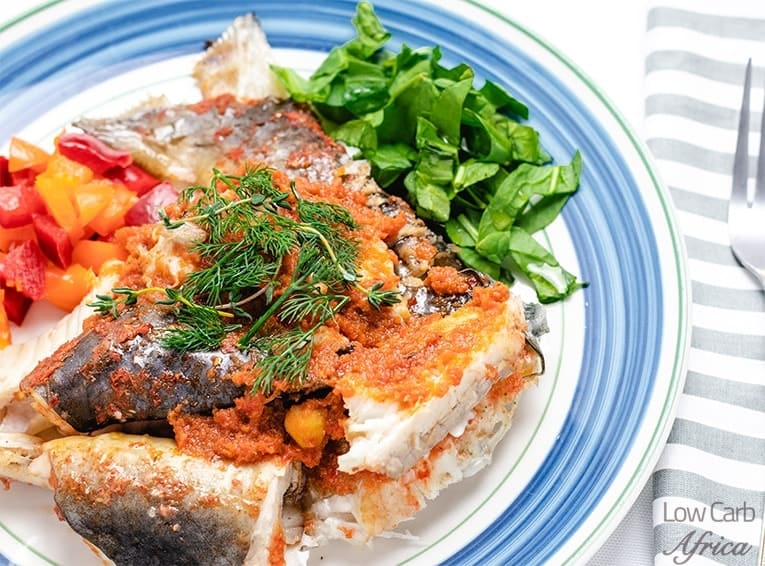 📖 Recipe