Shirataki noodles, also known as miracle noodles, konnyaku noodles, or konjac noodles, are a fantastic noodle replacement on the keto diet. They are gluten-free, high in fiber, low in calories, and zero carbs!
With shirataki noodles, you don't have to give up noodles or pasta on your keto journey. They are highly versatile and very easily replace high-carb noodles in your dishes. And because these noodles are almost zero calories and zero carbs per serving, you can easily eat more than one serving without guilt.
Understanding how to cook with these amazingly healthy noodles will be a game-changer for you on your keto journey. Read on to learn more about shirataki noodles and how to cook them.
What are shirataki noodles made of?
These low-carb noodles are made from the konjac plant grown in Southeast Asia. Konjac, also known as glucomannan, is a type of yam with a starchy root known as corm.
The corm can be processed in many ways, one of which is flour. That flour is then used to make shirataki noodles. As a result, konjac noodles are high in water content and fiber while being low in carbs.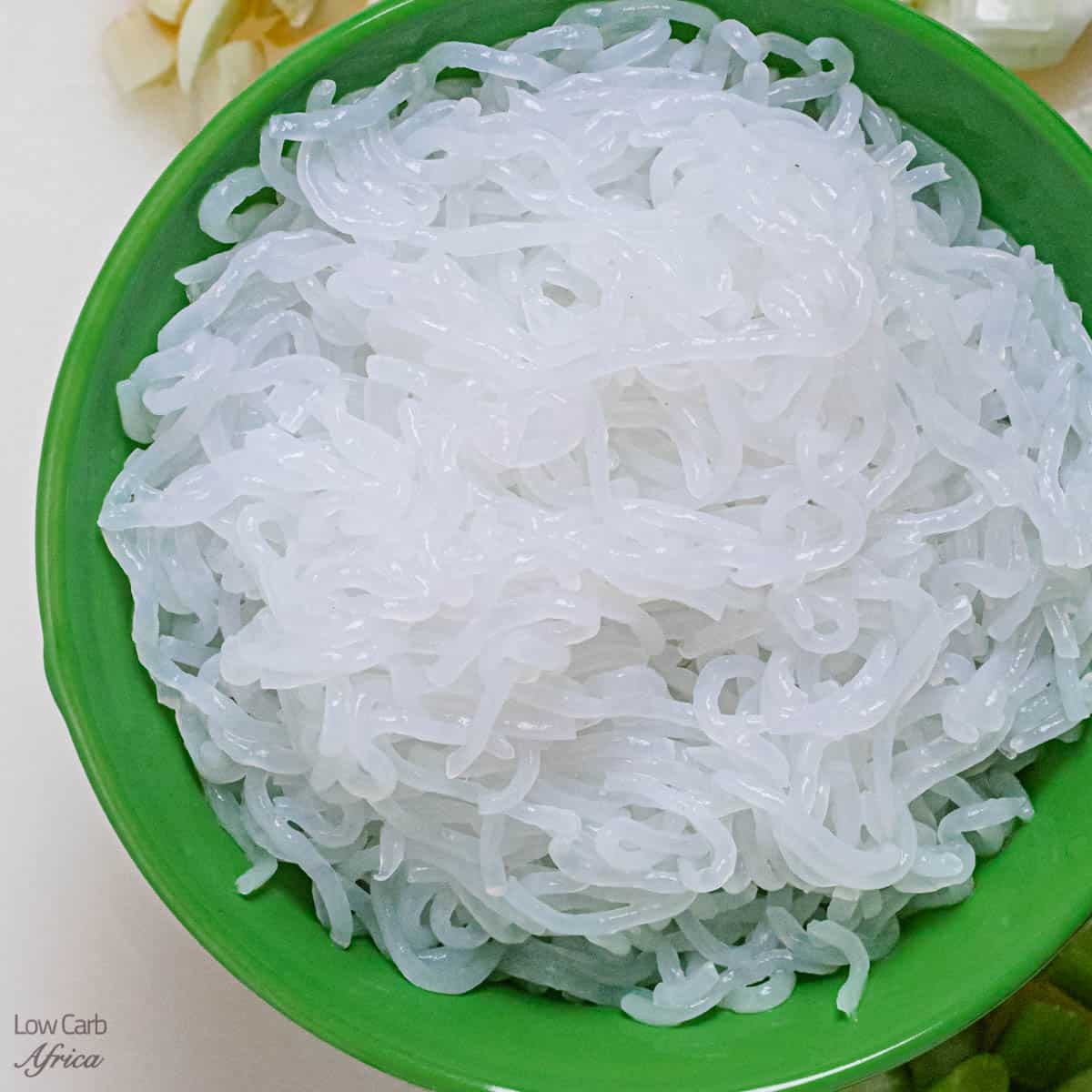 What do shirataki noodles taste like?
These keto noodles are pretty much a blank canvas for your culinary masterpiece! They do not have much flavor, which means they readily absorb the flavors of whatever sauce you use.
They have a rubbery texture and a natural, earthy aroma when you first open up the packaging. However, after taking the appropriate steps to rinse and drain your noodles, the noodles lose that somewhat unpleasant odor and soak in the aromas of your dish.
The texture of these noodles is a little chewy compared to traditional noodles. They have some elasticity similar to what you'd find in ramen noodles.
Are Shirataki Noodles Keto?
Yes, these miracle noodles are definitely keto-friendly and are an excellent noodle substitute. Most brands contain zero net carbs, which makes them perfect for a keto diet.
They are also very low in calories and contain no added sugars. Also, thanks to their high soluble fiber content, you only need a small quantity to get you feeling full.
Shirataki noodles boast some impressive health benefits, including colon health, lowering cholesterol, helping regulate blood sugar, and aiding in weight loss.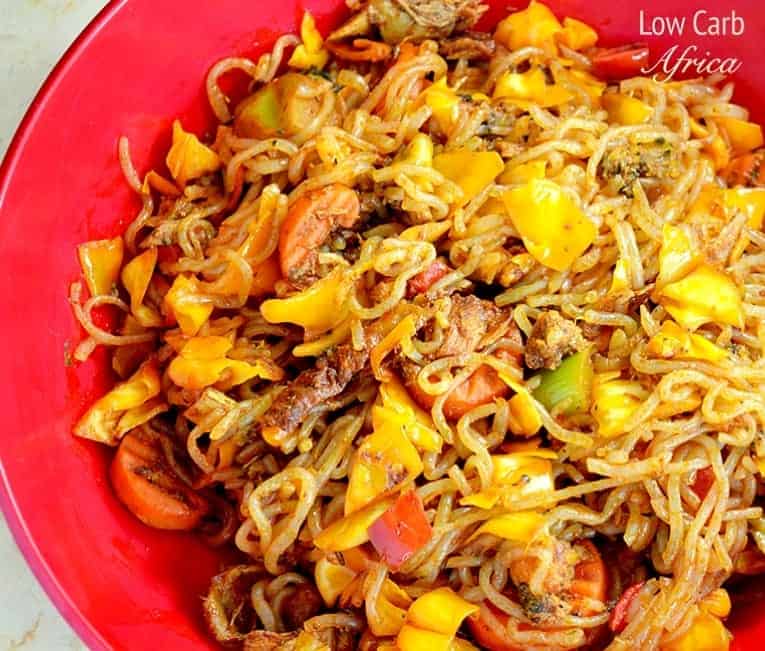 Where can I buy them?
You can get shirataki noodles in some major grocery stores like Walmart, but I get mine online from Amazon. You can also find them at specialty Asian food stores.
I have tried multiple brands of shirataki noodles. Ultimately, it's completely subjective, but I personally love the skinny noodles brand from Amazon. A close second is the miracle noodle brand.
They offer different shapes, like angel hair, fettuccini, and even rice. They also have less fishy aroma than some other brands seem to have when opened.
How to prepare shirataki noodles
To prepare your noodles for cooking:
Drain out the excess water using a colander, then rinse under cold water.
Drain the noodles a second time.
Microwave them for a few minutes, and rinse them one more time, and you're good to go.
Another way to prepare shirataki noodles is by soaking them in hot water for 5 minutes, then rinsing them under cold water.
The good news is that it is difficult to overcook these miracle noodles. There's so much fiber in the noodles that they do not turn mushy like over-cooked pasta noodles.
How to cook shirataki noodles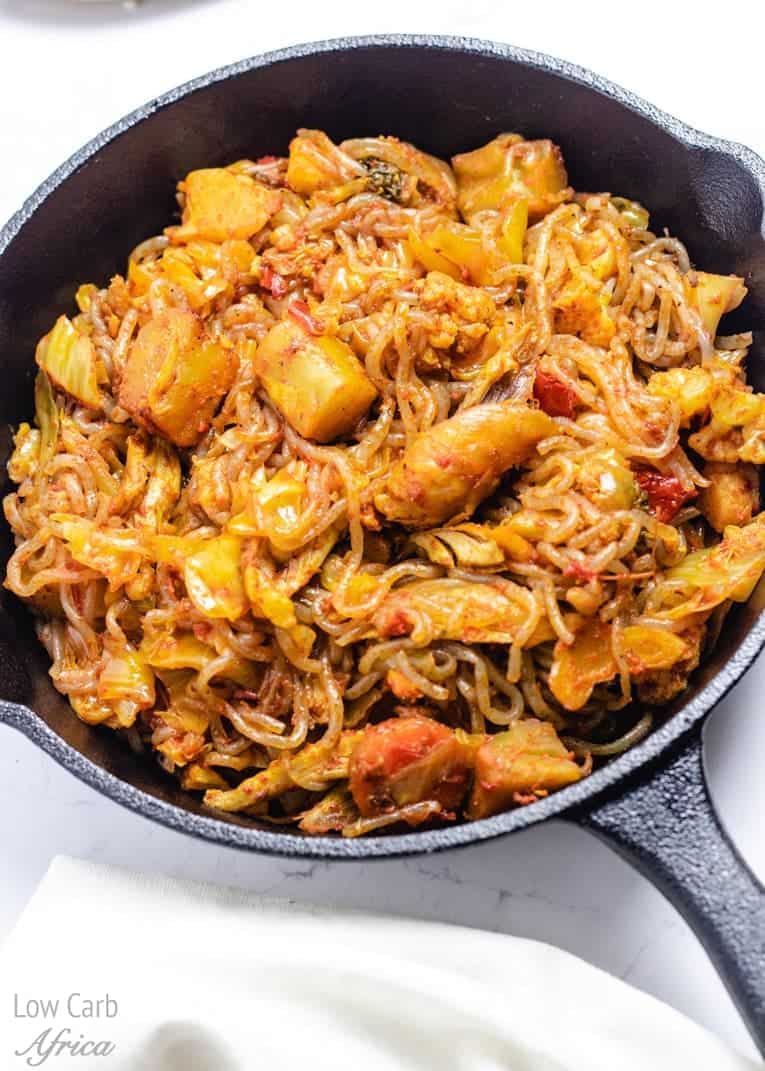 Shirataki noodles can take the place of pasta or spaghetti in any dish that calls for it. Because it comes soaked in water before you use it in stir-fries or eat with a sauce, it helps to evaporate some of the water, so your food does not end up soggy.
To do this is, after washing the noodles, place them in a large saucepan and stir till the water evaporates. This process usually takes a few minutes using medium-high heat. Then you can add the other ingredients or add some salt and olive oil and eat with a sauce.
You can use a little sesame oil, soy sauce, or tomato sauce to add some flavor to these noodles for an easy recipe. Shirataki noodles are popularly used in Asian cuisine and taste amazing with some sesame seeds or peanut sauce.
How to store them
Unopened noodles do not have to be frozen or refrigerated. You can store them in your pantry as long as they have not reached their expiration date.

You can drain and store it in an airtight container in your refrigerator for 3-5 days if already opened.
Shirataki Noodles Recipes
These miracle noodles are generally used in keto recipes to replace pasta or noodles. Here are some wonderful recipes that make use of them.
Shirataki Noodle Vegetable Stir Fry with Chicken is so comforting and filled with mouthwatering flavors. You can use chicken or any protein you have on hand and add different keto-friendly veggies. Add some red peppers to spice things up!
Shirataki Chicken Noodle Soup is hearty, flavorful, and satisfying, especially on a cold day. It's easy to make and cooks remarkably quickly if you've got an instant pot. I use coconut aminos instead of soy sauce to keep the carbs even lower. This soup is the best substitute for chicken noodle soup on the keto diet!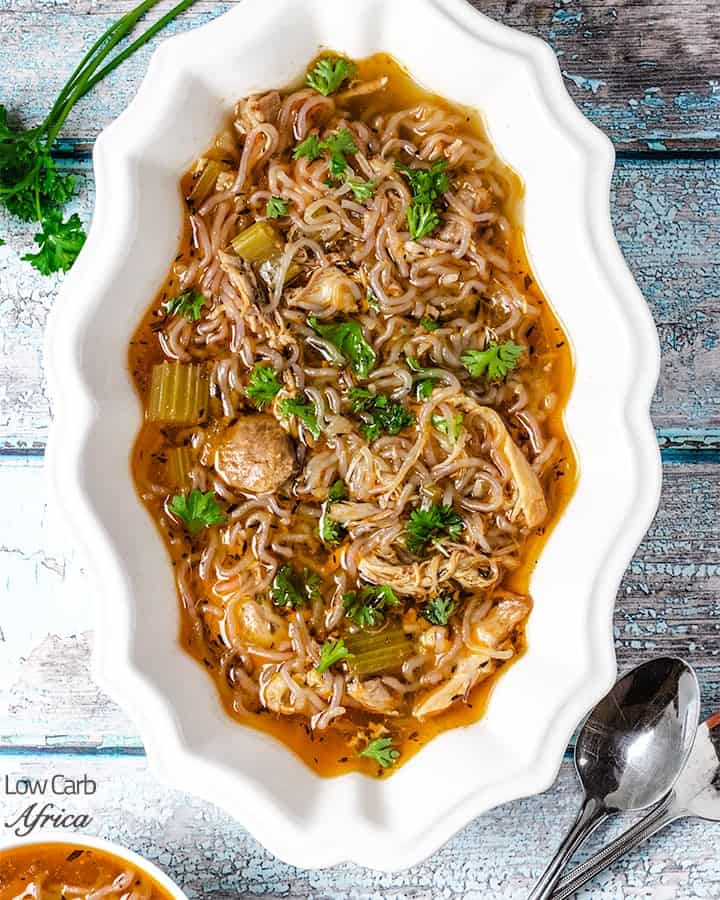 Frequently Asked Questions
Why do shirataki noodles smell fishy?
Shirataki noodles usually come soaked in water. The first time you open it, you'll notice that it has a somewhat fishy smell. This odor occurs because the water absorbs the smell of the konjac root. All you need to do is rinse it thoroughly to get rid of the fishy smell.
Are miracle noodles and shirataki noodles the same?
Yes, they are basically the same. Miracle noodles are a popular brand of shirataki noodles. Other names are konjac noodles or skinny noodles.
What is the difference between shirataki noodles and tofu shirataki noodles?
As the name suggests, Tofu shirataki noodles contain one additional ingredient: tofu. They are a little higher in carbs and fiber. They also have a chewier texture.
Be on the lookout when searching for shirataki noodles, so you buy the original with no tofu if you're strict about your carb intake.
Other keto noodle replacements
You don't have to give up noodles or pasta on your keto diet entirely. Apart from shirataki noodles, here are some other great keto-friendly noodle replacements.
Check out these keto noodle recipes!
Palmini Noodles Shrimp Stir Fry
Zucchini Noodles with Ground Beef