Shirataki noodle vegetable stir fry is a keto and low carb nutrient-dense meal made with high fiber, zero-calorie shirataki noodles. Just 11 net carbs!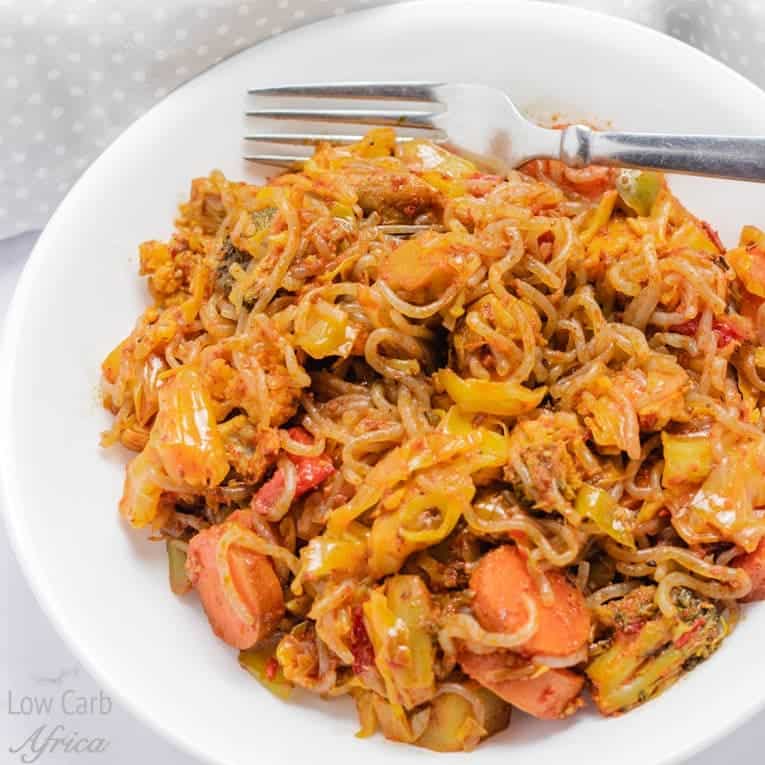 This easy shirataki noodles recipe is so filling and delicious and ready in only 30 minutes.
One of the things I missed the most about going low carb was my noodle and spaghetti dishes. I think I went a whole year before I discovered the miracle of shirataki noodles, also known as miracle noodles, skinny noodles or zero noodles.
What are shirataki noodles made from?
Shirataki noodle is made from Konjac root and contains 10 calories, 0 net carbs, and 3 grams of fiber, making them the perfect low carb replacement for your noodle-like dishes. They are made up of mostly water and are very popular in Asian cuisines.
Konjac root is very high in fiber and aids weight loss by making you stay full longer. It has also been proven to help reduce blood sugar and insulin levels, reduce cholesterol and reduce constipation. Once properly prepared, it readily absorbs the flavor of the dish and spices used, which makes it very versatile.
Are shirataki noodles keto compliant?
Yes! Shirataki noodles are keto and low carb compliant. They are also vegan, gluten-free and sugar-free!
Where can I buy shirataki noodles?
Shirataki noodles can be found in a few stores but there are mostly found online. A few places you can find it include:
I have tried different brands but my favorite so far has been the Skinny Noodles brand on Amazon. It takes me the shortest amount of time to prepare and I don't taste the fishy taste these noodles seem to be known for.
Having said that, it still needs to be prepped before use. They come pre-packaged in a clear liquid and when opened, there is a peculiar odor to it.
Most people sort of give up at this point but there really is a way to get rid of the somewhat fishy smell. If it really bothers you, rinse it, throw it in the microwave for two minutes and rinse again.
I just rinse it over running water for about a minute while chopping it with a pair of scissors since the strands are quite long. Then toss in a pan on low heat to evaporate some of the water and it's ready to go. Boom! Problem solved.
This shirataki noodle stir fry has a lot of vegetables just because I love it that way and the extra fiber makes me full very quickly. Also, these noodles can run expensive if you eat it all the time and eat like a whole pack in a sitting, which you can easily do.
Bulking it up with vegetables and chicken makes it go a long way and I can easily get two servings out of one pack.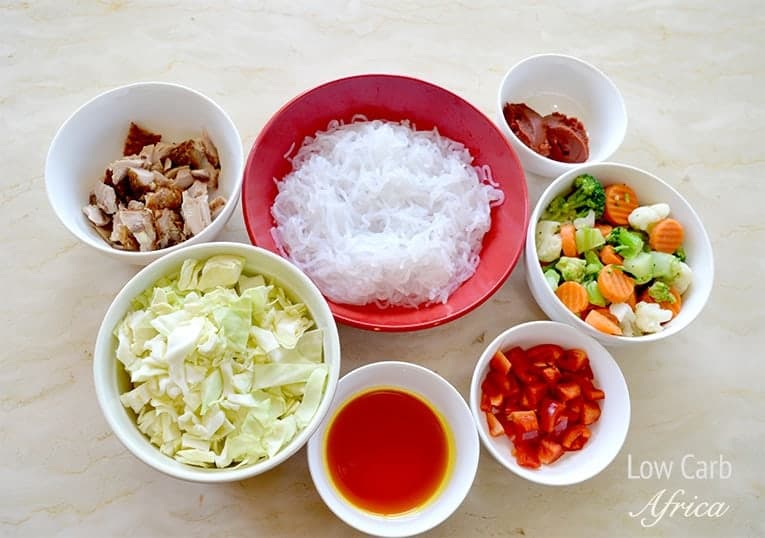 How to prepare shirataki noodle vegetable stir fry
I used a mixed veggie pack that contains broccoli, cauliflower, and carrots but you can use any you have on hand. I also had some grilled chicken leftovers and shredded those as well.
The choice of protein to use is totally up to you. Chicken, beef, pork, lamb – any of this will substitute nicely in this recipe.
I used tomato paste instead of my regular Roma tomatoes just to mix things up. To prevent it from burning quickly, mix with a little water to make a thinner consistency.
As I mentioned earlier, the noodles were prepped and set on low heat in a smaller pan while I prepared the stir fry in another wider skillet.
Just keep an eye on the noodles and stir maybe once or twice but it wouldn't burn as it needs to expel most of the water contained in it, which is quite a bit. It's important you don't omit this step, else your stir fry will look quite watery when it's done.
On medium heat, add the palm oil to your skillet and when it's hot, add the tomato paste, bell pepper and some cayenne pepper (or chopped habaneros, if you can handle it). Stir for about 5 mins, then add the veggie mix, chicken and spices.
For this, I used salt, pepper, crayfish, chicken bouillon powder, and thyme but any of your favorite spices will do. Leave for about 10 mins on medium-low heat.
Now add the noodles to the stir fry and stir. The noodles will look a little dry and rubbery but don't worry, it will absorb the sauce and spices from the stir fry. Let simmer for another 10 mins on low heat and you're good to go!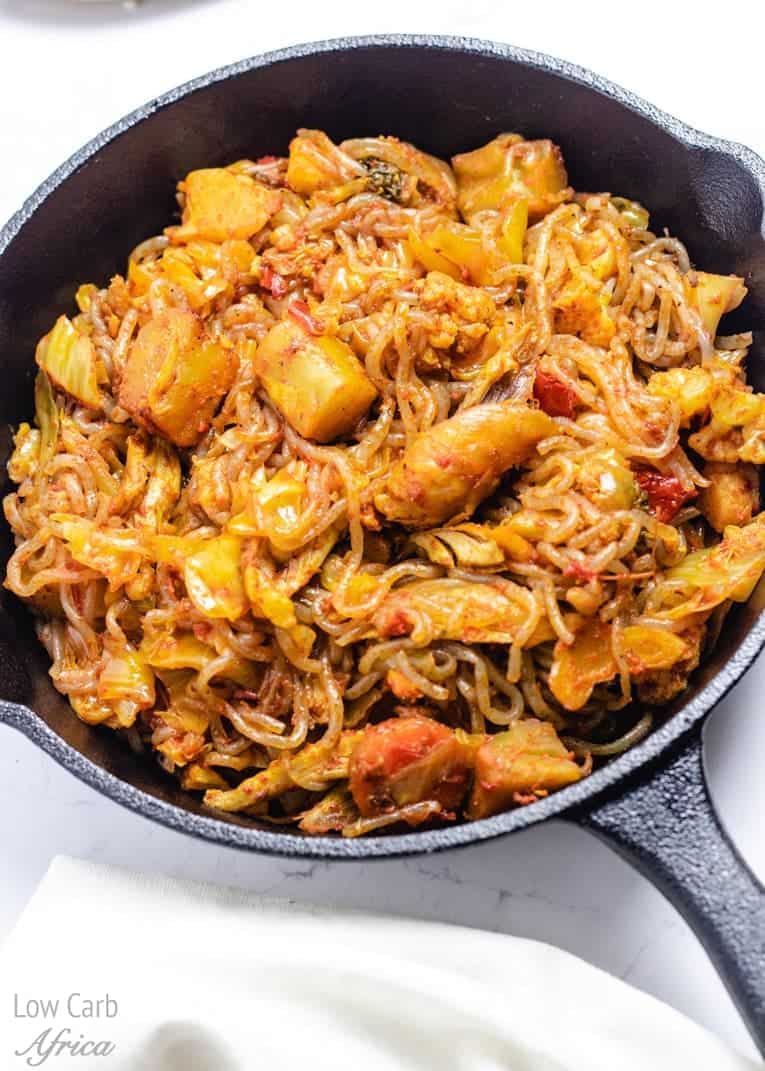 I like to make a bit extra to refrigerate for later as it is so much more convenient. So for this recipe, I used two packs, which gives a serving of four.
I love the versatility of shirataki noodles and how it has really helped satisfy my noodle cravings on my low carb journey. For variety, try this rainbow shirataki noodles or this shirataki chicken noodle soup. So deliciously satisfying!

Try these other delicious low carb recipes: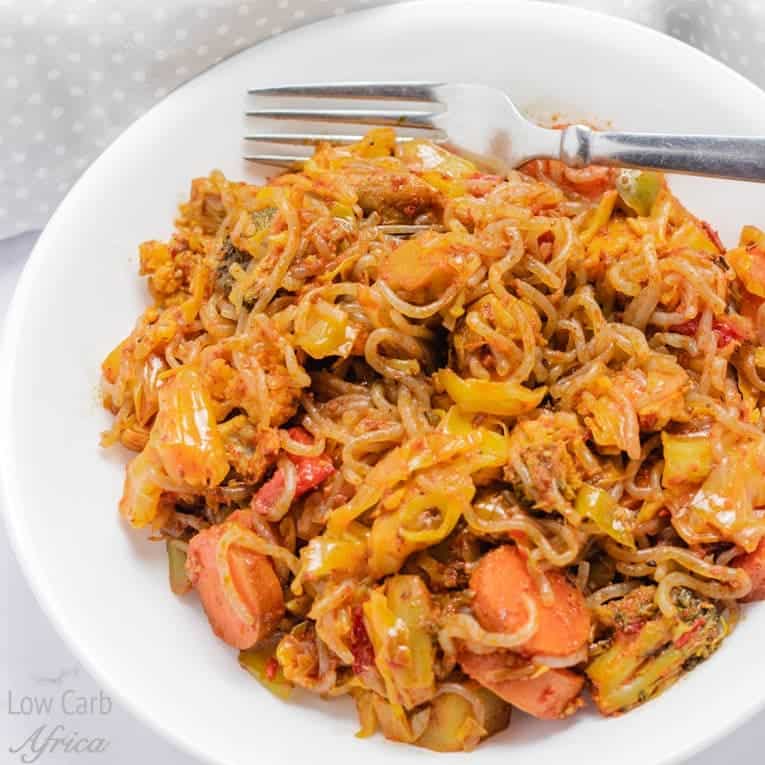 Print Recipe
Shirataki Noodle Vegetable Stir Fry
Shirataki noodle vegetable stir fry is a keto and low carb nutrient-dense meal made with high fiber, zero-calorie shirataki noodles. Just 11 net carbs!
Ingredients
1/2

cabbage

100

g

chicken

1/4

cup

Palm Oil

1/4

bell pepper

2

cups

mixed veggies

broccoli, cauliflower and carrots

2

tbsp

tomato paste

Spices

salt, pepper, crayfish, chicken bouillon powder, and thyme
Instructions
Chop cabbage, bell pepper, and cayenne pepper.

Wash noodles and put on a frying pan on low heat to evaporate excess liquid.

In another skillet, pre-heat oil and add tomato sauce, chopped bell pepper, and cayenne pepper. Stir for 5 mins.

Add mixed veggies, chicken and spices. Stir and leave on medium heat for 5 mins.

Add shirataki noodles and leave for 5-10 mins.

Serve and enjoy. Yum!
Nutrition Facts
Shirataki Noodle Vegetable Stir Fry
Amount Per Serving (4 servings)
Calories 215
Calories from Fat 135
% Daily Value*
Fat 15g23%
Cholesterol 9mg3%
Sodium 92mg4%
Potassium 312mg9%
Carbohydrates 16g5%
Protein 5g10%
Vitamin A 485IU10%
Vitamin C 52.8mg64%
Calcium 48mg5%
Iron 0.9mg5%
* Percent Daily Values are based on a 2000 calorie diet.
Need more low carb stir-fry recipes? These recipes are so amazingly delicious!
Tuna Stir Fry with Cauliflower Rice