Zucchini (also known as courgette) is a summer squash that is so versatile and can be eaten in so many different ways. This ground beef and zucchini noodles stir fry is truly delicious and only 4g net carbs!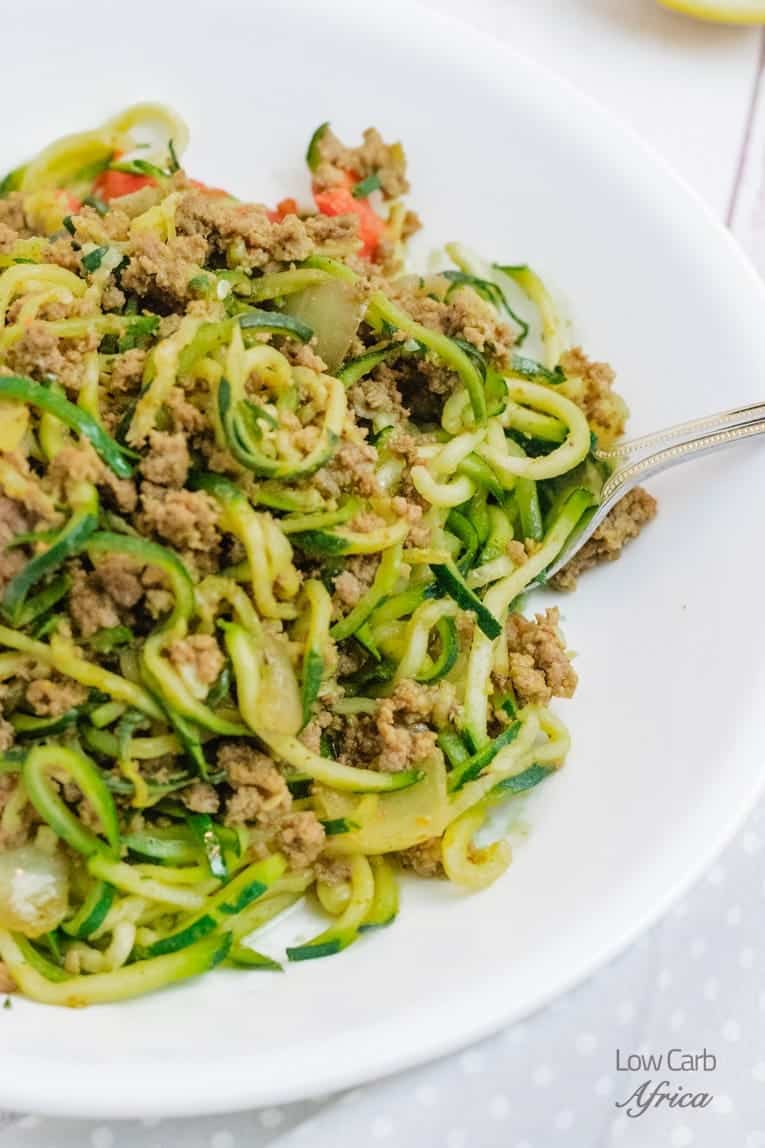 Zucchini noodles are sometimes referred to as 'zoodles' which is just a fancy name for zucchini + noodles. This is one of those meals that you can just eat until you can eat no more. I mean, you are mostly eating veggies and protein, what's not to love?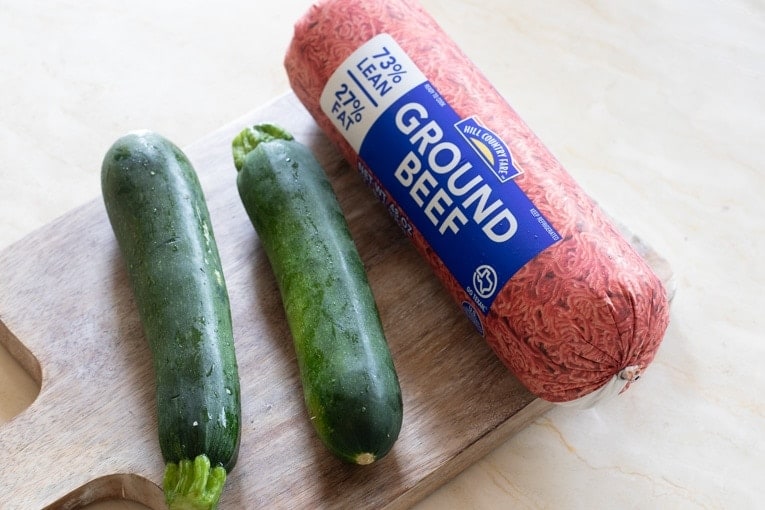 We are big zucchini fans at my house. My daughter will literally stand next to me while I prepare the zucchini and will ask to help or just scoop handfuls into her mouth till I'm done. One of these days, she'll be done eating everything before I even start cooking…ha!
There are ways to grind your beef at home but for simplicity's sake, I just buy mine. I'll write a post later on how to do this. When buying packaged ground beef, pay attention to the 'leanness' of the beef. You'll see things like 90% lean/10% fat content or 80% lean/20% fat. For a low carb diet, we don't need our meat to be that lean, healthy fat helps with satiety. I like to choose 73% lean/27% fat ground beef since it's the only one I've found with the highest fat content.
How to spiralize zucchini
For this recipe, I use a spiralizer to cut the zucchini into spirals to mimic noodles. There are other ways to cut them without a spiralizer which is beyond the scope of this post but there is an awesome youtube video that explains it in detail and you can watch it here. The easiest way is the first method in the video using the vegetable peeler. The more pressure you apply, the thicker the slices and you want it to be pretty thick so it's a bit crunchy when eating. I tried to just grate the zucchini but it came out quite thin. That will be perfect for a salad but not this recipe. If you miss noodles and want a cheaper alternative to the skinny noodles sold in stores or online, then a spiralizer is worth the investment. There are so many different types but this is the one I use.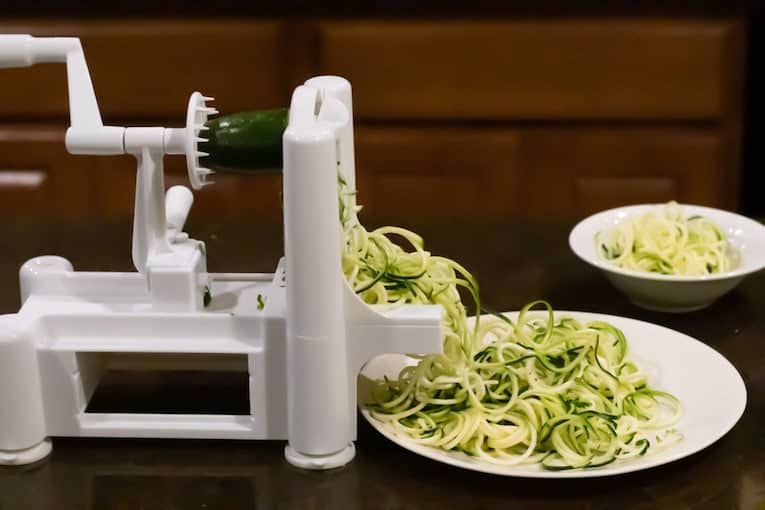 How to make ground beef zucchini noodles
To start, slice off the top and bottom of your zucchini and then get spiralizing! I use this vegetable spiralizer and it is really easy to use. Just place the zucchini in between and turn the handle. It's actually fun to watch and my six year old often helps with this. Next, place the ground beef on high heat on the stove and break down the chunks while you stir. No need to add water or any liquid, the ground beef has plenty enough. After about 5 minutes, add the chopped bell pepper, onions, dry pepper (cayenne), ground crayfish, knorr, curry, salt or any spices you have on hand.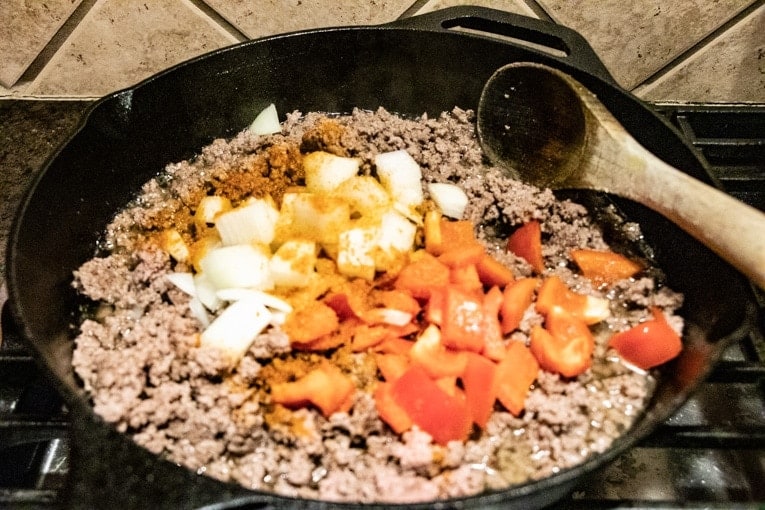 Leave for 5-10 minutes on medium heat then add your zucchini and stir. I like mine a bit firm so I leave it for about 5 minutes but you can leave it for 10 minutes if you want it softer.
Dish out and serve. This keeps for several days in the fridge. Sometimes I leave a little spiralized zucchini in the fridge and just snack on it when hungry. And sometimes I have leftovers of my low carb stir fry noodles or cauliflower rice and I mix it with the zucchini noodles for an amazing variety. The more, the merrier right?
Here are some other really great ground beef keto recipes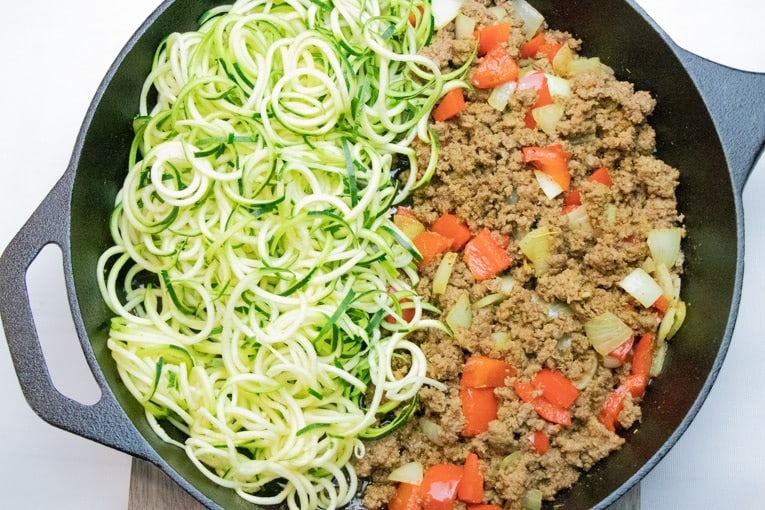 Enjoy these other low carb pasta/noodle recipes!
Shirataki Noodles Vegetable Stir Fry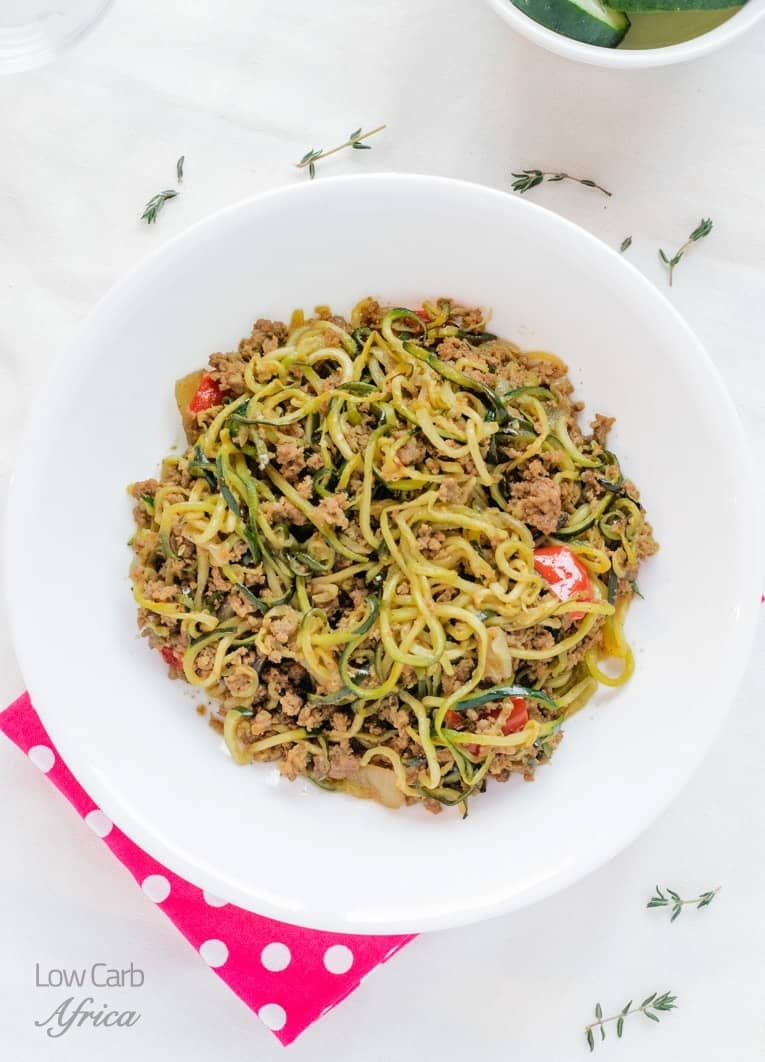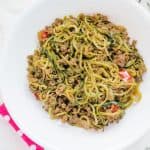 Print Recipe
Ground Beef Zucchini Noodles
Ground beef zucchini noodles is a great summer delicacy and truly delicious. At only 4g net carbs, it fits in perfectly with your low carb lifestyle!
Instructions
Slice off the top and bottom of your zucchini and spiralize.

Place the ground beef on high heat on the stove, break down the chunks and stir for 5 mins.

Add the bell pepper, onions, dry pepper, crayfish, salt and other spices.

After 10 mins, add zucchini noodles and stir.

Leave for 5-10 mins depending on how firm you like it.
Nutrition Facts
Ground Beef Zucchini Noodles
Amount Per Serving
Calories 458
Calories from Fat 306
% Daily Value*
Fat 34g52%
Carbohydrates 5g2%
Protein 30g60%
* Percent Daily Values are based on a 2000 calorie diet.
Looking for more? Try these other delicious recipes!