Peppered gizzard is a lip-smacking, mouthwatering delicacy that makes an excellent snack. If you have never tried gizzard before, this will make a believer out of you!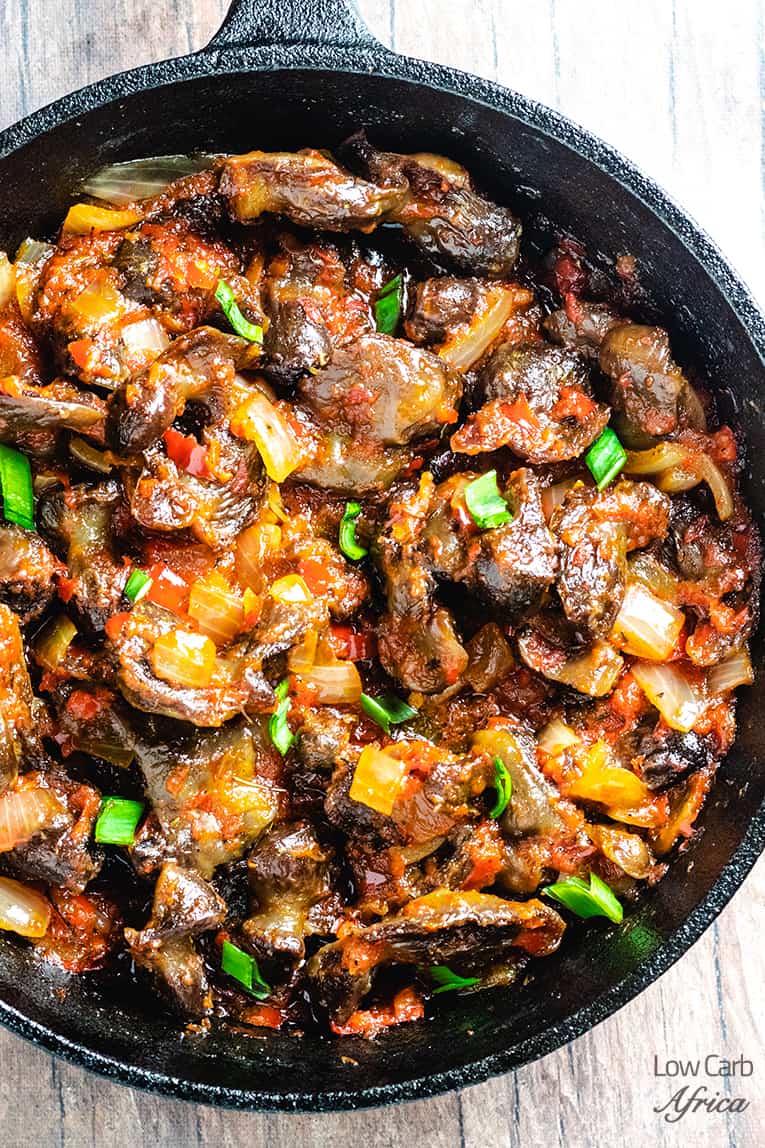 You may balk at the thought of eating gizzard if you haven't tasted it before. But don't give up on it till you try it at least once.
Gizzards are actually very common in several parts of the world and are usually eaten as a snack, appetizer, street food, or party food.
They can be boiled, fried, grilled, stewed, or skewered. Gizzards are naturally tough but become quite tender when cooked.
When it comes to gizzards, it's all about the seasoning. I eat it boiled sometimes, especially when I'm impatient and can't wait to finish preparing the rest of the dish. But when fried or grilled and well-seasoned, this becomes one very tasty dish!
This recipe is made with bell peppers and habanero peppers and is quite hot, so spicy food lovers will really enjoy this! If you can't handle a lot of heat but still want to enjoy this recipe, I also have some modifications for you.
Another major plus for gizzards is that they are relatively inexpensive. You could buy a pound of gizzards for a little more than a dollar, depending on where you live.
Are gizzards healthy?
If you're not familiar with what a gizzard is, it is a small muscular organ found in the digestive tract of some birds and fish.
Gizzards are one of the most nutritious parts of the chicken. They are a very good source of selenium, B12, zinc, and iron, among other vitamins and minerals. They also help curb hunger due to their high protein content.
Ingredients used in making peppered gizzard
This peppered gizzard recipe is made with just a few ingredients.
Gizzards: I use about 1.5 pounds and buy it pre-packed from my local grocery store (HEB). They are sold in most grocery stores and usually found in the raw/fresh meat section. You can also get it from a butcher but then you'll have to clean it yourself, which does require some skill and know-how to do it properly.
Vegetables: Bell pepper, habanero pepper, and onions. I also use scallions to garnish, but this is optional.
Olive oil: To fry the gizzard and make the sauce.
Spices:  Bouillon powder, black pepper, thyme, and salt.
How to make peppered gizzard
Thoroughly wash the gizzards under running water and then place them in a pot. You don't need a lot of water to boil it, just make sure the water covers the gizzard. Add some salt and black pepper and cook for 15 minutes, covered.
When the gizzard begins to boil, it might quickly bubble up and begin to spill so you have to watch it carefully. When it boils, reduce the heat a bit and move the pot cover just a little bit to create a vent for the excess steam.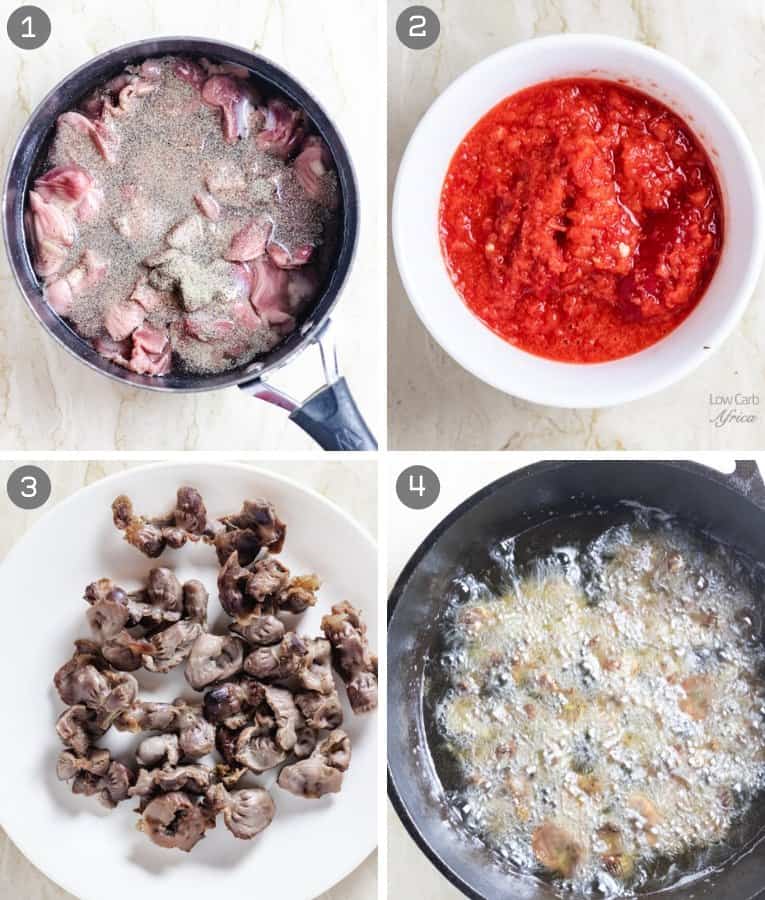 I boil it for only 15 minutes because I still don't mind it being slightly tough and chewy. If you want it more tender, boil for a total of 20 minutes.
While the gizzard boils, blend the habanero pepper and bell pepper. Since it's such a small quantity to blend, I use a smaller personal blender for it.
Also, you want a coarse blend so don't add any water. A few pulses from the blender should be enough to achieve the desired coarseness. You can also use a mortar and pestle set for more control.
Chop the onions and set them aside. Also, chop the scallions or any other garnishment you wish to use.
When the gizzards are ready, pour in a colander and let it drain a bit. We're going to be frying it next, so you want it to be somewhat dry to prevent crazy splatters from the oil.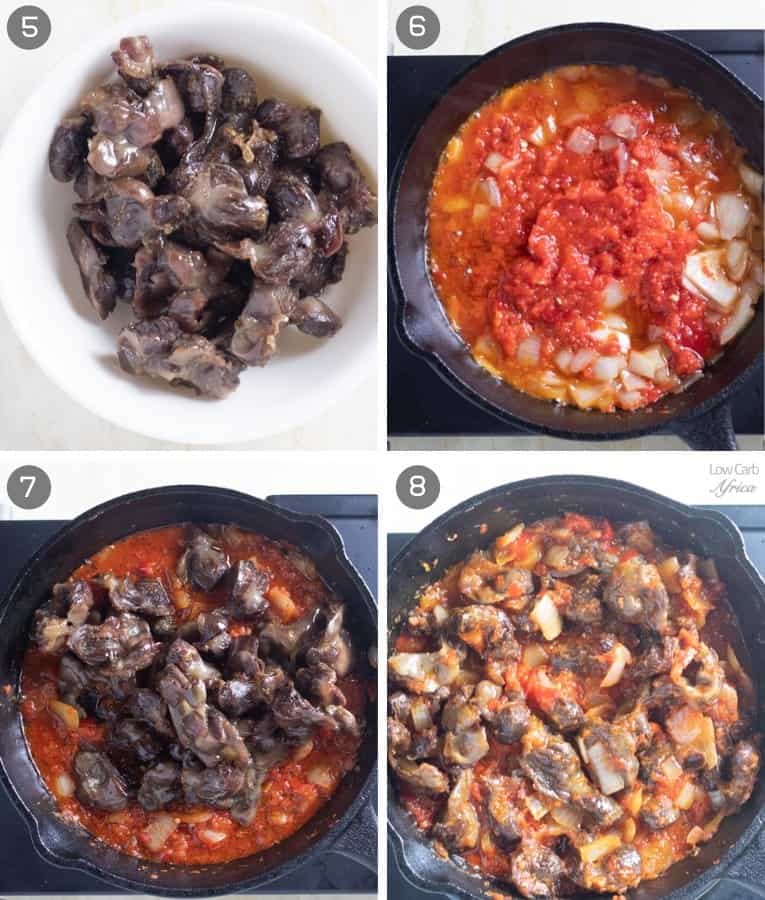 In a large frying pan, pour in an ample amount of olive oil for frying. You can also use a deep fryer if you have one.
When the oil gets hot, add the gizzard to the oil. Be gentle so it doesn't splash on you. I like to use regular pans for frying and this splatter screen has been a HUGE saver.
It really reduces the mess caused by oil splashing all over your stoves, floors, and clothes. Not to mention, burns on your arm!
Let the gizzards fry till crispy, then use a large slotted spoon to take it out. We need to make the sauce but we need less oil than we currently have. In a small pan, add ½ cup of the same oil just used, and add the chopped onions.
After about 2 minutes, add in the blended peppers, bouillon powder, thyme, and black pepper and fry for about 5 minutes. Add some salt if needed. It should be on low heat so it does not start to burn.
Add in your gizzard and stir till it is well mixed. Turn down the heat to medium-low and let simmer for 5-10 minutes. When ready, garnish with scallions or your choice of herbs or vegetables.
Your peppered gizzard is ready!
This recipe serves 8 (about 3oz each) and contains 1 net carb per serving. It's not uncommon though to eat up to 2 servings at a time. It's really hard to stop eating when you start!
Peppered Gizzards are an excellent finger-food for guests or parties and it's best served with a toothpick through it, so your guests don't have to get their hands dirty.
The leftover sauce from frying makes a delicious dipping or rubbing sauce and you can always prepare a bit more so you have even more leftovers.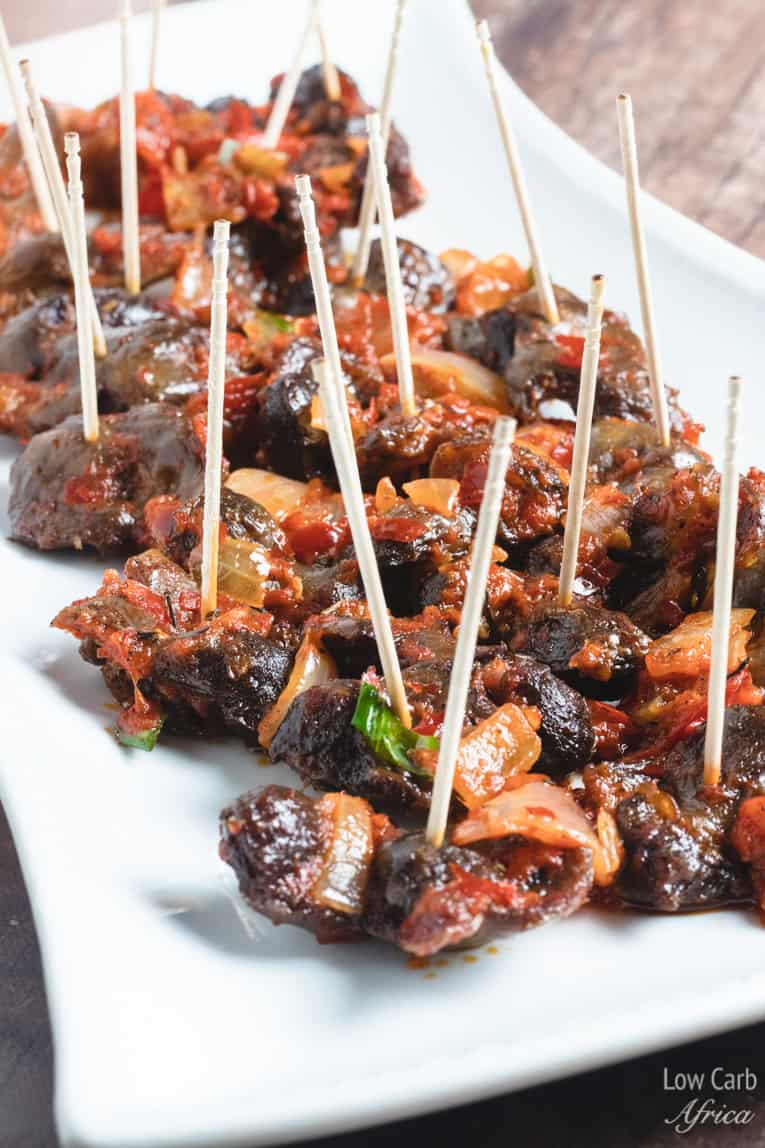 Tips on making peppered gizzards
This recipe is really, really spicy but you can cut down on the heat, somewhat. Instead of one whole habanero pepper, you can use half or even a quarter habanero pepper. It won't be too spicy but will still have a little bit of kick to it.
If you want even more spicy, add a teaspoon of cayenne pepper. That will knock your socks off!
If you want to freeze this, you can freeze it after making it. Or better still, boil and fry a huge batch and freeze it in portions. When you are ready to make it, all you have to do is prepare and mix it with the sauce.
Enjoy these other delicious low carb dishes!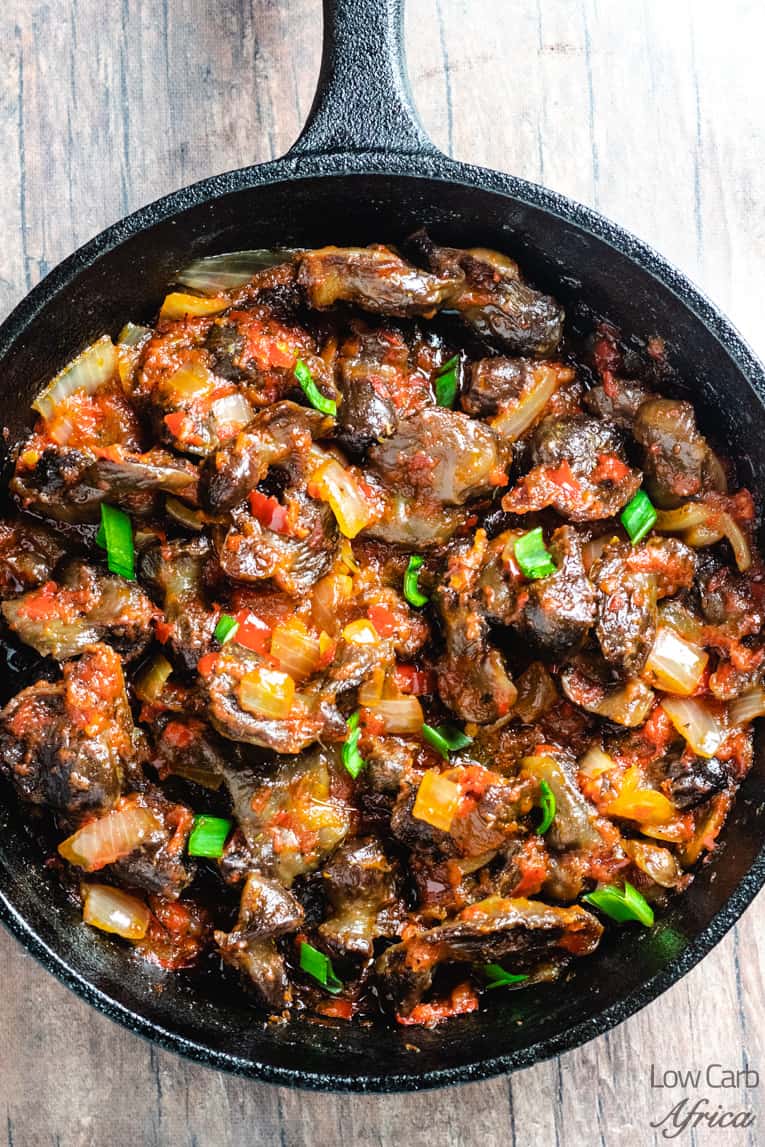 Peppered Gizzard
Peppered gizzard is a lip-smacking, mouthwatering delicacy that makes an excellent snack. If you have never tried gizzards before, this will make a believer out of you!
Print
Pin
Share on Facebook
Rate
Instructions
Wash gizzards and boil for 15 minutes with some salt and pepper.

Coarsely blend the bell pepper and habanero pepper.

Chop the onions and scallions.

When the gizzards are done, drain in a colander.

Add frying oil to a large pan.

When the oil gets hot, gently add the gizzards and let fry till crispy.

Take out when done.

In a smaller pan, add ½ cup from the same frying oil and add chopped onions.

When wilted, add the blended peppers, bouillon powder, thyme, and black pepper.

Taste for salt and add some more if needed.

Add in the gizzards and stir till well mixed in.

Let simmer on low heat for 10 minutes.

Add chopped scallions and serve!
Notes
This recipe serves 8 (about 3oz) and contains 1 net carb per serving.
To cut down on the heat, use ½ or ¼ habanero pepper instead of one whole.
To increase the heat, add a teaspoon of cayenne pepper.
To freeze, boil and fry a large batch and freeze in portions. Prepare and mix with sauce when ready to eat.
Nutrition
Calories:
211
kcal
|
Carbohydrates:
2
g
|
Protein:
15
g
|
Fat:
15
g
|
Saturated Fat:
2
g
|
Cholesterol:
1
mg
|
Sodium:
66
mg
|
Potassium:
31
mg
|
Fiber:
1
g
|
Sugar:
1
g
|
Vitamin A:
478
IU
|
Vitamin C:
21
mg
|
Iron:
1
mg
Tried this Recipe? Let me know!
Tag @lowcarbafrica on Instagram or please leave a comment below!