Have you ever wondered about the difference between scotch bonnet peppers and habanero peppers and which is hotter? This article will tell you everything you need to know!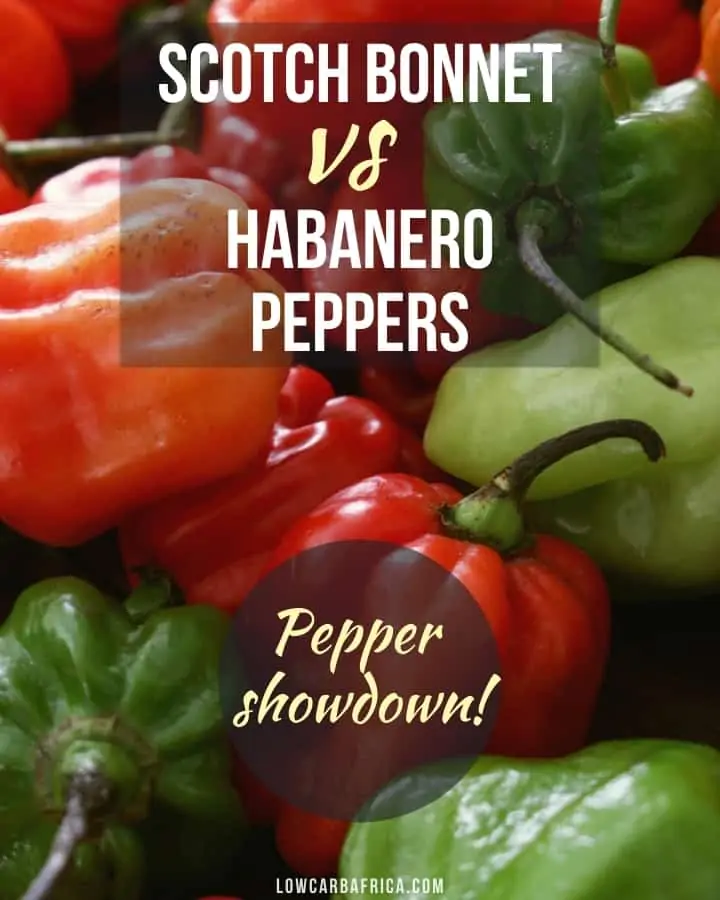 Several cultures and cuisines around the world share a passion for spicy food. A quick search online will reveal countless hot pepper sauces, hot soups, hot dips, and spicy main dishes.
We owe this essential spiciness to various chili peppers. Although some are mild to moderately hot, other peppers pack a lot of heat, so you must handle them carefully.
Many African dishes are spicy and cooked with a good amount of scotch bonnet peppers for a strong infusion of flavor and heat. We certainly do love our peppers!
But scotch bonnet peppers are hard to find here in the U.S, so habanero pepper serves as an excellent substitute since they are readily available.
How do these two peppers compare in taste and heat level? Let's explore!
Jump to:
Pepper fast facts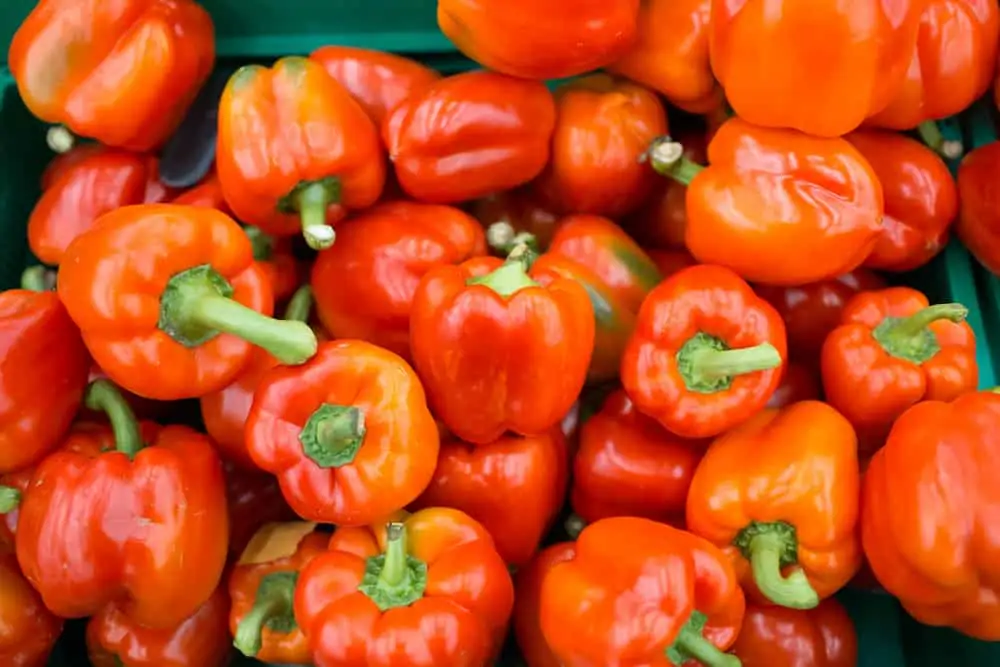 According to the Scoville scale, which measures the pungency of the heat levels of chillis in Scoville heat units, bell peppers have zero SHU. This is because they're sweet and not spicy, even though they're called peppers.
Jalapeño peppers come soon after with a Scoville rating of 2,500 to 8,000. They are considered mild to moderately spicy. Further up on the scale are the hot peppers like scotch bonnet and habanero peppers.
Some of the hottest peppers, according to Scoville units, are the bhut jolokia or ghost peppers and the Trinidad Moruga Scorpion. The Guinness World Records, however, places the Carolina Reaper as the world's hottest pepper.
These hot peppers not only add flavor, spiciness, and heat to dishes, but they are also extremely healthy and nutritious.
What are scotch bonnet peppers?
Scotch bonnet peppers, also known as Bonney peppers, Bahama mama, and goat peppers, are from the Capsicum chinense species of pepper. Like the Habanero peppers, they have been rated quite hot on the Scoville scale, from 100,000 to 350,000 SHU.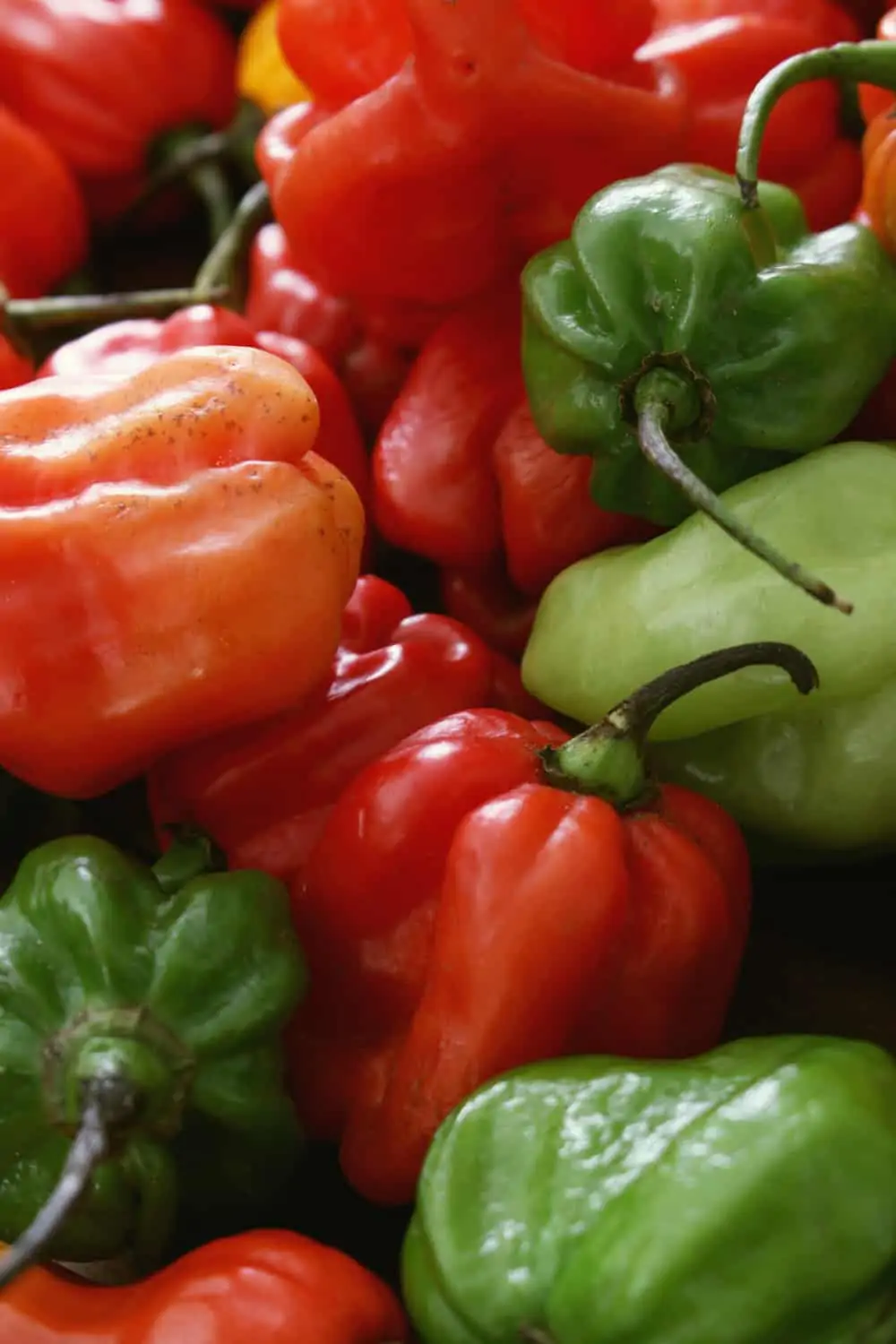 Scotch bonnet peppers are shaped like umbrellas or bonnet hats, from where they got their name. Their size ranges from about 1 to 2 ½ inches in length and 1 to 2 inches in width. When mature, they are usually bright red or bright yellow. However, some may be different colors like purple, orange, or chocolate brown.
Originally cultivated in the Caribbean, they play a huge role in the cuisine of that region. For example, these peppers are excellent in making Jamaican hot pepper sauce, jerk chicken, jerk sauce, and jerk dishes like pork and chicken.
They are also very popular in African cuisine and are used to make many of their soups and stews.
What are habanero peppers?
Habanero peppers are very similar to Scotch bonnet peppers. They are equally hot, with the same heat rating on the Scoville scale, 100,000 to 350,000SHU.
Unripe habaneros start out green, but they become either orange or red as they mature. Some variants of these peppers might turn white, purple, yellow, or chocolate brown when mature.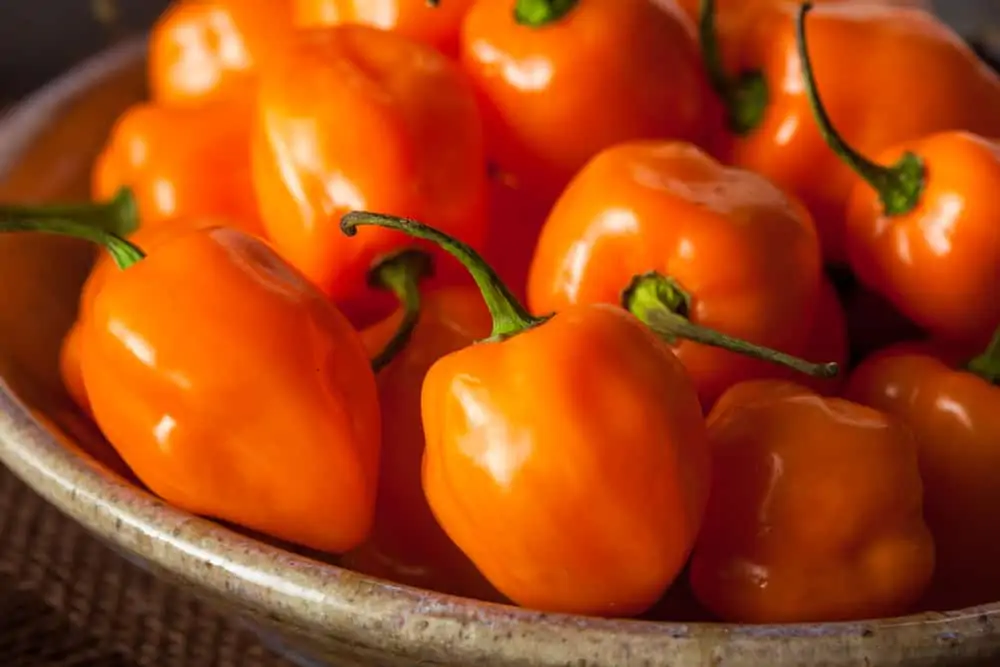 With the length of a habanero pepper measuring about 2 ½ inches in length and 2 inches in width, habanero peppers look almost like Scotch bonnet peppers. Habanero peppers were named after La Habana, a Cuban city, because it was heavily traded there.
These peppers pack a lot of heat and taste sweet, but they are also a great source of Vitamin C. Every single pepper contains the total recommended dose of daily intake. In addition, each also has vitamin A, iron, potassium, and calcium.
Differences between both peppers
Are these peppers the same? Even though they are rated with almost the same Scoville units, they have subtle differences.
The tasty scotch bonnet pepper originated in the Caribbean islands, while habanero peppers are from Mexico. Habanero peppers might taste a bit smoky, while Scotch bonnet chili peppers taste a little sweeter.
Also, even though they look slightly similar, habanero peppers are somewhat longer and straighter than Scotch bonnet peppers.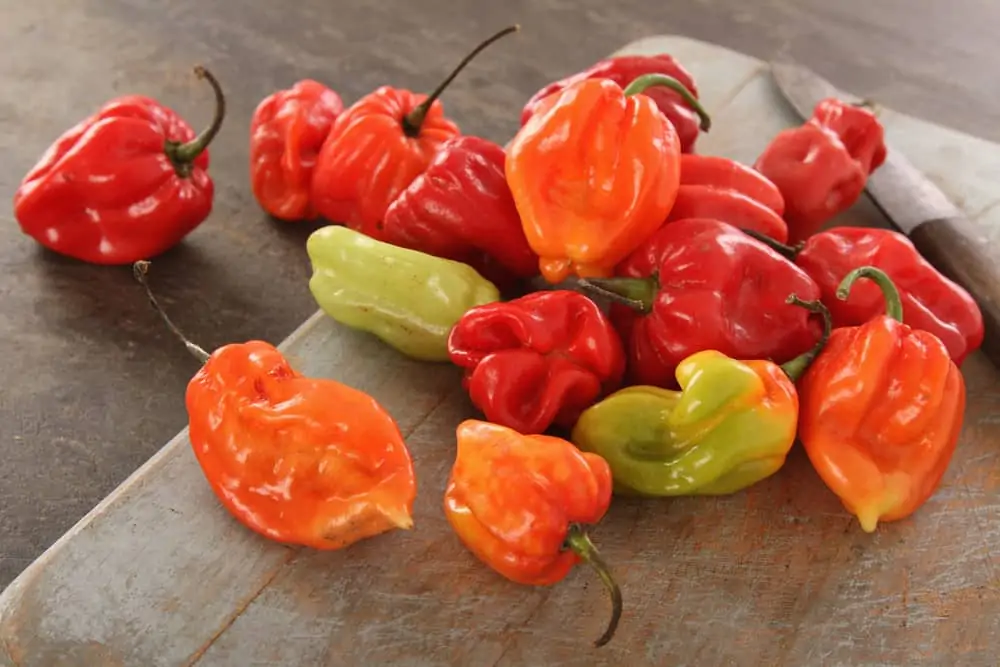 Where can you buy these peppers?
Because they are a little more common in the United States, you can easily find habanero peppers in grocery stores in the United States.
However, scotch bonnet peppers are not as available everywhere. Scotch bonnet peppers are likely to be found in communities where there is a strong Caribbean presence.
What are their health benefits?
Habanero peppers and scotch bonnet peppers both come from the Capsicum chinense species of pepper. Both of them contain a particular chemical called capsaicin which contains numerous health benefits.
Capsaicin has antioxidant and anti-inflammatory properties in both peppers, and together with vitamin C and vitamin A, helps prevent certain cancers in the body. They do this by hindering the growth of cancer cells and blocking their harmful effects.
Both these peppers are an excellent addition to your meals if you're concerned about your weight. Capsaicin in the pepper helps to increase body temperature, which in turn increases the body's metabolism.
Capsaicin in both peppers also helps to reduce high blood pressure and eliminate bad breath.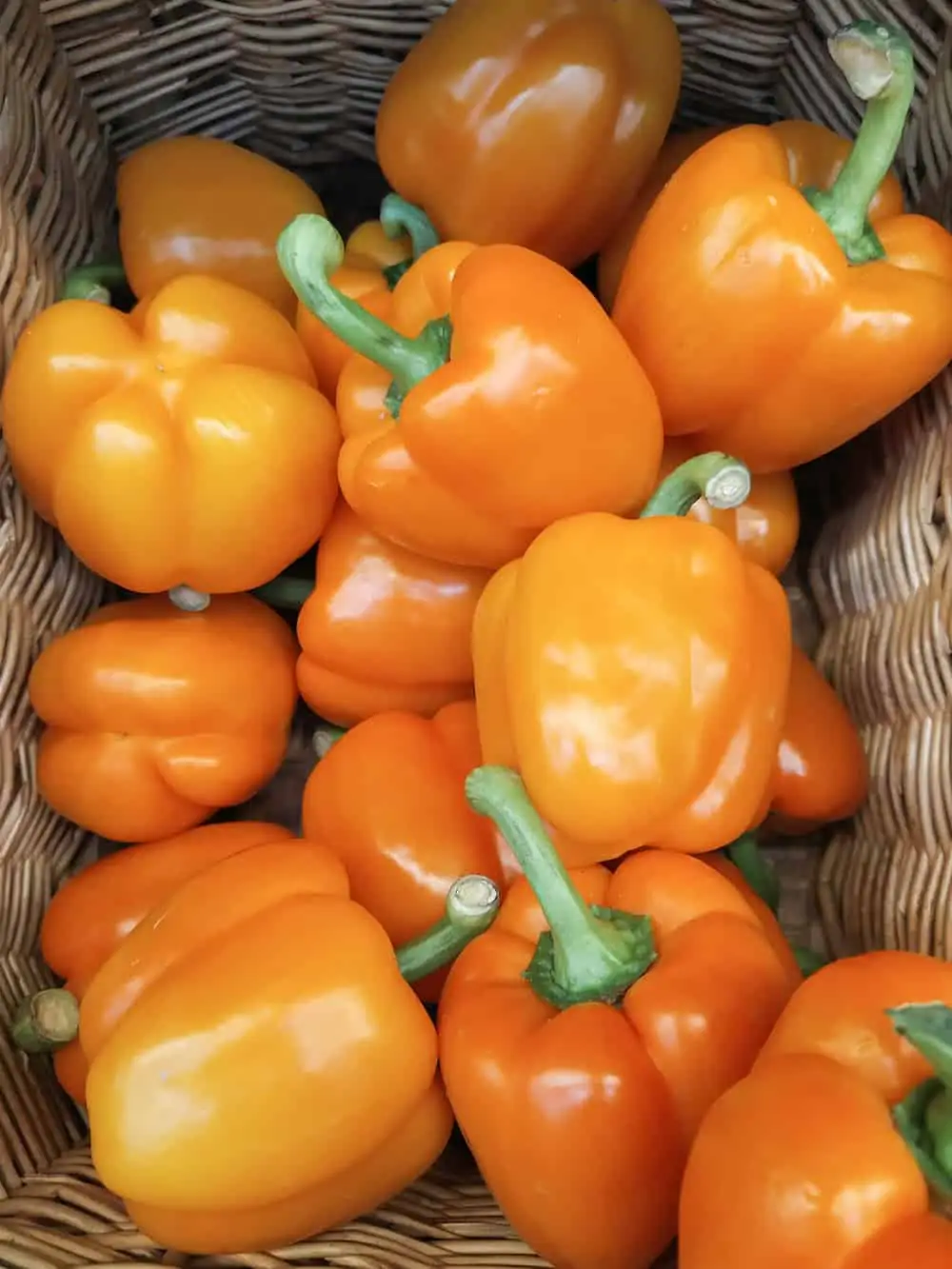 How to cook with these peppers
There are so many ways to cook with scotch bonnet peppers or habanero peppers. You can slice them up and use them in dishes or soups. You can leave them whole in your dishes to have a bit of heat and flavor without overwhelming heat.
You can also blend them up and use them raw in your marinades or simmer them on low heat so they last longer. These peppers are commonly used in African soups and stews by blending with tomatoes and simmering in olive oil and traditional spices.
Remember these peppers are super hot so you might not need more than one teaspoon of blended pepper for your dishes. You might want to start with half a teaspoon or a quarter if you're not so sure about the heat. Better safe than sorry!
How to Store
For short-term storage, you can store scotch bonnet peppers and habanero peppers in the fridge for a couple of days before they start to lose their freshness. If you want to keep them longer, you can freeze them whole for about a month.
To do this, spread them in a tray and freeze them briefly. Then put them into an air-tight zip-top bag and back into the freezer.
You can freeze them even longer if you blend the peppers first before freezing them. This way, they would still retain their freshness even after three months.
More FAQs
What does scotch bonnet peppers taste like?
Scotch bonnet peppers are extremely spicy. Like Habanero peppers, these spicy peppers taste sweet and fruity, but Scotch bonnet peppers are slightly sweeter. 
What does habanero pepper taste like?
Just like scotch bonnet peppers, habanero peppers taste sweet, fruity, and floral. However, Habanero peppers might also be smoky and not as sweet as scotch bonnet peppers.
Scotch bonnet and habanero peppers are close cousins and so are used interchangeably. Many dishes suggest using one or the other, depending on your tolerance of spiciness in meals. 
Which is hotter, Scotch bonnet or habanero?
Both habanero peppers and scotch bonnet peppers measure 100,000 to 350,000 SHU on the Scoville scale. Based on this, both peppers have the same level of heat and taste quite similar. They both deliver the same spiciness in dishes and can be used interchangeably.
Check out these spicy mouthwatering dishes!