This keto spicy BBQ sauce is sweet, smoky, and spicy and is the perfect complement to all your grilling recipes!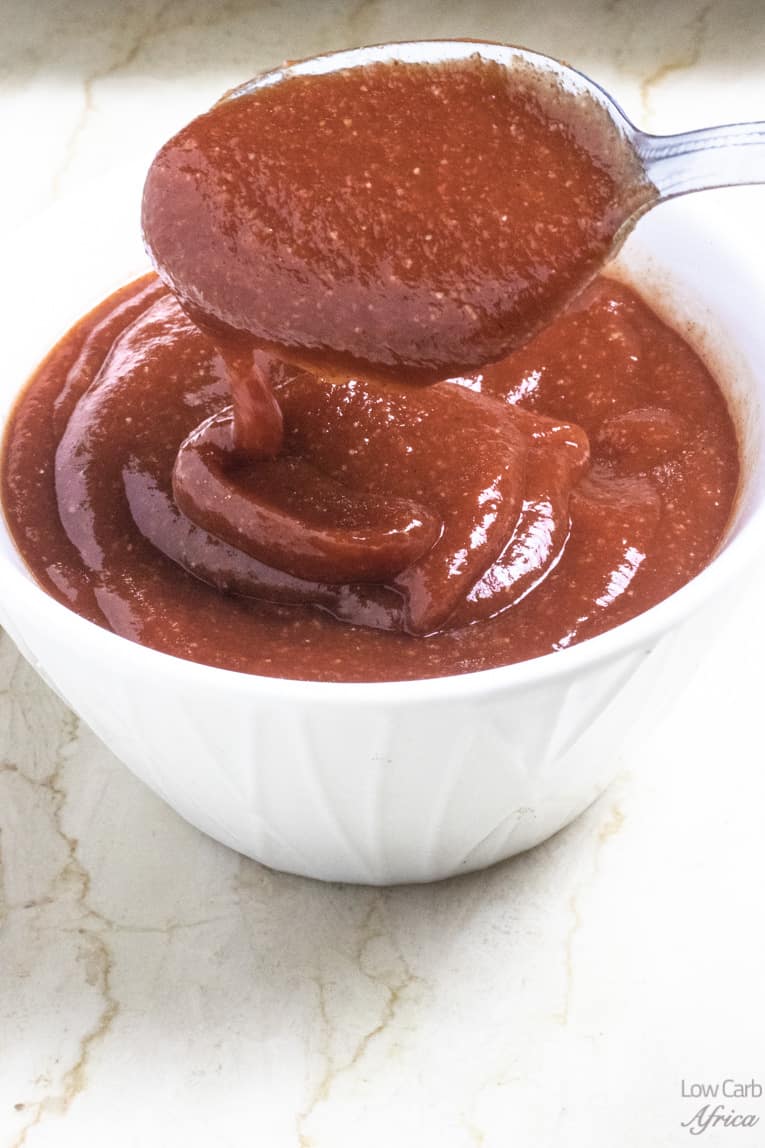 Making your own keto BBQ sauce from scratch is a lot easier than you think. It involves just a few ingredients combined to create a smoky, pleasant flavor that will amaze you!
Regular BBQ sauce is chockful of sugar, but this keto version is sugar-free and does not compromise on taste.
You will want to put it on everything!
Ingredients used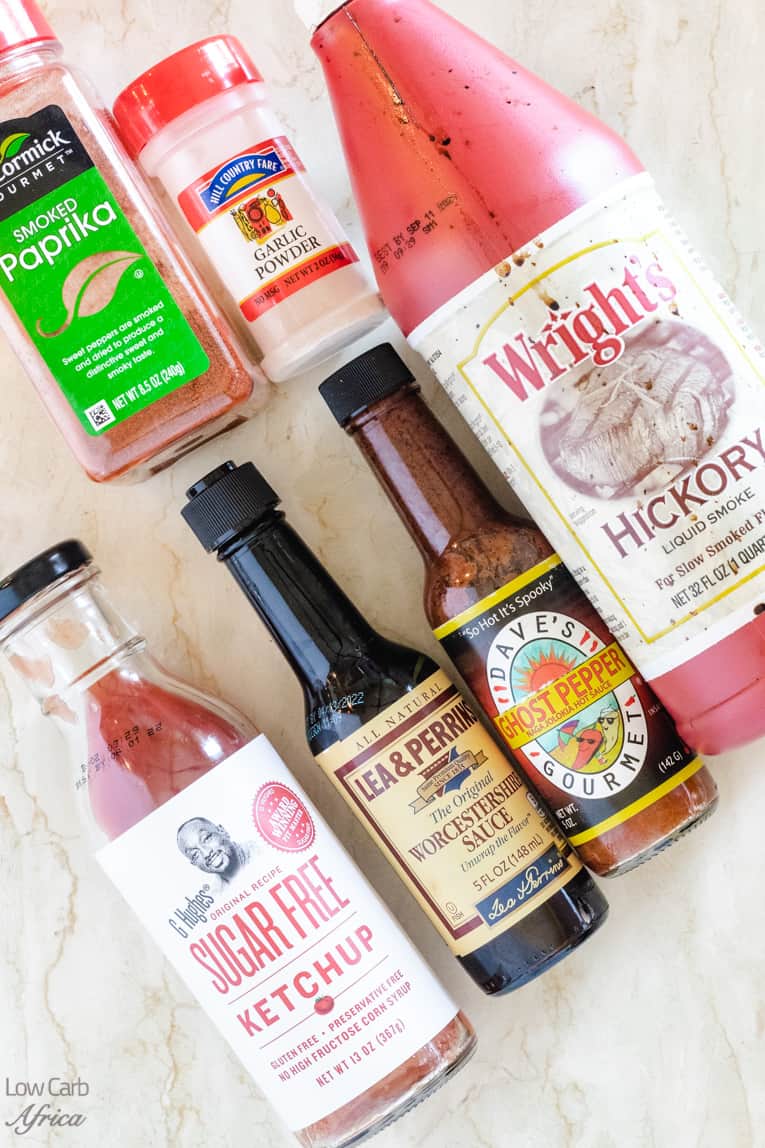 Sugar-free ketchup: I use sugar-free ketchup as my tomato base. It contains vinegar and sweetener, which gives a sweet, tart flavor to this sauce.

My favorite sugar-free ketchup brand is the G-Hughes Sugar-Free Ketchup. You can get it online from

Amazon

, Walmart, or your local grocery store.

Liquid smoke: This is just what it sounds like: smoke in liquid form. It contains no calories or carbs and is a great flavor enhancer. Liquid smoke gives life to this keto barbecue sauce.
Worcestershire sauce: This fermented sauce is similar to soy sauce but without soy or gluten. It can be found at your local grocery store or online.
Ghost pepper: Ghost pepper packs an enormous amount of heat, so a little goes a long way.
Garlic powder & Smoked Paprika: It is better to use smoked paprika, rather than regular paprika, because of its rich, smoky undertones.
A little water: You might need just a bit of water to thin out the barbecue sauce.
How to make spicy keto BBQ sauce
You can just mix all the ingredients together in a bowl and call it a day, but I prefer to mix mine on the stove.
I want to ensure all the ingredients are dissolved and mixed thoroughly together.
Add the sugar-free ketchup to a pan on medium heat. Add the other spices and add the ghost pepper last.
When adding the ghost pepper, always use a teaspoon and don't pour it directly, just in case it flows out fast from the container. 
If you pour it directly and put too much, it will be WAY too spicy and inedible. I can't tell you how many times this had happened to me before I learned the hard way!
Also, put just a drop or two first, and only add more if you want more heat.
You can add a little water to thin out the sauce just a bit if you like, but no more than one tablespoon.
When the spicy BBQ sauce is done simmering, turn off the stove and let it cool down.
Your low carb BBQ sauce is ready!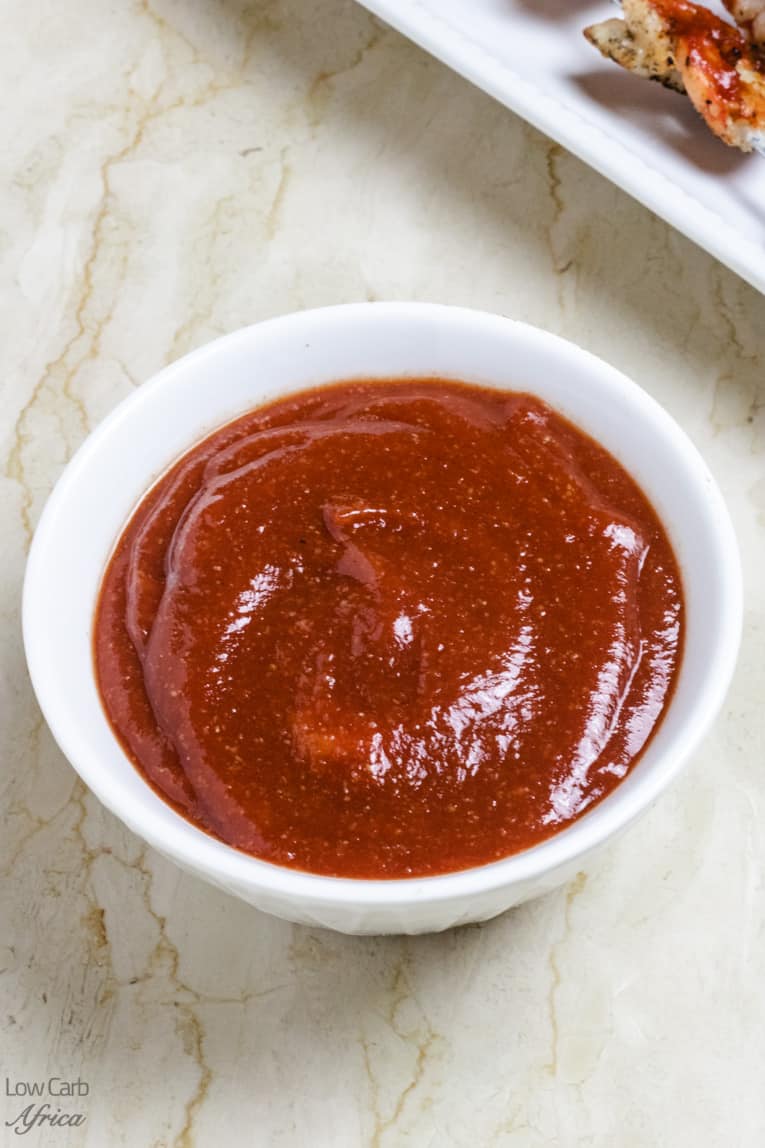 This recipe makes roughly 6 tablespoons and each serving is 3 carbs each.
How do I store this recipe?
I like to store this sauce in wide-mouth mason jars because it is easier to scoop out when I need to use it.
The jars are also air-tight which helps preserve the freshness of the BBQ sauce. It keeps well in the fridge for up to 2 weeks.
What can I eat this spicy BBQ sauce with?
You can eat this barbecue sauce with anything you like. I have used it with chicken, fish, lamb, and even pork.
But it is PERFECT for grilling recipes like this Spicy BBQ Grilled Shrimp Skewers.
You can also use this as a dipping sauce or a salad dressing.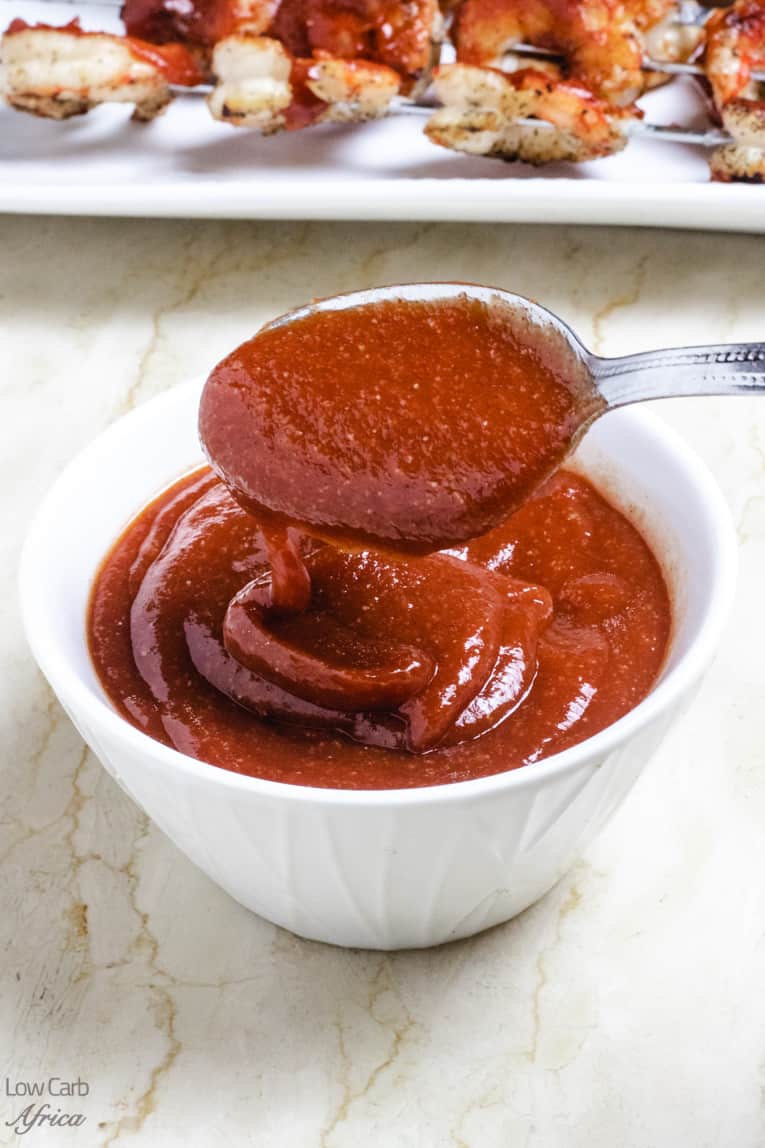 Keto Spicy BBQ Sauce
This easy, keto spicy BBQ sauce is sugar-free, gluten-free and perfect for all your keto grilling!
Print
Pin
Share on Facebook
Rate
Instructions
Pour sugar-free ketchup into a pot.

Add the other ingredients, except the ghost pepper, and stir.

Add the ghost pepper last, one drop at a time.

Let it simmer for about 5 minutes.

Add a little water to thin the sauce, if you wish.

Store in an air-tight container and refrigerate.
Notes
This recipe makes roughly 6 tablespoons and each serving is 3 carbs.
Use more or less of the ghost pepper or leave it out entirely.
Always pour the ghost pepper into a teaspoon first, to prevent overflow.
You can just mix by hand if you're in a hurry, but simmering on the stove will ensure the ingredients are well mixed together.
Nutrition
Calories:
15
kcal
|
Carbohydrates:
3
g
|
Sodium:
1
mg
|
Sugar:
1
g
Tried this Recipe? Let me know!
tag @lowcarbafrica on Instagram and please leave a comment below
Check out these low carb sauces and condiments!
Sweet Homemade Mayonnaise Dressing