If you're on the hunt for the perfect seasoning mixture, this Smoky BBQ Dry Rub Recipe is pure gold. Cayenne pepper, smoked paprika, cumin, and a few other delicious spices combine to make one killer taste!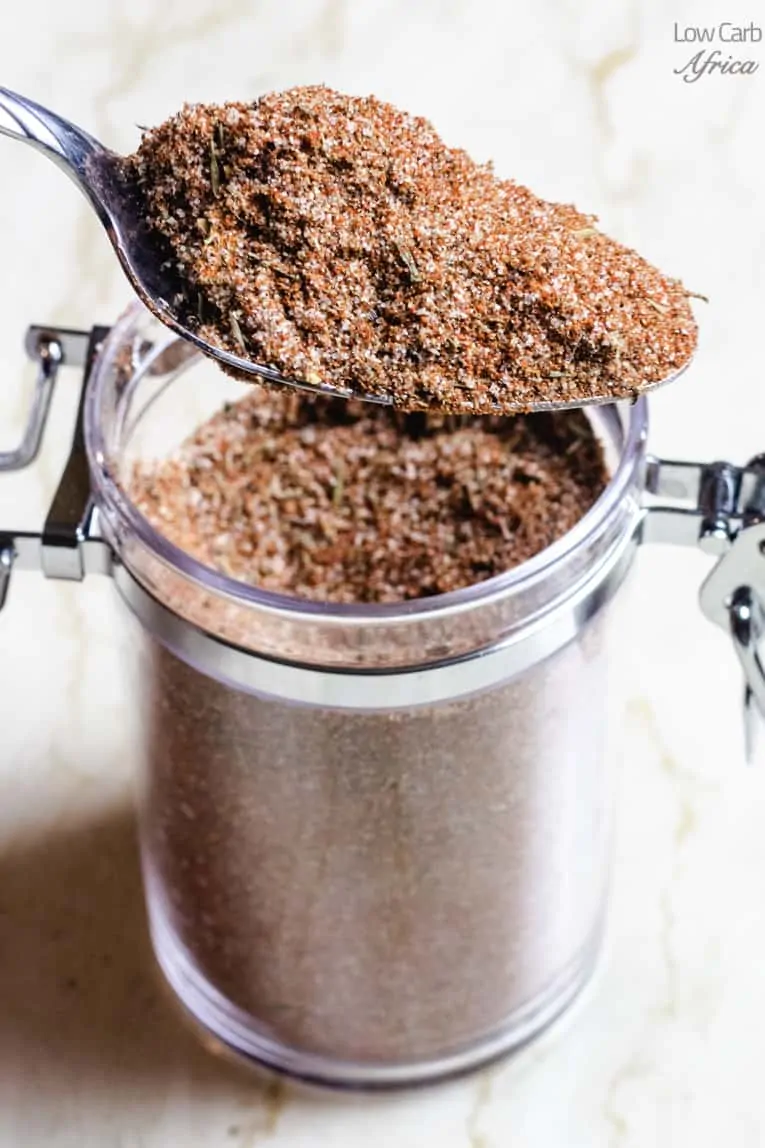 This smoky dry rub recipe is easy to make and has a delightful flavor and aroma that is perfect for all your barbecue grilling!
I love that this rub uses ingredients you most likely have in your pantry. It is perfect for steak, lamb, pork, chicken, and even fish. I slather it on when I make my grilled t-bone steak recipe.
This dry rub mix is low carb, keto-friendly, gluten-free, and sugar-free.
The combination of ingredients creates a smoky, pleasant flavor that will completely transform your grilling from just okay to excellent!
What does a dry rub do?
A dry rub is a great way to add flavor to your meats. Each dry rub recipe is a bit different, but each has a various mixture of spices.
These spices are rubbed into the meat to help embed the flavors into the fibers. Dry rubs also allow the meat to hold in moisture, resulting in very tender meat.
Dry rubs are more commonly used with beef and pork but can be used on any type of meat.
Can you leave a rub on too long?
It depends. If the dry rub contains salt (like mine does), it can make the meat start to taste similar to ham. Ham is usually cured, which is the process of covering it with salt and drawing the moisture out.
Salt naturally does this, which means, if you leave it on the meat too long, it will begin to cure. However, if it doesn't have salt in it, the flavors will simply sink deeper into the meat.
Ingredients used
Smoked paprika: There is paprika, and there is smoked paprika. This recipe needs smoked paprika for its smoky flavor.
Black pepper: This provides just a bit of heat with its sharp, woody flavor.
Cayenne pepper: This provides a lot more heat to this rub, but you have full control of how spicy you want it to be.
Cumin: The combination of cumin and smoked paprika is what makes this dry rub so excellent. It creates a smoky, earthy flavor that is just out of this world!
Thyme: Thyme works very well in this rub as it provides a slightly minty and earthy flavor.
Garlic powder: Nothing like a bit of garlic powder for that extra, umami flavor!
Salt:

No need to add extra salt when grilling. This dry rub is all you need.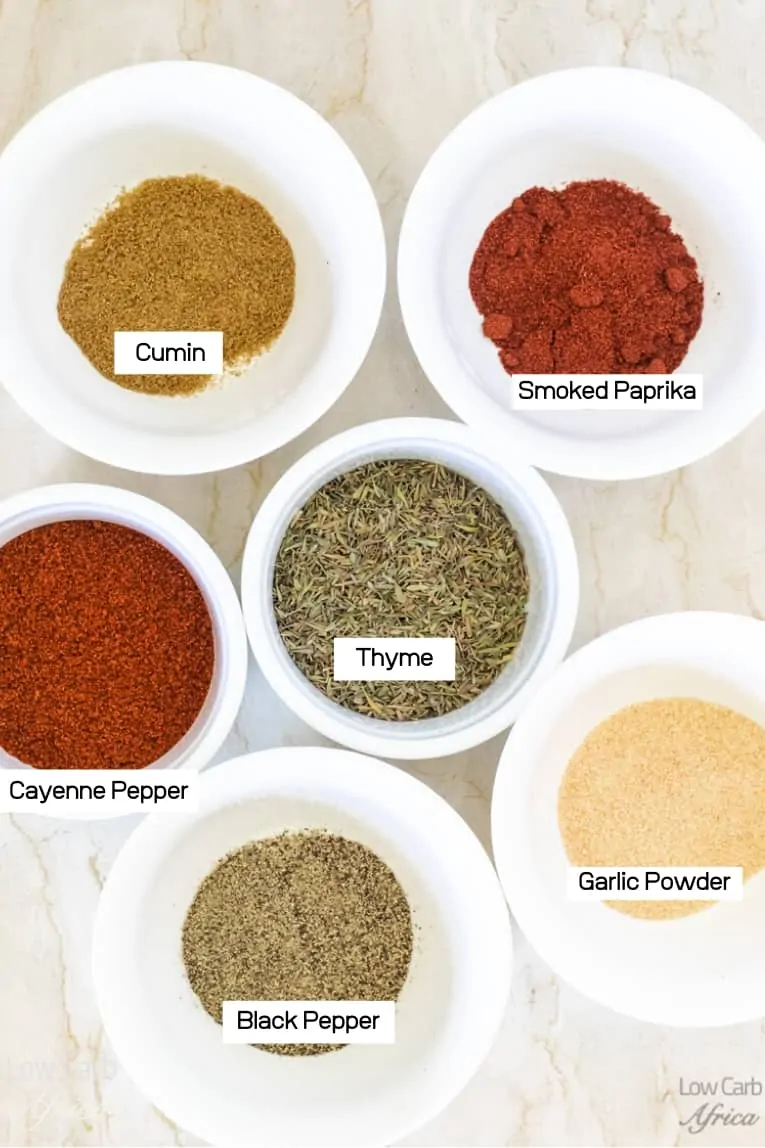 How to make smoky BBQ dry rub
Measure out all the ingredients you need and mix them together. Store in an airtight container to preserve its freshness.
If you want to individually control how much salt you put in your grilled meat, you can omit the salt when making the rub and then add as you see fit.
I like the convenience of having everything together, and I am never worried about adding too much or too little salt.
I make several batches at a time, which last a few weeks without being refrigerated. You really can't go wrong with this homemade BBQ dry rub recipe!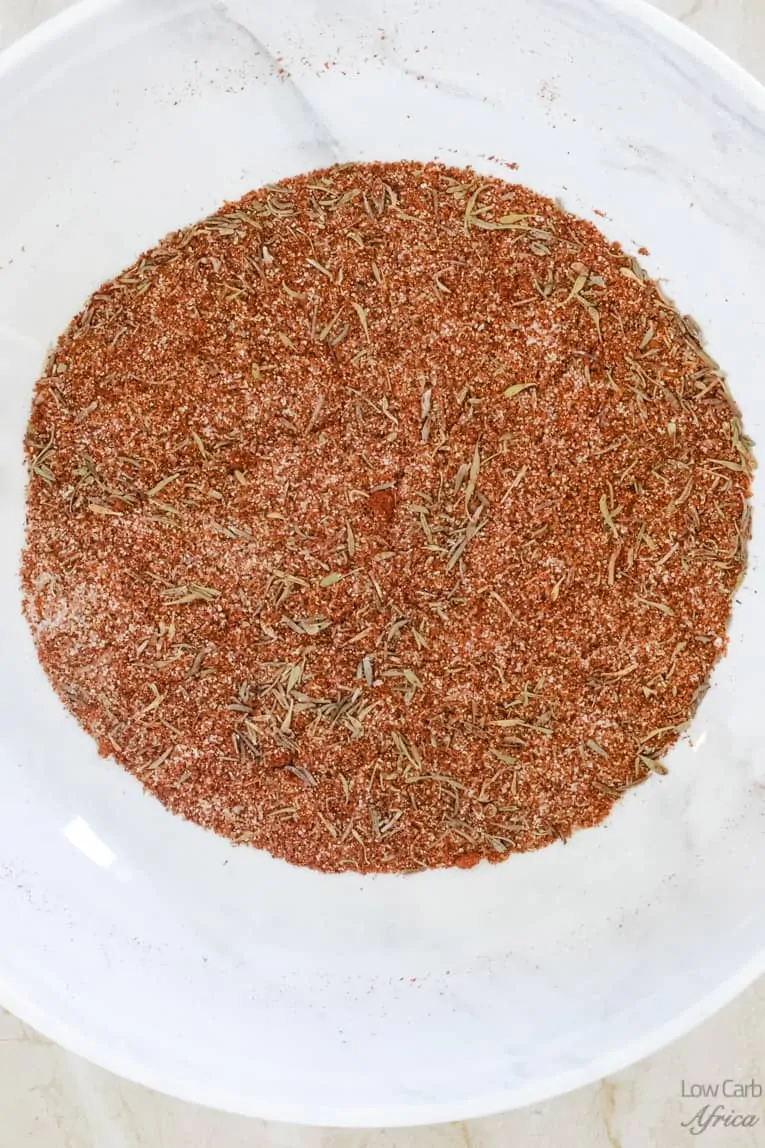 This recipe makes 4 tablespoons of dry rub and contains 0 net carbs per serving.
What can I eat this recipe with?
This is perfect for all your grilling recipes! But why stop there? Use it anywhere you need a dry rub or add just a little to your dishes for a smoky BBQ flavor!
Some great examples are:
Tips and Variations
Storage

- The best way to keep this dry rub recipe is in an airtight container such as a

mason jar

. You don't want any air or moisture getting in, causing the mixture to clump and harden.

Make it milder or spicier

- If you want your rub a little less spicy, you can reduce or remove the cayenne pepper. Or add more for some extra heat!

How much dry rub should I use?

- I don't ever measure the amount I use. I just rub some on and stop once it's covered the way I like. Everyone has a preference, so simply rub as much as you want.

How long should I leave the dry rub on my meat?

- You can cook your meat immediately after adding the dry rub or let it sit a bit.

30 minutes should be long enough for the flavors to sink in a bit more. However, you don't want that salt to sit on there too long or will take away some of your meat's moisture.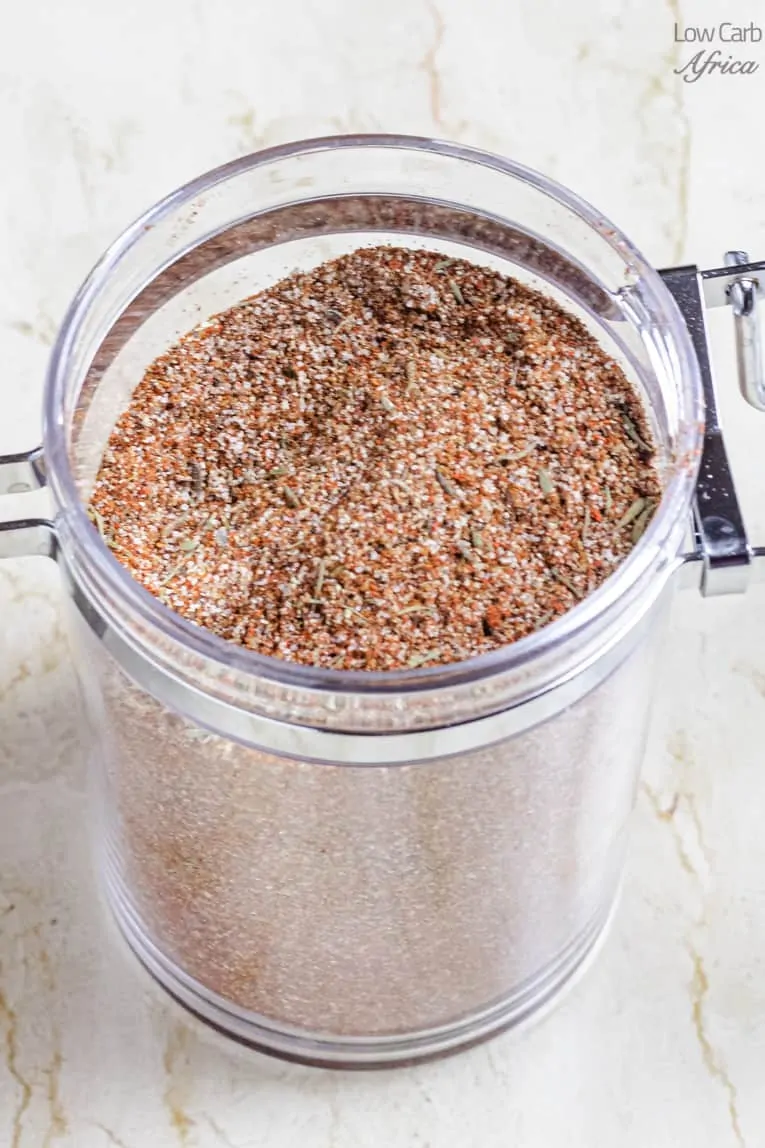 More Keto Condiment & Spices
Sweet Homemade Mayonnaise Dressing
📖 Recipe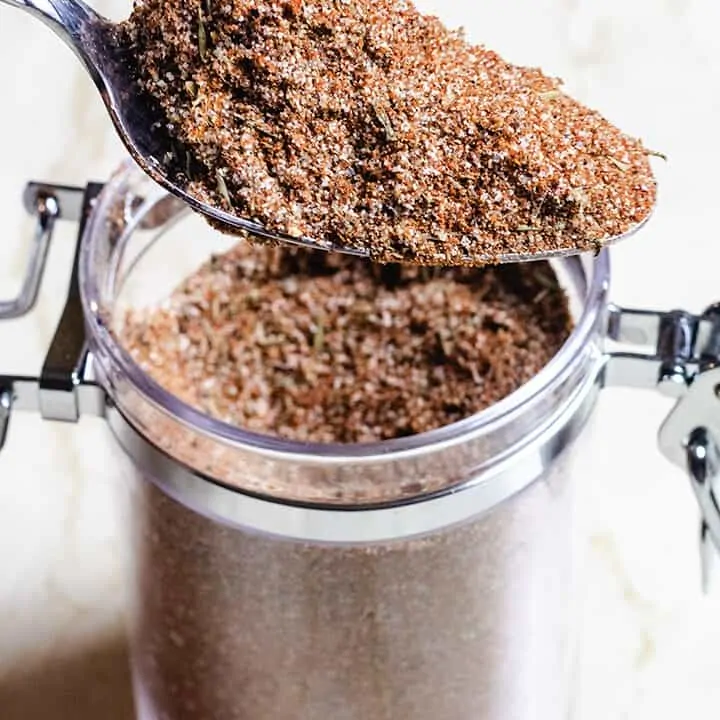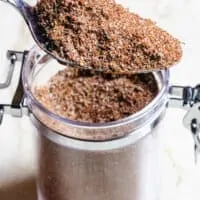 Smoky BBQ Dry Rub Recipe
This Smoky BBQ Dry Rub Recipe is the perfect seasoning for grilling. Cayenne pepper, smoked paprika, cumin, and a few other spices combine to make one killer taste!
Print
Pin
Share on Facebook
Rate
Instructions
Combine all ingredients.

Mix together thoroughly till they are well incorporated.

Store in an airtight container.
Notes
This recipe makes 4 tablespoons of dry rub and contains 0 net carbs per serving.
You can make this dry rub more or less spicy but increasing or decreasing the cayenne pepper added to it.
Leave the salt out if you want better control of how much salt to add to your grilled meat. You can add the salt when you are about to start grilling.
Nutrition
Calories:
5
kcal
|
Carbohydrates:
1
g
|
Protein:
1
g
|
Fat:
1
g
|
Saturated Fat:
1
g
|
Sodium:
1309
mg
|
Potassium:
18
mg
|
Fiber:
1
g
|
Sugar:
1
g
|
Vitamin A:
187
IU
|
Vitamin C:
1
mg
|
Calcium:
5
mg
|
Iron:
1
mg
Tried this Recipe? Let me know!
tag @lowcarbafrica on Instagram and please leave a comment below