This grilled t-bone steak is covered in a flavorful, homemade dry rub, then grilled to perfection. Make a perfect cut of meat every time with this no-fail recipe!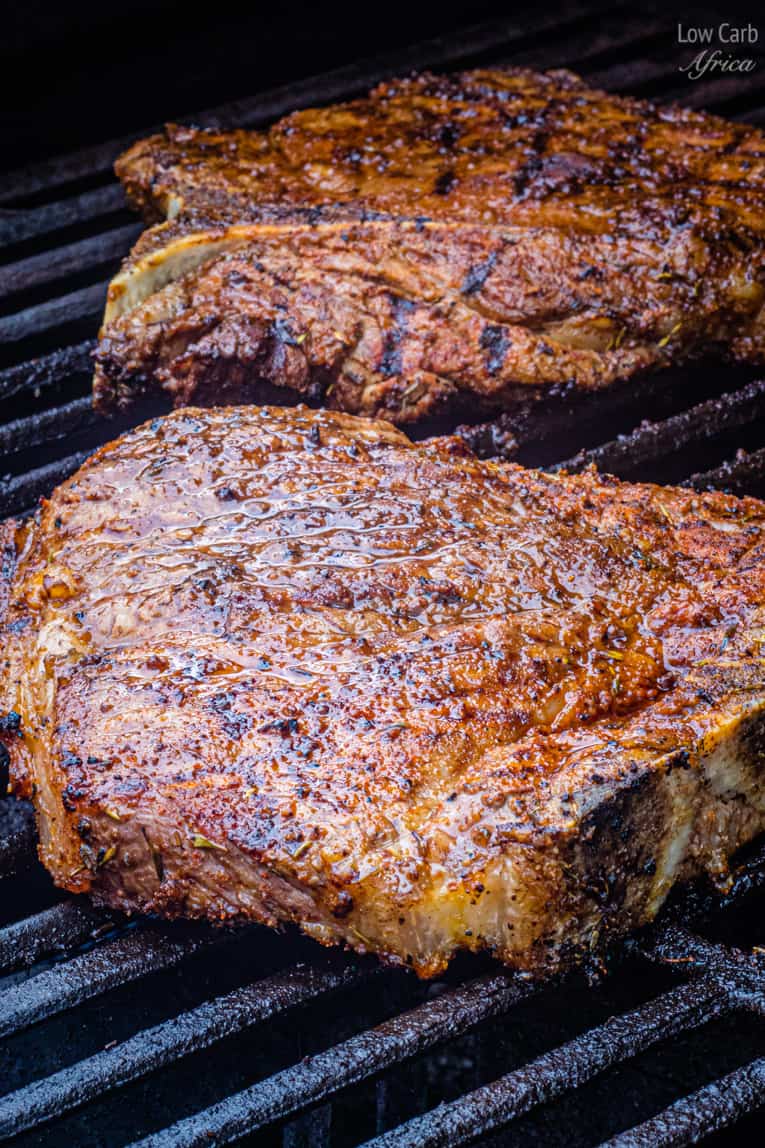 Who doesn't love a good juicy piece of steak? No matter the season, this grilled t-bone steak recipe never fails.
Grilling steak brings out its robust flavor and makes it irresistibly juicy and delicious. My family is always begging for more!
No matter how you like your steak, this recipe delivers. I was in camp well-done steak for the longest time, but my husband eventually converted me to camp medium-well.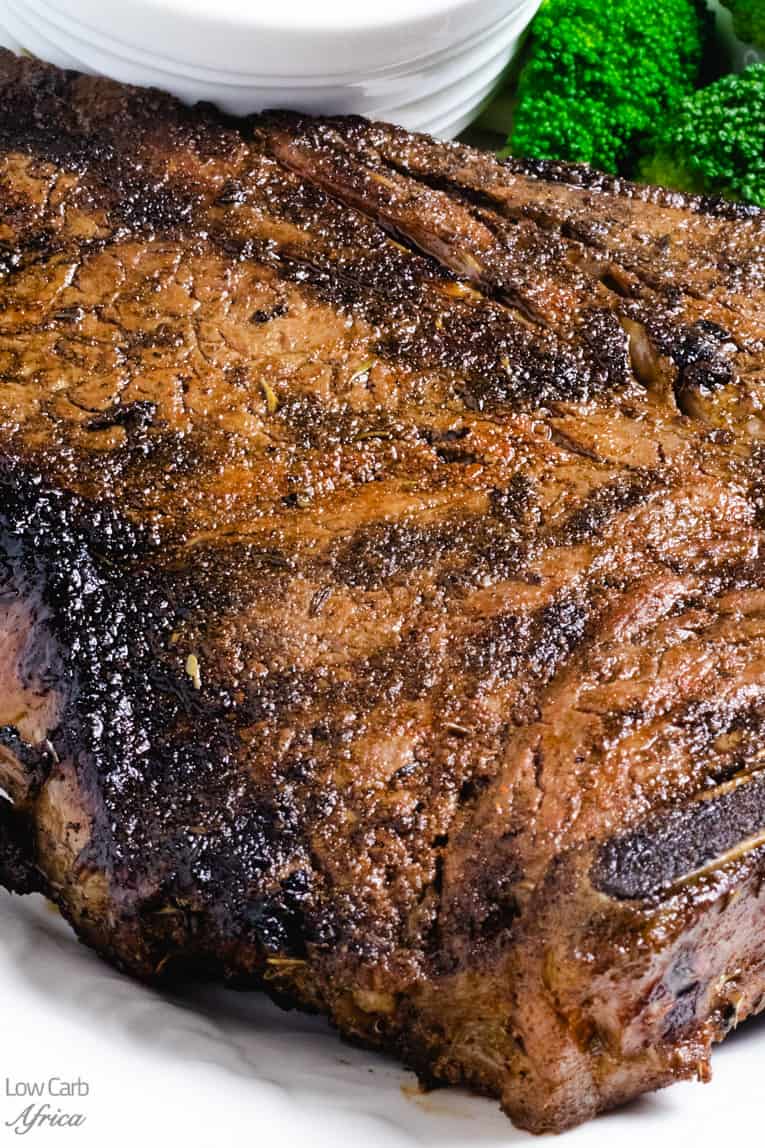 Jump to:
Ingredients used in making grilled t-bone steaks
T-bone steak: It's best to use 1 to 1.5-inch steak for this recipe. You can buy t-bone steaks at most major grocery stores. My local grocery store has a selection of fresh organic meat that is also affordable.
Smoky BBQ dry rub: This grilled t-bone steak is seasoned with a smoky homemade dry rub made from selected, fresh ingredients that deliver the perfect combination of flavors!
How to grill t-bone steaks
This recipe can be scaled up or down very easily. You can make for one meal or for a gathering, and the steps will basically be the same. Make sure your t-bone steak is at room temperature.
I use a gas grill for this recipe although a charcoal grill will work just as well. Some people trim off the fat before they grill, but on a low carb diet, healthy fats are your friend, so I leave them on.
Preheat your gas grill to high. Grab my homemade BBQ dry rub and slather it on liberally on both sides of the steak.
Grill the steak according to the chart shown below. I like mine medium-well, so I grill my steak for 13 minutes (flipping halfway) to reach an internal temperature of 155F. This pair of tongs is perfect for flipping the steak.
Always use a thermometer to check the temperature and don't eyeball it. See the chart below for how long to grill your steak and what temperatures to use.
When done grilling, let your steak rest for about 5 minutes, wrapped in a foil. This will give the juices time to really sink into the steak.  
If you skip this step, the juices will flow out immediately and leave the t-bone steak a bit tough and rubbery. Serve and enjoy!
How long do I grill my t-bone steaks?
This chart shows the internal temperature your steak should reach, depending on how you like it. The time shown is for 1-inch steak. Add roughly 3-4 minutes for a 1.5-inch steak.
| | | |
| --- | --- | --- |
| Type | Temp | Time |
| Rare | 125F | 8-10mins |
| Medium-rare | 135F | 9-11mins |
| Medium | 145F | 10-12mins |
| Medium-well | 155F | 11-13mins |
| Well done | 165F | 14-16mins |
Storage & Reheating
Storage - Place in an airtight container and store for up to 3 days in the fridge. If you plan on freezing the steak once it's been cooked, I suggest using a vacuum sealing machine to seal it so it stays fresh.
You'll get the best results from your steak when it thaws out, and you can keep it twice as long.If you don't have that option, wrap it in plastic, then place it in an airtight container for up to 1 month.
Reheating - Let the steak thaw naturally, on its own. You can then heat it by tossing it back on the grill for a couple of minutes, in the microwave, or in the oven.
If cooking it in the microwave, I would suggest adding some butter or a damp paper towel to keep it moist.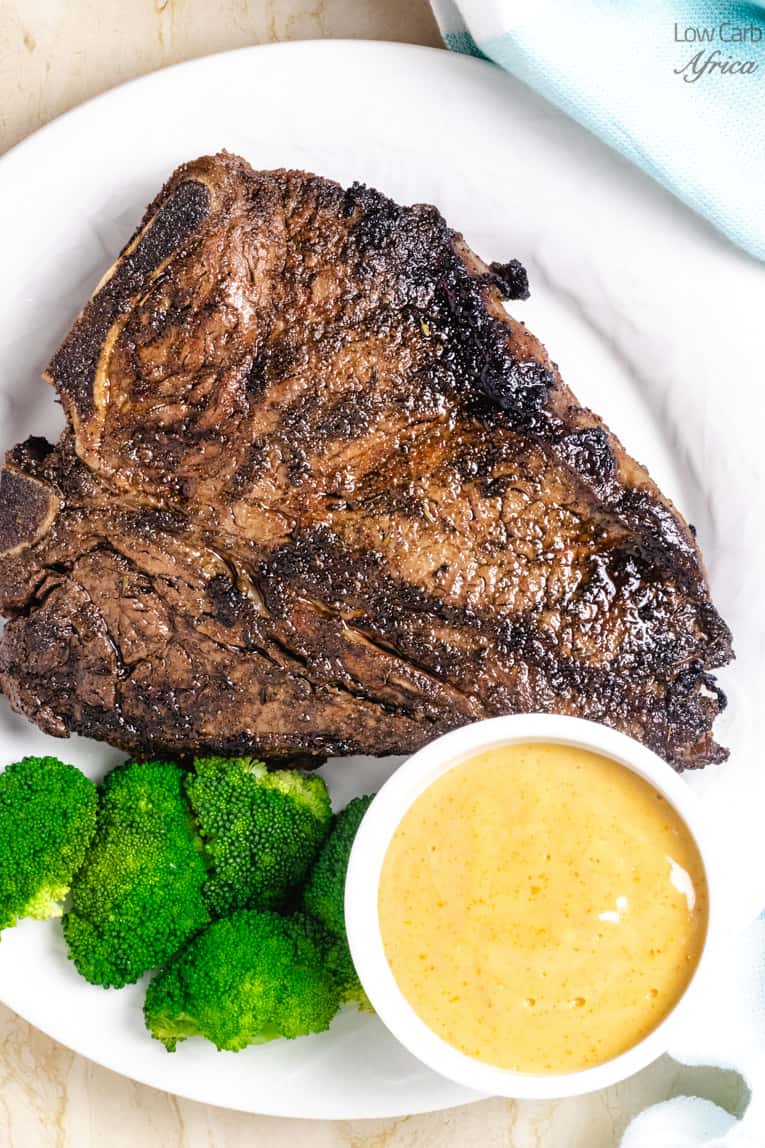 Tips & Variations
Make it spicy - The cayenne pepper and paprika usually add a little kick to this recipe. However, if you want even more spice, add my African pepper sauce to it. It's crazy spicy!
Use butter - If you use a keto-friendly butter on your steak, you will be floored. It adds an incredible flavor to the steak, especially when mixed with my homemade rub.
What do I eat grilled t-bone steaks with?
There's not much that doesn't pair well with steak. For an easy lunch, I like to eat my steaks with steamed broccoli and a side of this spicy mayonnaise. You can also eat it with this delicious garlic chili oil. It's so yum!
This low carb grilled t-bone steak makes for one hearty and delicious dinner, but it definitely needs a side dish to be a complete meal.
Some great options are:
Broccoli Salad with Bacon and Sunflower Seeds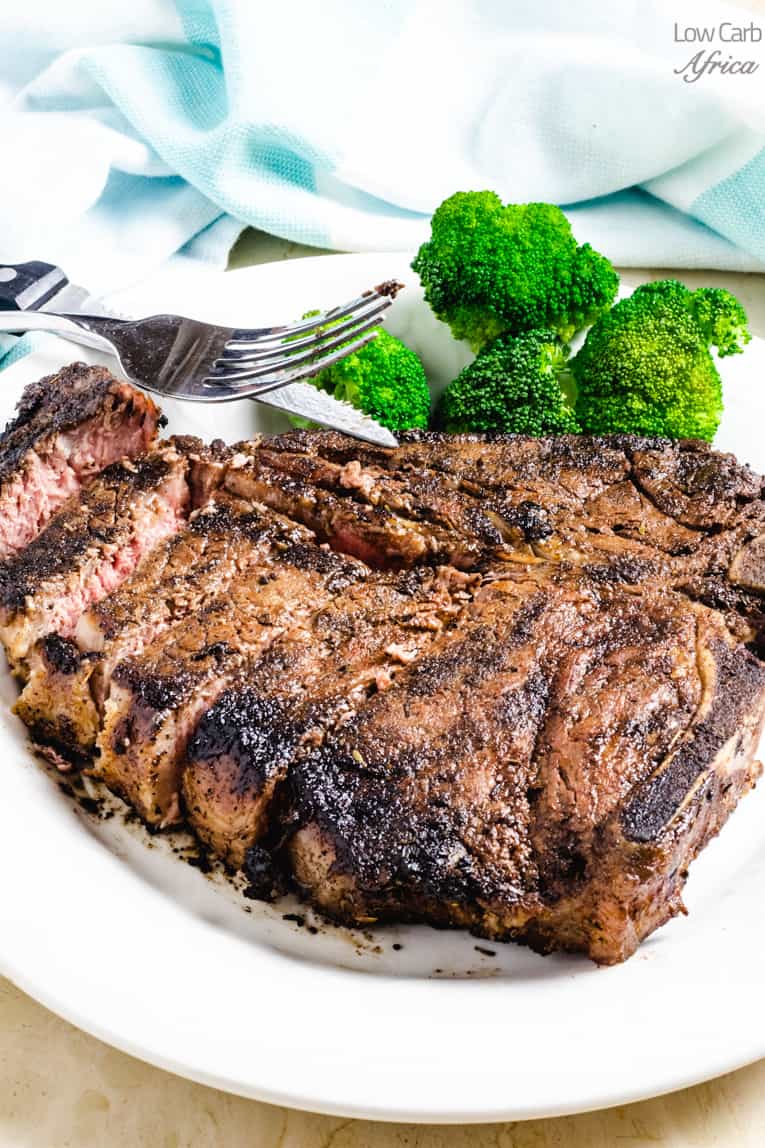 Try this other meat and chicken recipes!
Instant Pot Bone-In Pork Chops
Crispy Skin Baked Chicken Drumsticks
Recipe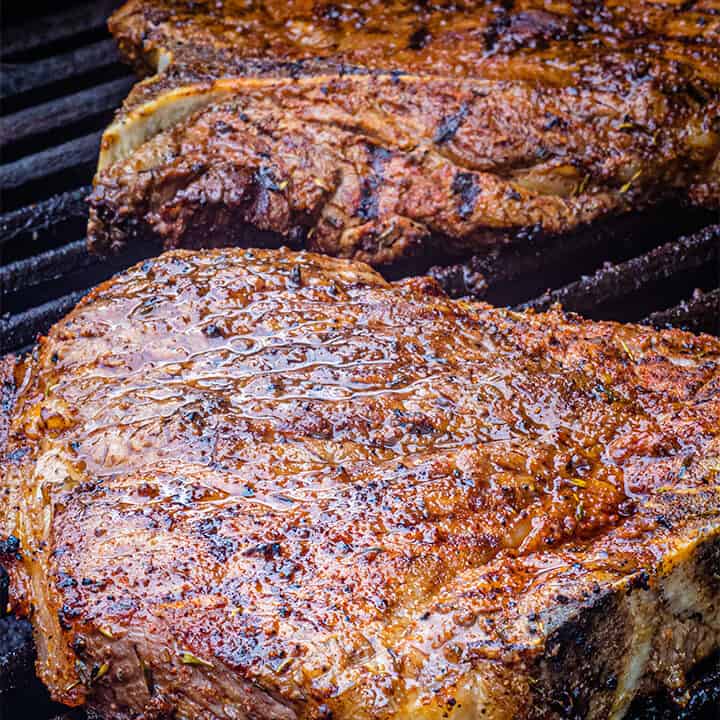 Grilled T-bone Steak Recipe
This grilled t-bone steak is covered in a flavorful, homemade dry rub, then grilled to perfection. This recipe is low carb, sugar-free and gluten-free.
Print
Pin
Share on Facebook
Rate
Instructions
Preheat your gas grill to high.

Rub both sides of your t-bone steak with homemade bbq dry rub.

For rare, grill for 8-10 minutes to reach an internal temperature of 125F.

For medium-rare, grill for 9-11 minutes to reach an internal temperature of 135F.

For medium, grill for 10-12 minutes to reach an internal temperature of 145F.

For medium-well, grill for 11-13 minutes to reach an internal temperature of 155F.

For well done, grill for 14-16 minutes to reach an internal temperature of 165F.

Flip halfway when grilling.

When done, let your steak rest for about 5 minutes, wrapped in a foil, so the juices can sink in.

Serve and enjoy!
Notes
This recipe serves 2 and contains 0 net carbs per serving.
Make sure the steak is at room temperature before grilling.
It is very important to let the steak sit for 5 minutes after grilling to lock in the juices.
Nutrition
Calories:
756
kcal
|
Carbohydrates:
1
g
|
Protein:
71
g
|
Fat:
50
g
|
Saturated Fat:
20
g
|
Cholesterol:
190
mg
|
Sodium:
511
mg
|
Potassium:
1051
mg
|
Fiber:
1
g
|
Sugar:
1
g
|
Calcium:
20
mg
|
Iron:
7
mg
Tried this Recipe? Let me know!
Tag @lowcarbafrica on Instagram or please leave a comment below!