Sink your teeth into these crispy skin, baked chicken drumsticks. Super juicy and flavorful with just the right amount of spiciness, these baked chicken drumsticks are all kinds of delicious!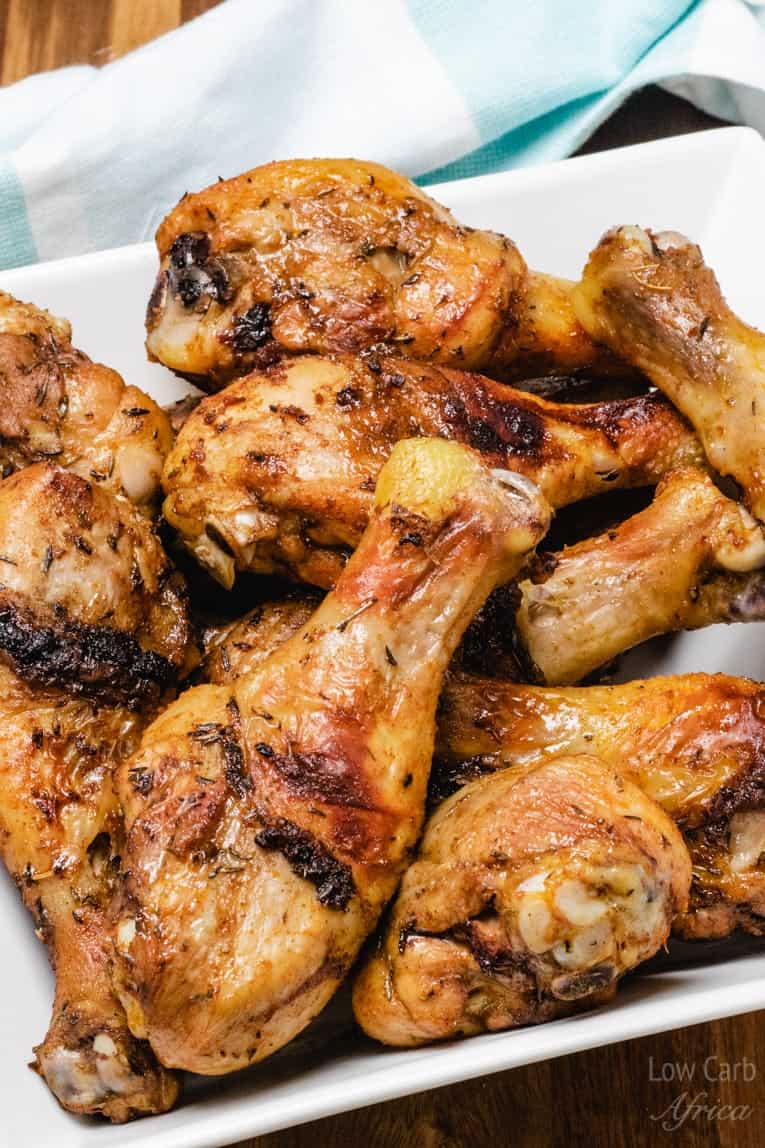 The beauty of these baked chicken drumsticks is that the skin is so crispy, yet so tender and moist on the inside.
The spices work so well together to create just the right balance that delivers a bold and pleasant flavor that will delight your senses. Can you tell how much I love this recipe?
And I'm not the only one. I make a batch of 12 pieces of drumsticks, and it doesn't last more than a few hours in my home. My 10-year-old son can eat 6 pieces all by himself if I allow him!
Chicken drumstick marinade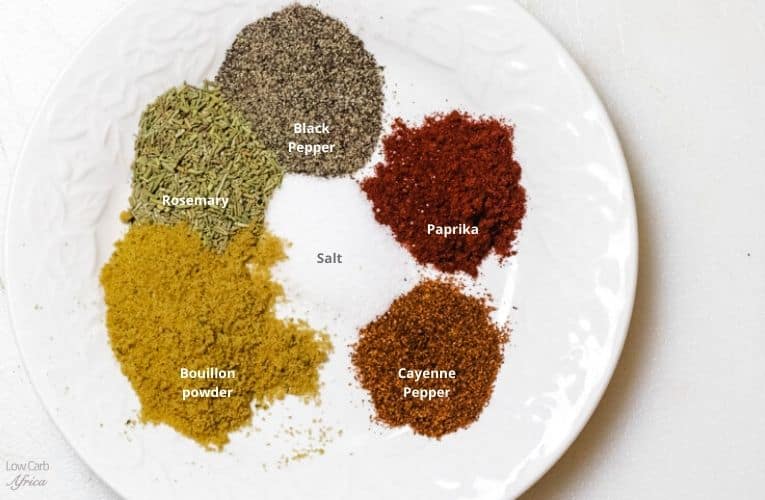 This is where the magic happens. I have tested this recipe several times and have come up with a fool-proof marinade to make these baked chicken drumsticks so juicy and crispy at the same time.
Smoked paprika: Made from pimiento peppers dried and smoked over an oak fire, smoked paprika lends a rich, smoky flavor to this recipe. It also provides some color with mild heat.
Cayenne pepper: This pepper provides a lot of heat depending on how much you use. It is also popularly used medicinally to aid digestive health, lower blood pressure, and relieve pain, among other great benefits.
Black pepper: Known for its sharp aroma and woody flavor, black pepper lends a different kind of spicy to these drumsticks.
Rosemary: I use rosemary as my herb of choice because I really love the lemon-pine flavor it gives. You can use your favorite herb here but be careful not to add too much, or it might become overpowering.
Bouillon powder: These are concentrated stock cubes that give a burst of flavor to these chicken drumsticks. I use the chicken flavor, but there are different flavors out there, or you can use vegetable bouillon instead if you prefer. If you leave this out, you'll need to add more salt.
Salt to taste.
All the spices above are mixed with coconut aminos and a little bit of olive oil to create a thick, viscous liquid that can be spread easily.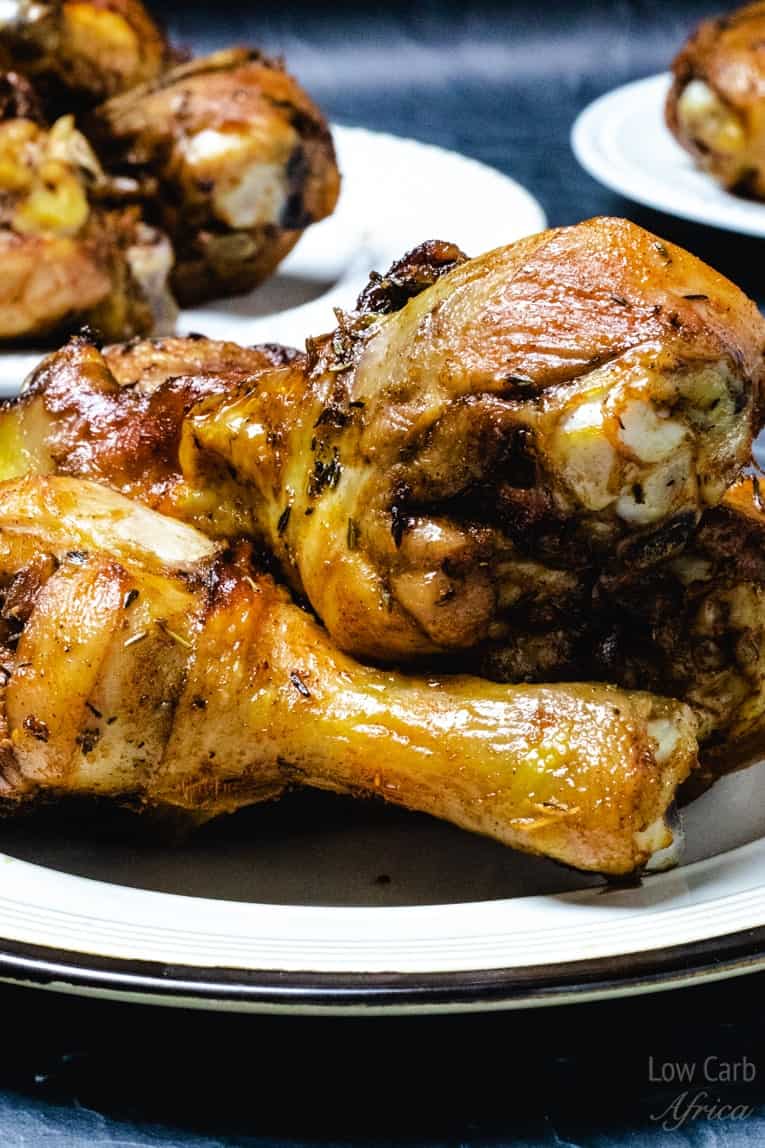 How long do I bake chicken drumsticks?
Drumsticks take a bit longer to cook than chicken breasts because of their higher fat content and density. The drumsticks should cook to an internal temperature of 175. Don't eyeball it; use a thermometer to be safe.
This recipe is made in the air fryer, but you can easily make it in an oven. I like the air fryer because it is so convenient, does not need to be preheated, and there is so much less cleaning involved. I often put the baking tray and drip tray in the dishwasher.
The air fryer setting on the model I use is roughly 400 F. I bake it for 60 minutes because not only do I want it very crispy, but I also like it completely cooked on the inside.
How to make crispy baked chicken drumsticks
I make twelve baked drumsticks at a time because that's how it's sold in stores, and I know how much my family loves them.
If you are using an oven, preheat to 400°F. Wash and pat the chicken drumsticks dry. Or, if you have time, you can leave it on a colander for about 30 minutes to drain properly.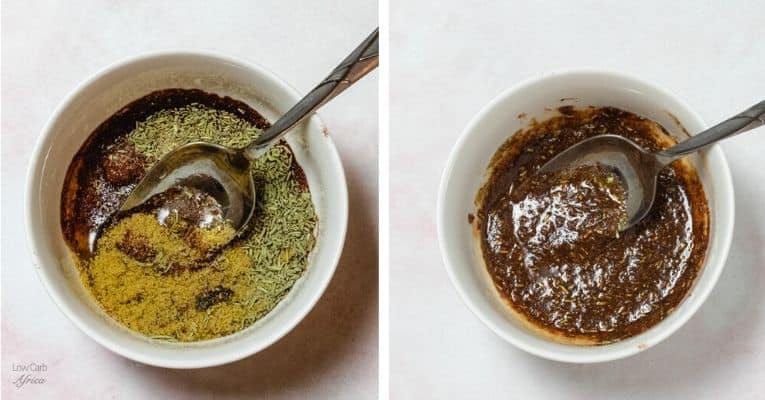 Mix the coconut aminos, olive oil, and spices in a bowl. It will be a very thick liquid, but you don't have to worry; it will have adequate contact with all the parts of the chicken drumsticks. Mix with a fork or whisk till it is completely blended in.
Smear it all over the drumsticks and rub it in. You can use your bare hands or wear a glove, which I do because it can get under my nails, which I don't like.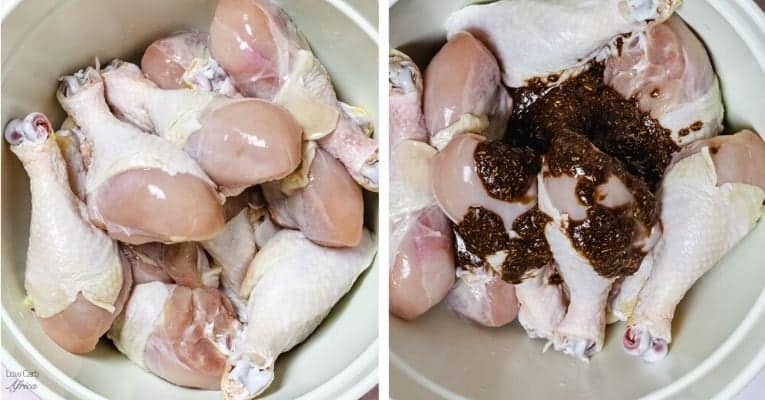 Rub in as much as you can to be sure there is contact with most parts of the chicken. You don't need to let it sit or marinade because the spices will penetrate deep into the drumsticks due to the longer cooking time.
If you're using an oven, you might have to line the baking pan to prevent drippings, or better yet, use a crisper tray that will collect the drippings and prevent them from getting on your coil.
My air fryer comes with a basket, so I just arrange the drumsticks on it and put them in a lined tray underneath to collect the drippings.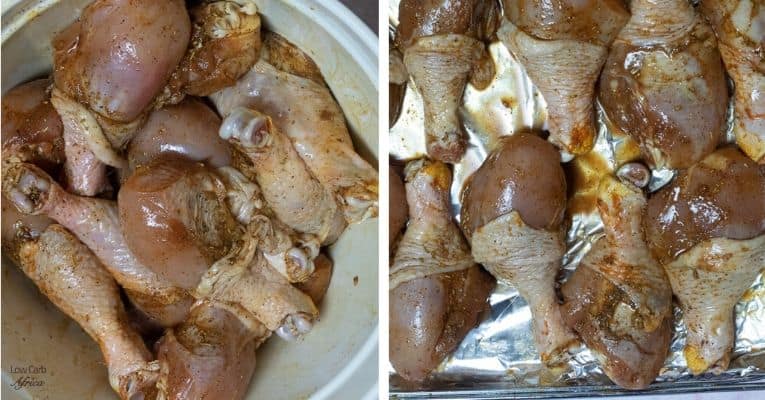 Place the drumsticks in the oven or air fryer and set a timer for 30 minutes. At the 30 minutes mark, take out the tray, flip the chicken over, and put it back in.
When the hour is over, the drumsticks will be a golden brown color, and your kitchen will begin to smell like a gourmet restaurant. Let it cool for a few minutes as the skin will begin to crisp up even more. Dive in and enjoy with your favorite vegetable side or creamy dip!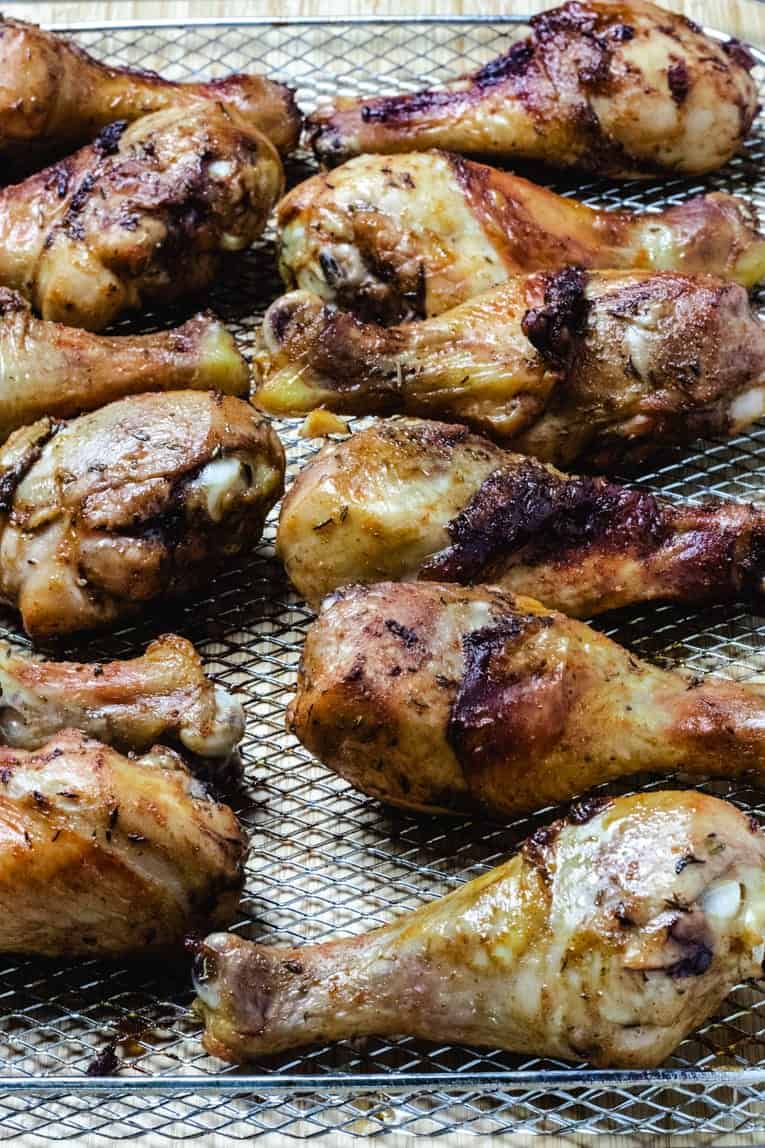 Expert tips on making baked drumsticks extra crispy!
After you wash the drumsticks, let all the water drain, either by patting them dry or leaving them in a colander. You want the chicken to completely dry so it will crisp up quickly.
If the chicken looks like it is cooked after 45 minutes and you don't want to wait any longer, make sure the internal temperature still reaches at least 175 degrees before you take it out.
Use the drippings as a sauce! Just toss the already-baked chicken in, rub it in, and you're good to go.
If you want less heat, reduce the cayenne pepper by half. If you want more, add as much as you can handle!
For an alternative non-spicy seasoning, try this homemade chicken seasoning recipe.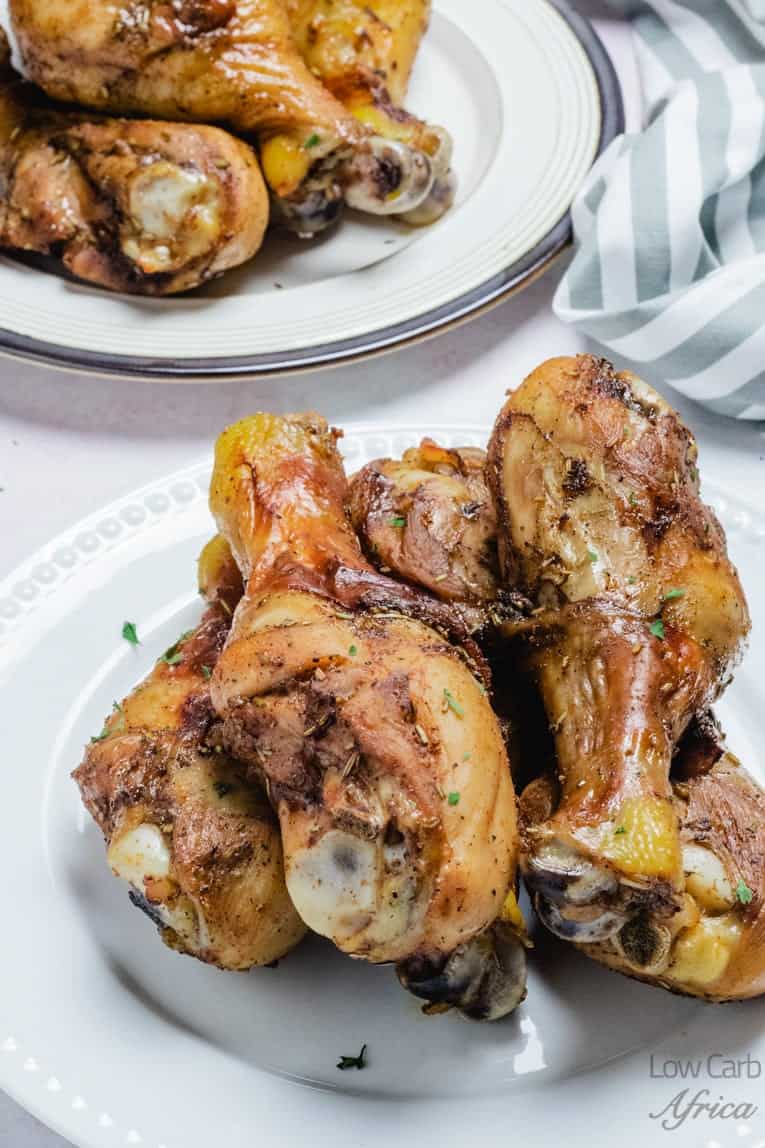 Try these other delicious keto chicken recipes!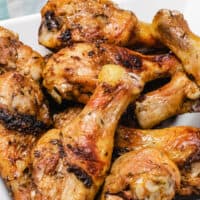 Crispy Skin Baked Chicken Drumsticks
Crispy skin baked chicken drumsticks - super juicy and flavorful, these baked chicken drumsticks are low carb, gluten-free and all kinds of delicious!
Print
Pin
Share on Facebook
Rate
Instructions
If using an oven, preheat to 400 F (200 C).

Wash and pat the chicken dry, or leave on a colander for 30 minutes to drain.

Pour the coconut aminos, olive oil, paprika, cayenne pepper, bouillon powder, rosemary, black pepper and salt into a bowl.

Mix with a fork or whisk till it is completely blended in.

Rub all over the chicken drumsticks.

Arrange on a baking pan or air fryer basket and choose the 'air fryer' setting (400 F). Set the timer for 30 minutes.

After 30 minutes, take out the chicken, flip it over, then put it back for another 30 minutes.

Let cool for a few minutes when done.

Serve and enjoy!
Notes
This recipe serves 12 and has 1 net carb per serving.
Make sure all the water drains from the drumsticks after washing to ensure it crisps up quickly.
Check to be sure the internal temperature of the drumsticks reaches at least 175 degrees before you take it out. Don't eyeball it.
Don't toss the dripping! Use as a sauce by rubbing on the chicken just before serving.
If you want less heat, reduce the cayenne pepper by half. If you want more, add as much as you can handle!
Nutrition
Calories:
136
kcal
|
Carbohydrates:
1
g
|
Protein:
13
g
|
Fat:
8
g
|
Saturated Fat:
2
g
|
Cholesterol:
69
mg
|
Sodium:
400
mg
|
Potassium:
168
mg
|
Vitamin A:
115
IU
|
Calcium:
9
mg
|
Iron:
0.5
mg
Tried this Recipe? Let me know!
tag @lowcarbafrica on Instagram and please leave a comment below