So why go on a ketogenic diet in the first place? Why leave the comfort of my delicious (though, high carb) African dishes I have eaten all my life?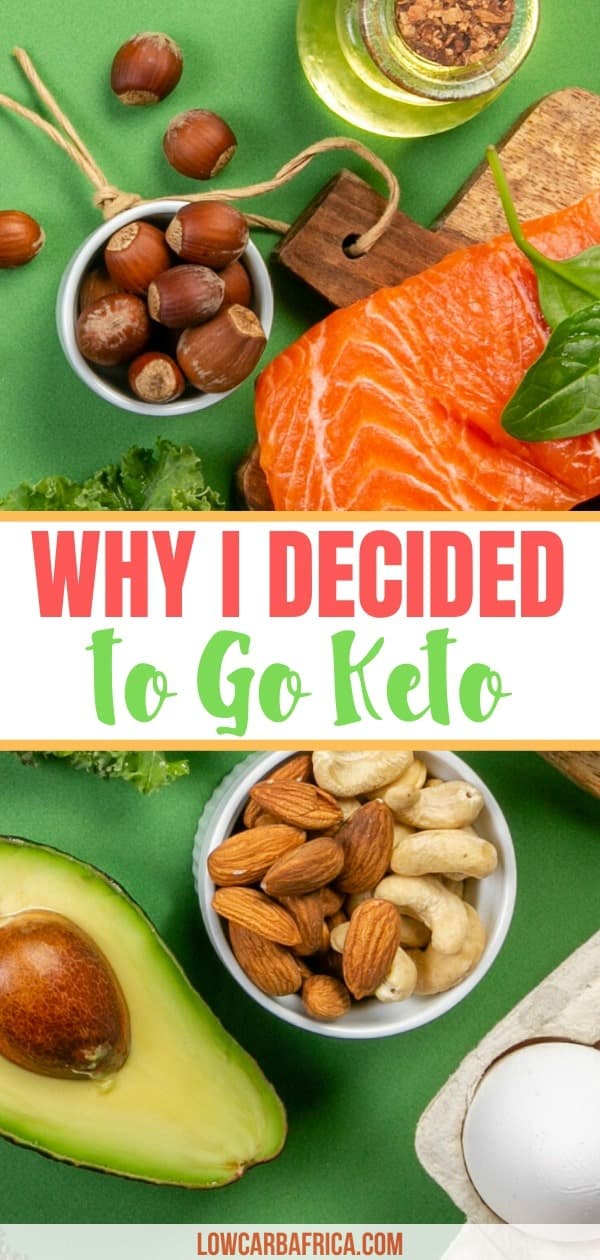 My journey
I have to admit I was skeptical when I first heard about the keto diet. So skeptical, in fact, that it took me two whole years from when I first considered it to when I actually implemented it.
The thought of giving up my high carb foods was too depressing to bear. I am of Nigerian heritage and if you know anything about African cuisine, almost everything we eat is high carb.
Our national food is called jollof rice which is a staple in every party and event that ever happens and has ever happened. I have been eating rice almost every single day as far back as I can remember.
My fear was that if I gave up rice, I will probably die of hunger as there was absolutely nothing else that could satisfy me. Boy, was I wrong!
Over a period of a few years, I began having very bad headaches. I was always prone to migraines which came and went intermittently, but suddenly they became very frequent, in addition to almost daily headaches.
I mean, I would literally go to bed with a headache and wake up in the morning with a headache and would pop Tylenol and Advil like mints. To make matters worse, I became sluggish and started having dizzy spells.
I thought I just needed to exercise more so I started working out and eating healthier and even did CrossFit for a year. I lost some weight but nothing shook the headache and dizziness.
Unfortunately, I had to stop high-intensity exercises because of joint pain, nausea, and dizziness, and of course, the weight began to pile on again.
I saw so many different doctors and specialists and had a cabinet full of assorted medications for headaches and nausea. Basically I was told, yes you have migraines, pop these meds when the pain comes. How fun.
The turning point
So why did I try the keto diet? I was desperate. Almost daily headaches for years is no fun. I kept hearing everyone talking about how they were miraculously healed of this and that ailment on the keto diet.
After years of sitting on the sidelines, I felt I should try this and see. I mean, it couldn't be worse than what I was already experiencing. And if it got better, then good for me.
I noticed almost immediately that the headaches disappeared. One day, two days, one month, no headaches. I thought I was dreaming. Or maybe, it was just a placebo effect?
And then one day my friend invited me over to her house and tempted me with jollof rice. Remember how I said, I am a Nigerian and jollof rice runs in my blood? So I ate it.
I didn't believe my lack of headaches for two months could be attributed to my low carb way of eating, so I indulged. I mean the food was delish!
And then I got home and I felt the first flicker of a headache. And by that night, I had a full-blown migraine. Whaaaat??? I was in agony and in addition, I had serious bloating.
That was when it dawned on me that I had a sensitivity to carbs and sugar. Over the next few months, I would sparingly indulge in carbs and I would either have a migraine or a very bad headache, so I decided to just go low carb full time.
That turned out to be one of my best life decisions!
I have been eating low carb for almost two years now, and my migraines have stopped. I almost don't get very bad headaches anymore (except for sleep deprivation or when my two wonderful kids are driving me crazy).
Joint pain is almost completely gone, dizziness, nausea, and bloat are a thing of the past. It's amazing what a change in diet can do.
I don't call this a diet; it is a way of life for me. In my quest not to miss out on all my Nigerian dishes, I began to experiment with making low carb versions of all the foods I missed.
I am also married to a Nigerian man, a Yoruba man for that matter, and for those Nigerians reading this, you know Yoruba men don't joke with their fufu dishes.
My husband has eaten so many of my dishes and particularly enjoys my cauliflower fufu with ogbono soup. He was my ultimate litmus test; I mean if it could appeal to his palate, then it was a win in my books.
He actually encouraged me to start this blog and I'm so glad I did!
Your story might not be exactly like mine but I bet there is a reason you are considering a low carb diet.
Whether it's for weight loss, medical issues or just to feel and look great, a low carb way of eating will work for you. And with my delicious African-inspired keto and low carb recipes, you can't go wrong!
If you're wondering about the keto diet, here's a good place to start.
What is Keto? A beginner's guide to the keto diet
Low Carb vs Keto, what's the difference?
How to be successful on the keto diet
Here are some of my favorite low carb dishes!
Efo Riro (Nigerian Spinach Stew)