Do you love to add honey to your meals or drinks but are wondering if honey is keto-friendly? Read on to find the answer once and for all!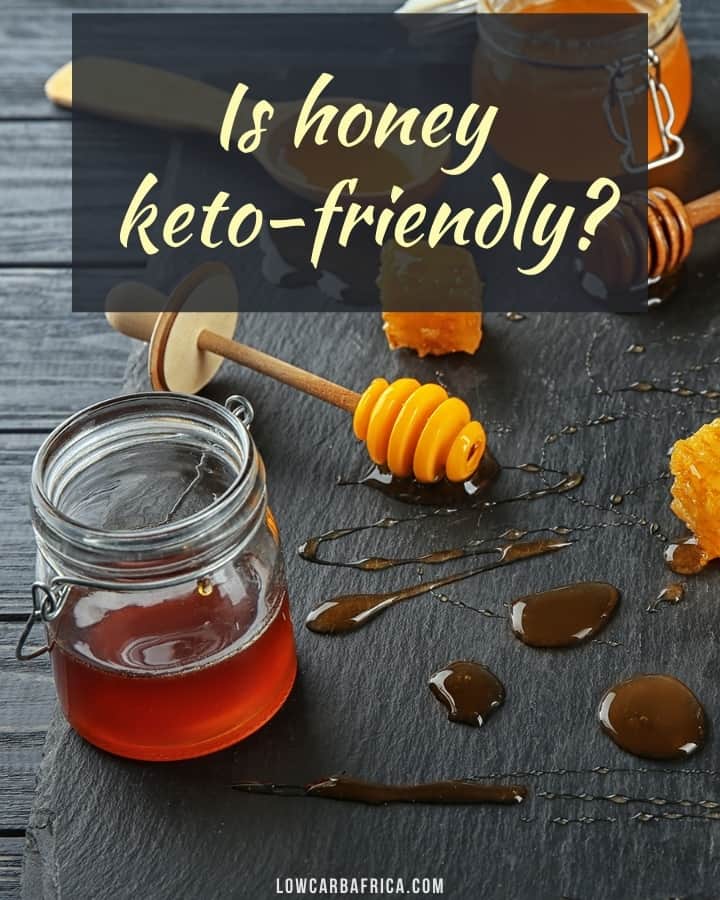 The sweetness of honey can not be overstated. Honey is the earliest natural sweetener known to man. It's also arguably one of the sweetest natural substances we eat.
When it comes to sugar substitutes, honey is by far one of the most common. You only need small amounts to sweeten up your food or drinks. Honey is also a good idea if you are trying to limit your sugar consumption, and it helps reduce sugar cravings.
Jump to:
What is honey?
Honey is a sweet, syrupy liquid secreted by honeybees after they have fed on nectar from certain flowers. Honey is golden-colored and sticky to the touch. It is a much healthier sugar substitute, and it has a very distinct taste.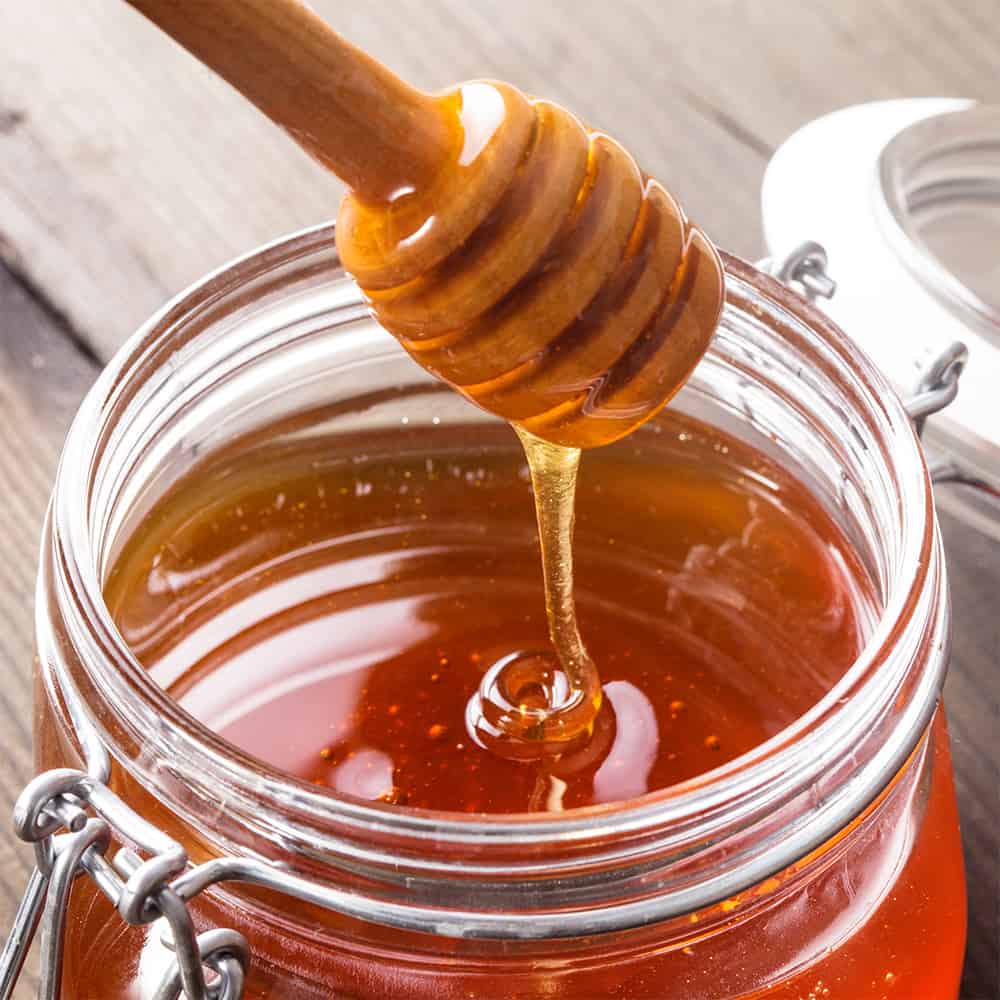 Honey has many uses, including being used in baked treats, cereals, candies, and medicines. It can be gotten from many grocery stores, but you have to make sure it is raw natural honey and not the adulterated kind.
This is because some brands of store-bought honey have added sugars in them. It is best you avoid these types. Sometimes the best place to get local honey is from a farmer's market if you have one near you.
Types of honey
Honey has many types and flavors. These kinds are influenced by the kind of flower a bee gets nectar from and the consistency of rainfall or temperature.
Some are fruity, some taste floral, others might taste buttery. Here are a few of the popular types available:
Alfalfa honey: Made primarily in the US and Canada, Alfalfa honey is made from the nectar of blue or purple blossoms. It is light gold and smells and tastes lightly floral.
Acacia honey: This floral-tasting honey is the most common. It is produced mainly in Europe and North America. It is clear, light, and retains its liquid state for a long time due to the high concentration of fructose.
Avocado honey: Unlike the name suggests, this honey tastes nothing like avocado. Instead, it is gotten from the nectar of California Avocado blossoms. Avocado honey is dark-colored and has a rich, buttery taste.
Aster honey: This type of honey has a particularly sweet smell. It is light-colored and gotten from the Mid-south region of the US. Aster honey crystallizes fast and is best used to sweeten drinks and deserts.
Beechwood honey: Commonly known as honeydew honey, this honey is sourced from the sap on the barks of beechwood trees in New Zealand. The sap is collected by bees and turned into aromatic honey. Beechwood honey is perfect when used as a syrup for fruit salads and pancakes.
Honey nutrition facts
Honey is fat-free, cholesterol-free, protein-free, sodium-free, and gluten-free. In addition, honey contains trace elements of vitamin B, zinc, copper, iron, and calcium. A tablespoon of honey contains 64 calories, 17 grams of sugar but no dietary fiber.
The quality and mineral content of honey depends on the plants from where bees get the nectar. It also depends on how it is extracted and processed. Generally, darker, thicker honey has more health benefits than lighter-colored honey.
Is honey healthy?
Honey is loaded with so many health benefits. For example, honey in its raw form is said to help with seasonal allergies and speed up the healing process of minor wounds.
It also has high antioxidant levels, which clean the blood and help to improve heart health. Warm water and a tablespoon of raw honey also help with soothing a cough.
As with everything in life, moderation is key when consuming honey.
Honey vs. Sugar
Honey and regular sugar are both carbohydrates that comprise mainly glucose and fructose.
Sugar is a processed sweetener that does more harm than good to the human body, and that in itself is an excellent reason to steer clear of it. It is filled with empty calories and is highly addictive. In general, swapping sugar for honey or other healthy artificial sweeteners is your best bet.
Both honey and sugar are digested differently. With honey, bees secret a particular enzyme that makes the honey easily digestible, so it can be used for energy immediately.
With sugar, however, that enzyme is absent, so the body has to first of all break down the sugar molecules before you can store them as energy.
Honey also has a lower glycemic index than regular sugar. A low glycemic index (low GI) means it does not raise the blood glucose levels like white sugar does and helps to increase insulin levels.
Other healthy sugar substitutes with low GI also include yacon syrup and maple syrup.
What is the keto diet?
The keto diet is a low carb, high fat, and medium protein diet that boasts several health benefits. It works by putting the body in a metabolic state, known as ketosis.
When the body is in a state of ketosis, it burns fat for fuel instead of carbohydrates. This helps with weight loss and also lowers blood sugar levels. Read all about the keto diet here.
Is honey keto?
Though honey is a healthier alternative to sugar, a tablespoon of honey contains 17g of carbs, making it not very suitable for a keto lifestyle.
So despite its highly nutritious and delicious properties, honey is considered a high-carb food.
Will honey kick me out of ketosis?
Short answer, it depends. Consuming honey might kick you out of ketosis depending on how much you take, and your total carb intake for the day.
If you are on a strict keto diet and only consume 25 net carbs per day, honey might make you go over your total carbs. And this might kick you out of ketosis.
However, some people can safely eat as much as 50g of carbs and still stay in ketosis. This largely depends on your activity level. If you are very active and consume a teaspoon of honey, you might burn through it pretty quickly and still stay in ketosis.
Keto alternatives to honey
If you need a honey substitute on your low-carb diet, there are a few low-carb sweeteners out there. You can also try a keto honey substitute like this Nature's Hollow Sugar-Free Honey Substitute.
Here are some of the best sweeteners for keto-dieters:
Monk fruit sweetener is made from monk fruit, a small green gourd plant that resembles a melon. This fruit originated in Southern China and Thailand and was initially harvested by Buddhist monks, hence the name. It is incredibly sweet but contains no sugar. Monk fruit also has anti-inflammatory properties.
Allulose sweetener has very few calories and has little effect on blood sugar. This sweetener is available in granulated form and looks like everyday, regular sugar.
Organic Stevia is a sweet-tasting plant extract native to Paraguay. This sweetener is about 200 to 300 times sweeter than white sugar. It is a healthy alternative because it has no carbs, no sugars, and no calories.
Swerve is one of the most popular keto sweeteners out there. Swerve is advertised as the ultimate sugar substitute. Interestingly, it is made up of all-natural ingredients from the United States and France. Swerve is also ideal for baking because it holds its shape like sugar.
Erythritol is a sugar-free sweetener also found in pineapples, pears, and other foods. It not only adds sweetness to foods but also bulk and texture. Erythritol does not cause digestive issues like some other sweeteners due to its small molecular weight.
Xylitol is used to sweeten gums and medicines. It is a naturally occurring sugar alcohol found in many fruits and vegetables. Xylitol is extracted from birchwood trees mainly to make medicine. It is said that xylitol prevents cavities, tooth decay, and ear infection.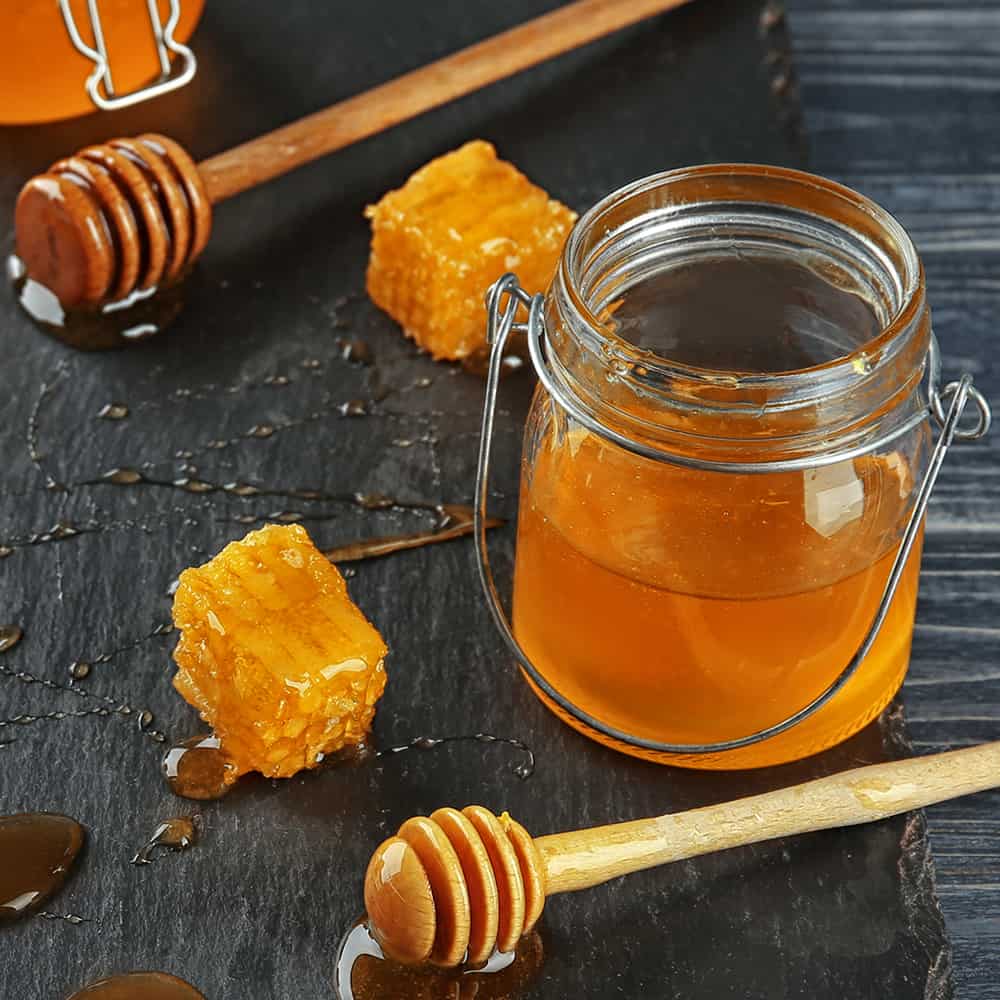 Check out some of these keto desserts that use low carb sweeteners!
Keto Peanut Butter Chocolate Pudding
Some more low carb articles for you!
Best keto snacks to buy on Amazon