If you're new to the keto diet or you've been on the ketogenic diet for a while now, and you want to know if it's safe to eat sausages on keto, this post is for you!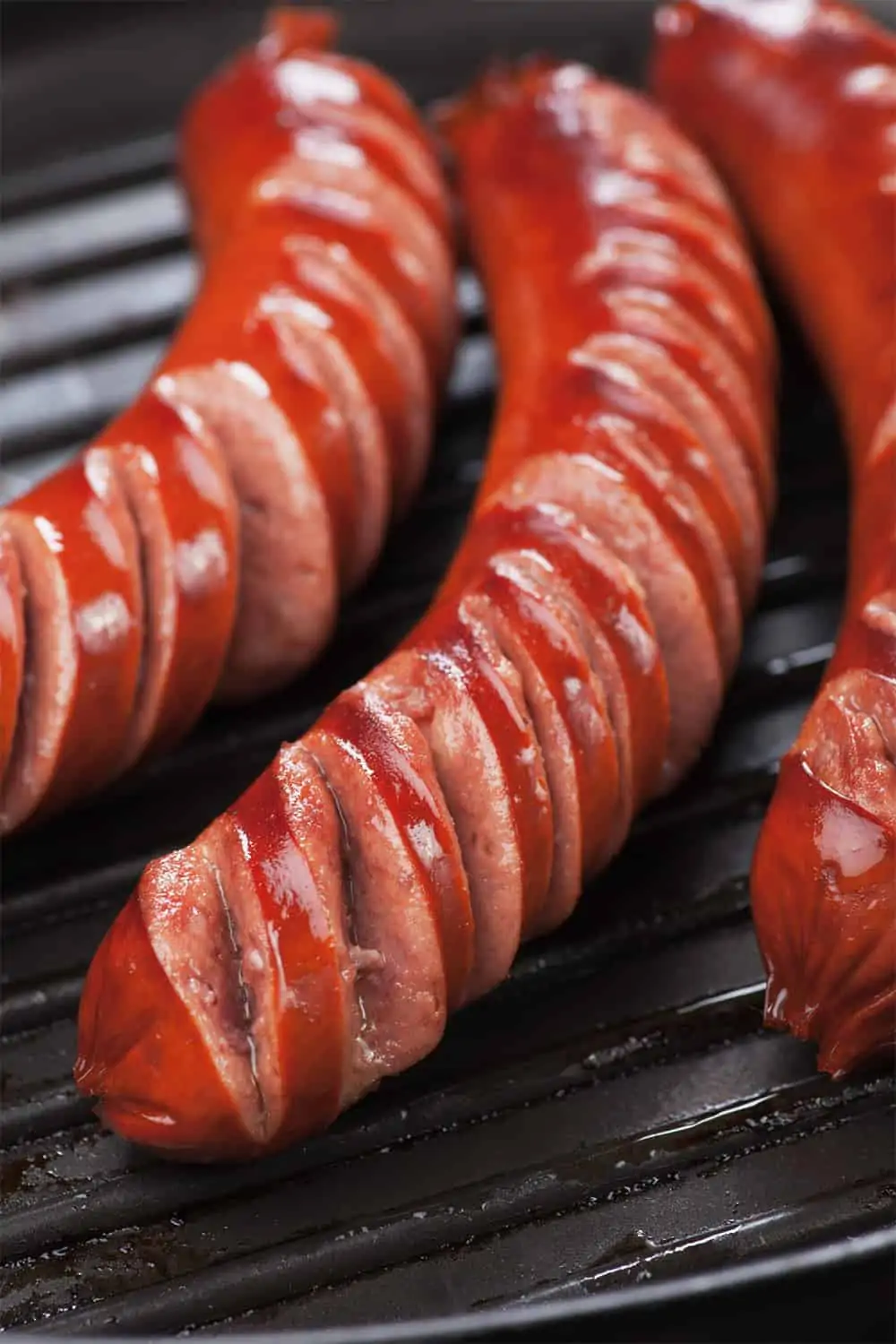 Sausages are a delicious staple meat product that is very popular worldwide. It is versatile and can be cooked in various ways. You can boil, fry, sauté, grill, or smoke them. They contain healthy fats and are quite nutritious too.
How are sausages made?
A sausage is a long cylindrical type of meat product made usually from a combination of meats like chicken, beef, or pork and some fats, flavorings, and added spices. They can be found in grocery stores and markets all over the world.
Traditionally, sausages were packed in cleaned-out pig intestines. Yes! You heard that right. They used animals' intestines because they gave the sausages links a glossy and attractive look.
These days, however, sausage links are filled into a natural and synthetic casing and most are edible. Sometimes, sausages have organ meats added to them, in addition to their basic ingredients.
Types of sausage
There are many different kinds of sausages enjoyed the world over. They include pork sausage, summer sausage, smoked sausage, breakfast sausage, chicken sausage, and beef sausage, among many others.
Sausages are consumed worldwide, so depending on the region, the links are made with different ingredients and in various ways.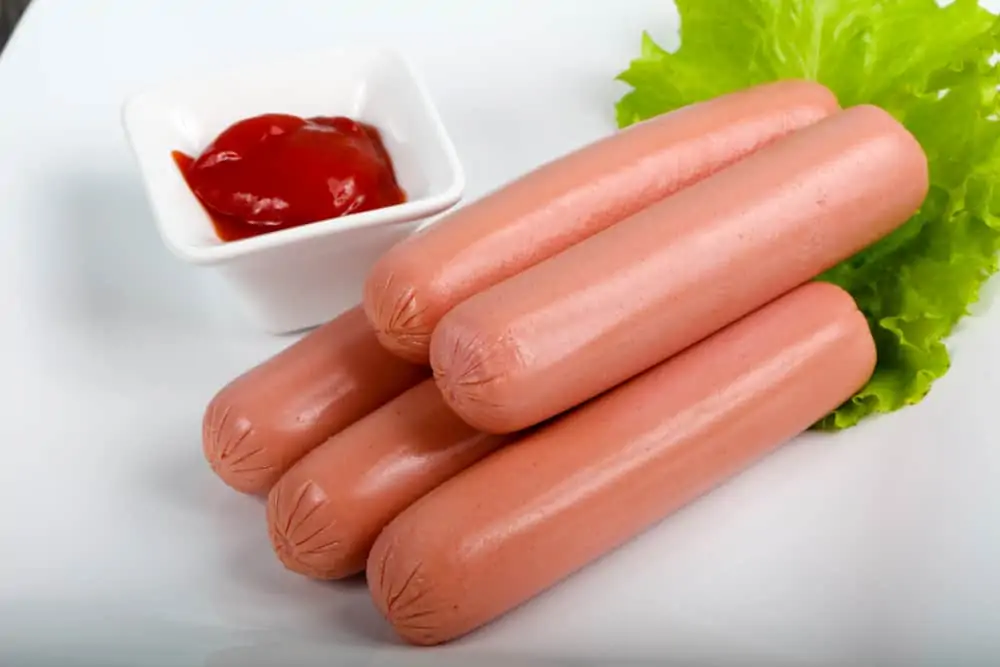 Here are a few examples of the different kinds of sausages:
Bratwurst: This type of sausage originated in Germany and is made in different ways. However, this pork sausage is made from ground pork and veal in the US and is seasoned with nutmeg, ginger, caraway, and salt. Bratwurst sausages are perfect when grilled or sauteed.
Kielbasa: This is the word for sausage in the Polish language. The sausage is U-shaped and is made from any type of meat. In the US, Kielbasa simply means Polish sausage. It is usually smoked fully or partially and must be cooked thoroughly before being eaten. Kielbasa can also be enjoyed best when grilled or sauteed.
Andouille: This pork sausage originated from France. However, it is mainly known for being one of the critical ingredients in jambalaya and gumbo, which are two popular Creole dishes. Interestingly, the other ingredients used in making this link are garlic, onions, pepper, and wine. Andouille sausage is sold already smoked, and so it can be sliced and eaten with bread or cooked in soup.
Fuet: This is a particular type of sausage that originated in Catalan, Spain. It can be eaten sliced or added to soups and casseroles. Fuet is made from boiled pork meat in pork gut. No oil or spices are used in preparing it, but it is usually served with sauce.
Morcilla Blood sausage: as you may have already guessed, this sausage is made primarily from animal blood - usually pigs, ducks, sheep, cows, or goats. In Britain, they are dried with filler until they are thick enough to hold their shape when cooked. Morcilla is a popular delicacy in Spain and is made of pork blood, rice and onions.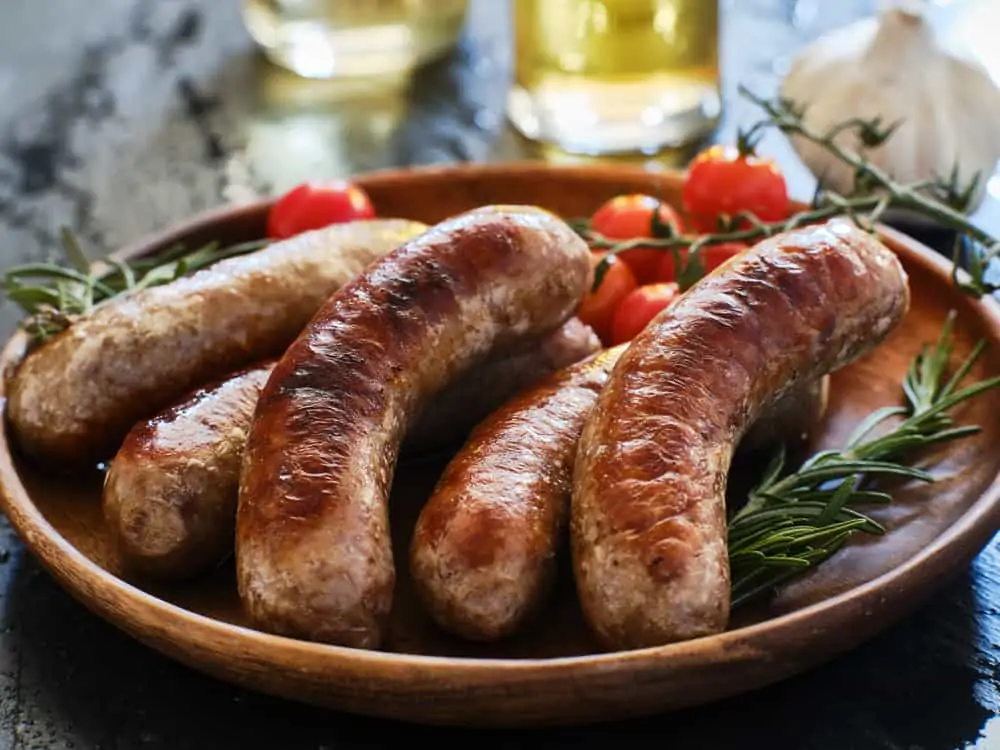 Can you have sausage on a keto diet?
The ketogenic diet (also known as the keto diet) is a very low carbohydrate and high-fat diet, great for weight loss and maintaining blood sugar levels. On the keto diet, the body remains in a state of ketosis, which means the body burns fat for energy instead of carbs. Read more about the keto diet here.
So can you have sausages on keto? The short answer, yes, you can. Sausages are mainly made from different types of meats and fats high in proteins and fats, so they are generally keto-friendly.
However, make sure you check the label, as some sausages might contain hidden sources of carbs. This will ensure you don't go over your carb intake for the day.
Keto-friendly sausage brands (carbs in sausages)
Some sausages might contain additives like added sugar and binding ingredients like wheat flour, breadcrumbs, or corn starch. They sometimes also have elements that enhance their flavors, like dairy products.
Unfortunately, these additives all have various grams of carbs, which might make that sausage brand unsuitable for a low-carb diet. Luckily, they are a good number of sausage brands that contain minimal carbs and are keto-compliant.
For a ketogenic diet, most people stay under 20-25 grams of net carbs. These are some of the best sausages with a low net carb count:
Beef sausage: 0g
Pork sausage: 0g
Chorizo: 1g
Vienna sausage: 0g
Andouille sausage: 0g
Turkey sausage: 0g
Bratwurst: 2g
Italian sausage: 3g
Keto recipes made with sausage
Tired of the same old ways of cooking sausages? Try these exciting sausage keto recipes the whole family would love!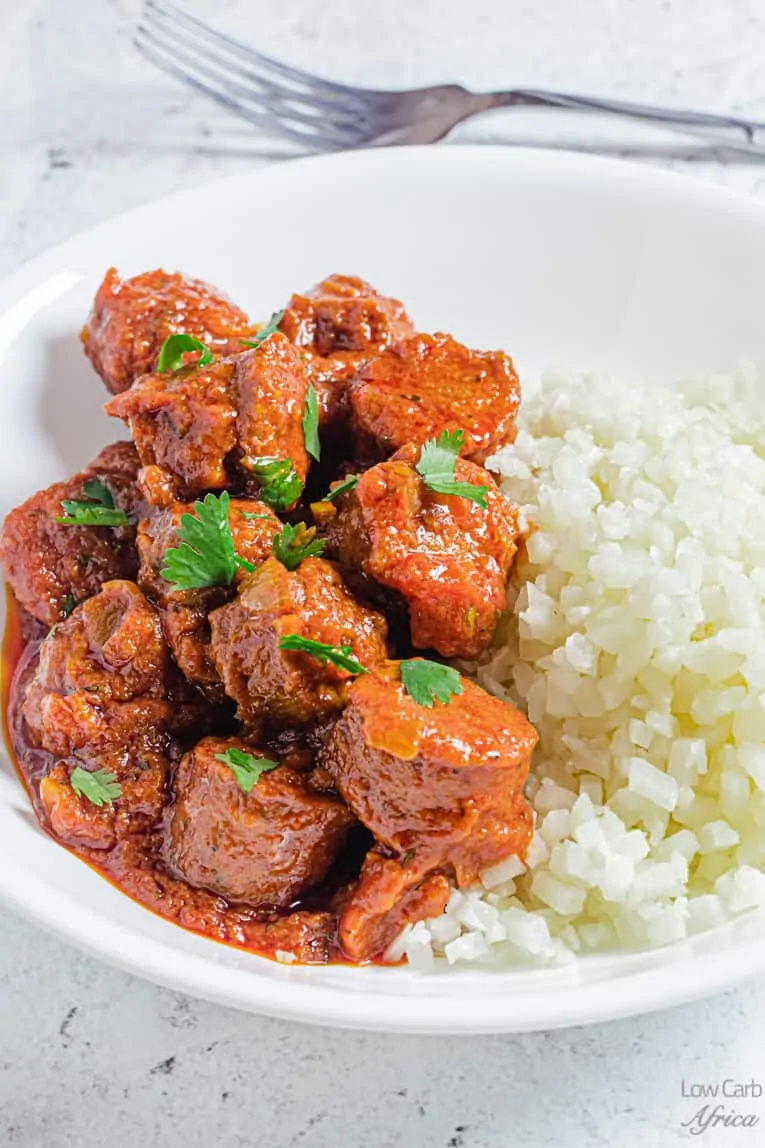 Sausage Rougail (Rougaille): This mouth-watering stew is made with tomatoes, sausages, and a handful of other ingredients. Rougail, which means a combination of herbs and spices, is native to Mauritius and Creole. This easy recipe is perfect for the whole family and is excellent for meal prep too.
Sausage and Spinach Frittata: This delicious and nutrition-packed protein meal is a favorite among many. A frittata is basically an egg-based dish made with meat, vegetables, and cheese. In this case, sausage is the meat that is used. Sausage and spinach frittata isn't just a breakfast meal. It can be enjoyed at any time of the day.
Spicy Sausage Dip: This delicious, spicy dip is a great way to enjoy sausages. This dip is versatile and is made from ground sausages, cream cheese, and diced tomatoes. This delicious side dish has a great flavor and is perfect for potlucks and holidays.
Cauliflower Rice and Sausage Stuffing: This low-carb delight is highly nutritious and tasty. It is also easy to make and ready in just 30 minutes! Cauliflower rice sausage stuffing is made with cauliflower rice, ground sausages, mushrooms, onions, garlic, and spices cooked in olive oil.
Sausage and Cauliflower Rice: This easy one-pan meal, made in a cast iron skillet, is a personal favorite of mine! It is great for meal prep and freezes really well. Add some red pepper flakes or cayenne pepper for a spicy option.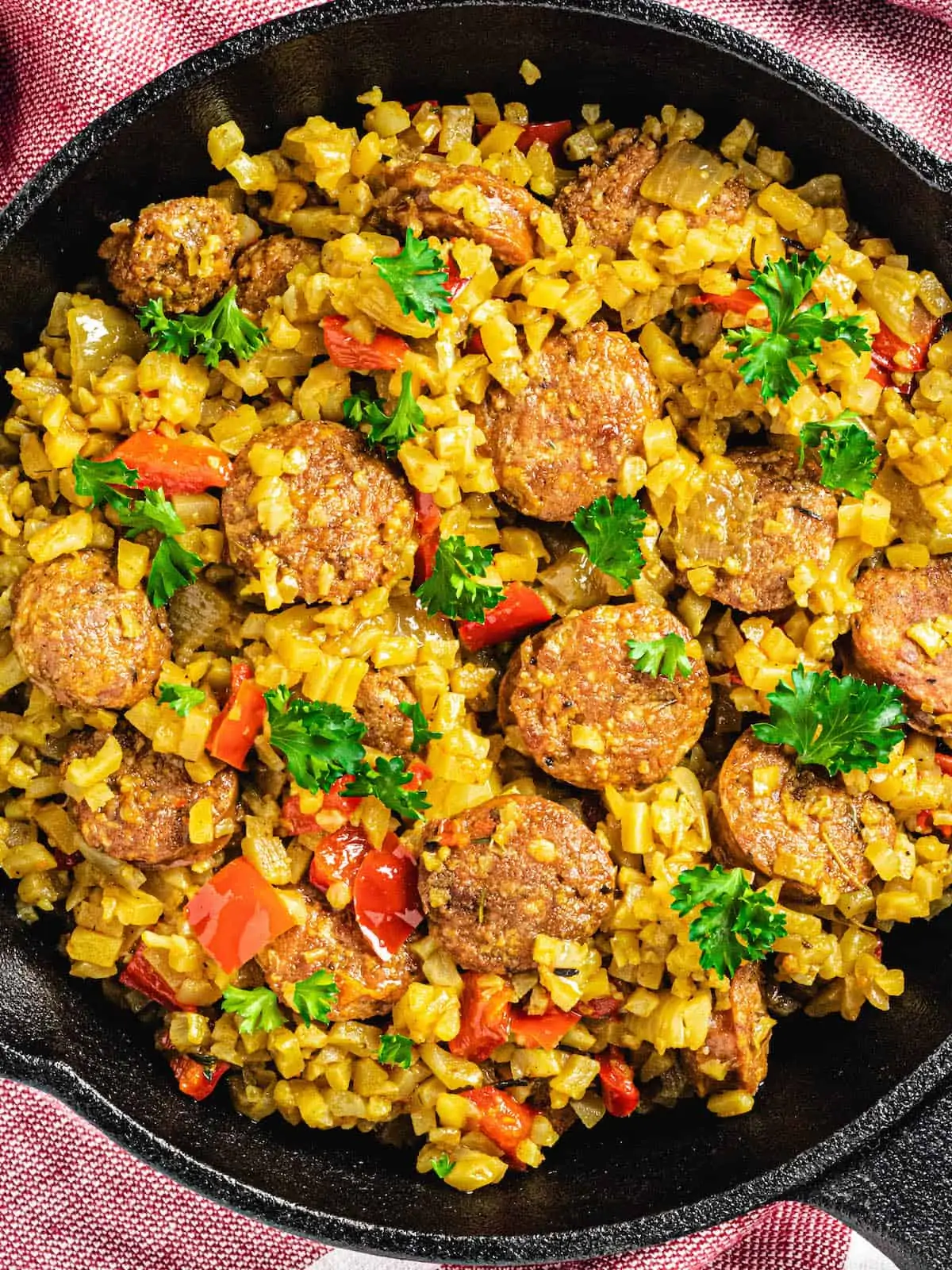 Other helpful resources