If you miss rice on your keto or low carb diet and you don't think cauliflower rice can be a great substitute, think again! These keto cauliflower rice recipes are so full of flavor and delicious, they'll leave you feeling very happy and satisfied!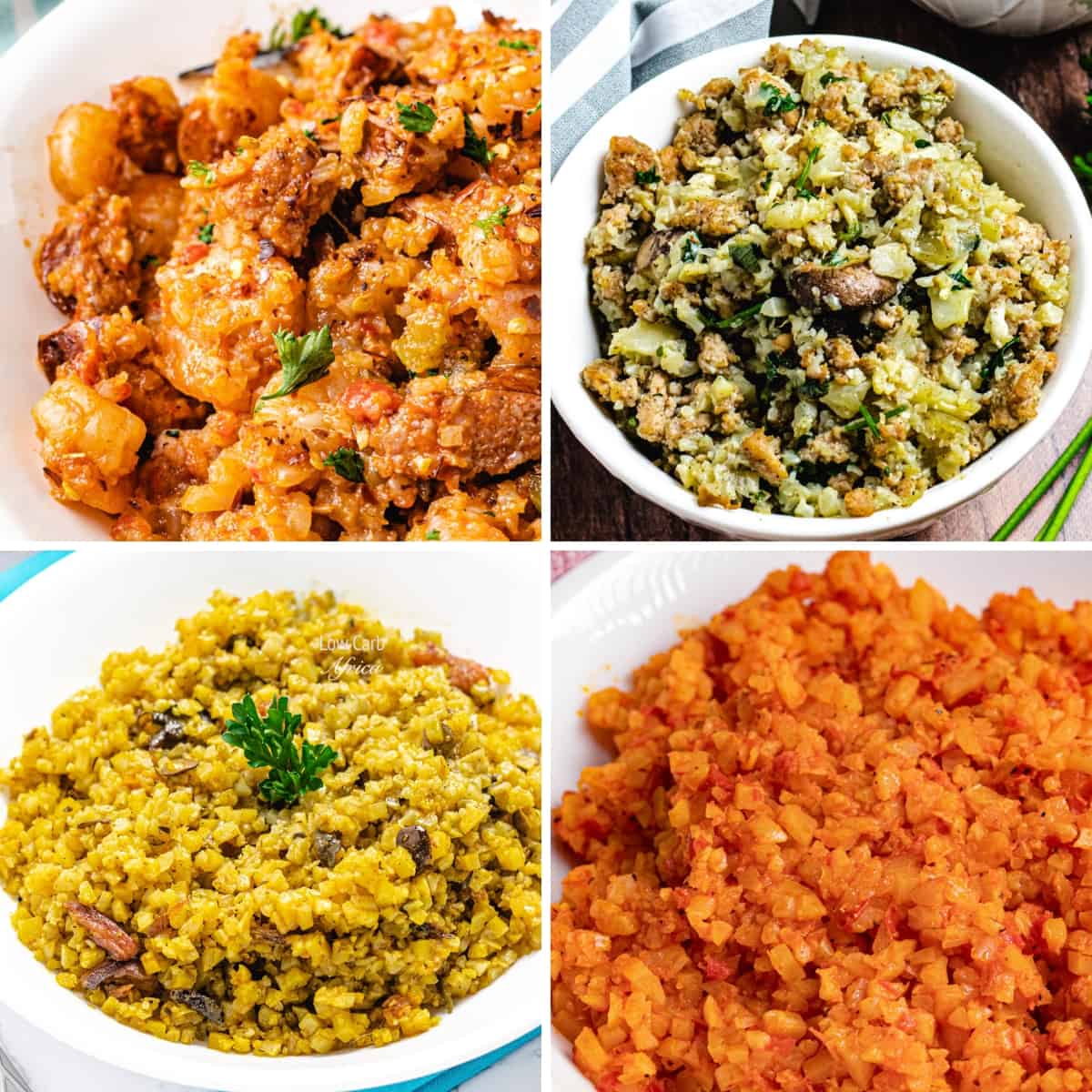 Being African and eating rice almost every day of my life growing up, the thought of giving up rice on the keto diet was almost too much to bear. To be honest, I delayed starting the keto diet for two years because I didn't think any other food could scratch that itch.
And when I started experimenting with cauliflower rice recipes, I struggled at first to get the texture right. But through trial and error, I finally figured out how to make cauliflower rice with a nice firm bite that reminded me of regular rice.
What is cauliflower rice?
Cauliflower rice is very popular on the keto diet and is made from fresh or frozen cauliflower. It is basically cauliflower that has been shredded, loosely blended, or grated till it forms a rice-like consistency.
It is by far one of the best and most cost-effective rice substitutes for a keto or low-carb diet.
Is cauliflower rice good for weight loss?
Yes, cauliflower is an amazing substitute for rice, and it helps with weight loss. It contains far lower carbs than regular rice and is also lower in calories as well.
For comparison, a cup of regular rice contains 45g carbs and 206 calories, while a cup of cauliflower rice contains 7g carbs and 99 calories.
How do I make cauliflower rice?
Cauliflower rice is super easy to make, and you can make it with a blender or food processor. You can also use a grater or just a knife, but that is more labor-intensive.
Check out this post on how to make cauliflower rice to learn all you need to make your own from scratch!
What if I don't like cauliflower?
If you don't like cauliflower, try this cabbage rice for another great rice substitute. You can also use shirataki rice (miracle rice) which comes really close to the texture of regular rice without all the carbs.
Keto cauliflower rice recipes
Here is a list of mouthwatering keto cauliflower rice recipes that will surely make you not miss regular rice so much!
Enjoy your cauliflower rice with these stews and curries!