Looking for some delicious and romantic low carb recipes to show love this season? Check out these mouthwatering Keto Valentine's day dinner dishes!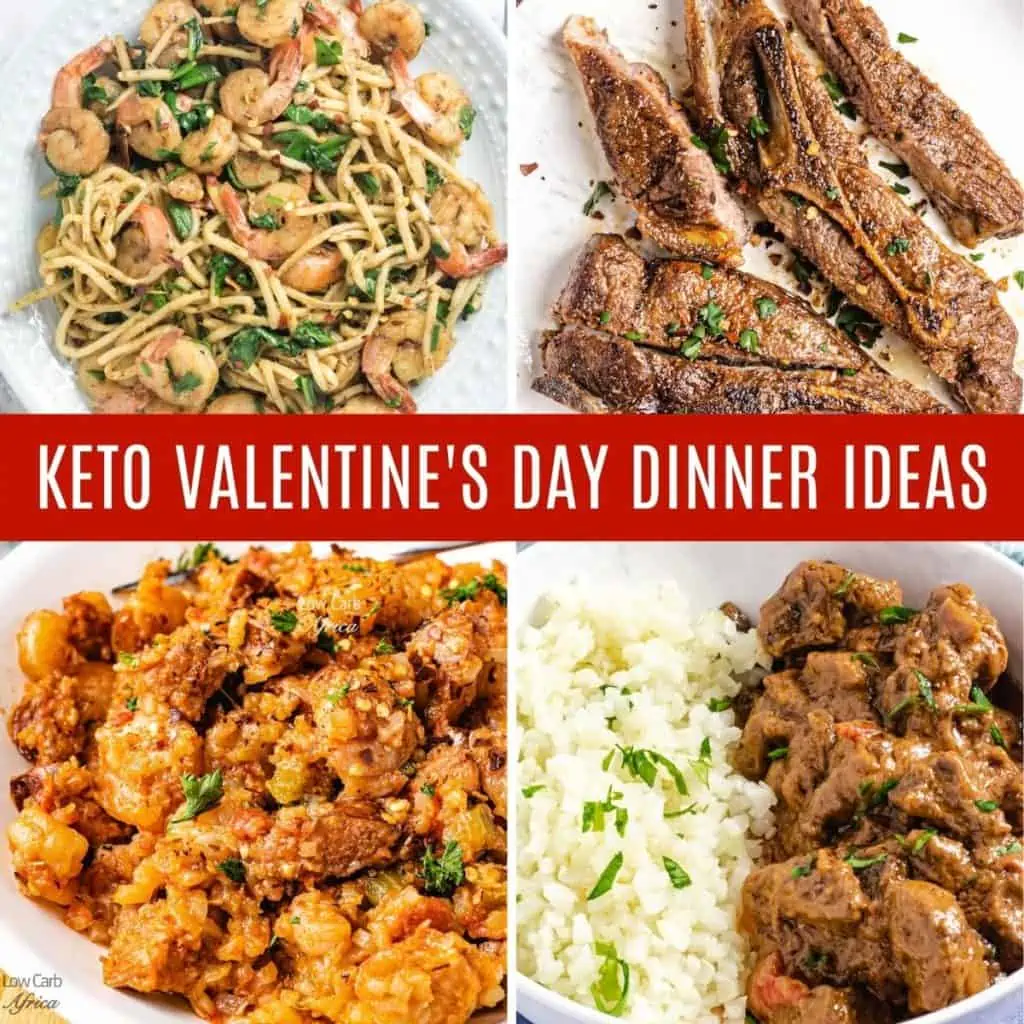 Love is in the air❤️. Valentine season is upon us, but you don't have to binge on carbs to have a good time.
There are loads of lip-smacking and keto-friendly dishes you can enjoy that won't get you kicked off ketosis. And the good thing is that you can enjoy these dishes with your significant other, even though they are not on the keto diet.
Some are made with the air fryer or instant pot to save time and to make clean-up a breeze. And you can even prep or cook them ahead so you can spend less time in the kitchen on Valentine's day.
Indulge in mouth-watering nutritious dishes this Valentine without feeling like you're missing out on anything!
Palmini pasta with shrimp is not only eye-candy, but it also tastes every bit as good as it looks! This dairy-free, gluten-free delight takes less than 20 minutes to whip up, so you're not slaving away in the kitchen.
Made with palmini pasta, shrimps, chopped spinach, and spices, this delicacy is sure to excite your senses. It's healthy, nutritious, and oh so good! A pack of palmini pasta contains just six net carbs so you can indulge to your heart's content.
Palmini pasta stir-fry warms you up inside and spells love in all the ways that matter.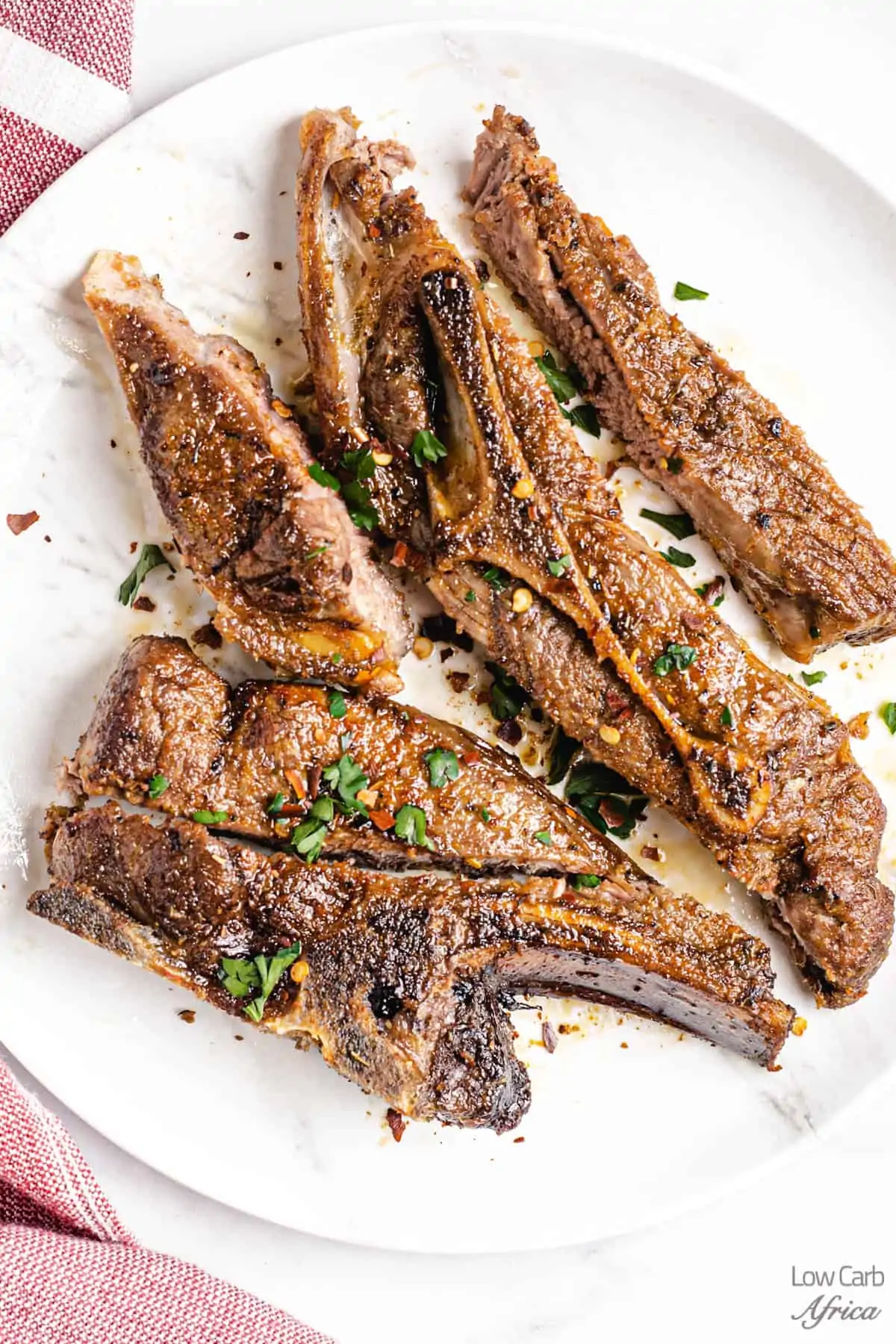 Another hit this Valentine's day are these air fryer lamb chops. This easy and quick recipe can be ready in less than 20 minutes, freeing you up for other necessary things. It is deliciously crispy on the outside and tantalizingly juicy on the inside.
Serve this sizzling lamb delicacy as a show of love and affection, and the message would be clearly received. It is said that lamb signifies love and this dish registers that with every bite. Enjoy it with some delicious air-fried asparagus or sauteed green beans.
Impress your loved ones with this delectable African peanut stew. Also known as Mafe, this delicacy is made with love and dedication in mind. This one-pot dish is loaded with nutritious and healthy ingredients that are naturally low carb.
The ingredients include beef, peanut butter, veggies, and broth and are seasoned to maximum deliciousness. Mafe tastes amazing and can be eaten on a bed of cauliflower rice or any other low-carb rice. What's more romantic than feasting on dishes made with love?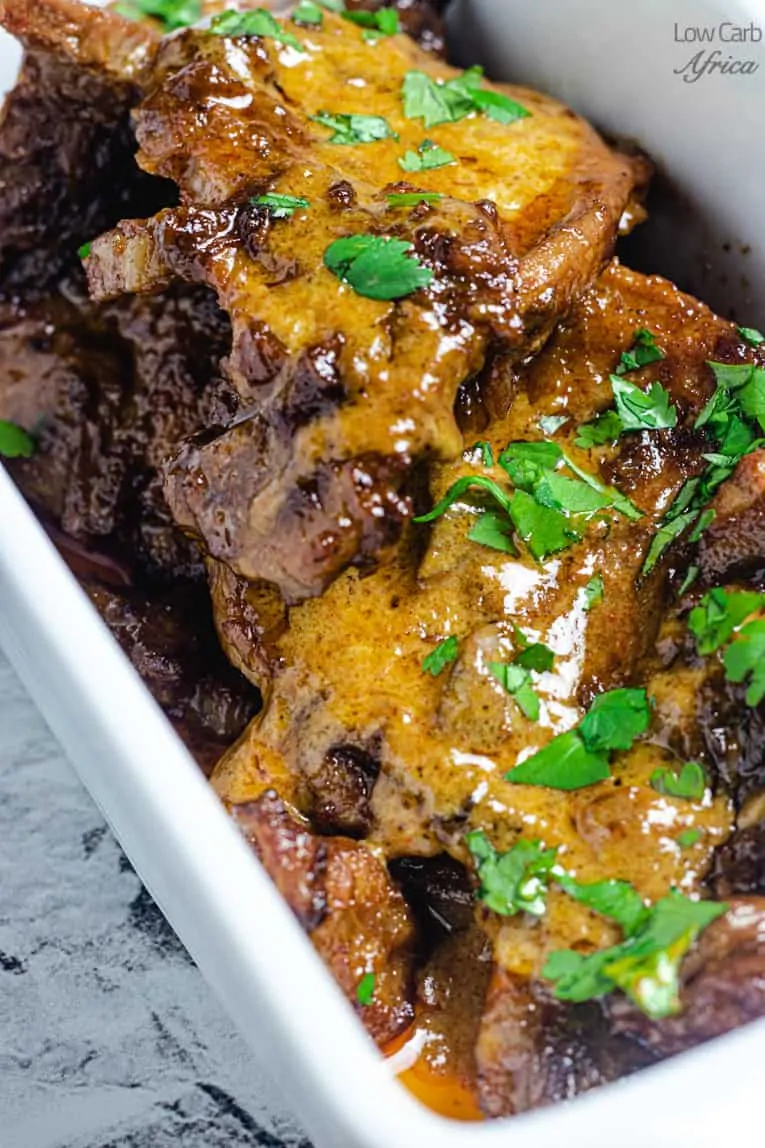 Wine and dine your significant other with this great-tasting pork chops dish. With the instant pot, the cooking time is slashed significantly to save time.
This easy-to-prepare meal is protein-packed and is so finger-licking good! It is flavorful, juicy, and tender, and your tastebuds would thank you. Made with pork chops, heavy cream, broth, and spices, this yummy goodness is best served with steamed or air-fried vegetables or cauliflower rice.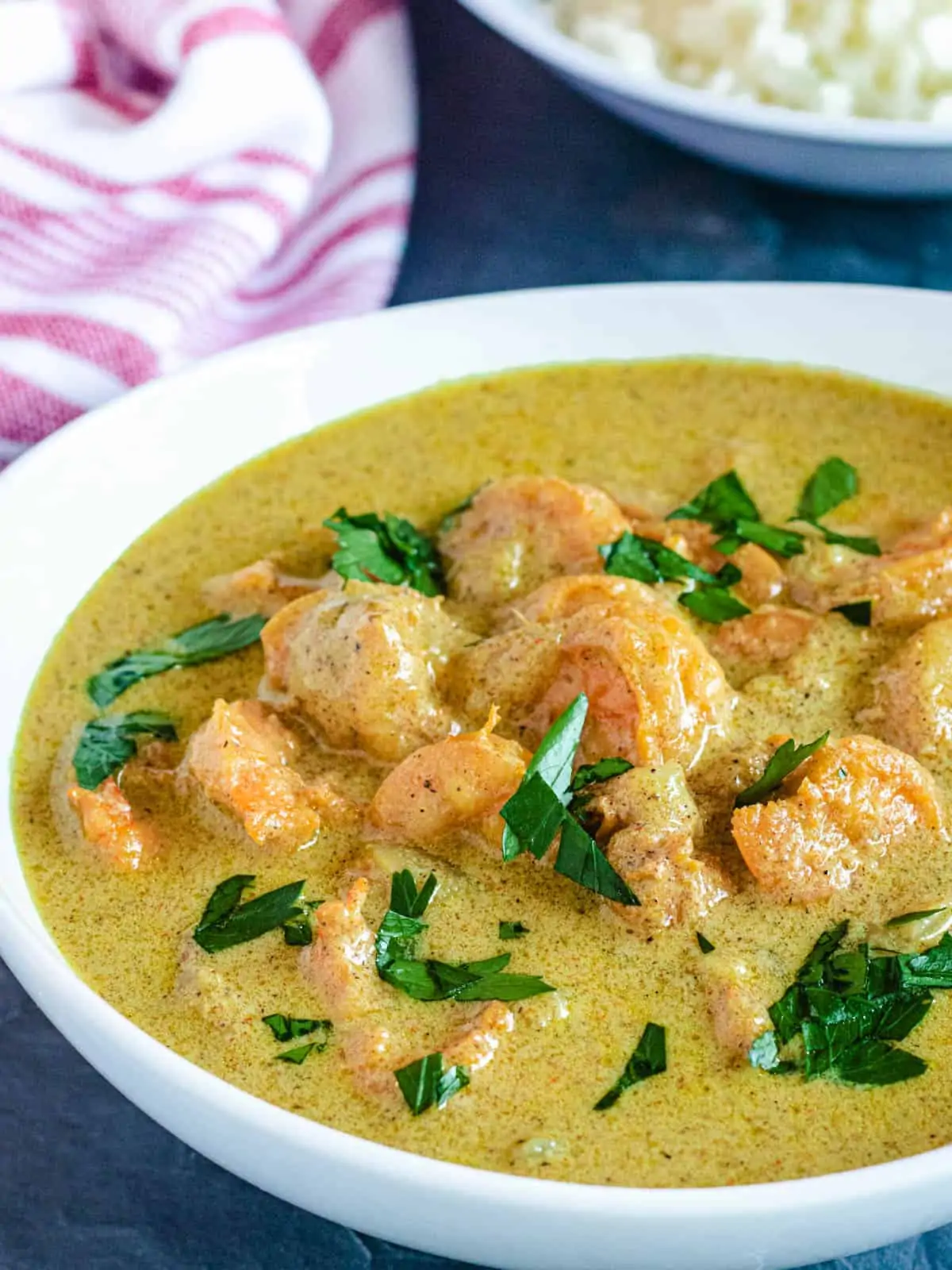 This tasty and creamy keto shrimp coconut curry is the answer to romantic cravings on a cold night. Shrimps, veggies, herbs, and coconut milk, are cooked together to create a masterpiece.
Keto shrimp curry tastes fantastic, warms you up inside, and pleases your belly. It is chock full of nutritious goodies too! Enjoy this creamy dish with your significant other for Valentine's dinner in a show of affection.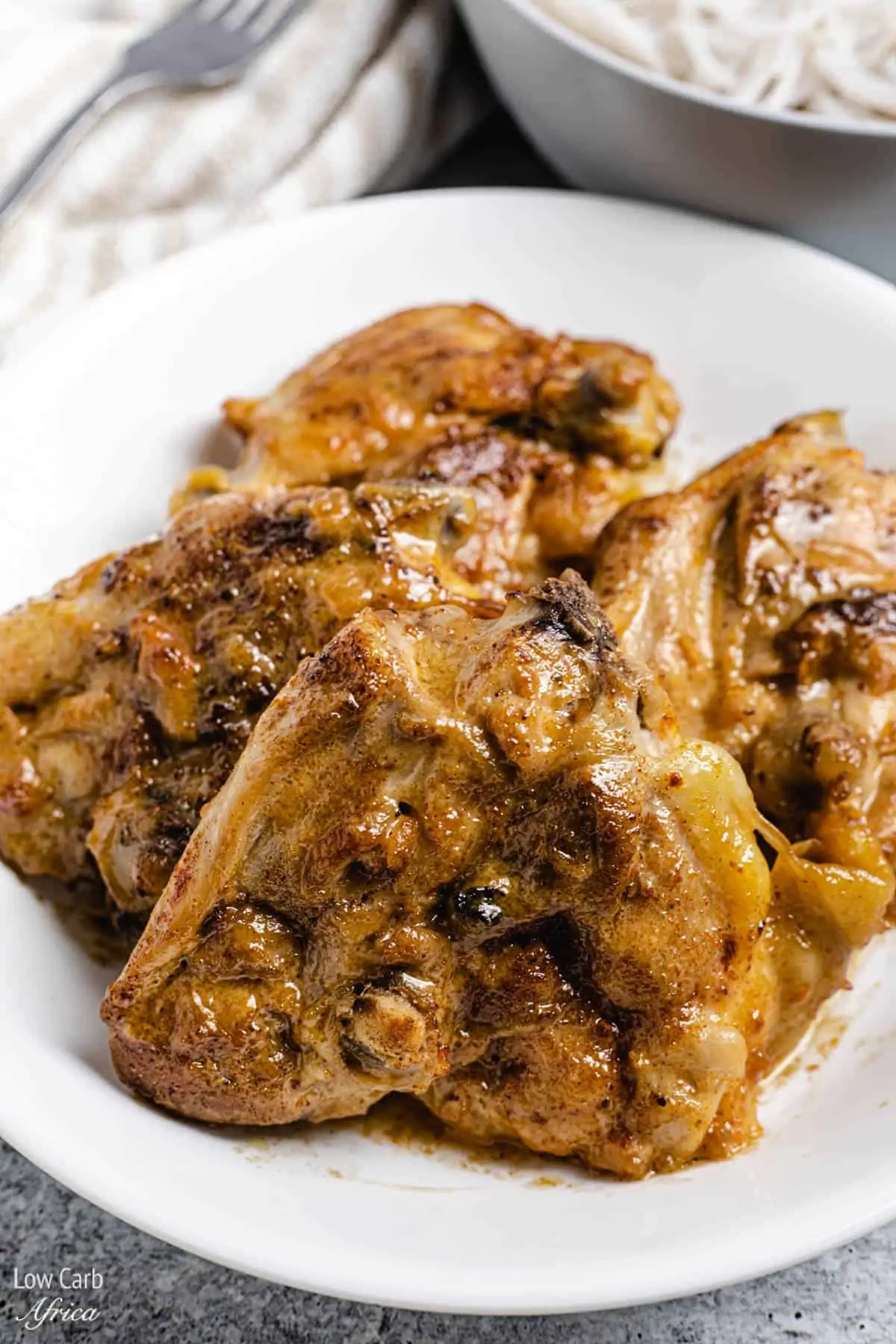 You can't go wrong with cooking chicken thighs in the instant pot. Perfect for meal prep, this easy recipe will become a favorite in your home. The chicken thighs are well seasoned, and cream and chicken stock form a sauce that's hard to resist.
Throw the ingredients into the instant pot and watch the magic happen. The result is chicken thighs that are fall-off-the-bone tender and juicy, and sauce that is to die for!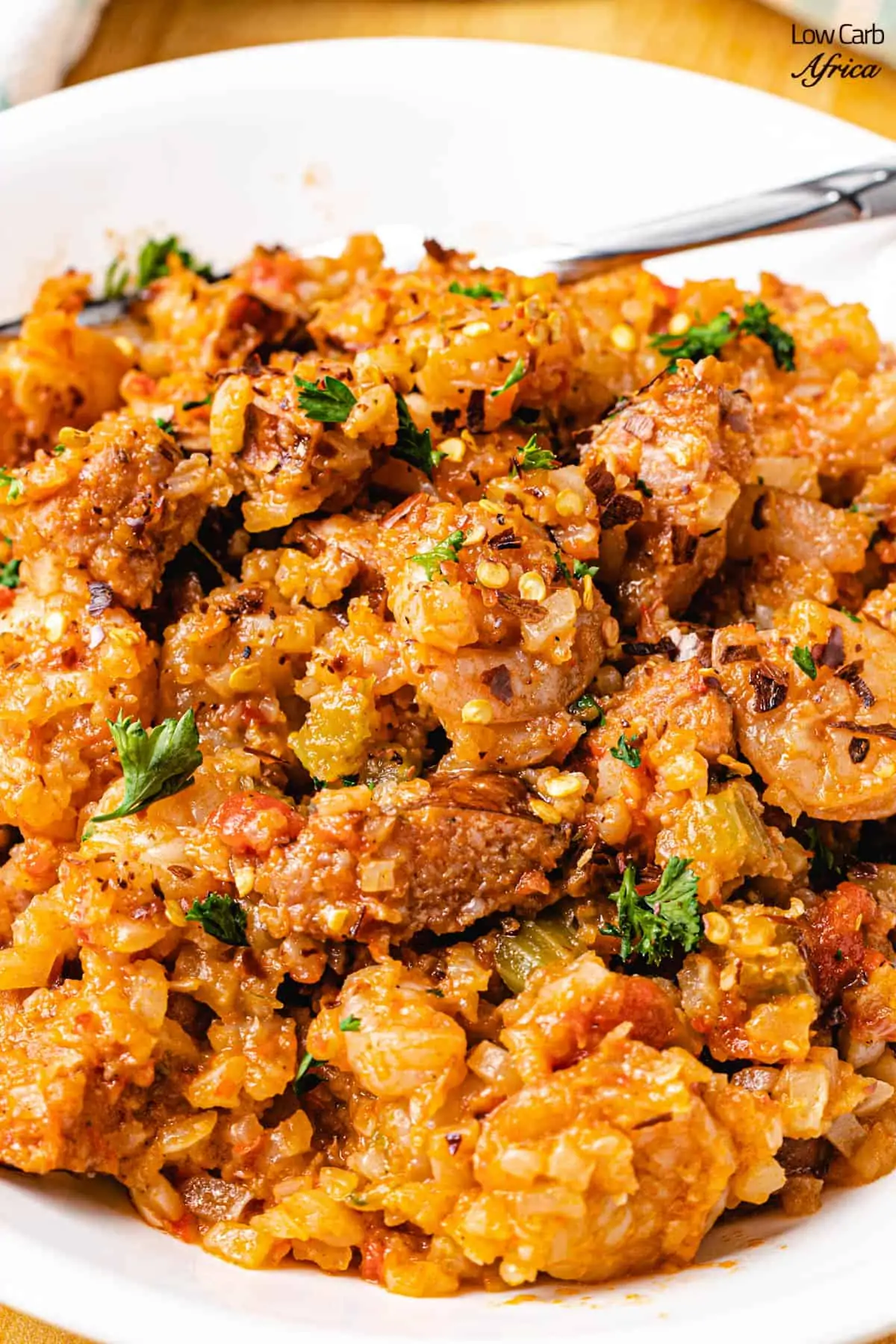 Dazzle your love with this savory dinner that looks, smells, and tastes amazing! Keto jambalaya is as delicious as regular jambalaya, and it makes a great Valentine's day dinner. This mouth-watering delight is healthy, nutritious, and takes less than 30 minutes to prepare.
This festive dish is made using cauliflower rice, andouille sausages, shrimps, tomatoes, and Cajun seasoning, all cooked to perfection.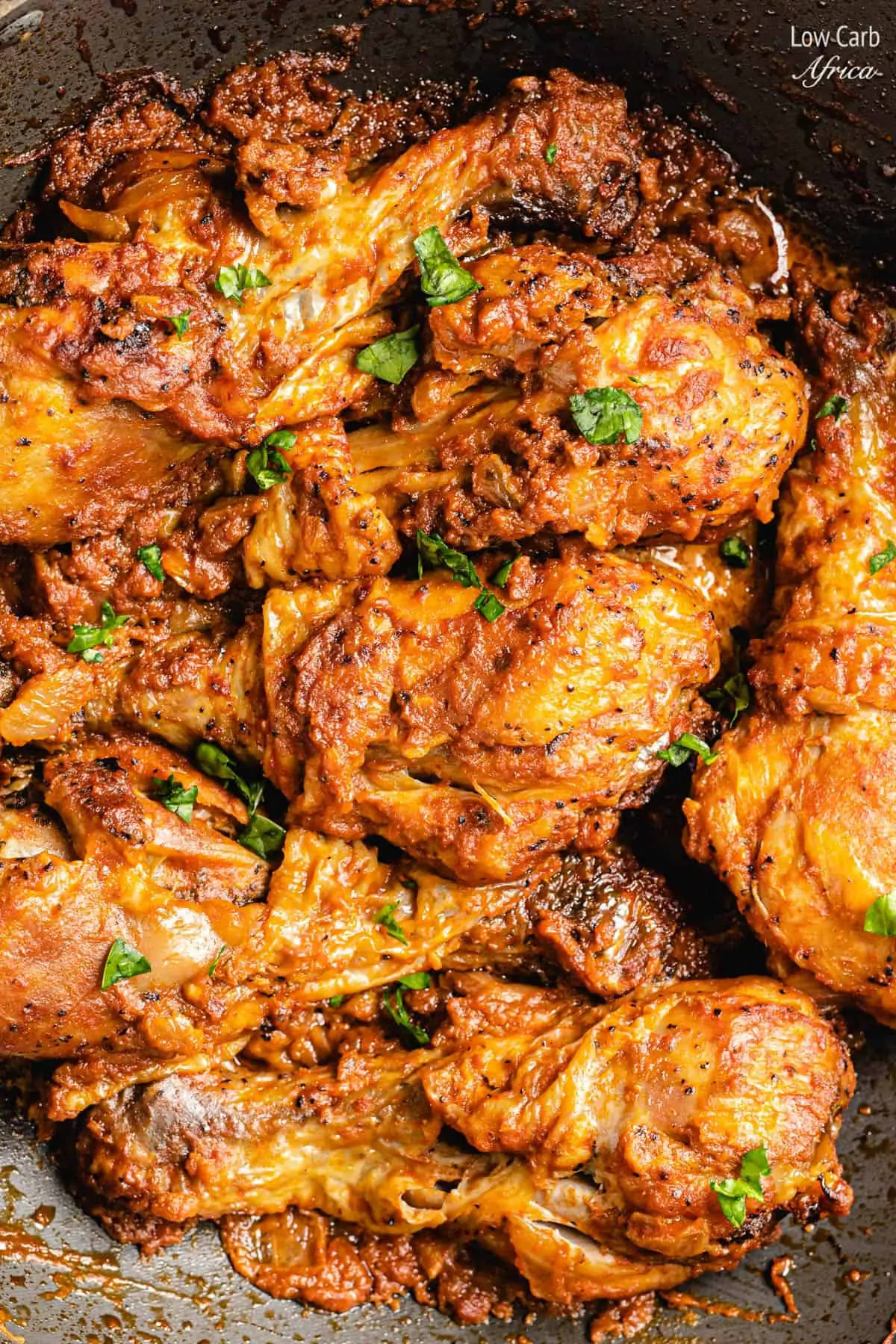 Entice and excite the senses of those near and dear to your heart this Valentine by serving up some Moambe chicken stew. Moambe chicken is a dish native to Congo and Angola in Africa.
It is made by simmering chicken in palm oil, peanut butter, tomato sauce, aromatics, and spices. The result is a flavorful delight that will tantalize your senses and make your taste buds sing for joy!
Side dishes to go with Valentine's day dinner
If you need some easy side dishes with your Valentine's day dinner, you will love these!
Air Fryer Bacon Wrapped Asparagus
I hope you enjoy these keto Valentine's dinner dishes. Let me know in the comments which one you'll like to try first 🙂