Pan-seared tilapia – a quick and easy recipe that is ready in 10 minutes and made with a perfect combination of spices that will keep you hungry for more!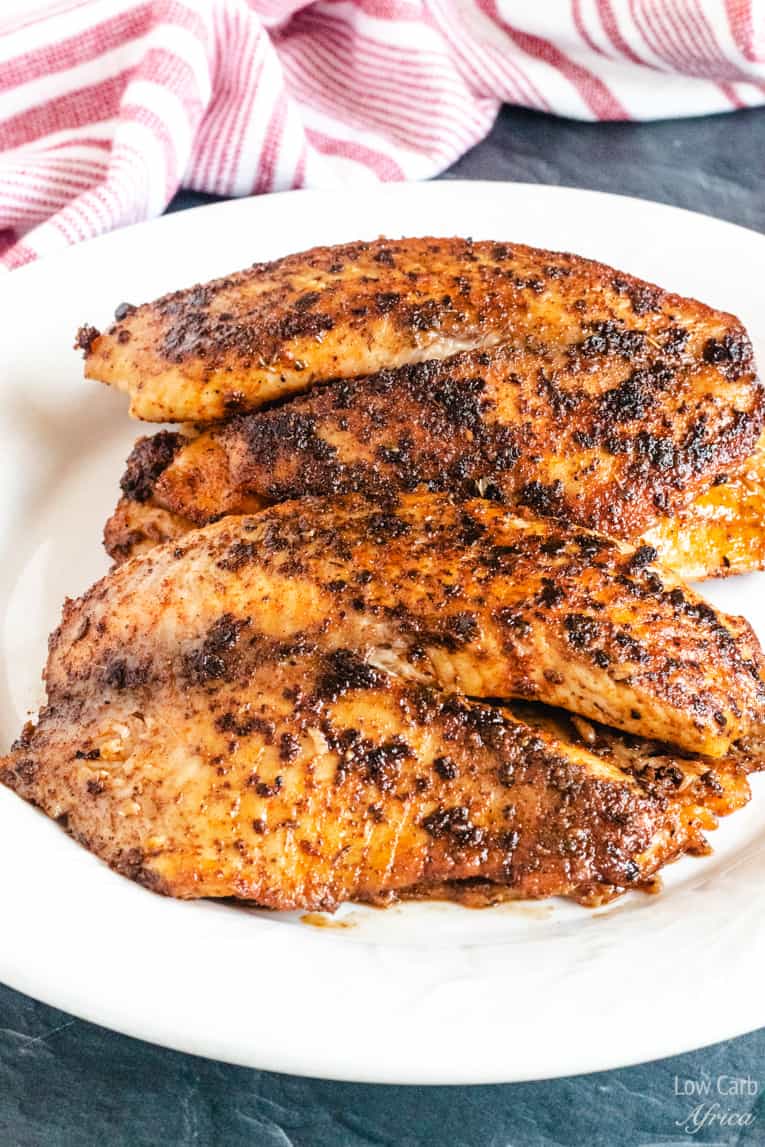 This pan-seared tilapia packs a lot of flavor for the low effort used in making it. One serving contains a whopping 23g of protein which keeps you feeling full longer!
It is also gluten-free, nut-free, and dairy-free.
The main selling point for me when making this dish is just how fast it is to whip up from start to finish. To make it even faster, I like to premix the spices and store in a container so I can just grab and rub when I need it.
Ingredients used in making Pan-Seared Tilapia
Tilapia: I used about 6 store-bought filets. They come individually wrapped and are sold in a lot of grocery stores.
Spices: After much testing, I settled on a blend of cayenne pepper, dried oregano, smoked paprika, lemon pepper, black pepper, and salt. This combination is just tasty and spicy enough without being overwhelming.
Olive oil: I use a little olive oil to sear the fish.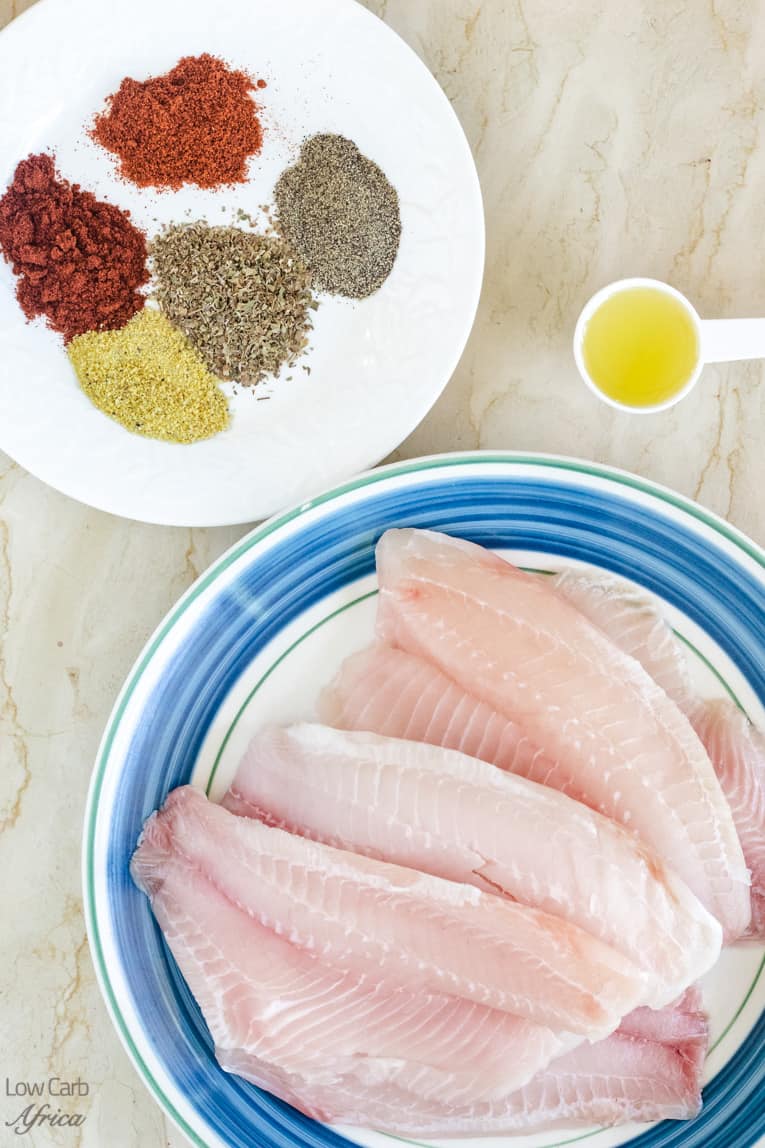 Equipment used for this recipe
It's worth a mention that if you have a cast-iron pan, this is by far the best pan to sear the fish with.
Because most cast iron skillets are non-stick when seasoned properly, you don't have to worry about the tilapia sticking to the pan. It is also easier to flip the fish with a spatula without breaking.
A cast-iron pot is great for searing because it retains heat better and stays hot throughout the cooking process. The food cooks evenly so there are no hot spots.
There are so many advantages of using a cast-iron pan for this recipe, but if you don't have one, you can still use a regular pan/skillet. You'll just have to take extra precautions so the tilapia does not burn or stick to the pan and break into pieces.
How to make Pan-Seared Tilapia
Start with patting the fish dry with a paper towel. You want to get as much moisture off the fish so that it crisps up nicely when seared.
In a separate bowl mix the spices together. Rub both sides of the fish generously with the spices and set aside.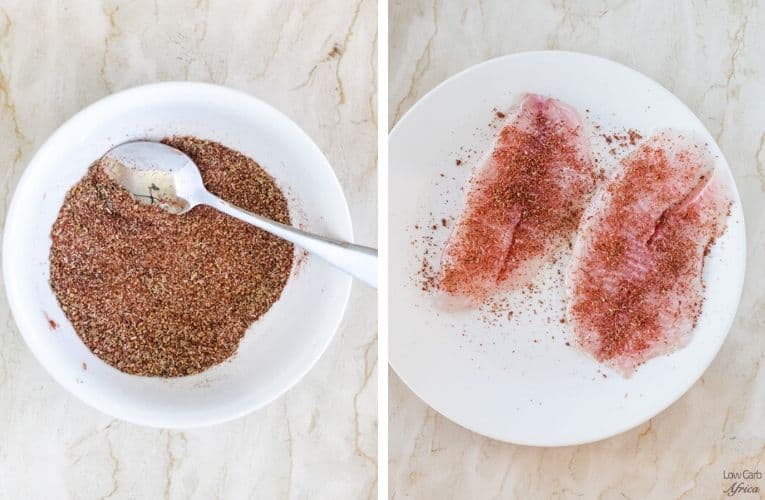 Place the cast iron pan on the stove so that it begins to pre-heat. When it gets hot, add the olive oil and spread it out with a brush.
When the oil is heated, add the fish to the pan. Depending on the size of your pan, you might be able to do it all in one go or sear half at a time.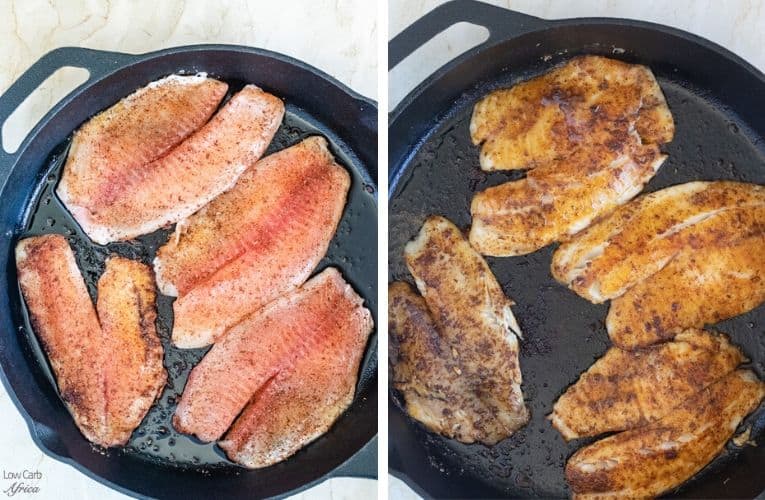 After about 3-4 minutes, flip the fish gently with a spatula and let cook for the same time on the other side.
The tilapia fish will be perfectly seared and ready to eat!
As you can see, this is so easy and quick to make. It serves 6 and each serving contains 0 carbs.
What can I eat Pan-Seared Tilapia with?
My favorite side to go with this recipe is this spicy avocado salsa. The combination of flavors is just perfect and amazing!
Other great choices are:
Broccoli Salad with Bacon and Sunflower Seeds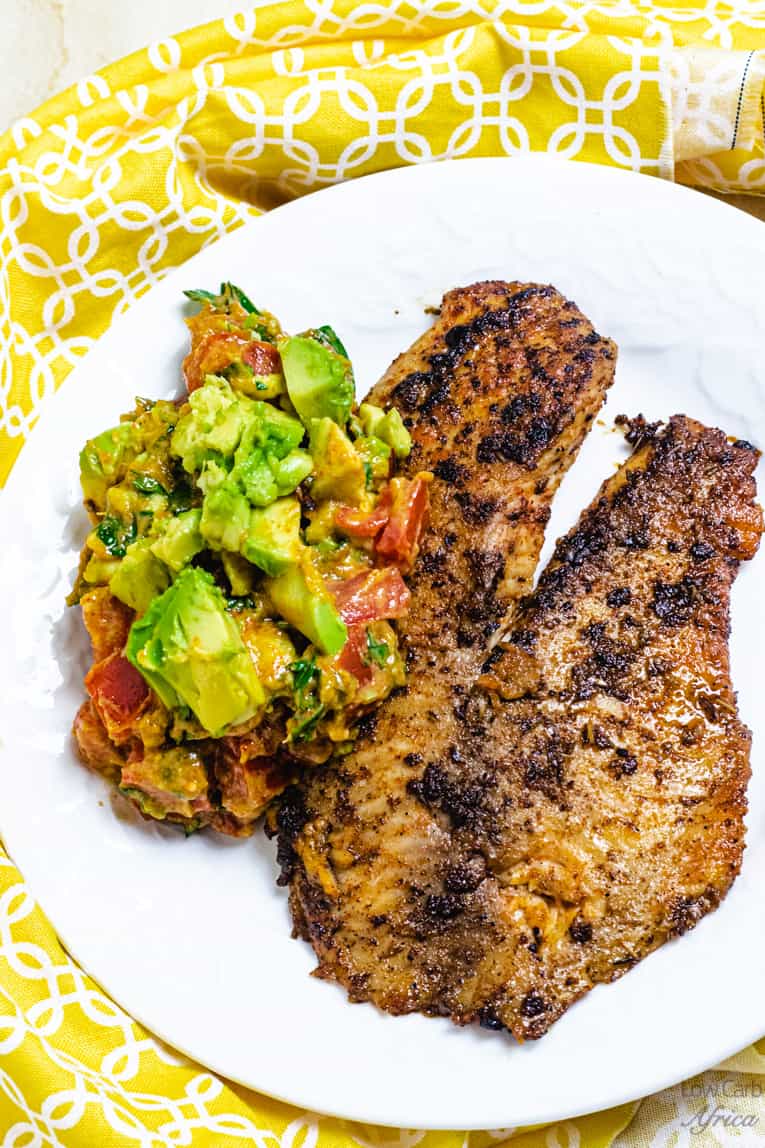 Here are some other mouthwatering fish and seafood recipes for you to enjoy!
Also, check out this great roundup collection of low carb and keto fish recipes!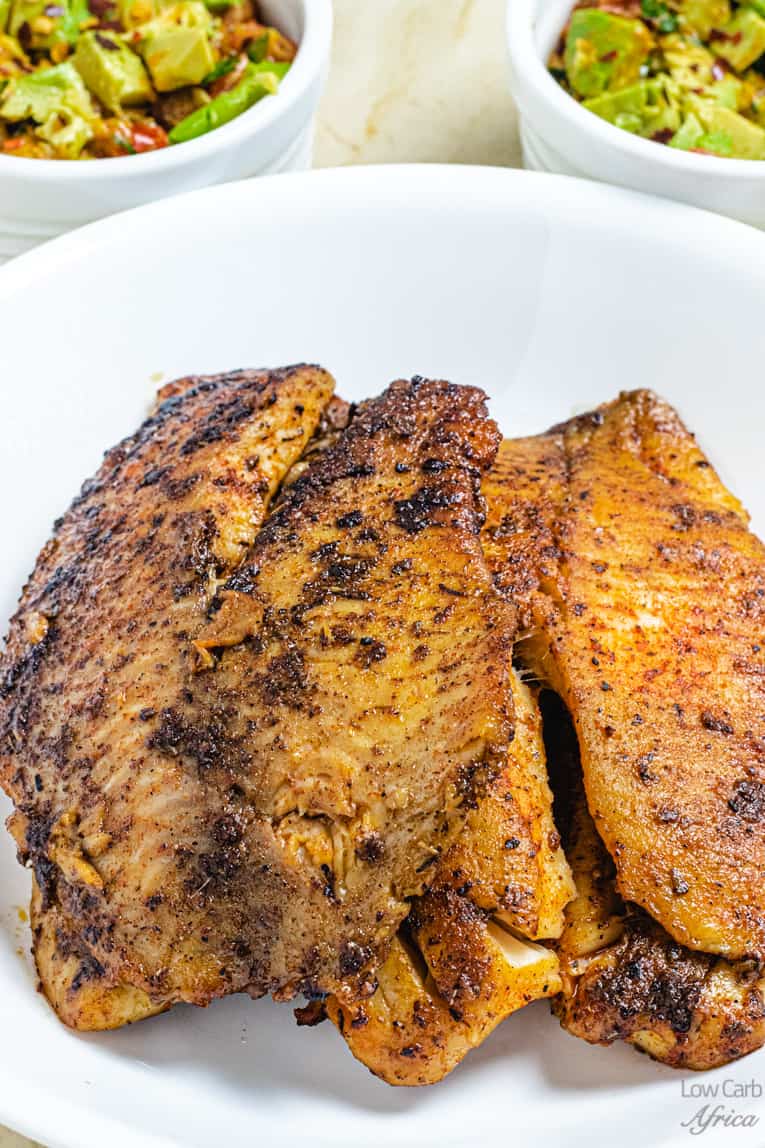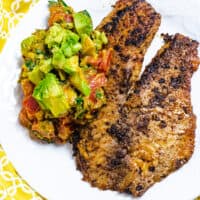 Pan-Seared Tilapia
Pan-seared tilapia – a quick and easy recipe that is ready in 10 minutes and made with a perfect combination of spices that will keep you hungry for more!
Print
Pin
Share on Facebook
Rate
Instructions
Pat the tilapia with a paper towel to get rid of excess moisture.

Mix all spices together in a bowl.

Rub both sides of fish with spices.

Place cast-iron pan on high heat and add olive oil when heated.

When the oil gets hot, place the tilapia in pan and sear for 3-4 minutes on each side.

Serve and enjoy!
Notes
This recipe serves 6 and contains 0 carbs.
Nutrition
Calories:
112
kcal
|
Protein:
23
g
|
Fat:
2
g
|
Sodium:
49
mg
|
Potassium:
331
mg
Tried this Recipe? Let me know!
tag @lowcarbafrica on Instagram and please leave a comment below